March 3, 2011 at 3:53 pm EDT | by Juliette Ebner
Arts briefs: March 4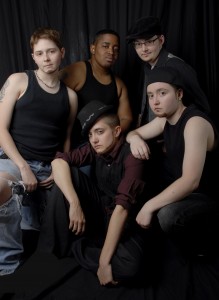 D.C. Kings turn 11
This month, local king troupe the D.C. Kings, will be celebrating 11 years of performing. More than 200 kings have performed in about 300 shows since the group started. To celebrate, the Kings will be giving two performances this month.
The first will be at Apex (1415 22nd St., N.W.) tonight at 11. Former members, such as E-Clef and Natty Boom, will perform with current members, presenting some favorite numbers and paying tribute to  former Kings. Doors will open at 9 p.m. and there is a $10 cover.
The second will be at Phase 1 on March 13 at 10 p.m. The Kings will perform their all time favorite acts. This event will also serve as a fundraiser for Chris Hara, a former King who was paralyzed from the waist down in a motorcycle accident. Money raised from the door will help pay his medical expenses.
Doors will open at 7 p.m. and there will be a $5 cover at the door.
For more information on the group or upcoming events, visit dckings.com.
Gay Composer Celebrated at Lisner
Lou Harrison was an American composer who created  300 compositions for Western, Eastern and custom-made instruments.
Harrison wrote for symphony orchestras, ballets, small chamber ensembles and soloists.
He has won such awards as "Humanitarian of the Year" from the American Humanist Association and the "Michael Callen Medal of Achievement" from the annual Gay/Lesbian American Music Awards.
This weekend, the Post-Classical Ensemble closes a two-week celebration of Harrison's life and work with two performances.
Tonight, the Embassy of Indonesia (2020 Massachusetts Ave., N.W.) will host a performance and lecture which explores the influence of Javanese culture on Harrison's music and the influence of Western culture on Indonesia's Gamelan. This is a free event.
Saturday, at Lisneer Auditorium (730 21st St., N.W.), Harrison's works will be performed by Wesleyan University Gamelan Ensemble, the George Washington University Chamber Singers, pianists Ben Pasternack and Lisa Moore and the Post-Classical Ensemble, all under the direction of Angel Gil- Ordóñez. Tickets for this event range from $25 to $55.
For more information and to purchase tickets, visit post-classicaleensemle.org.
Mautner Project honors MCC and Martina
The Mautner Project's annual gala "Dare to Be" is Saturday at the Omni Shoreham Hotel (2500 Calvert St., N.W.) from 5:30 p.m. to 12:30 a.m.
"Dare to Be" is Mautner's 21st anniversary gala and is said to be "an evening of dancing and celebration."
Out tennis great Martina Navratilova is scheduled to appear to accept the Chair's Award.
Mautner will also honor the Metropolitan Community Church of Washington with the Healing Works Award and Amy Cotton with the Volunteer of the Year award.
The gala begins with the opening of the "Celerating Amazing Lives" gallery and registration.
The event will conclude with a special performance by Viki Dee and "Dare to Dance" with DJ Jame' Foks. There will also be a live and silent auction
For more information and to purchase tickets, visit gala.mautnerproject.org.
Month-long Flash exhibit slated for Crystal City
The Crystal City Business Improvement District (BID) and FotoDC have partnered to present Flash, a month long exhibit with imagery, parties and special events in a large-scaled curated, pop-up gallery that opens on March 18.
The exhibit will be in the repurposed penthouse of an office building (2450 Crystal Drive) in Arlington with two photography exhibitions featuring 55 photographers from the D.C. area.
One of the exhibits, "Five x Five," will feature five works each from five different photographers chosen by five different photography industry experts.
The other exhibit, "FotoDC Panel Selections," is a selection of works pulled from thousands of images submitted by area photographers for members of the FotoDC Panel to review.
FotoDC's collection of 500 international photography books published between 2008 and 2010 will also be on display throughout the month.
The gallery will be open Wednesday and Thursday from 5 to 10 p.m., Fridays from 5 to 11 p.m., Saturdays from noon to 11 p.m. and Sundays from noon to 7 p.m.
For more information, visit crystalcity.org/do/flash.