March 24, 2011 at 1:56 pm EDT | by Juliette Ebner
Arts news in brief: March 25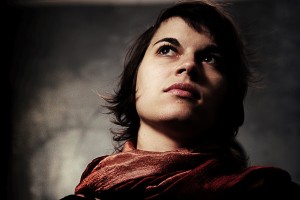 Lesbian King at the Birchmere tonight
Lesbian musician Kaki King will be performing at the Birchmere (3701 Mt. Vernon Ave.) in Alexandria tonight at 7:30 p.m. with Joe Robinson.
King's newest album, "Junior," features songs not like her previous works, such as "Spit It Back in My Mouth," which she describes as her "Cure song" based on its happy groove and depressing lyrics.
In February 2006, King was the only woman and the youngest artist to be included in Rolling Stone's list of "The New Guitar Gods."
Tickets are $25 and can be purchased online at ticketmaster.com.
Signature hosts 'Curtain' pride night
Signature Theatre (4200 Campbell Ave.) in Arlington hosts "Pride Night," a special event for the LGBT community, tonight.
The evening includes a performance of the musical comedy "And the Curtain Rises," at 8 p.m. followed by a post-show cocktail and hors d'oeuvres reception.
Loosely based on true events, "And the Curtain Rises" tells the story of how the first American musical, 1866's "The Black Crook," came to be, including all the issues trying to stop it such as a cast on the verge of revolt and the scenery and costumes being destroyed.
There will be a shuttle bus picking people up from Dupont Circle on P Street and bringing them directly to Signature at 6:30 p.m. and will leave the theater at 11:30 to ring them back.
Seats on the shuttle are limited and reservations must be made through the Signature Box Office at the time of ticket purchase. Attendees cannot simply show up in the Circle and board.
Tickets are $82 and $87 and include the reception with complimentary wine and beer and light appetizers. The round-trip ticket for the shuttle is an additional $5.
Call 703-820-9771 to purchase tickets and reserve a spot on the shuttle.
The show will run through April 10.
Conner thinks outside box with new exhibits
Zoe Charlton, Mia Feuer and Coble/Riley Projects all have exhibits at Conner Contemporary Art (1358 Florida Ave., N.E.).
Charlton's exhibit, "Paladins and Tourists," features large-scale drawings of nude, white male figures and a video entitled "Be Sarah," about Sarah Baartman, a South African slave who was exhibited for public entertainment as the "Hottentot Venus."
Feuer's "Stress Cone" is a special gogo art projects exhibition featuring a large, site-specific sculptural installation modeled on electrical transformer stations suspended from the gallery's ceiling.
The Coble/Riley Projects exhibit is the collaborative debut of Mary Coble and Blithe Riley with a two-channel video, "Ascension/Immersion." The team transformed an abandoned house by cutting two large holes in the roof, allowing Coble to enter the structure from above and exit from below repeatedly dropping five feet into a pool of water inside.
HED: