May 19, 2011 at 3:43 pm EST | by Joe Phillips
Volt, Leaf get powered up
Where are all the electric vehicles? That's what auto aficionados are wondering as gas tops $4 a gallon and SUVs line up like packed sardines on used-car lots.
The reality: the first mass-produced EV— the Tesla Roadster (reviewed last month) — has only been around a few years. And the Chevy Volt and Nissan Leaf just plugged into showrooms last December.
But EVs got some positive jolts recently when the Volt and Leaf won top awards at the Detroit and New York auto shows. Such bona fides immediately upped the cred of electric vehicles overall.
Of course, "range anxiety"— a driver's fear of running out of juice and being stranded — has long been an EV bugaboo. But automakers are confronting the issue head-on, using lithium-ion battery packs for greater distance and intuitive nav systems that prominently display remaining range.
Chevy Volt
$41,000
Mpg: 95 city/90 highway
Range: 340 miles before recharging or adding gas
0-to-60 mph: 9.2 seconds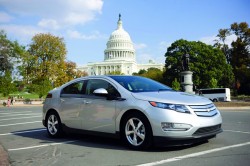 GM's ill-fated EV1 electric car of the 1990s was decades ahead of its time. Chevy is hoping its much-ballyhooed Volt — a plug-in battery/gasoline hybrid—is not. Most hybrids use two power plants in tandem: an electric motor for low speeds, a gas engine for higher speeds. But with the Volt, the lithium-ion battery pack powers the electric motor by itself for 40 miles; after that, the gas engine kicks in and generates electricity to the motor for another 300 miles. The exterior is sleek yet, well, a bit bland like most hybrids. Luckily, acceleration and handling are sporty and above par, as are the four bucket seats.
But there are no power front seats — again, like most hybrids. And because there is no rear bench seat, it's fairly tight for rear passengers. But the cabin is high-tech chic: instead of buttons or knobs, the cascading center console has cool iPod-like touch sensors. A large LCD screen has a battery meter that changes to a gas gauge once the battery is depleted. And a smartphone app lets owners check tire pressure, activate remote start to heat/cool the cabin and set charging times to take advantage of off-peak power rates. Just about every standard feature is here, including eight airbags, rear backup camera, heated seats and Bose sound system. Perhaps the biggest flaws are the low rear headroom and limited cargo room—just 10.6 cubic feet. Oh, and —ouch — that $41,000 price tag.
Nissan Leaf
$33,000
Range: 100 miles before recharging
0-to-60 mph: 7 seconds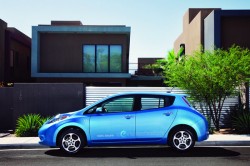 Similar yet different. That's the best way to compare the Nissan Leaf with the Volt and the Tesla. Unlike the Volt — a hybrid — the Leaf and Tesla are pure electrics. But while the Tesla is a two-seat exotic sports car, the Volt and Leaf are mainstream four-door sedans. They're also priced much lower than Tesla's $109,000 sticker. But all three vehicles face stiff competition from a slew of high-mileage, traditional gas-engine cars hitting the market — though tax credits help level the playing field. Along with similar smartphone-integrated apps, the Volt and Leaf have the same warranties: eight years, 100,000 miles on all electric components. And they have the same recharging time: four to eight hours, though quick-charge systems reduce that even more.
So what makes the Leaf so special? It may not have the Tesla's speed or the Volt's range but it's made from 95 percent recycled materials. Along with the latest techie features, it has an optional solar panel to run accessories such as the radio. And styling is nerdy but cool. As for ride and handling, the Leaf is surprisingly spry. Best of all, the price — with or without tax rebates — makes this the most affordable EV out there.