May 19, 2011 at 3:12 pm EDT | by WBadmin
When should you move in?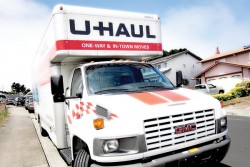 By Meghann Novinskie & Kim Rosenberg
Some say moving in together is the proverbial kiss of death. Others think it's the best thing since sliced bread or since the invention of the vibrator. Others enjoy their personal space, want to keep it their own and have a hard time welcoming another person into their place. Many know as soon as they meet someone, that the relationship has "serious" potential and might jump the gun.
Remember, everything changes once you move in together. First of all, make sure that you are in a healthy relationship before you consider cohabitating. Realize that you are not only sharing space, but also the financial responsibilities. Many relationships are one sided when it comes to finances, and this may work for some. However, you don't want to look back two years from now if the relationship doesn't work out and say, "not only did I lose my boyfriend, I also spent an extra $30,000 on rent this year because I paid his share!" Just because he or she is good in bed doesn't mean you need to pay their expenses to keep them around. Be honest with each other and break down on paper how much you spend a month on expenses.  Living together is NOT just "we split $5,000 a month rent."
If you are reading this article, you're probably extremely interested in being in a committed partnership. Here are some things to consider, Mr. Relationship: Don't be impulsive. Also, we are true believers that exclusivity is important before living together. If you are seeing someone several times a week, having slumber parties, sexting all day when you should be working, staring only at him and not at others passing by, this is a good sign to have the "exclusive talk." This also means take your match.com profile down and stop updating your Grindr account. Did you think about those intimate things that you do in your home, when no one is around – yes, THOSE things. Can you do that with someone in the next room and feel comfortable? Do you have enough physical space to be able to "escape" even if he or she is home? It's important to consider the idea that most of your space will become shared space, especially if you're talking about sharing an apartment the size of your first dorm room.
If you know this is someone you are going to spend a long period of time with, then why rush it? Enjoy the time you have getting to know each other.
And now for the U-Haul joke. We all know lesbians sometimes move a little faster than the "average" person in a relationship. News flash: gay men operate in the exact same way. You guys slowly leave a shirt, then a toothbrush, and before you know it you are cleaning out drawers. Fast forward two weeks and you're at Logan Hardware picking up more hangers. Both lesbians and gay men struggle with knowing the perfect time to move in together. In fact, most serious couples face this at some point during their relationship.
Here's the skinny: There is no perfect time. Everyone is different. Steps to consider: Is he or she "invading your personal space" or do you welcome the closeness? Are you comfortable with this person 100 percent? Can you responsibly share finances? Is there more to your relationship than just hot sex? Did you consider the regrets you will have if you break up? If you answered yes to most of these questions, you're ready.  If you need more advice, ask us at advice@washblade.com.