February 16, 2012 at 10:13 am EDT | by Joe Phillips
Macho makeovers
Without sizzle, car sales fizzle. For VW and Lexus, that means adding chiseled looks and lively handling to two iconic nameplates: the Beetle and GS sport sedan.
This wasn't easy. The VW Beetle — known as a puckish sort of car — has often lacked pep and pizzazz. And the Lexus GS, while slotted between the compact IS and full-size LS, has been more about pampering than performance.
But not anymore. VW squashed its bubble-top Beetle — in a good way — and added much-needed horsepower. And Lexus, which just redesigned the GS, gave this feisty four-door even more cajones by coming out with a high-performance F Sport model.
For both automakers, butching it up is a smart move as the economy firms up and buyers head to showrooms.
VW Beetle
$19,000
Mpg: 22 city/31 highway
Best butch points: Stellar turbo engine.
No more flower vase on the dashboard.
Like Cialis, Beetles have staying power. The first one hit U.S. shores in 1949, more than 60 years ago. Then the cutesy New Beetle arrived in 1998. Now VW is ditching the "new" moniker and debuting the latest Beetle, which is brimming with testosterone.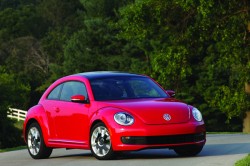 Gone is the dashboard-mounted flower vase — an homage to 1960s love bugs — and that, ugh, optional Barbie Pink convertible that was a fave of celebrities like Heidi Klum. In its place is a longer, wider and edgier car, with a more squashed roofline, masculine rear spoiler and low, tuner-like cladding.
There are numerous trim levels and engine choices but the zippy turbo is a blast, with grippy 19-inch wheels, sport-tuned suspension and a fire-engine-red paint job. Sure, there's a bit of turbo lag, which is normal. But sprinting from 0-to-60 mph in 6.6 seconds isn't exactly shabby.
And once this puppy gets going, the cornering, shifting and braking are awesome. Ditto for the inside, which is Audi-inspired with its bolstered (and heated) seats, aluminum foot pedals and mod interior mood lighting. There's also chic two-tone upholstery, and the dashboard and other cabin trim can be painted the same color as the exterior, a nifty touch.
Despite the low roofline, there's lots of headroom and legroom, even in back. A few must-have options: the easy-to-use nav system, premium Fender audio system with subwoofer and a panoramic sunroof that's 60 percent larger than before. For diesel fans, the TDI model was released just last week. Overall, the Beetle now looks and acts as if it's on steroids. But this wouldn't be the first time: Paul Newman, a manly man indeed, owned a 1963 Beetle that he upgraded with Indy-tuned suspension and a wicked engine. Now, VW finally has a comparable version for the mass market.
Lexus GS F Sport
$47,000
Mpg: 19 city/28 highway
Best butch points: Euro-trash styling.
A throaty exhaust growl.
Always a Euro-wanabe, the previous GS was bland, overpriced and quickly eclipsed by flashier fare, such as the Cadillac CTS-V, the BMW 5 Series and even the Kia Optima.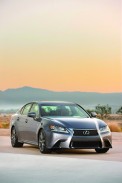 But while the new GS is now more aggressive in looks and handling, Lexus decided to up its game even more with an all-new high-performance F Sport model. Think of it as beauty and beast with more emphasis on the latter. The design is aggressive and hulking, from the gunmetal-gray paint and snarling grille to the flared fenders and raised rear end with trunk-lid spoiler.
There's so much beefcake here you almost expect (or at least hope for) the cast of "Spartacus" to hop out. At 308 hp, the F Sport bests both the BMW 5 Series and Mercedes E Class in power and braking, and it blasts from zero to 60 mph in just 5.5 seconds. But this is still a luxury car and the interior doesn't disappoint: 16-way power driver's seat, energy-saving climate-control system and a whopping 12.3-inch display screen that's as hi-res as a flat-screen TV. High-end safety gear includes a night-vision camera, blind-spot monitor and lane-departure warning system. At last, Lexus has a true high-end sport sedan.