America's Leading Gay News Source
Most Americans see anti-gay bias as a problem
WASHINGTON — A New Gallup poll released this week shows that 63 percent of Americans see anti-gay discrimination as either a very serious or somewhat serious problem.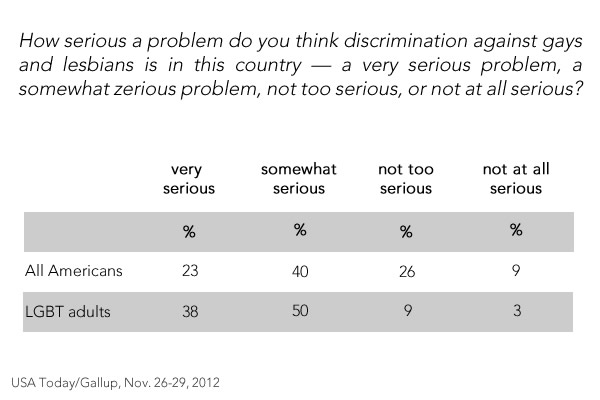 Only 9 percent of respondents to the poll said that anti-gay discrimination was not a problem at all. Respondents' impressions of anti-gay discrimination in their hometown, however, were lower, with more believing anti-gay discrimination was not a problem or not very much of a problem locally. Forty-five percent of respondents said that gay issues will always divide Americans, while 51 percent said Americans will agree on gay issues some day, according to snippets of poll responses posted by the Gay and Lesbian Alliance Against Defamation.
We welcome your thoughtful, respectful comments. Please read our 'Terms of Service' page for more information about community expectations.
Comments from new visitors, flagged users, or those containing questionable language are automatically held for moderation and may not appear immediately.
© Copyright Brown, Naff, Pitts Omnimedia, Inc. 2014. All rights reserved.