September 18, 2013 at 5:05 pm EDT | by Chris Johnson
New guidance grants gay couples access to pension benefits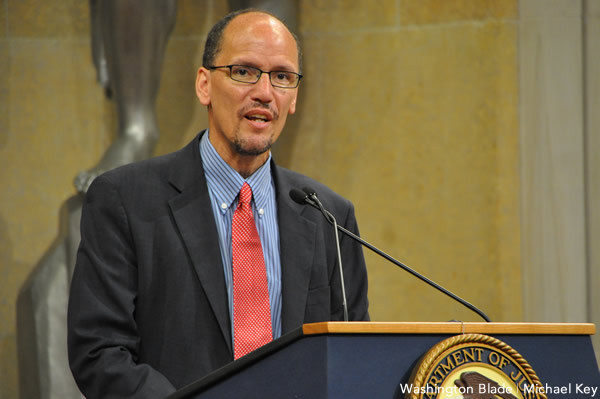 Gay workers are now fully eligible to participate with their spouses in employer-provided health care and pension benefits plans organized under federal law — even if they live in a state that doesn't recognize their marriage — thanks to new guidance issued in the aftermath of the Supreme Court decision against the Defense of Marriage Act.
On Wednesday, the Labor Department issued guidance stating that the definition of "spouse" and "marriage" would now include married gay couples under the Employee Retirement Income Security Act of 1974.
"This is the most natural reading of those terms; it is consistent with Windsor, in which the plaintiff was seeking tax benefits under a statute that used the term 'spouse'; and a narrower interpretation would not further the purposes of the relevant statutes and regulations," the guidance states.
Most large corporations operating in multiple states organize their health care and pension plans under ERISA to bypass state laws and achieve a standardized system for employees working across the country. Whereas previously a company would not have recognized an employee's same-sex spouse as a beneficiary, from this point forward, the spouse will now be designated as such.
Labor Secretary Thomas Perez noted the significance of the Windsor decision in a statement accompanying the news of the guidance.
"This decision represents a historic step toward equality for all American families, and I have directed the department's agency heads to ensure that they are implementing the decision in a way that provides maximum protection for workers and their families," Perez said. "The department plans to issue additional guidance in the coming months as we continue to consult with the Department of Justice and other federal agencies to implement the decision."
According to the guidance, couples will be eligible for participating in ERISA programs even if they marry in one state and move to another where their marriage isn't recognized under state law. The guidance describes why this interpretation of the court decision against DOMA is most appropriate in terms of ERISA.
"A rule for employee benefit plans based on state of domicile would raise significant challenges for employers that operate or have employees (or former employees) in more than one state or whose employees move to another state while entitled to benefits," the guidance states. "Furthermore, substantial financial and administrative burdens would be placed on those employers, as well as the administrators of employee benefit plans."
However, like other post-DOMA decisions from the administration, the guidance notes that couples in civil unions or domestic partnerships won't be eligible for this federal benefit. They need a legal marriage.
"The terms 'spouse' and 'marriage,' however, do not include individuals in a formal relationship recognized by a state that is not denominated a marriage under state law, such as a domestic partnership or a civil union, regardless of whether the individuals who are in these relationships have the same rights and responsibilities as those individuals who are married under state law," the guidance states.
Still, Fred Sainz, vice president of communications for the Human Rights Campaign, said his organization is happy with the guidance.
"It's yet another positive indication of the way in which this administration is interpreting the Windsor decision," Sainz said.
Tico Almeida, president of Freedom to Work, commended Perez after the guidance was issued, but said his department could do more for the LGBT community by aiding transgender employees "who too often face harassment and workplace discrimination."
"Secretary Perez should officially recognize and adopt the bipartisan EEOC decision in Macy v. Holder, and he should instruct the Labor Department to start adding transgender protections into the newly signed federal contracts that are covered by the existing Executive Order 11246," Almeida said.
Notably, the Labor Department is providing ERISA benefits for couples in legal same-sex marriages living in states that don't recognize those unions, but made no such clarification in earlier guidance granting couples benefits under the Family & Medical Leave Act.
Almeida also called on the Labor Department to clarify this earlier guidance to grant couples FMLA benefits nationwide.
"It's great that the Labor Department has adopted the 'state of celebration' rule so that gay and lesbian couples from Texas can go to California to get married and then have ERISA protections at their Texas jobs, and the Labor Department now needs to re-write the Family Medical Leave Act regulations to adopt that same 'state of celebration' rule so that all married couples — no matter where they live — can have job protections when a same-sex spouse is diagnosed with a serious illness," Almeida said.