Tuesday's Senate Armed Services Committee hearing on "Don't Ask, Don't Tell" was remarkable not only for paving the way for the despicable law's demise, but for showcasing the two routes conservatives can take moving forward.
One path is that taken by Admiral Mike Mullen, chairman of the Joint Chiefs of Staff. It took him a number of years to get to this juncture, but he has chosen to be on the right side of history, be in touch with the majority of Americans, and do what is right by his fellow soldiers. Mullen, who had been nominated to his post by George W. Bush in 2007, told the Senate committee that he believes "allowing gays and lesbians to serve openly would be the right thing to do." He confessed, "No matter how I look at the issue, I cannot escape being troubled by the fact that we have in place a policy which forces young men and women to lie about who they are in order to defend their fellow citizens." He explained that it's a matter of integrity — "theirs as individuals and ours as an institution." He clearly meant his own integrity as well.
Then there is the way taken by Sen. John McCain. The Arizona Republican reneged on an earlier promise to heed the military's top brass on the matter of "Don't Ask, Don't Tell." Now that both the Secretary of Defense and Chairman of the Joint Chiefs of Staff are telling us it's time to repeal the discriminatory law, McCain throws a hissy fit and refuses to budge. Once known for his "maverick" and independent streak, it appears that he has lost his better qualities. Is he pandering to social conservatives to ensure more years in Washington? Or has he yet to accept his defeat to that young upstart, Obama? Or is he simply clinging on to an order that is fast disintegrating — one in which he and other privileged, wealthy and heterosexual white men hold sway?
McCain, joined by a few of his ilk, defiantly displayed how out of synch he is with most of us. Sen. Saxby Chambliss of Georgia, in particular, uttered inanity that only underscored how divorced these men are from reality. He protested that repealing "Don't Ask, Don't Tell" would open the flood gates to "alcohol use, adultery, fraternization, and body art" in the military. I believe it's a bit too late for that.
In other news, at the National Prayer Breakfast yesterday, Obama finally addressed the maniacal and murderous anti-LGBT fervor gripping Uganda and other African Nations. He said, "We may disagree about gay marriage, but surely we can agree that it is unconscionable to target gays and lesbians for who they are — whether it's here in the United States or, as [Secretary of State] Hillary [Clinton] mentioned, more extremely in odious laws that are being proposed most recently in Uganda."
Clinton, who gave the keynote address, had stressed that the administration is "looking to take on religious discrimination and violations of human rights. But we are also standing up for girls and women, who too often in the name of religion are denied basic human rights. And we are standing up for gays and lesbians, who deserve to be treated as full human beings."
On Monday, newly minted Virginia Gov. Bob McDonnell announced that he had decided to shelve his predecessor's proposal to allow same-sex partners to be covered under the state's employee health plan. The proposal had been developed by outgoing Democratic Gov. Tim Kaine weeks before the god-fearing McDonnell took over the reins of the Old Dominion State. It would have expanded benefits to qualified adults — straight and gay partners, roommates, caregivers, children and other family members — who live in the same house as an insured state employee.
The following day, in neighboring D.C., Republican Sen. Robert Bennett of Utah and eight other GOP senators introduced legislation that would require the District to subject marriage equality to a referendum before issuing marriage licenses to lesbian and gay couples next month. In response, D.C. Del. Eleanor Holmes Norton said that the Republicans are "disregarding the most basic of American self-government principles." She argued that "marriage is a fundamental state's right in the District as elsewhere in America, not a political football to be used or abused to score points back home at the expense of the people of the District, and of democratic principles."
And while many of us were riveted on the "Don't Ask, Don't Tell" hearing, the U.S. Tax Court quietly issued a long-awaited decision in a case that has very positive consequences for transgender people. In O'Donnabhain v. Commissioner of Internal Revenue, the court ruled that treatment for gender identity disorder qualifies as medical care under the Internal Revenue Code, and that medical treatments for GID, including surgery and hormone therapy, are therefore deductible.
Karen Loewy of Gay & Lesbian Advocates and Defenders, which represented the plaintiff, celebrated the verdict.
"This decision treats Rhiannon O'Donnabhain the way she deserves to be treated — like any hard-working American taxpayer with medical expenses." She pointed out that "this has been a no-brainer. Every mainstream medical authority from the American Psychiatric Association to the National Institutes of Health recognizes the legitimacy of providing medical care for transgender people. Dismissing these medical expenses as illegitimate and not deductible was discrimination, pure and simple."
On Wednesday, Maryland lawmakers rejected an effort by their own to prohibit the state from recognizing same-sex marriages lawfully performed elsewhere. Del. Emmett Burns Jr., a Democrat and minister, had proposed the bill as a pre-emptive strike against an anticipated legal opinion the state's attorney general has been working on. It has been predicted that the attorney general will allow same-sex marriages to be recognized in Maryland, following the state's legal tradition of recognizing unions, including common-law marriages, which are illegal in Maryland but lawful elsewhere. Same-sex marriage is still not legal in the state.
Finally this week, thousands of lesbian, gay, bisexual and trans activists and straight allies gather in Dallas for Creating Change 2010, the National Conference on LGBT Equality organized by the National Gay & Lesbian Task Force. In attendance are young and old activists and advocates, organizers and activists of color, public officials and other LGBT leaders. Its primary goal is "to build our movement's political power from the ground up to secure our overarching goal of full equality, social justice and dignity for lesbian, gay, bisexual and transgender people in the United States."
Unlike McCain and his friends, these people are not wealthy, privileged and powerful men cocooned in Washington, shaking their fists against welcome change. These ordinary Americans are acting with more wisdom, courage and integrity than the senators, leading the way to our shared future in which the next generation of conservatives, liberals and independents will wonder what the fuss was all about.
Erwin de Leon blogs for DC Agenda. You can follow him on Twitter at @ErwindeLeon.
Long-time LGBTQ activist running for Md. House of Delegates
Patrick Paschall is former FreeState Justice executive director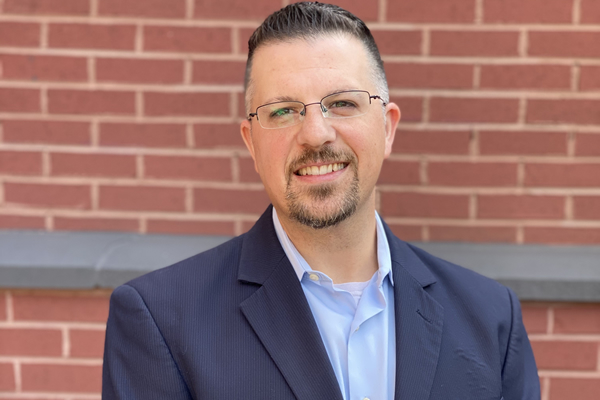 Former FreeState Justice Executive Director Patrick Paschall last week announced via social media that he is running for the Maryland House of Delegates.
"As a proud parent of two kids in Prince George's County public schools, former Hyattsville City Council member, and lifelong civil rights advocate and policy analyst, I've spent my life and career working for equity, community and sustainability for my family," Paschall said in a statement posted to Facebook on Nov. 23.
Paschall, who currently is the American Rescue Plan Program Manager for the city of Hyattsville, previously served as executive director for FreeState Justice from 2015 to 2017.
His LGBTQ advocacy work also includes serving as senior policy counsel for the National LGBTQ Task Force, as an organizer for Pride at Work and as a policy fellow for the National Center for Transgender Equality.
He also worked for Family Equality Council, an organization advocating for the rights of same-sex couples and their children.
"One of the things I'm running on is being a parent," Paschall told the Washington Blade. "We can provide more opportunities for families to succeed in our communities."
Paschall is running to represent District 22, which includes Hyattsville, where he has lived for over 10 years with his two children, who currently attend Hyattsville Elementary School, and his wife, who identifies as pansexual. 
He told the Blade he views his family as a "rainbow family," but pointed out since he and his wife did not have to endure the same difficulties as his friends who are married same-sex couples when they wanted to adopt children.
"When I became a parent, no one stopped by my house to make sure it was an adequate living situation for my child, no one checked to make sure I had a room dedicated to the child and for no other purpose," he said. "But my friends Jamie and Sean went through all of that when they tried to adopt a kid."
Paschall explained that even though he and his wife didn't go through these experiences, there was still room for Maryland to improve in the areas of adoptions and civil rights.
"It strikes me how much privilege I have because the state doesn't design to make it hard for me like it does for so many same-sex couples," he explained.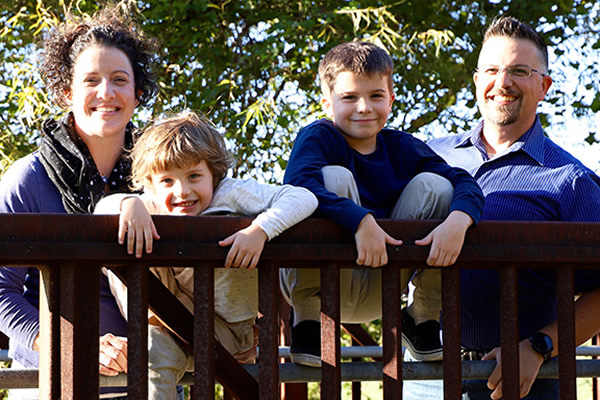 Much like with the recent elections in neighboring Virginia, Paschall said helping parents is an important issue for him — one he wants to carry to Annapolis — if elected "because my district deserves better schools for our kids, more child care options and family support like paid family leave."
"I think that District 22 needs a voice in Annapolis to represent progressive parents and to exercise policy expertise in achieving the values of our community," he added. "And I have the experience to get it done."
D.C. area LGBTQ bars, eateries receive $100K COVID-19 relief grant
Pitchers, League of Her Own received NGLCC, Grubhub funds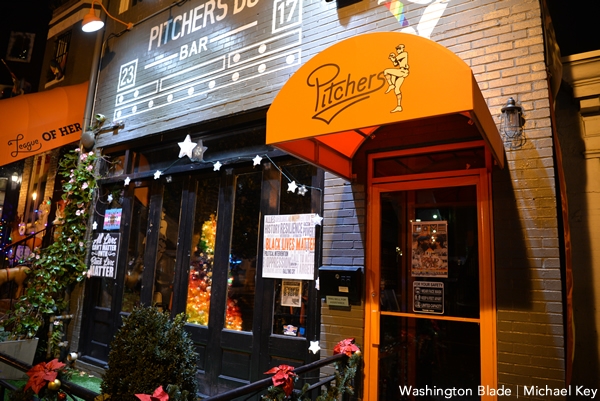 The D.C. LGBTQ sports bar Pitchers and League of Her Own, its adjoining lesbian bar, are among the nation's first LGBTQ bars that serve food as well as alcoholic beverages to receive a $100,000 COVID-19 relief grant under a $2 million Community Impact Grant Program.
The program, aimed at supporting LGBTQ-owned and LGBTQ-allied small businesses struggling from the pandemic, was launched in September as a joint project of the National LGBT Chamber of Commerce, which goes by the initials NGLCC, and the global online food delivery company Grubhub.
In a Tuesday announcement, NGLCC and Grubhub said Pitchers and League of Her Own, which operate as one business in adjoining buildings in D.C.'s Adams Morgan neighborhood, are among the first three recipients of $100,000 grants under the Community Impact Grant Program. The other two recipients are FOODE + Mercantile of Fredericksburg, Va., and Café Gabriela of Oakland, Calif.
"Following this initial round of recipients, more grants will be issued in late 2021 and early 2022," the announcement by the two groups says. In an earlier announcement, the groups said the application period for the grants program took place from September through Oct. 12, and the grants would range in amounts from $5,000 to $100,000.
"The impact of COVID-19 has been debilitating for countless restaurant and bar owners, including the many LGBTQ+-owned restaurants across the country who have persisted through lockdowns, operational changes and labor supply shortages," said NGLCC Co-Founder and President Justin Nelson. "We're grateful to have partnered with Grubhub to offer real lifelines to support businesses throughout the nation," Nelson said.
"Building community in a fun and safe place has been our mission since the very beginning," said David Perruzza, the owner of Pitchers and League of Her Own. "We're relieved and thankful for these funds, and are looking forward to more stable days ahead," Perruzza said.
"As a trans masculine and queer immigrant person of color, I've worked hard and put all my love and energy into building a beautiful and welcoming space in Café Gabriela," said owner Penny Baldado. "I've remained resilient through COVID, and this grant is the injection of funds that we need to continue along our journey to full recovery," Baldado said.
The statement announcing the first three grant recipient says funds for the $2 million grant program were generated by Grubhub's "Donate the Change" program of which NGLCC became a partner in June. Grubhub says the program asks customers receiving food delivered by Grubhub "to round out their order and donate the difference" to the charitable fund.
"COVID has turned the restaurant industry on its head the last 18 months, and at Grubhub, we've been working hard every day to support our restaurant partners across the country," said Amy Healy, Grubhub's vice president of government relations. "As the world starts to return to a new normal, we're proud to partner with the NGLCC and provide these grants to LGBTQ+-owned and LGBTQ+ ally-owned restaurants across the country that are pillars of their communities."
Va. businessman apologizes for burning of rainbow flag poster
'Shocked and horrified': Ashburn incident caught on video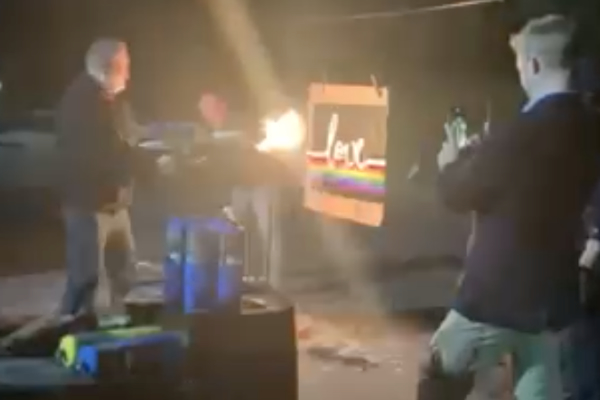 The owner of a Virginia technology company that hosted a private Veterans Day party on the grounds of an Ashburn, Va., brewery in which a company employee used a flame-throwing device to ignite a rainbow flag poster said the selection of the poster was a mistake and he and his company have no ill will toward the LGBTQ community.
The Washington Blade learned about the poster burning from a customer of the Old Ox Brewery in Ashburn, where the incident took place on its outdoor grounds. The customer made a video of the incident with his cell phone and sent a copy of the video to the Blade.
The video, which includes an audio recording, shows a man using a hand-held flame-throwing device to ignite the rainbow poster, which was hanging from a cable and appeared to be mounted on cardboard or a thin sheet of wood. Bystanders can be heard laughing and cheering as the poster is set on fire.
The poster consisted of a variation of the LGBTQ Pride rainbow flag that included the word "love" configured from an upper white stripe on the rainbow symbol.
The customer who took the video, who has asked not to be identified, thought the decision to set the poster on fire was a sign of disrespect if not hatred toward a longstanding symbol of LGBTQ equality and pride.
Chris Burns, Old Ox Brewery's president, shared that view, telling the Blade he and his staff were "shocked and horrified" when they learned later that a rainbow flag poster had been burned on the brewery's grounds. Burns said Old Ox supports the LGBTQ community and participated in LGBTQ Pride month earlier this year.
He said the company that held the private party paid a fee to hold the event on the brewery's grounds, but the brewery did not know a rainbow poster would be burned.
"I'm mortified that our event was interpreted in this way," said Nate Reynolds, the founder and partner of Hypershift Technologies LLC, the Falls Church, Va.-based technology company that organized the Nov. 11 party at Old Ox Brewery. "I can assure you that ZERO ill-will or offense was meant," Reynolds told the Blade in a Nov. 24 email.
"We held a small private party for a few clients, which included a demonstration of Elon Musk's Boring Company 'Not a Flamethrower,'" he said in his message. He was referring to one of billionaire businessman Elon Musk's companies that specializes in boring through the ground to create tunnels for cars, trains, and other purposes.
"After so many being isolated during COVID, we wanted to have an event that was lighthearted and to some small effect, silly," Reynolds said in his message to the Blade.
According to Reynolds, in thinking about what should be used for "fodder" for the flame-thrower, he went to a Five Below discount store and purchased items such as stuffed animals and posters, including a "Space Jam" movie poster as well as what he thought was a poster of the British rock group The Beatles.
"When I pulled the Beatles poster out of the tube it was instead the 'Love' poster," he said, referring to the rainbow flag poster the Blade asked him about in an earlier email.
"All I focused on was the 'Love' wording and not the rainbow and did not draw the conclusion that the poster was an icon that represents the LGBTQ community," Reynolds said. "It was my own ignorance of not connecting the symbolism of the poster. If I had realized it was a symbol of the LGBTQ community, I would not have used it," he said.
"I feel terrible, and I want to emphasize that I am solely responsible for this mistake – not the Old Ox Brewery," he wrote in his message. "Nobody at Old Ox had anything to do with this activity."
Reynolds added, "Hate has no place in my heart, and I sincerely apologize for any offense that could have been drawn from what I now realize was poor judgement on my part. I simply didn't correlate this poster with the LGBTQ pride symbol."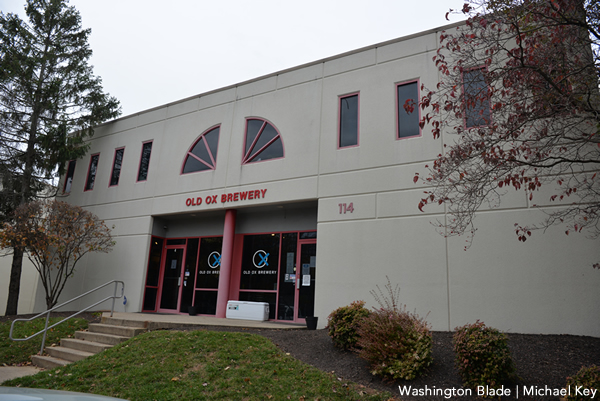 Before Reynolds issued his statement of apology, Burns, the Old Ox Brewery co-owner, told the Blade in an email he was "saddened and upset" over the rainbow poster burning on the grounds of his brewery.
"We do not wish to benefit from this event," he said in his email message. "Therefore, Old Ox is donating 100% of the revenue generated from the private event to GLSEN."
GLSEN is a national LGBTQ advocacy group that focuses on education and support for LGBTQ youth. Burns said Old Ox Brewery also donated proceeds from a Pride month event it organized earlier this year to GLSEN.
LGBTQ activists and organizations contacted by the Blade said they were unfamiliar with the variation of the rainbow flag with the word "love" that was the subject of the poster burning incident. The poster is available for sale at Five Below stores in the D.C. metropolitan area for $5.
Small print writings on the poster show it is produced by Trends International LLC, which describes itself on its website as "the leading publisher and manufacturer of licensed posters, calendars, stickers and social stationery products." The Blade couldn't immediately determine who designed the poster.
The video of the poster burning incident can be viewed here: