Virginia colleges mum on Cuccinelli letter
Public colleges and universities in Virginia were considering their options this week after state Attorney General Ken Cuccinelli declared their policies barring discrimination against gays illegal.
Many student and LGBT groups mobilized against Cuccinelli's letter March 4 to 40 school presidents, which says the institutions cannot treat sexual orientation, gender identity and gender expression as protected classes in non-discrimination policies. But the schools largely reserved comment.
Only one major institution, Virginia Commonwealth University, released before DC Agenda deadline any official statement, but it said only that students, faculty and staff would be consulted.
Gov. Bob McDonnell (R) seemed to offer the schools a small reprieve earlier this week. A spokesperson affirmed the governor's view that only the General Assembly can extend anti-discrimination protections to a new class, a view consistent with Cuccinelli's advice.
But the spokesperson, Tucker Martin, noted executive branch appointments to school boards would not focus on this issue.
"The governor will appoint board members based solely on their ability and on their strong commitment to educational excellence in Virginia. The governor expects that no Virginia college or university, or any other state agency, will engage in discrimination of any kind."
Equality Virginia CEO Jon Blair called on McDonnell to prove his stance against discrimination by asking the General Assembly to send him a bill adding sexual orientation to the state's policy.
"Attorney General Cuccinelli's letter was Gov. McDonnell's opportunity to prove whether he was the Robert McDonnell who said through his entire campaign that he opposed discrimination or he was the Robert McDonnell who wrote the thesis from 20 years ago," Blair said, referring to past writings where the governor opposed gay rights. "I think if he fails to act on this, he's proven exactly which one he is."
On Tuesday, the state House voted down a motion to force a vote on the bill that would have added sexual orientation to the state's non-discrimination laws. The measure failed 55-42. The bill previously passed the state Senate, but did not make it out of subcommittee in the House.
One university's diversity coordinator, who spoke on condition of anonymity, said some schools would defy the request if they could, but they would face significant political pressure to comply with the current administration.
Campus groups, meanwhile, have begun campaigns asking school administrators to ignore Cuccinelli's directive. University of Virginia's Queer & Allied Activism group began by uploading to Facebook photos of the attorney general that were doctored to poke fun at him.
Inspired by the grammatically incorrect lolcatz pictures, some photos of Cuccinelli included the words "In ur AG office … hatin' on ur gays" and "Gays? We don't have them in my state."
One group on Facebook that stood against Cuccinelli's letter, "We Don't Want Discrimination in Our State Universities and Colleges," gathered more than 4,000 members within days.
Seth Kaye, a second year engineering student at UVA and member coordinator of Queer & Allied Activism, said he felt hurt by the attorney general's attack and wanted to know why anyone thought it was acceptable to go after LGBT people.
"I don't understand how that can pass a rational basis test," Kaye said. "It seems totally biased."
UVA was making significant improvements toward offering services to LGBT students, Kaye said, including starting a queer studies minor program and a new gay fraternity.
"I hope the universities all come together and say we're not going to follow this order," he said. "Hopefully, if the state sues them, it turns out in our favor and maybe [we] even get sexual orientation as a protected class."
With most students away from campus on spring break, Kaye said campaigning on the issue has been largely performed online, with a particular focus on Facebook and e-mail. He wondered if the letter's timing was deliberate to avoid a more robust student backlash.
For his part, Cuccinelli took to local airwaves this week to defend his advice to schools. He said his letter was consistent with opinions of the state's previous five attorneys general, which included three Democrats.
But on his Twitter profile, Cuccinelli was less cautious: "Still much sound and fury about simply stating what the law is now and has been pretty much forever in Virginia … but on a touchy subject."
Fears that the Republican would use his office to advance a socially conservative agenda, rather than merely advise on law, were expressed as early as his campaign launch, including from vocal members of the Log Cabin Republicans of Virginia.
"Just as we feared, Mr. Cuccinelli is becoming an embarrassment to the entire state with his extreme views on this issue," said David Lampo, vice president of the Log Cabin Republican Club of Virginia.
"We call on Virginia's state colleges and universities to resist this outrageous demand and to continue their policies of hiring and firing on the basis of merit rather than sexual orientation, and we call on Gov. McDonnell to end this legal limbo for gay and lesbian state employees by supporting a bill to outlaw employment discrimination on the basis of sexual orientation."
Comings & Goings
Nathanson takes role at Outright Action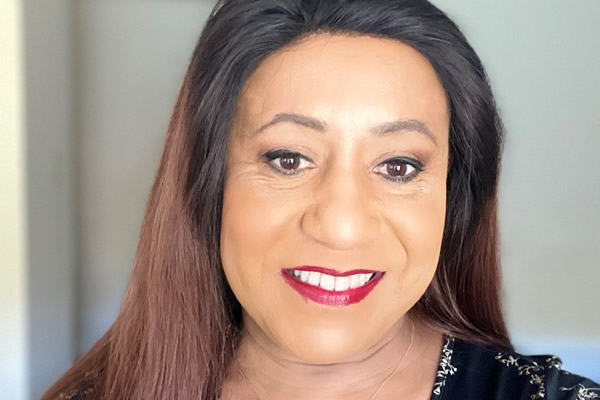 The Comings & Goings column is about sharing the professional successes of our community. We want to recognize those landing new jobs, new clients for their business, joining boards of organizations and other achievements. Please share your successes with us at: [email protected]
The Comings & Goings column also invites LGBTQ+ college students to share their successes with us. If you have been elected to a student government position, gotten an exciting internship, or are graduating and beginning your career with a great job, let us know so we can share your success.
Congratulations to Rikki Nathanson on her new position as Senior Advisor – Global Trans Program with OutRight Action International in New York. Nathanson will be based in D.C.
"I am absolutely thrilled to be taking on this new role as Senior Advisor in OutRight's Global Trans Program," said Nathanson. "I have finally found the perfect fit for me: as a trans woman who has been fighting for equality not only for myself, but for others globally, this position is not only a job, it's intrinsically part of who I am. So, what better way to live, nurture and grow myself."
Nathanson will be working closely with all program staff to ensure a cohesive and intentional approach to gender issues throughout OutRight's programs, including its approach to gender ideology movements. She will lead new initiatives on gender advocacy and policy change, focused but not limited to legal gender recognition and anti-discrimination legislation and policies.
Prior to this Nathanson was director of housing programs at Casa Ruby in D.C. She has also held a number of other positions including: founder/executive director of Trans Research, Education, Advocacy & Training (TREAT), Zimbabwe; chairperson Southern Africa Trans Forum, SATF, Cape Town, South Africa; executive director, Ricochet Modeling Agency, Zimbabwe; and company secretary for Dunlop Zimbabwe Limited, Zimbabwe.
SMYAL Director Shakir to step down Dec. 31
Board to launch Executive Search beginning in January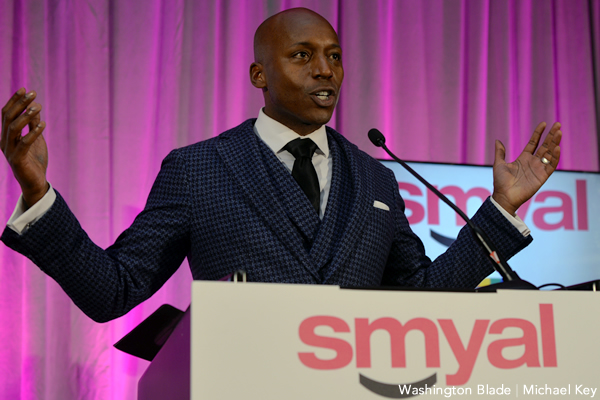 Sultan Shakir, who has served as executive director of D.C.'s LGBTQ youth advocacy organization SMYAL since August 2014, announced on Friday that he will be stepping down from his position effective Dec. 31.
In a Dec. 3 announcement, SMYAL said details of Shakir's future career plans would be announced in the coming weeks.
"While we are sad to see Sultan leave, we wish him nothing but the same success in his new endeavor as he had at SMYAL," said Rob Cogorno, SMYAL's board chair. "His leadership and vision enabled SMYAL to expand greatly needed services to LGBTQ youth in the DC metro area throughout his tenure," Cogorno said.
"I am immensely proud of the work we have been able to accomplish together in my time at SMYAL," Shakir said in a statement released by SMYAL. "SMYAL has been an integral and vital resource in the DMV community for over 37 years, and while we have come a long way in combating homophobia, transphobia, racism, sexual health stigma, homelessness, violence against the LGBTQ community, and oppression, we have a long way to go," he said.
"This work has never been about one person," said Shakir. "SMYAL was founded by our community and we're still around because of our community," he said. "I leave knowing that the commitment and passion of the SMYAL Board, staff, volunteers, and youth leaders have created a solid foundation from which our work will continue to grow until LGBTQ youth no longer need us."
The SMYAL statement says that under Shakir's tenure, SMYAL, which stands for Supporting and Mentoring Youth Advocates and Leaders, expanded its programs and services for LGBTQ youth. Among other things, in 2017 SMYAL opened its first of several housing facilities for homeless LGBTQ youth that include culturally competent case management, education and employment assistance.
"The Youth Housing Program now comprises five programmatic models that serve a combined 61 youth residents," the statement says.
It points out that also under Shakir's leadership, SMYAL expanded the age range of the youth its programs serve under a new Little SMYALs program, which welcomes LGBTQ youth ages 6-12. And earlier in 2021 under Shakir's guidance, SMYAL began a new Clinical Services Department "which provides affirming and accessible mental health counseling," the statement says.
"The SMYAL Board of Directors will officially launch an Executive Search beginning in January 2022 and expects to have named a new Executive Director by summer 2022," the statement says. It says the board will soon name an interim executive director to work with SMYAL's Deputy Executive Director, Jorge Membreno, and the organization's leadership team to oversee the day-to-day activities until a new executive director is named.
Rainbow History Project to honor LGBTQ 'Pioneers'
Virtual celebration to take place on Dec. 9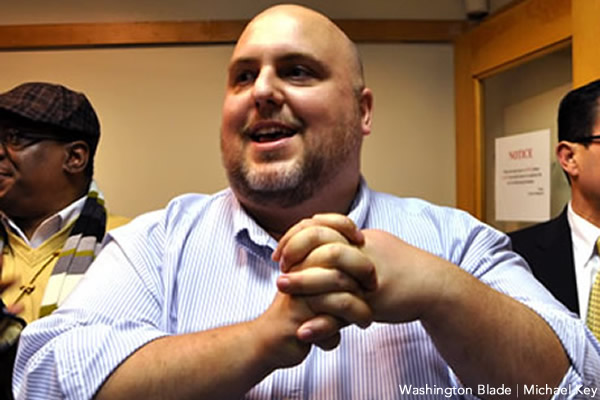 D.C.'s Rainbow History Project says it will honor and recognize 12 individuals and one organization by designating them as Community Pioneers "for their diverse contributions to the Washington-area LGBTQ community" at a Dec. 9 virtual celebration.
"Rainbow History Project is an all-volunteer organization dedicated to collecting, preserving and sharing the LGBT history of metropolitan Washington, D.C.," the group says in a statement announcing the event. "The Pioneers awards recognize diverse community leaders for their roles as organizational founders, innovators, advocates and volunteers," the statement says.
"The Pioneers celebration will be held virtually and is designed with special features that reproduce the feeling of attending in-person, such as live streaming and video chatting with other attendees and Pioneers before and after the core awards programing," according to the statement.
"Celebrating our Community Pioneers has been a cherished tradition since Rainbow History Project's founding 21 years ago," said Rob Berger, the organization's chairperson. "It's always an inspiring event, and we are happy that our virtual platform will still allow participants to meet and talk with the Pioneers," Berger said in the statement.
The virtual event is free and open to the public, the statement says. Organizers released this link for those interested in attending, saying a short registration process may require registering in advance.
Following is the list of Community Pioneers scheduled to be honored at the Dec. 9 event as released by Rainbow History Project along with the project's description of their backgrounds.
– Arlington Gay and Lesbian Alliance, a local group that since its founding has addressed equal rights issues for LGBTQ Virginians from a state and local perspective.
– Eboné F. Bell, founder and editor-in-chief of Tagg Magazine and Tagg Communication LLC.
– Bart Forbes, founding member of "Gay Fairfax," a pioneering television newsmagazine program in Northern Virginia.
– Ellen Kahan, youth and family advocate, president of Rainbow Families, former director of the Lesbian Services Program at Whitman-Walker Health, and currently senior director of programs and partnerships at the Human Rights Campaign Foundation.
– Theodore Kirkland (deceased), a co-founder of D.C. Black Pride in 1991, member of the Gay Liberation Front and Skyline Faggots, active community health volunteer and advocate.
– Paul Marengo, community leader through LGBTQ organizations including Reel Affirmations, Cherry Fund, and Pride celebrations for youth, Latino, Black and Transgender communities.
– David Mariner, executive director of CAMP Rehoboth, and former executive director of the D.C. Center for the LGBT Community.
– Mark Meinke founder longtime chair, Rainbow History Project, and co-founder of Rainbow Heritage Network, a national organization for the recognition and preservation of sites, history and heritage associated with sexual and gender minorities.
– Michael "Micci" Sainte Andress, artist, health educator and advocate and an early leader in bringing African Americans into HIV/AIDS clinical trials.
– Boden Sandstrom, founder and owner of Woman Sound (later City Sound), the first all-woman sound company, which makes LGBTQ rights rallies and the women's music scene possible.
– Casse Culver (deceased), nationally acclaimed D.C. lesbian feminist singer-songwriter, and partner of Boden Sandstrom, whose followers said her love songs and feminist lyrics moved audiences from foot stomping to silent reflection.
– Alan Sharpe, playwright, director and co-founder of the African American Collective Theater in Washington, D.C., in 1976, which now focuses on LGBTQ life and culture in the Black community.