Safe spaces for LGBT youth
At the beginning of this week, the Baltimore Gay, Lesbian, Bisexual & Transgender Community Center's plans for an LGBT youth center were revealed. Scheduled to open this fall, the center will offer mentoring, health education and other services tailored for younger members of our community.
Andrew Ansel, programs manager for Baltimore's Center, explained the need for a safe space for young LGBT: "Youth are coming out at a lot younger ages. It is becoming less stigmatizing, but there are still a lot of challenges. It is still very difficult to come out in high school." Moreover, Ansel reports that the city's youth centers and facilities tend to not be "gay-friendly."
Indeed, although television shows like "Glee" and "Ugly Betty" depict gay boys who are for the most part embraced by their families and schoolmates, the reality is many young queers are not as fortunate. The Gay, Lesbian & Straight Education Network reports that nine out of 10 LGBT middle school and high school students experience harassment at school, and three out of five feel unsafe at school because of their sexual orientation. This translates into poor academic performance. The grade point average of students who are more frequently harassed because of their sexual orientation or gender expression is almost half a grade lower than for students who are less often harassed.
LGBT youth centers provide a place for adolescents and teens to congregate after school, where they can be themselves, free from harassment and intimidation. These spaces can also be life savers for teens who have run away or been thrown out by their parents after coming out.
An Urban Institute report estimates the runaway population to be anywhere from 1.6 million to 2.8 million. As the report points out, "running away from home puts youth at risk of violence, crime, drugs, prostitution, HIV and other STDs, and other health problems. … Runaway youth are not only likely to perpetrate crimes and engage in delinquent behaviors, they are also likely to have been victimized at home and to experience additional victimization once they leave home."
It is safe to assume that a considerable portion of these runaways are queer and homeless. As the National Gay & Lesbian Task Force's report on runaway and homeless LGBT youth found, a stunning 20 to 40 percent of all homeless youth identify as lesbian, gay, bisexual or transgender. That means there are hundreds of thousands of vulnerable LGBT kids.
The CenterLink Community Center Directory lists 192 LGBT community centers in the U.S. and that 85 percent of these centers offer services tailored for LGBT youth. This is welcome information. But is it enough? Do LGBT youth and their advocates know where these oases are?
We need to support and open more centers that welcome and provide safe spaces for our youth. LGBT kids should know that there are places where they can take respite and, when necessary, refuge.
You can follow Erwin on Twitter at @ErwindeLeon.
National Gay & Lesbian Chamber of Commerce Certifies Brown, Naff, Pitts Omnimedia, Inc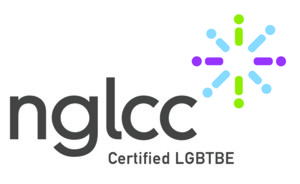 Washington, D.C. — Brown, Naff, Pitts Omnimedia, Inc, the parent company of the Washington Blade and Azer Creative, announced today it has been certified by the National Gay and Lesbian Chamber of Commerce (NGLCC) as an LGBT Business Enterprise. The NGLCC supports and advocates for diversity and inclusion for LGBT-owned businesses. With this certification the Blade's parent company joins more than 510 business and 134 corporate partners of the NGLCC.
Brown, Naff, Pitts Omnimedia, Inc. owns and operates the Washington Blade, the oldest and most acclaimed LGBT newspaper in the country. In 2012, the company launched Azer Creative, a full-service design firm. The company employs more than a dozen full-time LGBT staff.
"We are excited to become one of the 500 LGBT businesses across the country certified by NGLCC," said Lynne Brown, the Blade's publisher and a co-owner of the company. "The LGBT community has been part of our company from the beginning and we look forward to continue that for many years to come."
The Washington Blade was founded in 1969 and is known as the "newspaper of record" for the LGBT community both locally and nationally. Visit washingtonblade.com for more information. Azer Creative is a full-service graphic design firm based in Washington, D.C. Visit azercreative.com for more information. 
Vote now for the 2013 Best of Gay DC!
Choose in dozens of categories among hundreds of nominees, and make your voice heard!
Nominate the 'Best of Gay D.C.' now!
Dozens of categories cover all the best for LGBT Washington. Who deserves the prize this year?