Can you be a good gay and conservative?
The increasingly popular answer is 'yes'

My name is Jessica Lee. I am gay and a conservative. Sounds a little like the first step in a 12-step recovery program, right? Alas, some folks on the left think a 12-step program is exactly what I need. The idea that a woman could be gay and hold right of center political beliefs is anathema to much of the gay community.
I have been offered an opportunity here to present the views of gay conservatives like me. As a board member of GOProud, an advocacy organization for gay conservatives and our allies, I believe strongly that there are many conservative policy initiatives that could improve the everyday lives of gays and lesbians.
I didn't spring from the womb a Goldwater conservative. I grew up in a staunchly liberal household and held those ideals during my youth. Over the years, however, my personal and professional experiences caused my political views to shift and I embraced the conservative and libertarian values of free minds, free markets and limited government. I also came to believe that there is a very compelling case to be made for a conservative/libertarian approach to advancing equality.
Traditionally, there has been a rigid ideological hegemony in the gay community. Namely, there is a widely held belief that one cannot be a good gay person and support equality without being a Democrat. Fortunately, this is starting to change, mainly for two reasons.
The first reason for this change is that the conservative movement itself is changing and becoming dramatically more inclusive.
I saw this growing inclusiveness first-hand as GOProud co-sponsored this year's Conservative Political Action Conference, or CPAC. CPAC is the country's premier conservative event and in 2010 had more than 10,000 attendees. We were pleasantly surprised by the reaction that our decision received. While one or two organizations, such as Jerry Falwell's Liberty University, announced they would boycott the event because of our participation, the overwhelming reaction from the organizers of CPAC and many other conservative groups and bloggers strongly supported our co-sponsorship.
At the event, GOProud had a booth and I was part of the team manning it. Frankly, I did not know what to expect and braced myself for hostile reactions. What happened was the opposite, as we were overwhelmed by offers of support and encouragement from the many attendees who made a point of visiting our booth. In fact, our booth was much busier than that of the National Organization for Marriage, which was positioned one booth away from ours. Indeed, the results of the CPAC straw poll confirmed what we were experiencing — only 1 percent of CPAC attendees said same-sex marriage was an issue of concern for them. In fact, my experience at the conference led me to conclude that it is easier coming out to conservatives as gay than it is coming out as a conservative to gays.
The second factor that is challenging the ideological hegemony of the gay community is the disappointing performance of the Obama administration and Congress in advancing equality of opportunity for our community. Even with large majorities in the House and the Senate and control of the White House, Democrats have failed to deliver on their campaign promises to us.
"Don't Ask, Don't Tell" is the most dramatic and disappointing example of the Democrats' failure. Despite overwhelming public support for repeal, Congress is at an impasse on the issue and the administration of our "fierce advocate," despite his promise to repeal, is now urging Congress not to vote for repeal this year.
It is clear the gay community is taken for granted by the Democratic Party. No matter how much money we give them or how many doors we knock on for their candidates our issues are never a priority. And not until we make Democrats compete for our money and our votes will they be.
I know as gay conservatives, we have an uphill battle. I understand how entrenched the Democratic Party is within our community. But you can be a good gay person who supports equality and not be a Democrat. Gay conservatives share many of the same goals as our friends on the left, even if we may disagree on the best policy route to get us there.
Jessica Lee is a new board member of GOProud and regular contributor to the Blade. Reach her at [email protected]
National Gay & Lesbian Chamber of Commerce Certifies Brown, Naff, Pitts Omnimedia, Inc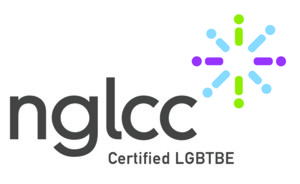 Washington, D.C. — Brown, Naff, Pitts Omnimedia, Inc, the parent company of the Washington Blade and Azer Creative, announced today it has been certified by the National Gay and Lesbian Chamber of Commerce (NGLCC) as an LGBT Business Enterprise. The NGLCC supports and advocates for diversity and inclusion for LGBT-owned businesses. With this certification the Blade's parent company joins more than 510 business and 134 corporate partners of the NGLCC.
Brown, Naff, Pitts Omnimedia, Inc. owns and operates the Washington Blade, the oldest and most acclaimed LGBT newspaper in the country. In 2012, the company launched Azer Creative, a full-service design firm. The company employs more than a dozen full-time LGBT staff.
"We are excited to become one of the 500 LGBT businesses across the country certified by NGLCC," said Lynne Brown, the Blade's publisher and a co-owner of the company. "The LGBT community has been part of our company from the beginning and we look forward to continue that for many years to come."
The Washington Blade was founded in 1969 and is known as the "newspaper of record" for the LGBT community both locally and nationally. Visit washingtonblade.com for more information. Azer Creative is a full-service graphic design firm based in Washington, D.C. Visit azercreative.com for more information. 
Vote now for the 2013 Best of Gay DC!
Choose in dozens of categories among hundreds of nominees, and make your voice heard!
Nominate the 'Best of Gay D.C.' now!
Dozens of categories cover all the best for LGBT Washington. Who deserves the prize this year?