Holding wealthy gay donors accountable
A window on facet of the movement most of us don't see

When the LGBT rights movement encounters setbacks — something that happens regularly — fingers inevitably point at the Human Rights Campaign.
As the most prominent and visible organization working for LGBT equality, that's to be expected. But there's another group that doesn't get nearly the amount of media attention as HRC that also deserves scrutiny: Gill Action Fund and its separate entity, Political OutGiving.
Gill Action Fund, founded by wealthy gay entrepreneur Tim Gill in Colorado, "provides resources to individuals and organizations working to advance equality," according to its web site. Gill himself is notoriously press shy and the organization works behind the scenes to elect pro-LGBT political candidates across the country and to defeat anti-gay figures.
It's important, effective work for the movement but sometimes a little sunshine can be a good thing. For that, read Lou Chibbaro's story in this week's Blade about a recent meeting of Political OutGiving, Gill's 527 group that works to elect politicians committed to LGBT equality. The story offers a peek at a facet of the national movement that most of us never see: the world of prominent LGBT donors.
About 200 such donors met at the Peninsula Hotel in Chicago earlier this month to hear a sales pitch from a few politicians who desperately want their money.
The donors assembled at the hotel for a small panel discussion with the politicians, moderated by the Washington Post's Jonathan Capehart, who, like all others in the room, agreed to keep the meeting off the record. Among those hoping to impress the wealthy gays was Maryland Gov. Martin O'Malley, who flew halfway across the country for the secret weekend confab. Of course, keeping a meeting of 200 people off the record in this era is next to impossible and so the Blade began getting reports of what happened behind those gilded closed doors.
O'Malley spoke to the donors and, during his remarks, advocated for civil unions over marriage for same-sex couples because he thinks voters aren't ready for it. It's a cowardly and ill-informed viewpoint, considering the Washington Post just released a poll showing that more Marylanders now support marriage equality than oppose it. If O'Malley had done his homework he would have known that key, relevant fact.
According to multiple sources who were in the room, Julie Goodridge, a plaintiff in the Massachusetts case that legalized same-sex marriage there, was in the audience and vocally objected to O'Malley's position, informing him that his view of civil unions sounds more 2001 than 2010. Indeed, O'Malley isn't just on the wrong side of history, he's on the wrong side of the present and his dim view of marriage doesn't jibe with his own state's blue demographics and voters' growing support for marriage rights.
When Goodridge criticized O'Malley, the audience reportedly broke into applause. Let's hope this means they will resist supporting O'Malley in his re-election bid this year.
And here's where OutGiving's secrecy does a disservice to the movement at large: Real progress won't come as long as politicians, particularly Democrats, can rely on big gay money even after doing nothing to earn it. O'Malley has been criticized in Maryland for his failures on our issues. He did not spend an ounce of political capital to help boost the marriage or trans bias bills this year, both of which died in committee. Again. What's worse: In 2007, after privately telling the plaintiffs in Maryland's marriage lawsuit that he backed them, O'Malley expressed support for the high court ruling against marriage rights and invoked the Catholic sacraments to explain his position.
Worse still is that O'Malley has a gay brother, Paul O'Malley, a D.C.-area attorney. D.C. has legalized marriage and so Martin O'Malley is advocating against a right for his own brother that neighboring D.C. says he is entitled to.
Why would any gay donor give this man a cent? He betrayed the plaintiffs in the marriage case and all the LGBT voters who helped elect him. He's even willing to throw his brother under the bus out of cynical political expediency. O'Malley does not deserve Political OutGiving's support. But if a handful of sources hadn't told the Blade about the meeting, he might have benefitted from a flood of gay money and no one would know about it or be able to hold O'Malley accountable for receiving such support.
Gill Action Fund has done tremendous work on behalf of LGBT rights, most of which goes deliberately unrecognized. But sometimes Tim Gill's quest for secrecy threatens to undermine his cause.
The LGBT movement needs more transparency, especially now that Democrats are facing re-election after two years of wide majorities in both houses that yielded decidedly mixed results for our community. Showering traitorous Democrats like O'Malley with more gay money won't advance marriage or trans rights in Maryland. Gill and his Political OutGiving group should reject O'Malley as a recipient of national gay money — and they should tell him why.
Maybe when politicians pay a financial price for their inaction and duplicity, they will change their behavior.
Kevin Naff is editor of the Washington Blade. Reach him at [email protected]
National Gay & Lesbian Chamber of Commerce Certifies Brown, Naff, Pitts Omnimedia, Inc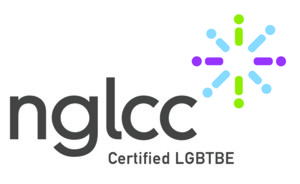 Washington, D.C. — Brown, Naff, Pitts Omnimedia, Inc, the parent company of the Washington Blade and Azer Creative, announced today it has been certified by the National Gay and Lesbian Chamber of Commerce (NGLCC) as an LGBT Business Enterprise. The NGLCC supports and advocates for diversity and inclusion for LGBT-owned businesses. With this certification the Blade's parent company joins more than 510 business and 134 corporate partners of the NGLCC.
Brown, Naff, Pitts Omnimedia, Inc. owns and operates the Washington Blade, the oldest and most acclaimed LGBT newspaper in the country. In 2012, the company launched Azer Creative, a full-service design firm. The company employs more than a dozen full-time LGBT staff.
"We are excited to become one of the 500 LGBT businesses across the country certified by NGLCC," said Lynne Brown, the Blade's publisher and a co-owner of the company. "The LGBT community has been part of our company from the beginning and we look forward to continue that for many years to come."
The Washington Blade was founded in 1969 and is known as the "newspaper of record" for the LGBT community both locally and nationally. Visit washingtonblade.com for more information. Azer Creative is a full-service graphic design firm based in Washington, D.C. Visit azercreative.com for more information. 
Vote now for the 2013 Best of Gay DC!
Choose in dozens of categories among hundreds of nominees, and make your voice heard!
Nominate the 'Best of Gay D.C.' now!
Dozens of categories cover all the best for LGBT Washington. Who deserves the prize this year?