Local news in brief
Lesbian named president of Montgomery College & more
Lesbian named president of Montgomery College
DeRionne Pollard, a lesbian who has served as California Community College's president since 2008, has been named president of Montgomery College, a community college in Montgomery County, Md.
The college's board of trustees announced her appointment May 18, saying Pollard, 39, was chosen following a nationwide search and a review of more than 50 applicants. She holds a doctorate degree in educational leadership and policy studies.
"Throughout the search process, Dr. Pollard impressed both the board and the search advisory committee by her passion and devotion to the advancement of the community college mission and the students we serve," the board said in a statement.
In its announcement of her appointment, the board noted that Pollard and her domestic partner of more than 20 years, Robyn Jones, "are the proud parents of a 3-year-old son, Myles Julian Pollard-Jones."
Pollard is the first known black lesbian to be named president of a U.S. college. Earlier this year, Grinnell College of Iowa named National Institutes of Health deputy director and physician Raynard Kington as its president, making him the nation's first known black openly gay college president.
"I am thankful and truly honored that the board of trustees selected me as the next president of Montgomery College," Pollard said. "I am impressed with the caliber of the faculty, staff, administrators and students at Montgomery College."
The Washington Post reported that Pollard's predecessor, Brian Johnson, was removed as president following allegations of overspending and "lapses in management." The Post said faculty and staff at the college were looking forward to Pollard's leadership after a tumultuous nine months of tension leading up to Johnson's forced resignation.
Faculty and staff rose to their feet and greeted her with prolonged applause when she was introduced to them at an auditorium last week at the college's Rockville, Md., campus.
LOU CHIBBARO JR.
Realtors approve LGBT non-discrimination policy
The Professional Standards Committee of the National Association of Realtors voted unanimously May 13 in Washington, D.C., to approve a policy prohibiting the denial of real estate-related services to someone based on his or her sexual orientation.
The action was proposed last year by the National Association of Gay & Lesbian Real Estate Professionals, which works closely with NAR, according to a statement by the gay group.
It calls for amending NAR's code of ethics to add the term sexual orientation to a litany of other protected classes.
The amended policy, if ratified as expected by the NAR's delegate body in November, would say, "Realtors shall not deny equal professional services to any person for reasons of race, color, religion, sex, handicap, familial status, national origin or sexual orientation."
The proposal would also change the code of ethics to say, "Realtors shall not be parties to any plan or agreement to discriminate against a person or persons on the basis of race, color, religion, sex, handicap, familial status, national origin or sexual orientation." It additionally says that Realtors or real estate firms shall not engage in discrimination based on the same litany of categories in employment practices for their offices.
If the delegate body gives final approval to the policy change, the change would take effect Jan. 1.
LOU CHIBBARO JR.
Stein Club endorses challenger in 'shadow' House race
The Gertrude Stein Democratic Club on Monday passed over the incumbent D.C. "shadow" member of the U.S. House of Representatives, whom it backed in the last two elections, and instead endorsed a little-known challenger for the ceremonial post.
In receiving 60.8 percent of the vote, challenger Nate Bennett-Fleming barely surpassed the required 60 percent threshold for obtaining the club's endorsement, becoming the first non-incumbent to win the Stein backing this year. He beat incumbent Mike Pannetta, who the club endorsed in his 2006 and 2008 bids for the shadow seat.
"Tonight's vote reflects a shift that I believe is happening within the District of Columbia, where we have younger voices standing up to take leadership," said Jeffrey Richardson, the Stein Club's president. "Nate Bennett-Fleming clearly has the support of his peers and a strong bloc of LGBT activists from across the city."
D.C. voters approved the creation of one "shadow" U.S. House seat and two "shadow" U.S. Senate seats in a ballot initiative in the 1980s as part of their support for a D.C. statehood constitution. The positions have no powers or authority in Congress and don't come with a salary.
Backers of D.C. statehood said they modeled the positions after other U.S. territories that created shadow congressional positions when they applied for statehood in the 1800s. People in the positions generally lobby Congress to approve D.C. as the nation's 51st state and give the city budgetary autonomy and full voting rights in Congress.
Bennet-Fleming and Pannetta each expressed support for LGBT rights, including support for the city's same-sex marriage law.
In a separate development, the club voted Monday to endorse the re-election bids of D.C. City Council members Mary Cheh (D-Ward 3) and Tommy Wells (D-Ward 6). The two are running unopposed in the September primary.
LOU CHIBBARO JR.
Glenn Youngkin sworn in as Va. governor
Republican backed teacher who opposed trans student guidelines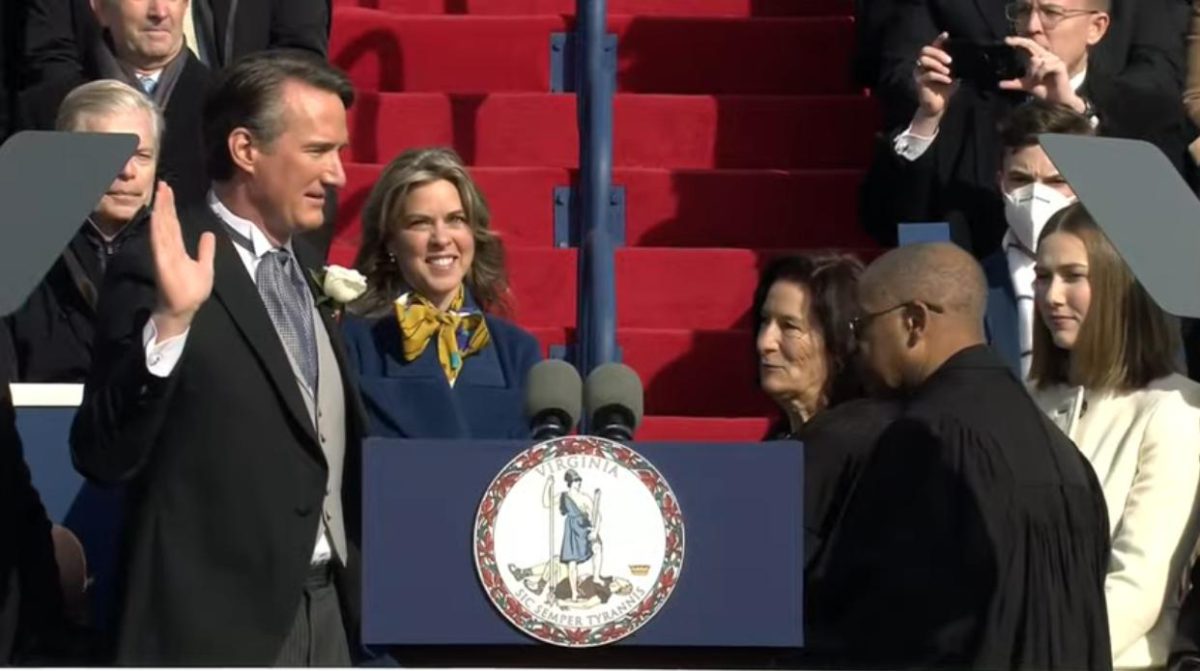 Republican Virginia Gov. Glenn Youngkin took office on Saturday amid concerns that he will seek to curtail LGBTQ rights in the state.
"Today we gather not as individuals, not as Republicans and Democrats," said Youngkin after his swearing in. "Today we gather as Virginians."
Former Gov. Ralph Northam and U.S. Sen. Tim Kaine (D-Va.) are among those who attended the ceremony that took place at the State Capitol. Terry McAuliffe, who Youngkin defeated in the general election, did not attend because of a COVID-19 scare.
Youngkin during his campaign against McAuliffe expressed support for Tanner Cross, a gym teacher at a Leesburg elementary school who was suspended from his job after he spoke out against Virginia Department of Education guidelines that are designed to protect transgender and non-binary students. Youngkin has also said he does not support allowing trans children to play on sports teams that are consistent with their gender identity.
Youngkin on Thursday named Elizabeth Schultz, an anti-LGBTQ former member of the Fairfax County School Board, to his administration.
"We will remove politics from the classroom and focus on the essentials," said Youngkin in his inaugural speech, without specifically mentioning LGBTQ students.
He added "parents should have a say in what is taught in schools."
Youngkin has also expressed his opposition to marriage equality, but stressed it is "legally acceptable" in Virginia and would "support that" as governor.
Lieutenant Gov. Winsome Sears and Attorney General Jason Miyares also took office on Saturday.
Winsome, a former member of the Virginia House of Delegates, is the first woman and first female of color elected lieutenant governor. Miyares, a former House member whose mother was born in Cuba, is Virginia's first Latino attorney general.
Youngkin in his inaugural speech noted "the people of Virginia just elected the most diverse leadership" in the state's history. Youngkin's first executive order ends "the use of" so-called "critical race theory" (which is not taught in Virginia schools) and other "divisive concepts" in Virginia's public schools.
The General Assembly's 2022 legislative session began on Wednesday.
Republicans control the House by a 52-48 margin. Democrats have a 21-19 edge in the Virginia Senate.
Va. school board names new chair who called for burning books
Kirk Twigg backed torching of materials with "sexually explicit" content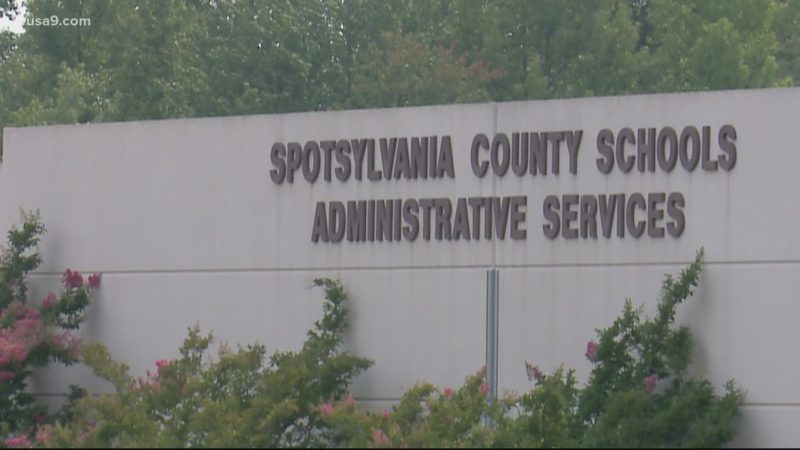 The Spotsylvania County School Board voted Monday to name Kirk Twigg, who advocated for burning books he deemed "sexually explicit" in November, as its new chair. 
His win gives conservatives the majority on the board as Republicans across the country continue an effort to ban books dealing with LGBTQ issues and racism from schools.
Spotsylvania County has been involved in the controversy from the beginning, voting last year to remove books containing "sexually explicit" materials — only to rescind the order a week later.  
Monday's board meeting, Twigg's first as chair, would prove to be disorganized and, at times, unruly.
Twigg's first order of business was to call an unscheduled, closed-door session, which may have violated Virginia's open meeting requirements. According to Virginia Code, a closed meeting cannot be called without a public body approving a motion that states the subject matter and the purpose of the meeting, as well as an applicable exemption from open meeting requirements.
After the board returned from the closed-door session, Twigg said well-regarded Superintendent Dr. Scott Baker would be fired without cause. Baker had already announced he would be resigning at the end of the school year in December.
After Baker decided to resign, a longtime Spotsylvania resident penned a letter in the Free Lance-Star, calling him "the finest superintendent, by far."
"Dr. Baker is trusted and respected by parents, students and employees of Spotsylvania Schools; and he never lost sight of his mission for good reason," it read. "He did so despite the noise and disruption from those few board members dedicated to bringing political disruption and dissidence into our public educational system. Shame on the few."
As Twigg made the announcement, another member of the board interrupted him, saying: "Um, Mr. Twigg, no he is not. You need to make a motion — there needs to be a motion and a vote."
Board members continued to speak over each other as conservative members attempted a vote. But Board Member Nicole Cole told the chairman she had comments.
"I believe that the board members who have lodged this termination owe our citizens and our students of Spotsylvania County a justification for firing Dr. Baker," said Cole. "You have not stated any justification or ability to fill the position. How is this good for the students, the children of Spotsylvania? How does this make sense?"
In a rebuke of the chaotic meeting, she added that Twigg "couldn't even properly chair a meeting."
After approximately 7 minutes of heated discussion where members from both sides got noticeably frustrated, the board voted 4-3 to fire Baker.
Twigg, Lisa Phelps, April Gillespie and Rabih Abuismail, who also advocated for burning books, voted in favor.
The Free Lance-Star reported that Baker was escorted from the building before the board returned from the second closed-door meeting.
An emergency meeting has been scheduled for Friday to name an interim superintendent.
"It's just very sad to hear that a superintendent who has been fully engaged in this community for 10 years is just let go with no rhyme or reason," said Board Member Dawn Shelley, while noting Baker's accomplishments.
Melissa Etheridge to host Heather Mizeur fundraiser
Virtual event to take place on Tuesday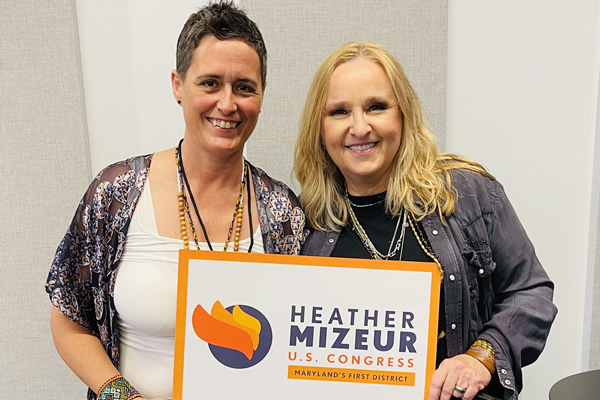 Singer Melissa Etheridge next week will hold a virtual fundraiser for Heather Mizeur's congressional campaign.
The fundraiser will take place on Tuesday at 8 p.m. with tickets starting at $50. Supporters who donate at least $250 will be able to speak with Etheridge and Mizeur in a private Zoom room.
Mizeur, a former member of the Maryland House of Delegates who lives on the Eastern Shore with her wife, is running against anti-LGBTQ Republican Congressman Andy Harris in Maryland's 1st Congressional District. Mizeur ran for Maryland governor in 2014.
Mizeur on Thursday noted to the Washington Blade that her congressional campaign has raised more than $1 million.
"It's going really, really great," said Mizeur.