Voters immovable on marriage equality?
Study suggests ad campaigns are a waste of time

A groundbreaking study by Patrick Egan was released last week related to polling on ballot measures on marriage equality and same-sex relationships. The study shows that voters don't move during campaigns. They vote the way they said they would right from the start. "Whaaa?," I said to myself when I first read it and did a double take.
So what are all the energy, time, resources and money spent about? The ads, the door knocking, the name calling. I said to friends and colleagues: "This report will knock your socks off."
According to NYU professor Egan's report, a study of 167 polls taken in 33 states over a decade, there's no evidence to support the notion that voters move one way or another on marriage equality over the course of a four to six month campaign. Both Geoff Kors of California Equality and Kate Kendell of NCLR believe that the reason voters don't move is they are being hit by arguments from both sides, are skeptical of all political arguments and stick with where they were.
This makes a lot of sense. Most voters don't think or care all that much about marriage equality in the first place and with lies coming from our opponents, rebuttals from our side, name calling all around – why try to sort it out?
All this does is reinforce what we already know: a campaign is no time to start to try to change hearts and minds. So, what is it for? Certainly it is there to get out the vote, to reinforce those who support us and to counter the opposition so that they don't simply walk all over us.
But there is no way around the hard work that must be done between campaigns to educate and bring our message to bear. We need to stop whining and start working. It's not up to organizations with magic messaging. Instead, it's up to each of us, right now, to reach out to the people in our lives. They are not abstract "voters" or the "movable middle" but our friends, our neighbors, our co-workers, our relatives. They can and will move — but not because of a TV ad, because we took the time to move them.
What we do know is that when people move to our side, they stay there and that they will be with us the next time they are casting their vote.
I'm sick at heart that our rights get put up for a popular vote. But I don't have that choice — that is where it has been happening. When I was coming up, I never thought that our rights would even be considered — let alone put up for debate.
And while I resent how that debate often occurs and am as impatient as anyone with the pace of progress, I am grateful to have the opportunity to fight for myself and my family. But I also realize that this fight is ultimately about how much I am willing to invest in it by reaching out person by person, day after day.
You can read the report, "Findings from a Decade of Polling on Ballot Measures Regarding the Legal Status of Same-Sex Couples" prepared by public opinion expert Patrick J. Egan, Ph.D., at http://www.haasjr.org/sites/default/files/Marriage%20Polling.pdf. But please don't just read it — start talking beyond your comfort zone.
Roberta Sklar is an LGBT rights communications advocate and former director of communications for the National Gay and Lesbian Task Force. Reach her at [email protected]
National Gay & Lesbian Chamber of Commerce Certifies Brown, Naff, Pitts Omnimedia, Inc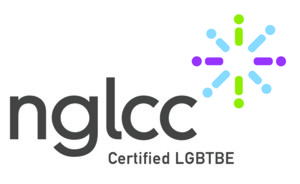 Washington, D.C. — Brown, Naff, Pitts Omnimedia, Inc, the parent company of the Washington Blade and Azer Creative, announced today it has been certified by the National Gay and Lesbian Chamber of Commerce (NGLCC) as an LGBT Business Enterprise. The NGLCC supports and advocates for diversity and inclusion for LGBT-owned businesses. With this certification the Blade's parent company joins more than 510 business and 134 corporate partners of the NGLCC.
Brown, Naff, Pitts Omnimedia, Inc. owns and operates the Washington Blade, the oldest and most acclaimed LGBT newspaper in the country. In 2012, the company launched Azer Creative, a full-service design firm. The company employs more than a dozen full-time LGBT staff.
"We are excited to become one of the 500 LGBT businesses across the country certified by NGLCC," said Lynne Brown, the Blade's publisher and a co-owner of the company. "The LGBT community has been part of our company from the beginning and we look forward to continue that for many years to come."
The Washington Blade was founded in 1969 and is known as the "newspaper of record" for the LGBT community both locally and nationally. Visit washingtonblade.com for more information. Azer Creative is a full-service graphic design firm based in Washington, D.C. Visit azercreative.com for more information. 
Vote now for the 2013 Best of Gay DC!
Choose in dozens of categories among hundreds of nominees, and make your voice heard!
Nominate the 'Best of Gay D.C.' now!
Dozens of categories cover all the best for LGBT Washington. Who deserves the prize this year?