Why I support Fenty for re-election
Test scores are up, crime is down

I have lived in the District of Columbia for more than 30 years and I have never seen more progress than what we have made during the past 11 years under the administrations of Mayor Anthony Williams and Mayor Adrian Fenty.
The D.C. population is rising. School test scores are rising. City services have improved. Crime is down.
Mayor Fenty can proudly take responsibility for this progress.
Some oppose Mayor Fenty. Usually their opposition revolves around emotional issues, such as the baseball ticket scandal or charges that Fenty is arrogant. That's not a solid basis for opposing his re-election.
For several decades, I saw no progress in our schools, which always rated at the bottom of any national school list. We taxpayers pay more than $14,500 per student. D.C. ranks fourth right behind New York, New Jersey and Alaska in the amount we spend per student. We deserve to see improvements.
Now, school buildings have improved and scores are slightly up, a progressive contract has been signed and court-ordered benchmarks for special education are being met, thanks to Mayor Fenty's appointee, Chancellor Michelle Rhee. It may be true that Chancellor Rhee needs to improve her people skills, but most of us voters are more interested in results.
D.C. at one time was "the murder capital of the nation." Now, most crimes are down with thanks to Mayor Fenty's appointee, Chief Cathy Lanier. Chief Lanier has proceeded wisely, especially with her promotions of Patrick Burke and Diane Groomes — both having served in my police district-3D.
In summary, most of us D.C. voters do not want to go back. We want to continue to move forward as we have for the past 11 years. Mayor Fenty deserves to be re-elected so he can complete his vision for the District.
Larry Ray is a D.C. resident and has served as an Advisory Neighborhood Commissioner, Police Commissioner and Taxicab Commissioner. He also served as president of the Columbia Heights Civic Association.
National Gay & Lesbian Chamber of Commerce Certifies Brown, Naff, Pitts Omnimedia, Inc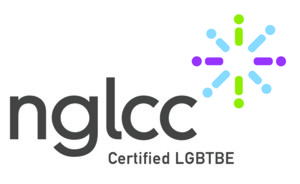 Washington, D.C. — Brown, Naff, Pitts Omnimedia, Inc, the parent company of the Washington Blade and Azer Creative, announced today it has been certified by the National Gay and Lesbian Chamber of Commerce (NGLCC) as an LGBT Business Enterprise. The NGLCC supports and advocates for diversity and inclusion for LGBT-owned businesses. With this certification the Blade's parent company joins more than 510 business and 134 corporate partners of the NGLCC.
Brown, Naff, Pitts Omnimedia, Inc. owns and operates the Washington Blade, the oldest and most acclaimed LGBT newspaper in the country. In 2012, the company launched Azer Creative, a full-service design firm. The company employs more than a dozen full-time LGBT staff.
"We are excited to become one of the 500 LGBT businesses across the country certified by NGLCC," said Lynne Brown, the Blade's publisher and a co-owner of the company. "The LGBT community has been part of our company from the beginning and we look forward to continue that for many years to come."
The Washington Blade was founded in 1969 and is known as the "newspaper of record" for the LGBT community both locally and nationally. Visit washingtonblade.com for more information. Azer Creative is a full-service graphic design firm based in Washington, D.C. Visit azercreative.com for more information. 
Vote now for the 2013 Best of Gay DC!
Choose in dozens of categories among hundreds of nominees, and make your voice heard!
Nominate the 'Best of Gay D.C.' now!
Dozens of categories cover all the best for LGBT Washington. Who deserves the prize this year?