Stein Club backs Mendelson
Kwame Brown wins support in Council chairman race
The Gertrude Stein Democratic Club, the city's largest LGBT political group, voted this week to endorse at-large D.C. City Council member Phil Mendelson over his gay challenger, Clark Ray, 62 percent to 35 percent.
Stein members also on Monday endorsed at-large Council member Kwame Brown in the race for City Council Chairman over his main rival, former Ward 5 Council member Vincent Orange, 80 percent to 16 percent.
The club's endorsement of Mendelson and Brown for the Sept. 14 Democratic primary followed its decision last month to endorse City Council Chairman Vincent Gray over Mayor Adrian Fenty in the hotly contested mayoral race.
Mendelson, whose gay supporters portrayed him as an unfailing straight ally who shepherded the city's same-sex marriage law through the Council last year, received just two points above the 60 percent threshold required for an endorsement under the club's rules.
Monday's endorsements came after the candidates spoke during a club forum at the gay nightclub Town, and members debated whom to back. About 100 members voted on the endorsements, according to Stein Club President Jeffrey Richardson.
A third candidate running in the at-large Council race, D.C. shadow senator Michael Brown, did not receive any votes from Stein members, although he received loud applause for what he said was the main mission of his candidacy: to promote D.C. statehood.
Michael Brown expressed strong support for the city's same-sex marriage law and pledged to be a "champion" for LGBT rights if elected to the at-large Council seat.
During the forum, several Mendelson supporters praised Ray as a highly qualified candidate. But they said it would be wrong not to stand behind Mendelson, a pro-LGBT Council member who has a record of support on a wide range of LGBT issues such as same-sex marriage equality, gay adoptions and domestic partnership laws during his nearly 12 years on the Council.
"Here in the District of Columbia, we have more rights as members of the LGBT community than we do in other states," said transgender activist Jeri Hughes. "And it's due to legislation from men like Phil Mendelson. So no matter how much I love Clark Ray, I'm not going to forget what Phil Mendelson has done and the progress that has been made in the District. I'm supporting Phil Mendelson."
Ray, who also praised Mendelson for his role in helping pass the local same-sex marriage law, said he was running to bring change to a Council "status quo" that has impeded progress for city residents.
"I'm a firm believer that for a city to breathe and move forward, you need fresh leadership," he said.
Ray pointed to his many years of experience in public service, including his work for Vice President Al Gore in the Clinton administration, his role as head of the constituent services office under former D.C. Mayor Anthony Williams and a similar post under Mayor Adrian Fenty. Ray also served as director of the Department of Parks & Recreation under Fenty.
"I have not asked any one of you to vote for me because I'm an openly gay man," Ray told Stein Club members. "I want you to vote for me because I'm qualified."
But Ray and his supporters also stressed that as an openly gay man, he would provide the LGBT community with another "seat at the table" in city government, where he would have a greater understanding of the needs and concerns of LGBT people.
"I'm not only a friend of the LGBT community, I am a member of that community," he said.
If Ray wins the election, he would become the third openly gay person on the 13-member City Council. Gay Council members David Catania (I-At Large) and Jim Graham (D-Ward 1), who are running this year for re-election, are considered strong favorites to win another term on the Council.
Among the club members who spoke on Ray's behalf at the Stein forum were Nick McCoy and Carlene Cheatam, two of the lead organizers of a coalition of local activists and city residents who lobbied the Council to pass the same-sex marriage law.
Among the club members supporting a Mendelson endorsement were lesbian activist Barbara Helmick and nationally recognized gay rights attorney Nancy Polikoff.
Polikoff told club members that while Mendelson's work on the same-sex marriage law captured most of the community's attention, he introduced and played a key role in passing a gay adoption law that is considered the most far-reaching such measure in the country.
"None of this would have happened without Phil," she said.
Mendelson said after Stein Club members voted that he was honored to have won the club's endorsement and he would continue his commitment to LGBT rights and causes.
During a question and answer period, one written question directed at Ray asked whether he would consider running for the other at-large Council seat that would become vacant if Kwame Brown wins his race for Council chairman.
Under the city's election rules, the D.C. Democratic State Committee would appoint Kwame Brown's interim replacement until a special election is held several months later. Ray said he's running to win in his race against Mendelson but added that he would view a Council vacancy created by Kwame Brown's possible election as Council chairman as a development "of interest" to him.
Several club members supporting Mendelson said they would back Ray for an at-large seat vacated by Brown.
Orange addresses flip
on same-sex marriage
In his opening remarks at the Stein forum, Orange addressed an issue he seemed to know would hurt him in his quest for the club's endorsement: his stated opposition to same-sex marriage during his unsuccessful mayoral bid in 2006.
In a development that riled LGBT activists, Orange said then that any of his fellow candidates for mayor who backed a proposed same-sex marriage bill were not fit to hold public office.
"In 2006, I did say marriage was for a man and a woman," he told Stein members Monday. "Now, in 2010, I strongly support the Marriage Equality Act."
Orange added that he had a long record of support on LGBT civil rights issues during his tenure as a Ward 5 Council member and later in his post as an executive with the Potomac Electric Power Company, where he said he pushed for a company policy of providing benefits to employees' domestic partners.
When gay activist Lane Hudson, a Kwame Brown supporter, questioned Orange's commitment to same-sex marriage, Orange reiterated his support for the same-sex marriage law, calling it the "law of the land."
"I made some mistakes that I'm not proud of," he said, referring to his 2006 comment. Orange said he changed his position to support marriage equality "long before" he decided to enter the Council chairman's race.
Kwame Brown was among the 11 Council members who voted for the same-sex marriage bill in December. He told Stein members he's strongly committed to LGBT equality in all areas, not just marriage.
He noted that his commitment to same-sex marriage is "unwavering," despite expressions of outrage against his vote on the marriage bill by some community activists and clergy members who opposed the bill.
In response to an audience question, Kwame Brown said he opposes a ballot measure proposed by same-sex marriage opponents that would allow city voters to decide whether to keep or overturn the law.
Orange said he supports the marriage law but did not say, after repeated requests to comment on the matter, what his position is on a possible ballot measure to overturn the marriage law.
"I'm not going to speculate on hypotheticals," he said.
Ray told the Blade he was disappointed but not discouraged over the Stein Club's decision to endorse Mendelson.
"This is not going to hinder me at all," Ray said. "I'm in this thing for the long haul and I'm in this to win. I plan to take my message to all residents — gay, lesbian, bisexual, transgender, straight, questioning — all the residents of the District of Columbia."
Although Michael Brown, the D.C. shadow senator, received no votes from Stein Club members in his bid for the at-large seat, some political observers have said he poses a potential problem for Ray.
Michael Brown the shadow senator, who is white, has the same name as popular at-large D.C. Council member Michael Brown, who is black and is the son of the late Democratic National Committee chair and Clinton administration official Ron Brown.
Some activists say a significant number of voters are likely to confuse shadow senator Brown with Council member Brown and mistakenly vote for shadow senator Brown in the at-large Council race.
This would hurt Ray, some political observers say, because voters likely to back the wrong Brown would not be supporters of Mendelson, who enjoys widespread name recognition citywide, but instead could be potential votes for Ray.
The city's two shadow senators, along with one shadow representative, hold unpaid elected posts created by the city to advocate voting rights for the District. They are not members of Congress and have no congressional authority or duties.
Woman dragged down stairs at Nellie's, fatal crash during Pride weekend
Most events unaffected by three unrelated incidents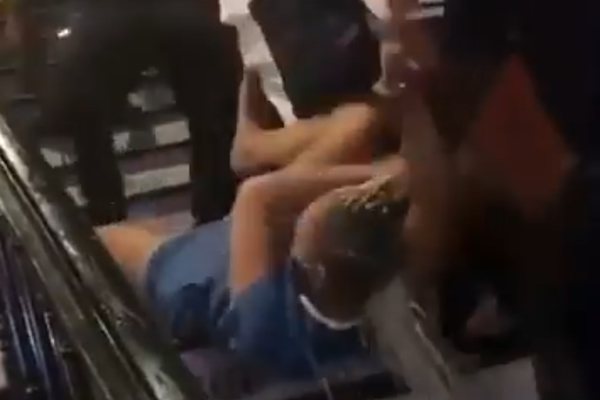 Three unrelated violent incidents that surfaced in different locations on Saturday evening, June 12, in the path of D.C.'s Pridemobile Parade have created a stir on social media following an otherwise peaceful series of events celebrating Capital Pride.
According to D.C. police, the first incident took place about 3 p.m. Saturday, minutes after the Pridemobile Parade drove past the Shaw Tavern at 520 Florida Ave., N.W., which has a large LGBTQ clientele. A police report says a male customer of the tavern reported being harassed by a young man who called him a "faggot" as he walked toward the Shaw Tavern.
Shortly after the victim entered the tavern and was seated in an outdoor area, the same young man, later identified by police as a 13-year-old juvenile, approached him and threatened him with a machete by pointing it at the victim and stating, "I'll silence you," the police report says. The report says that while making the threats the suspect appeared to be using the two-foot-long machete to stab cicadas on the ground and tossed them onto the victim as the victim was sitting at one of the tavern's outdoor tables.
One day later, on Sunday, June 13, after having released photos of the suspect obtained from a surveillance camera at the Shaw Tavern, police announced they arrested the suspect on a charge of assault with a dangerous weapon and listed the incident as a suspected anti-gay hate crime. The victim was uninjured, police said. The suspect's name was being withheld because he is a juvenile.
The second incident occurred about three blocks away at Nellie's Sports Bar, a gay bar at 900 U St., N.W., several hours later when a violent brawl captured on video broke out after a Nellie's security staff person was seen pulling a female customer by her hair down a flight of stairs inside the bar.
The video, which was taken by another customer and posted on Instagram, shows other male and female customers attacking the employee who was dragging the female customer down the stairs. The woman, who later identified herself as Keisha Young, told Channel 7 News the Nellie's security staffer mistakenly thought she was among a group of other customers that created a disturbance at the bar.
Her mother, Tammy Young, told Channel 7 News her daughter created a GoFundMe page to raise money to pay for medical bills related to injuries she suffered while being dragged down the stairs, and to hire a lawyer.
Young states on the GoFundMe page that she lost her glasses, iPhone, and shoes during the altercation and her clothes were torn.
"My body aches and I am bruised up," she stated.
The posting of the video on social media prompted D.C. members of Black Lives Matter to stage a protest outside Nellie's on Sunday night, demanding that action be taken against the bar. Nellie's, meanwhile, released a statement on Sunday saying it was investigating the incident.
"We were incredibly upset and disturbed to see the unfortunate event that took place at Nellie's last night," the statement says. "We are undergoing a full investigation of the situation," it says. "At Nellie's we foster an inclusive and safe environment, so events like this are completely unacceptable to us."
Channel 7 News reported the protesters also walked to the nearby home of Nellie's owner Douglas Schantz to continue protesting there. The Washington Blade couldn't immediately reach Schantz for comment.
The third incident took place about 3:15 a.m. Sunday morning at the intersection of 14th and P Streets, N.W., where two gay bars are located. According to D.C. police, an intoxicated driver crashed his car into a bus stop at that location and struck and killed a pedestrian. Police said the pedestrian, who was identified only as a male, was taken to a hospital with critical injuries and pronounced dead a short time later.
Police said the driver, identified as Gerald Lewis, 29, of Northeast D.C., was arrested and charged with second-degree murder, driving while intoxicated, and reckless driving.
The identity of the victim was being withheld pending notification of next of kin, police said. The incident occurred minutes after the 3 a.m. closing of the nearby gay bars.
Mark Lee, coordinator of the D.C. Nightlife Council, a trade association that represents bars, restaurants, and nightclubs, said the three incidents and a reported fourth incident of a shooting Sunday night on U Street near Nellie's, were an exception to an otherwise peaceful weekend in which business was booming at the city's nightlife establishments.
"Despite long lines at many (gay and non-gay) venues last night, and huge turnouts at nightclubs across the city, it was overall a very calm night everywhere," Lee told the Blade in a text message. "These couple of incidents would have been non-extraordinary in normal times, except for some people being more attentive to things during re-opening."
Lee was referring to the full, post-COVID lifting of all restrictions for nightlife businesses that took place on June 11.
Vice President Harris joins D.C. Pride Walk, makes history
First post-COVID Pride events include rally, Pridemobile Parade
Vice President Kamala Harris drew loud cheers and prolonged applause when she and her husband, Second Gentleman Douglas Emhoff, joined more than 1,000 LGBTQ participants in D.C.'s Capital Pride Walk on Saturday, June 12, becoming the first U.S. vice president to participate in an LGBTQ Pride event.
Harris' appearance at the Pride Walk, which some described as a march, was unannounced and came as a complete surprise to the dozens of onlookers who saw her as well as to leaders of the Capital Pride Alliance, the group that organizes D.C.'s annual Pride events.
"Oh my God, I can tell you that I screamed my head off," said Tiffany Royster, a Capital Pride official who said she saw Harris at the Pride Walk.
"The fact that she showed up for us means that we mean something to her because she wouldn't have stopped by randomly," Royster told an NBC 4 News cameraman at Thomas Circle at the conclusion of a separate event on Saturday called the Pridemobile Parade. "We didn't know she was coming."
An NBC 4 report showed Harris making brief remarks while walking along 13th Street as the Pride Walk passed the Warner Theater and as it approached Pennsylvania Avenue at Freedom Plaza.
The Channel 4 News report said Harris called for Congress to pass the LGBTQ rights bill known as the Equality Act and said the Biden administration understands the importance of LGBTQ rights.
"We need to make sure that our transgender community and our youth are all protected," she states in the Channel 4 News broadcast. "We need, still, protections around employment and housing," she told people walking beside her and her husband. "There is so much more work to do, and I know we are committed."
Harris wore a shirt with the words, "Love is Love" printed on it. Emhoff could be seen waring a T-shirt with a rainbow-colored design on it.
After walking for a block or two and speaking at the Pride Walk, Harris and Emhoff got back into the vehicle they arrived in and drove past the rally at Freedom Plaza, waving to surprised and cheering onlookers, according to gay Advisory Neighborhood Commissioner Mike Silverstein, who saw what he called Harris' motorcade drive by. Silverstein said Harris and Emhoff did not get out of the car to join the rally, and the vehicle they were in appeared to be driving toward the White House, located a few blocks from Freedom Plaza.
Among those speaking at the rally was D.C. Mayor Muriel Bowser, who received loud applause when she told the crowd that during her travels across the country and abroad, she tells people that D.C. is "the gayest city in America."
"So, Capital Pride, we have a lot to celebrate," the mayor told rally attendees, many of whom waived hand-held rainbow Pride flags. "We have a lot to work for still," she said. "We know that discrimination and violence is real. We know there's too many guns on the street. And we know when all of us are not safe, none of us are safe," she said.
"So, I know you're going to stand shoulder to shoulder with me and I'm going to be with you every step of the way," she said. "Happy Pride!'
Bowser also announced at the rally that Sheila Alexander-Reid, who has served as director of the Mayor's Office of LGBTQ Affairs since Bowser took office in January 2015, would be leaving that position soon to go on to "bigger and better things." Alexander-Reid has said she will be joining a company that provides advice and training in the area of workplace nondiscrimination based on race, gender, and LGBTQ related workplace competency training.
At the conclusion of the rally, about 50 vehicles that had been parked next to and near Freedom Plaza led by a Capital Pride bus decorated with signs and banners began the city-wide Pridemobile Parade.
The route of the parade released by Capital Pride shows it was scheduled to travel through all four quadrants of the city, including neighborhoods east of the Anacostia River. Capital Pride organizers said the parade or caravan of vehicles, all of which were decorated with Pride displays, would be passing by homes and businesses in the city's residential and commercial areas that also were decorated with Pride displays as part of its "Paint the Town Colorful" Pride event.
The Pride Walk began shortly after noon at Dupont Circle and traveled along P Street to Logan Circle, where it proceeded south on 13th Street to Freedom Plaza.
Capital Pride Alliance President Ashley Smith said a little over 1,000 people participated in the walk, which he noted Capital Pride decided to do and first announced less than two weeks before it was to take place.
Smith and Capital Pride Alliance Executive Director Ryan Bos have pointed out that the city announced it would be lifting its more than year-long restrictions on large public gatherings in May, which didn't give them enough time to pull together a large parade and street festival that have been part of D.C.'s Pride celebrations in the years prior to the COVID pandemic.
"Today has been truly phenomenal," Smith told the Blade. "The turnout has been amazing. The total number of people that have come to support this and the efforts that we're trying to do, it's just been amazing," he said.
"The community has truly been supportive of all the great work that the team, the staff, the volunteers and board members have been part of," said Smith.
Bos said people had gathered in the various neighborhoods in the city where the Pridemobile Parade passed in advance of the parade's arrival and cheered and waived as the vehicles drove by.
"There were kids with their parents and their families just sitting on the sidewalks waiting for the Pridemobile to come by," Bos said. "It was pretty cool."
About 100 people were standing or sitting in Thomas Circle, the final destination of the Pridemobile Parade, as it arrived there to loud cheers. The vehicles drove around the circle several times while honking their horns before the parade disbanded.
A smaller crowd waving Pride flags had also gathered on the steps of National City Christian Church, which faces Thomas Circle. Large rainbow-colored banners were hanging from the front of the church, showing its support for the Pride events.
Speakers at the Freedom Plaza rally, in addition to Mayor Bowser, included Smith of Capital Pride; Alexander-Reid; Ben De Guzman, director of the Mayor's Office of Asian and Pacific Islander Affairs; gay Latino activist Jose Gutierrez, who reflected on the fifth anniversary of the Pulse nightclub shooting in Orlando, Fla., on June 12, 2016 in which 49 mostly LGBTQ people were killed and 53 wounded; transgender activist Monica Nemeth, who reflected on transgender lives lost to violence in the U.S.; Nancy Canas, president of Latinx Pride; Rehana Mohammed, chair of the board of the D.C. Center for the LGBTQ Community; and June Crenshaw, executive director of the Wanda Alston Foundation, which provides housing for homeless LGBTQ youth.
Pride celebrations were scheduled to continue on Sunday, June 13, with about a dozen D.C. area restaurants participating in Capital Pride's Taste of Pride Brunches, which would be raising money for local LGBQ organizations, according to an announcement on the Capital Pride website. The names and locations of the restaurants can be accessed at capitalpride.org.
Sheila Alexander-Reid to step down as director of D.C. LGBTQ Affairs Office
Veteran community activist to take new job workplace bias consultant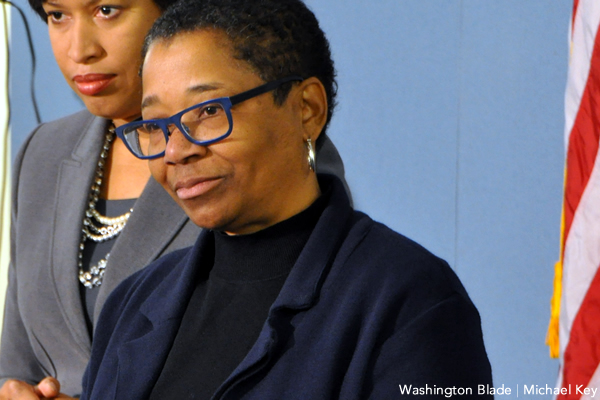 Longtime LGBTQ community advocate Sheila Alexander-Reid, who has served since 2015 as director of Mayor Muriel Bowser's Office of Lesbian, Gay, Bisexual, Transgender, and Questioning Affairs, is stepping down from her city job in mid-July.
Alexander-Reid told the Washington Blade she will take a few weeks of accumulated leave beginning June 15 to recuperate from follow-up knee surgery before officially leaving her current job to take on a new role as a private sector consultant in the area of workplace bias and diversity training.
She said will announce the name of the private sector company she will be joining as a senior vice president when she begins her new job in mid-July.
Among her duties at the Mayor's LGBTQ Affairs Office has been to lead the office's staff in providing LGBTQ related diversity or competency training for D.C. government employees at all city agencies.
According to the office's website, other activities it carries out include connecting LGBTQ residents with city services they may need, advocating on behalf of programs and policies that benefit the lives of LGBTQ residents, providing grants to community-based organizations that serve the LGBTQ community and LGBTQ homeless youth; and host events that "enrich, promote, and bring together" the LGBTQ community in D.C.
"That work is always going to be part of who I am," Alexander-Reid said. "But now I will be expanding on that work to look at racial equity and gender bias as well as LGBTQ bias," she said. "I feel like I will be doing the same work but in a different format."
Prior to starting her job at the mayor's office, Alexander Reid served as Vice President of Strategic Initiatives at the Washington Blade, Director of Strategic Engagement at the Washington City Paper, and Founder and Executive Director of the D.C. based Women in the Life Association. She has also served as host of Inside Out, a local FM LGBTQ radio show.
Alexander-Reid noted that when she began work at the LGBTQ Affairs Office in late January 2015, less than a month after Bowser took office as mayor, the office consisted of two full-time employees, including her, with a budget of $209,000. In the current fiscal year 2021, the office now has four full-time employees and two additional detailed employees, from the Department of Health and Department of Human Services. The mayor is proposing a budget of $561,000 for the office for fiscal year 2022.
"I would be remiss if I didn't say what a pleasure it has been to work for Mayor Bowser," said Alexander-Reid. "I was excited to work for her and I don't regret it for one second. "It's been an amazing journey and I appreciate her having faith in me."
She said she expects an interim director to be named to run the office in mid-July while a search is conducted for a permanent director.