Nervous Nellie Democrats want your money
Give to candidates, not a cowardly political party

As Congress heads into its August recess and the November elections draw near, the Democrats are plunged into full panic mode, with some prognosticators convinced the Republicans will retake the House.
Playing defense is, of course, familiar turf for Democrats, who never seem comfortable in power. They live in perpetual fear of Fox News, Sarah Palin, Rush Limbaugh and a handful of other shrill blowhards, even though the far right has all but lost the culture wars, particularly when it comes to gay issues. Witness last week's pathetic turnout for a rally against marriage equality in Maryland staged by the dinosaurs at National Organization for Marriage.
The Victory Fund's Chuck Wolfe recently wrote about this phenomenon of Democrats afraid of their own power.
"Congress still hasn't enacted significant protections for LGBT Americans," Wolfe wrote. "Why? Fear, mostly. Fear that despite their distinct minority status, anti-LGBT extremists wield inordinate power when directly challenged. Swat that nest, the thinking goes, and the hornets will swarm. Incumbents, especially this year, aren't eager to add perceived obstacles to reelection."
This isn't a new problem for the party. Many in the Democratic Party base were anxious for bold change after eight years of the Bush-Cheney debacle. And some have been mollified, following passage of financial regulation and health care reform. But the change around signature LGBT issues remains elusive, as Democrats have backed down from promises and cowered in fear of what Glenn Beck might say about them.
The Employment Non-Discrimination Act is arguably the most important piece of that change. First introduced in the 1970s, ENDA has been watered down and kicked around for decades. It's now all but dead in the Senate and if Republicans take the House, we're in for a prolonged wait on basic job protections that a vast majority of Americans support.
Despite the justified LGBT disappointment and frustration with nervous Democrats, the party has no qualms about extending its trembling hand for another round of donations. Like a broken record, we're already hearing how important it is to give money to the DNC.
Party treasurer Andrew Tobias, who's gay, again finds himself in the unenviable position of asking for money from a constituency that is tired of being taken for granted. Why should we give money to a party that promises the moon and delivers only the lowest-hanging fruit? According to Tobias, it's because "Democrats are overwhelmingly more supportive of our issues than Republicans." Unfortunately, that's not saying much. As Tobias himself has pointed out, 224 Republicans scored a zero on HRC's congressional scorecard for the 109th Congress. So being "more supportive" isn't enough.
The administration has made numerous pro-LGBT policy changes and appointments, most of which don't make mainstream media news. Tobias is a good guy and he's right to tout the progress to date. But expectations were set much higher than what's been delivered. Candidate Obama vowed to repeal the Defense of Marriage Act, a bold promise that I never expected him to honor in a first term. I did, however, expect him, the Congress and the party to make good on ENDA. That there exists no plan in the Senate to move on ENDA anytime soon confirms the worst suspicions about the party tossing breadcrumbs to keep gay donors on the financial hook for another election cycle.
Gay money this year is better directed to individual incumbents and challengers who support our issues, not just in private, off-the-record meetings, but in public statements and votes. Since Howard Dean's groundbreaking presidential campaign, many have predicted that the Internet will one day mean the end of the modern political party, as donors can more easily direct contributions to candidates. It hasn't happened yet, but a diminished role for the two centralized parties would likely benefit LGBT equality.
In the meantime, Democratic politicians will never shake their nervous Nellie ways and stand up for LGBT constituents if they know gay donors will write checks election after election regardless of legislative advances.
On the high seas: Rome and transatlantic cruise
Parts three, four, and five of my journey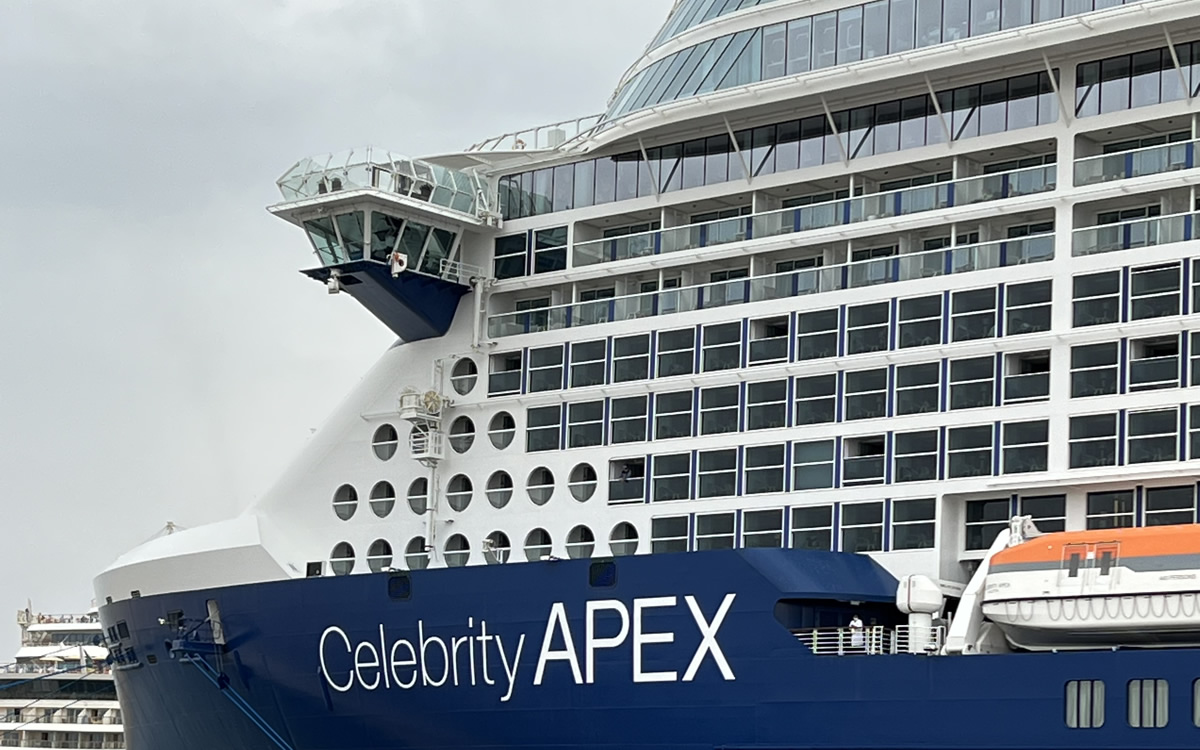 Woke up with a phone call telling me my coffee, juice and bagel were being delivered to the room on day 3 of my trip. My shore excursions begin today. I was scheduled to leave the ship at 10:00am for five hours in Valencia for a tour of the city and a taste of some Spanish food. We had a knowledgeable guide who regaled us with the history of the city. The food stops were a little messed up as there were other tour groups stopping before us at the same places and the timing was off. But that didn't stop us appreciating the city. My first time in Valencia had been nearly 50 years ago during a three-month sojourn in Spain. It was a lot more crowded today and it has been urbanized like so many cities. But I think they have done a great job in keeping the wonderful feeling of the city. What was beautiful to see was the new science center with the beautiful architecture by Santiago Calatrava. After a two-hour walk-in town, we met the bus and headed back to the ship. I decided it was time to head to the gym for a little time on the lifecycle and some weights. My trainers at FIT, Naldo and Juan, would have been proud.
Then it was off to a Halloween Party hosted by Scott and Dustin in the Iconic suite. The costumes were great. I was lazy and not being a big costume person just wore a Hawaiian shirt and sunglasses and went as an old tourist. It was a fun party, then dinner at Luminae, the restaurant in the Retreat. Then the highlight of the evening the incredible show in the APEX theater with Andrew Derbyshire. I will talk more about Andrew in a later blog. I interviewed him during my cruise last year and he is just a fun person, aside from being a brilliant talent.
Day four dawned bright and sunny and we headed into the Port of Malaga. Since we weren't scheduled to leave the ship until 1:00pm I headed to the gym early and then sat on the retreat terrace and sipped a cappuccino. A really tough life, but then someone has to lead it, so why not me?
Malaga is a beautiful city on the Costa del Sol. We toured the Alhambra and cathedral. I realized I had forgotten my phone on our bus and had to wait until after the tour to retrieve it. It was weird not having it in my hand but in a way kind of liberating. Any pictures I wanted friends were taking and would share. We didn't have to be back on the ship until 9:30pm so after the official tour we stayed in Malaga and had great drinks and tapas, enough for dinner, at a restaurant owned by Antonio Banderas called Bodega El Pimpi. 
Then back to the APEX for two great shows that evening. The entertainment onboard is really great. One show in the theater with dueling guitarists and then to the CLUB for Caravan, a carnival extravaganza with singers, dancers and acrobats of Cirque du Soleil caliber. Then off to bed to prepare for tomorrow's visit to Gibraltar.
Part IV
Day five of my cruise again dawned bright and sunny. Today was exciting for me as it was the first stop on my trip to a place I hadn't been before, Gibraltar. It wasn't as if I hadn't tried to go once before. In 1972 while on the Costa del Sol, I traveled down to Algeciras only to find that Franco, who was still ruling Spain, had dug up the road to Gibraltar over a fight with the British. So, it has taken me this long to go see the Rock and the wild Barbary Macaques. They didn't disappoint.
It was a great day traveling the Rock and seeing the siege tunnels and the monkeys. A ride on the cable car to the top of the Rock was also great and the view spectacular. Then back to the ship for another evening of food and entertainment. The daily schedule given out each evening in every cabin lists an LGBTQ+ get together at 6 pm in Eden; one of the better bars and lounges on the ship. Each evening I meet more and more members of the community, those traveling in my group and so many others.
There is now another sea day to look forward to before our final stop in the Azores. Then we head to sea for seven days. Sea days are lazy days for me. Writing, reading, the gym and just sitting with friends drinking and eating. I enjoyed the retreat bar and headed there with a group for a burger for lunch. That evening we saw Andrew Derbyshire's second show, and then headed to Le Petite Chef for dinner. It is a fun meal with a story playing out on video on your plate, and on the table in front of you. I hear they will open a place in DC and it is worth a visit for the fun of it. Then it was an early night for me and we turned our clocks back an hour, so I was actually in bed by 11.
Friday, day seven of the cruise, dawned bright but we understood the weather would begin to change as we headed to the Azores. We docked late in San Miguel, it was 3:00pm, and the fog was rolling in and it would be dark by 6:00pm. So while we had hoped to see the lakes, one green and one blue, from the top of the crater, all we saw was fog. A reminder one doesn't control the weather. We did have a nice stop to taste Azorean wines and cheeses at a beautiful hotel in Ponta Delgada. Then back to the ship to begin our long sea voyage across the Atlantic. It was a little disconcerting to arrive back on the ship and find 'barf' bags all over as they were anticipating rough seas for a couple of days. All the balcony furniture had been moved into the room. The Captain explained how he would try to avoid the worst of the storm. As it turned out the night wasn't bad at all and the morning brought clearing skies.
Part V
The past six sea days are really the most fun of my transatlantic voyage. Days of just looking out at the beautiful ocean. I would start each day with a room service breakfast. I would put my breakfast order on the order form, out on the door handle before I went to bed and my butler, Simon, would deliver it at the time in the morning I requested. For me that was 7:00am. I would have a bagel, juice, fruit and coffee each morning. I will miss Simon's knock on the door my first day home, which won't come.
And before you ask, yes everyone in the Retreat is assigned a butler to help with any little issue you may have. After breakfast I would write for two hours. These blogs, my columns for the Blade which I had a hard time sending because of the terrible internet, and a final edit of my book before it is due at the editor on Nov. 15.
Now there is plenty to do on sea days on the Celebrity APEX if you want to be active. You can attend lectures on various topics, play bingo, run on the track or head to the fully equipped gym for a workout on your own, or go to exercise classes of various kinds. I actually have gone to the gym every day for about an hour split between the lifecycle and weights. Then there is the casino if you are so inclined. One of the group I am traveling with told us he won nearly $1,000. He didn't mention if he lost much before he won, but then that doesn't count.
Each day after the gym I would spend an hour at the Retreat lounge with a cappuccino and some good conversation.
One day I went to an interesting session "behind the scenes of the APEX theater." It was there I met Nate Promkul, an incredible singer and actor who told me his dream is to be on Broadway. I predict his dream will come true. The APEX theater is the most advanced of any ship with a multi-million-dollar screen that provides amazing backgrounds for all their shows.
Most afternoons I would head to the Retreat sun deck to read but would end up in some interesting conversations, often about politics. Remember, we were in the middle of the Atlantic during the election and yes, everyone had voted before they left home. Then I had the opportunity to do an interview with the Captain on the bridge, and another with the cruise director, both of which will be in future columns.
One can't forget all the food and drink consumed. The food onboard is generally good and there is a great variety to choose from. Anything from bar-b-que at the Rooftop Garden Grill to sushi at Raw On 5. There are four regular restaurants where you can eat your meals and they are included in your cruise fare. There are specialty restaurants for which you pay a little more for a meal. There is one restaurant reserved for guests in the Retreat, Luminae and I ate there a number of times. One of the specialty restaurants I really enjoyed last year on the APEX was Eden. We ate there a number of times this year but I give it mixed reviews.
Last year's chef was no longer there. Then there is the Oceanview Café, the huge buffet, open all day. If you can't find food you like there, everything under the sun including pizza, you are hopeless.
Sea days have gone by quickly with great entertainment every night in multiple venues. Last night there was 'silent disco' in the Martini Bar. This morning I woke to calm seas as we approached our last stop, Nassau. I will stay on the ship and enjoy it for a final day. Tomorrow morning when I wake up, we will be docked in Ft. Lauderdale and my transatlantic cruise will be over. I will definitely miss the Celebrity APEX and its wonderful crew, and all the friends, new and old, who traveled with me. But I can look forward to seeing them all again next October when we embark on the Celebrity BEYOND for our 2023 transatlantic voyage.
On the high seas: Gorgeous Spanish sunset before sailing away
Meeting new and old friends on transatlantic journey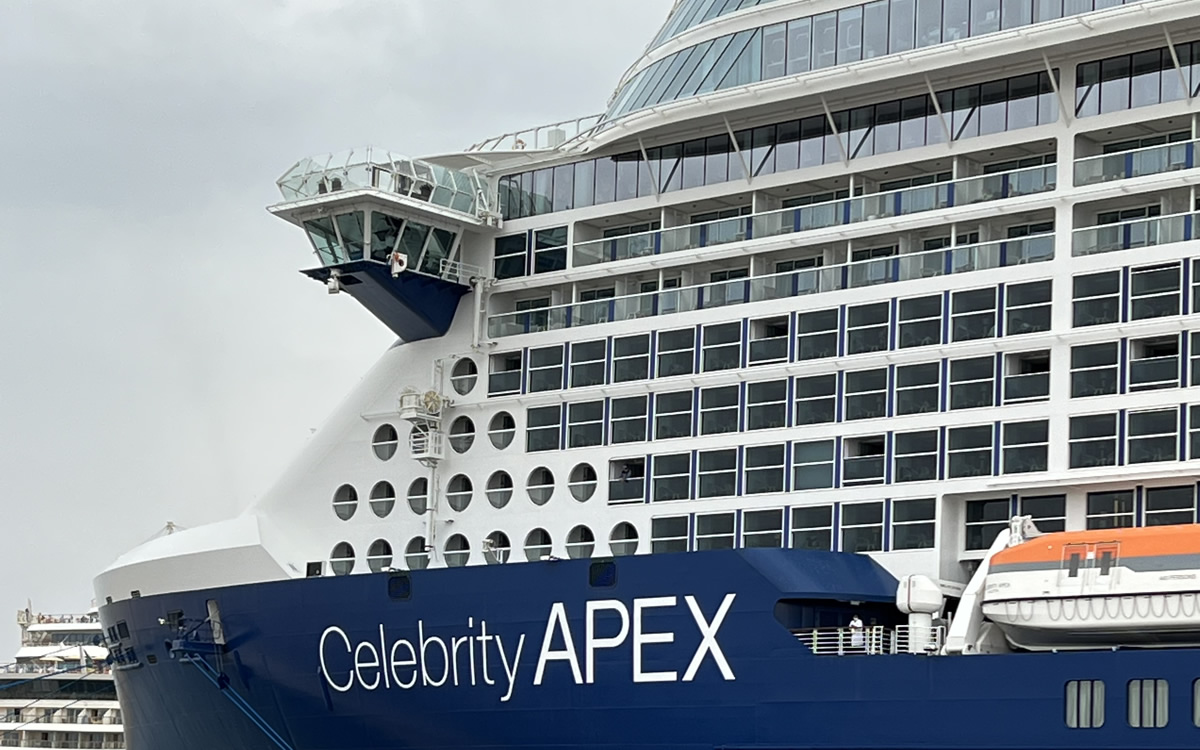 (Editor's note: Blade contributor Peter Rosenstein is submitting blog posts from his transatlantic voyage.)
Saturday morning dawned clear and warm in Rome and at 9:30 met the bus arranged by my travel agents to head to the port. Mimosas served on the bus to start the day off right. There were old cruise buddies on the bus and some new friends to meet. We arrived at the cruise terminal and had the best check-in process I have ever had for a cruise. From stepping off the bus to being in my cabin was less than 30 minutes. Congratulations Celebrity Cruises on this achievement.
Stepping on the Celebrity APEX seemed like coming home. It has been exactly a year since I was on her last when we began our transatlantic from Barcelona in October 2021. This year instead of 1,250 passengers we have been told there are about 2,400. So we shall see if it makes a difference in the level of service.
Literally a few moments after entering my cabin there was a knock on the door and my butler, Simon, came to introduce himself and orient me to the Retreat and my sky suite. He helped me to connect to the ship's Wi-Fi and explained how I could reach him for anything during the cruise. He would be the one delivering breakfast to my room each morning.
It was then off to meet friends at the buffet. The change here was once again it was self-service, which surprised me. The staff is all wearing masks but practically no passenger is. I guess once we all had to show a negative COVID test within the last 48 hours to board we all felt comfortable, or at least for me somewhat comfortable.
Then it was off to walk around the ship, unpack my suitcase when it was delivered to my cabin and then head to the sail-away party thrown by Scott and Dustin, my travel agents, in the Iconic suite. There was Champagne flowing and a large dining room table full of hors d'oeuvres. Again, new and old friends from around the world; some who missed last year's cruise because of U.S. COVID policy at the time. My friend who I wrote about last year, Andrew Derbyshire, entertainer extraordinaire, is back on this cruise and he joined us with his friend Stacy Jackson, a singer and TV star in London, at the sail-away. Can't wait to hear him sing again during the cruise. As we sailed from port there was the first of what would be incredible sunsets to enjoy.
The first of the daily LGBTQ meet-ups was scheduled for 8 p.m. at the martini bar and it was listed in the daily program. I missed it as we had dinner reservations at Eden for that time. Turns out Eden has a new chef this year. The food is still quite good but a little different. I hope the LGBTQ happy hour will be moved in the next couple of days to the Eden bar at 6 p.m. each evening, where it was last year allowing people to meet before they headed off for their evening's activities.
All-in-all it was a wonderful first day on the ship ending back at the martini bar. Then back to my room for a good night's sleep and finding a note on my pillow to remind me to turn back my watch an hour. Didn't complain about an extra hour sleep and remembered to put the breakfast request slip outside my door. Tomorrow would be a sea day.
On the high seas: Rome and transatlantic cruise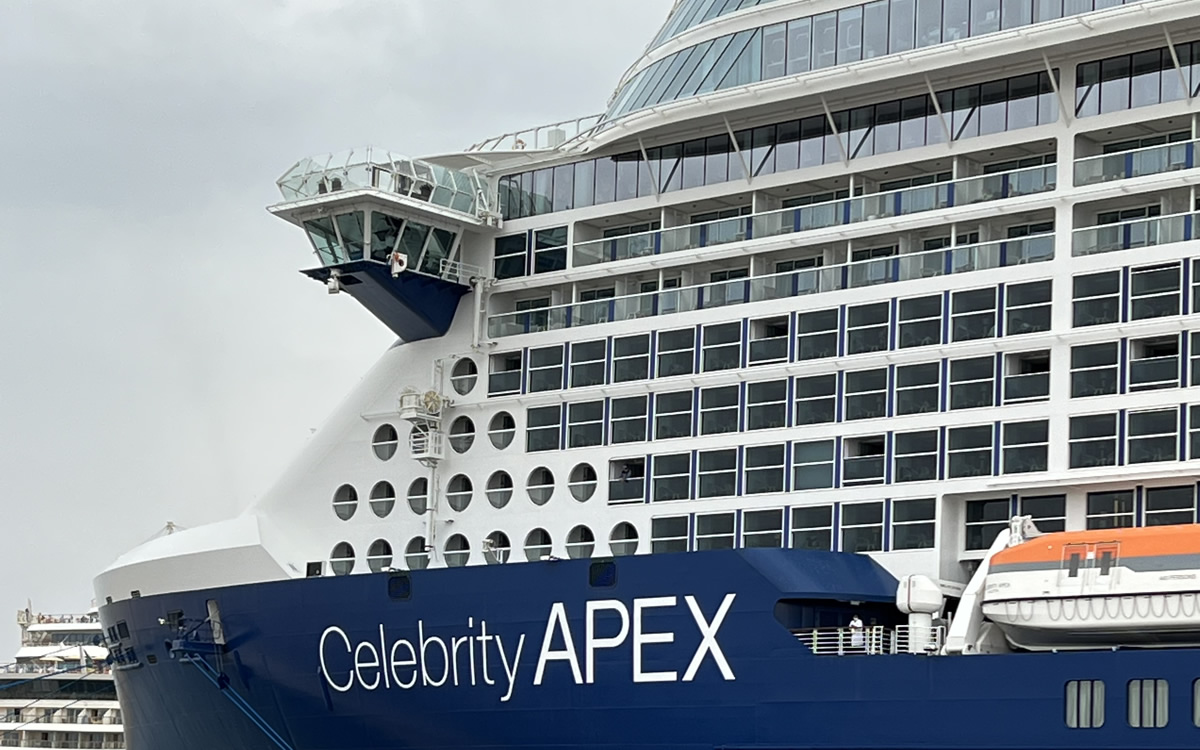 (Editor's note: Blade contributor Peter Rosenstein is submitting blog posts from his transatlantic voyage.)
Landed safely in Rome with friends and travel agents extraordinaire Scott and Dustin of My Lux Cruise. It was a United Airlines business class flight with the worst food I have ever had on an airline; totally inedible. However, the sweetest flight attendant. Patricia Oscarson introduced herself as Trish, our purser. Over the next 8.5 hours, since I can't sleep on planes, we chatted. This is her 55th year working for United and out of about 25,000 people she is No. 35 in seniority and still going strong — really amazing.
We collected our luggage and split up staying at different hotels. They were off to the expensive Westin Excelsior and I was off to my hotel, The UNA Deco, near the central terminal. I have stayed there before and is a great hotel and very reasonable. They allowed me to check into my room early and by noon I was off for a walk to the Spanish Steps to meet friends Rob and Carlos. We walked around and then did what you do in Rome, stopped for coffee and people watching. Then it was a stop in a local pharmacy to get the required antigen COVID test within 48 hours of boarding the Celebrity APEX on Saturday. While I was pretty sure I would have a negative result, I got one before I left DC, it was a nerve wracking wait for the doctor at the pharmacy to give me the result. If for some reason I was positive, I wouldn't be allowed on the ship. Thankfully it was negative and they emailed me the result I could share with Celebrity on Saturday morning at the port.
Then more walking around town and back to the hotel to change and out again for a nice relaxed, and really good dinner, at Girarrosto Fiorentino. By 9:30 I was exhausted having not slept the night before on the plane, and headed back to the hotel and crashed; lights on, TV on, nothing stopped me from getting a good night's sleep.
Friday morning I headed down to the hotel restaurant and had multiple cups of strong Italian coffee, and an amazing breakfast buffet included with the room, to get my day started. Then it was off to wander the sights of Rome. I caught up with Rob and Carlos after they took an early tour of the Colosseum hoping they didn't get eaten by the lions. I have been in Rome often over the years, the first time being in the summer of 1968 on my first trip to Europe. I call that my "If it's Tuesday it must be Belgium" tour. If you haven't seen the movie I suggest you do; it's a fun 1969 release with Suzanne Pleshette and Ian McShane. About five years ago Italy completed a major restoration of many of their most famous monuments; cleaning decades of dirt from the Colosseum and Trevi Fountain among others, and they are really spectacular to see today. We did go by the Trevi Fountain and waited on line, which went fast to enter the Pantheon. Rome is packed to the rafters with tourists.
But with all the fun that is Rome, I am really looking forward to the main part of this trip, which begins Saturday morning when I board the Celebrity APEX for my transatlantic cruise. My next blog will be from the ship.