Nervous Nellie Democrats want your money
Give to candidates, not a cowardly political party

As Congress heads into its August recess and the November elections draw near, the Democrats are plunged into full panic mode, with some prognosticators convinced the Republicans will retake the House.
Playing defense is, of course, familiar turf for Democrats, who never seem comfortable in power. They live in perpetual fear of Fox News, Sarah Palin, Rush Limbaugh and a handful of other shrill blowhards, even though the far right has all but lost the culture wars, particularly when it comes to gay issues. Witness last week's pathetic turnout for a rally against marriage equality in Maryland staged by the dinosaurs at National Organization for Marriage.
The Victory Fund's Chuck Wolfe recently wrote about this phenomenon of Democrats afraid of their own power.
"Congress still hasn't enacted significant protections for LGBT Americans," Wolfe wrote. "Why? Fear, mostly. Fear that despite their distinct minority status, anti-LGBT extremists wield inordinate power when directly challenged. Swat that nest, the thinking goes, and the hornets will swarm. Incumbents, especially this year, aren't eager to add perceived obstacles to reelection."
This isn't a new problem for the party. Many in the Democratic Party base were anxious for bold change after eight years of the Bush-Cheney debacle. And some have been mollified, following passage of financial regulation and health care reform. But the change around signature LGBT issues remains elusive, as Democrats have backed down from promises and cowered in fear of what Glenn Beck might say about them.
The Employment Non-Discrimination Act is arguably the most important piece of that change. First introduced in the 1970s, ENDA has been watered down and kicked around for decades. It's now all but dead in the Senate and if Republicans take the House, we're in for a prolonged wait on basic job protections that a vast majority of Americans support.
Despite the justified LGBT disappointment and frustration with nervous Democrats, the party has no qualms about extending its trembling hand for another round of donations. Like a broken record, we're already hearing how important it is to give money to the DNC.
Party treasurer Andrew Tobias, who's gay, again finds himself in the unenviable position of asking for money from a constituency that is tired of being taken for granted. Why should we give money to a party that promises the moon and delivers only the lowest-hanging fruit? According to Tobias, it's because "Democrats are overwhelmingly more supportive of our issues than Republicans." Unfortunately, that's not saying much. As Tobias himself has pointed out, 224 Republicans scored a zero on HRC's congressional scorecard for the 109th Congress. So being "more supportive" isn't enough.
The administration has made numerous pro-LGBT policy changes and appointments, most of which don't make mainstream media news. Tobias is a good guy and he's right to tout the progress to date. But expectations were set much higher than what's been delivered. Candidate Obama vowed to repeal the Defense of Marriage Act, a bold promise that I never expected him to honor in a first term. I did, however, expect him, the Congress and the party to make good on ENDA. That there exists no plan in the Senate to move on ENDA anytime soon confirms the worst suspicions about the party tossing breadcrumbs to keep gay donors on the financial hook for another election cycle.
Gay money this year is better directed to individual incumbents and challengers who support our issues, not just in private, off-the-record meetings, but in public statements and votes. Since Howard Dean's groundbreaking presidential campaign, many have predicted that the Internet will one day mean the end of the modern political party, as donors can more easily direct contributions to candidates. It hasn't happened yet, but a diminished role for the two centralized parties would likely benefit LGBT equality.
In the meantime, Democratic politicians will never shake their nervous Nellie ways and stand up for LGBT constituents if they know gay donors will write checks election after election regardless of legislative advances.
National Gay & Lesbian Chamber of Commerce Certifies Brown, Naff, Pitts Omnimedia, Inc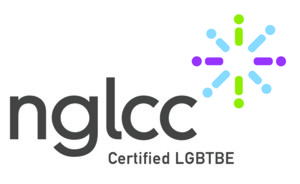 Washington, D.C. — Brown, Naff, Pitts Omnimedia, Inc, the parent company of the Washington Blade and Azer Creative, announced today it has been certified by the National Gay and Lesbian Chamber of Commerce (NGLCC) as an LGBT Business Enterprise. The NGLCC supports and advocates for diversity and inclusion for LGBT-owned businesses. With this certification the Blade's parent company joins more than 510 business and 134 corporate partners of the NGLCC.
Brown, Naff, Pitts Omnimedia, Inc. owns and operates the Washington Blade, the oldest and most acclaimed LGBT newspaper in the country. In 2012, the company launched Azer Creative, a full-service design firm. The company employs more than a dozen full-time LGBT staff.
"We are excited to become one of the 500 LGBT businesses across the country certified by NGLCC," said Lynne Brown, the Blade's publisher and a co-owner of the company. "The LGBT community has been part of our company from the beginning and we look forward to continue that for many years to come."
The Washington Blade was founded in 1969 and is known as the "newspaper of record" for the LGBT community both locally and nationally. Visit washingtonblade.com for more information. Azer Creative is a full-service graphic design firm based in Washington, D.C. Visit azercreative.com for more information. 
Vote now for the 2013 Best of Gay DC!
Choose in dozens of categories among hundreds of nominees, and make your voice heard!
Nominate the 'Best of Gay D.C.' now!
Dozens of categories cover all the best for LGBT Washington. Who deserves the prize this year?