Gay Games blog report, July 31
I see gay people

At the Chicago Gay Games, or any Gay Games for that matter, I am overwhelmed by the massive quantity of gay people milling about all over town.
There are gay people in every restaurant, every store and every train. You even get to a point where straight people start to appear gay to you. I fully expect the same thing to happen in Cologne.
On my flight to Zurich, I sat next to a straight boy named Jacob. I wasn't even in Cologne yet and I felt the gay beast within taking over. Jacob was dressed like Indiana Jones and I was immediately smitten.
Kevin: Ooh, I love a theme party. Where are you headed?
Jacob: I am going to Nairobi to check out Collared Cats.
Kevin: Oh yea, wasn't their last CD really dark techno?
Jacob: I am doing a research study on lions that have been collared.
Kevin: Oh, will you be staying at the Nairobi Ritz?
Jacob: I brought a tent.
Kevin: Oh, so you will be in a tent in the woods with boys?
Jacob puts his headphones on.
Let the games begin.
National Gay & Lesbian Chamber of Commerce Certifies Brown, Naff, Pitts Omnimedia, Inc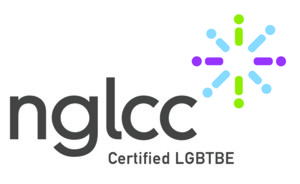 Washington, D.C. — Brown, Naff, Pitts Omnimedia, Inc, the parent company of the Washington Blade and Azer Creative, announced today it has been certified by the National Gay and Lesbian Chamber of Commerce (NGLCC) as an LGBT Business Enterprise. The NGLCC supports and advocates for diversity and inclusion for LGBT-owned businesses. With this certification the Blade's parent company joins more than 510 business and 134 corporate partners of the NGLCC.
Brown, Naff, Pitts Omnimedia, Inc. owns and operates the Washington Blade, the oldest and most acclaimed LGBT newspaper in the country. In 2012, the company launched Azer Creative, a full-service design firm. The company employs more than a dozen full-time LGBT staff.
"We are excited to become one of the 500 LGBT businesses across the country certified by NGLCC," said Lynne Brown, the Blade's publisher and a co-owner of the company. "The LGBT community has been part of our company from the beginning and we look forward to continue that for many years to come."
The Washington Blade was founded in 1969 and is known as the "newspaper of record" for the LGBT community both locally and nationally. Visit washingtonblade.com for more information. Azer Creative is a full-service graphic design firm based in Washington, D.C. Visit azercreative.com for more information. 
Vote now for the 2013 Best of Gay DC!
Choose in dozens of categories among hundreds of nominees, and make your voice heard!
Nominate the 'Best of Gay D.C.' now!
Dozens of categories cover all the best for LGBT Washington. Who deserves the prize this year?