Where do we go from here?
Despite victory in California, fight for equality goes on

The Proposition 8 ruling is a major victory but the war for equality is far from over.
The ruling has been appealed by proponents of the ballot initiative and everyone expects the case to end up before the U.S. Supreme Court. Considering the conservative makeup of the country's highest court and conventional wisdom that it does not move ahead of the general population, it is highly unlikely that the majority of justices will rule in our favor should the case come up anytime soon.
We do have some time, however, to continue the work we have started in coaxing more of our fellow citizens to our side. Gallup reports that close to 60 percent of Americans believe that "gay and lesbian relations between consenting adults should be legal." The percentage of people who support same-sex marriage is steadily rising. Five states — Massachusetts, Connecticut, Iowa, Vermont and New Hampshire — and the District of Columbia have legalized same-sex marriages. California and New Jersey have instituted civil unions. A growing number of states and jurisdictions are providing protections for same-sex couples, albeit often in limited forms.
Still, close to half of all Americans do not approve of us and our families.
Immediately after Proposition 8 passed in November 2008, the blame game started and many fingers were pointed at the African American community. In time, social scientists have established that race or ethnicity had little to do with how a person voted that day. Religiosity, fear and misinformation have been identified as the main impetus behind an individual's decision to support the anti-equality measure. Age, ideology and other characteristics also prompted a person to support Prop 8.
So now what? How can we counter misinformation, fear and other people's biases? An article about a married gay couple provides a suggestion. For years, Bryn and James were tormented with verbal abuse by their conservative neighbor — so much so that they got a restraining order against him. When the neighbor's house went up in flames, though, the men did not hesitate to run to their antagonizer's rescue.
We do not know if this act of heroism and compassion will be reciprocated. But such acts of humanity and kindness can certainly go a long way in swaying those who remain on the fence. We can show folks that while they may disagree with our "chosen lifestyle," we are actually good neighbors who deserve equal treatment under the law.
There will always be a small fringe who will never be convinced. But I believe that most people can and will change their minds about us.
You can follow Erwin on Twitter at @ErwindeLeon.
National Gay & Lesbian Chamber of Commerce Certifies Brown, Naff, Pitts Omnimedia, Inc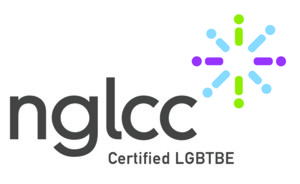 Washington, D.C. — Brown, Naff, Pitts Omnimedia, Inc, the parent company of the Washington Blade and Azer Creative, announced today it has been certified by the National Gay and Lesbian Chamber of Commerce (NGLCC) as an LGBT Business Enterprise. The NGLCC supports and advocates for diversity and inclusion for LGBT-owned businesses. With this certification the Blade's parent company joins more than 510 business and 134 corporate partners of the NGLCC.
Brown, Naff, Pitts Omnimedia, Inc. owns and operates the Washington Blade, the oldest and most acclaimed LGBT newspaper in the country. In 2012, the company launched Azer Creative, a full-service design firm. The company employs more than a dozen full-time LGBT staff.
"We are excited to become one of the 500 LGBT businesses across the country certified by NGLCC," said Lynne Brown, the Blade's publisher and a co-owner of the company. "The LGBT community has been part of our company from the beginning and we look forward to continue that for many years to come."
The Washington Blade was founded in 1969 and is known as the "newspaper of record" for the LGBT community both locally and nationally. Visit washingtonblade.com for more information. Azer Creative is a full-service graphic design firm based in Washington, D.C. Visit azercreative.com for more information. 
Vote now for the 2013 Best of Gay DC!
Choose in dozens of categories among hundreds of nominees, and make your voice heard!
Nominate the 'Best of Gay D.C.' now!
Dozens of categories cover all the best for LGBT Washington. Who deserves the prize this year?