JUDGE OVERTURNS PROP 8 IN HISTORIC RULING
Activists hail decision as major victory for marriage equality
In an historic development, a federal judge in California ruled Wednesday that the Golden State's ban on same-sex marriage is unconstitutional.
The ruling by U.S. District Court Judge Vaughn Walker in San Francisco said an amendment to the state's constitution banning same-sex marriage, which voters approved in a 2008 ballot measure known as Proposition 8, violates the U.S. Constitution's equal protection and due process clauses.
"Because Proposition 8 is unconstitutional under both the Due Process and Equal Protection Clauses, the court orders entry of judgment permanently enjoining its enforcement," Walker wrote in his ruling.
The order also prohibits "the official defendants from applying or enforcing Proposition 8 and directing the official defendants that all persons under their control or supervision shall not apply or enforce Proposition 8."
But Walker stayed his own order for an indeterminate length of time at the request of Prop 8 supporters in a separate ruling, pending an expected appeal of the case.
Voter approval of Prop 8 put an end to same-sex marriages that began in California in early 2008, when the state's highest court ruled that gays and lesbians could not be denied the right to marry under the state constitution.
Same-sex marriage opponents said Wednesday they would take immediate steps to appeal Vaughn's decision to the Ninth Circuit U.S. Court of Appeals, which could take a year or more to issue a ruling.
Supporters and opponents of same-sex marriage have each vowed to take the case to the U.S. Supreme Court if they lose at the appeals court level, a development that legal observers say could lead to a landmark Supreme Court ruling on same-sex marriage.
Vaughn's decision Wednesday followed a controversial 12-day trial in January in which he presided over arguments by supporters and opponents of same-sex marriage that drew international media coverage. He ordered a four-month break in the trial to go over a mountain of evidence before resuming the proceedings in June to hear closing arguments.
His 136-page decision released late Wednesday strongly rejected arguments by attorneys supporting Proposition 8 that same-sex marriage harms traditional marriage, procreation and child-rearing, saying those arguments reflect a "moral view" that does not justify a "state interest" in banning same-sex marriage.
"Moral disapproval alone is an improper basis on which to deny rights to gay men and lesbians," he wrote. "The evidence shows conclusively that Proposition 8 enacts, without reason, a private moral view that same-sex couples are inferior to opposite-sex couples."
He added that "because California has no interest in discriminating against gay men and lesbians, and because Proposition 8 prevents California from fulfilling its constitutional obligation to provide marriages on an equal basis, the court concludes that Proposition 8 is unconstitutional."
The ruling drew quick praise from many advocates of same-sex marriage, including Evan Wolfson of Freedom to Marry.
"Judge Walker's decision will be appealed and litigation will continue, but what we witnessed in the clear light of his courtroom cannot be erased," he said. "The witnesses, evidence and arguments all demonstrated what we've long known: exclusion from marriage harms committed same-sex couples and their families, while helping no one and the unjustified and unfair denial of marriage to same-sex couples violates the United States Constitution.
"The judge's ruling reflects the growing consensus in courtrooms and legislatures across the country, and around the world, that there is simply no good reason to exclude same-sex couples from marriage."
Several elected officials, including New York Gov. David Paterson, also applauded the ruling.
"I know that there is a long road ahead in the legal proceedings, but whatever the outcome I believe that the bedrock American principle of equal protection under the law must mean equal rights for gays and lesbians, and that such equal rights must include the fundamental right to marry," he said. "Today's decision is one important step in a long struggle, and that struggle must continue until equality is achieved."
But the National Organization for Marriage, the nation's leading group opposing same-sex marriage, called the decision a threat to "traditional" marriage in other states.
"With a stroke of his pen, Judge Walker has overruled the votes and values of 7 million Californians who voted for marriage as one man and one woman," said Brian Brown, the group's president. "This ruling, if allowed to stand, threatens not only Prop 8 in California but the laws in 45 other states that define marriage as one man and one woman."
The case, Perry v. Schwarzenegger, was named after Kris Perry, who, along with her partner of 10 years, Sandy Stier, was among two same-sex couples that filed the lawsuit to challenge Prop 8 on federal constitutional grounds.
Paul Katami and Jeff Zarrillo, the other two plaintiffs, have been together for nine years. Neither of the couples married in California during the short window in which same-sex marriage was legal but said they joined the suit to enable them and other same-sex couples to fulfill their desire to marry from that time going forward.
In a development that angered supporters of Proposition 8, California Attorney General Jerry Brown, a Democrat and long-time supporter of LGBT rights, refused to defend the ballot measure on behalf of the state. Republican Gov. Arnold Schwarzenegger chose not to overrule Brown, placing himself in the odd position of being named the lead defendant in the case but taking no action to defend a state constitutional provision.
The state's decision not to defend the law forced leaders of the campaign to pass Prop 8 to assume the role of defending it in court, with the pro-Prop 8 group Protect Marriage taking the lead.
The American Foundation for Equal Rights, a group created by California gay activist Chad Griffin to challenge Prop 8, initiated the lawsuit at a time when some legal experts and gay legal groups opposed such a challenge.
Lambda Legal Defense & Education Fund was among the groups that considered challenging Prop 8 on federal constitutional grounds to be too risky because the case would likely reach the U.S. Supreme Court, which was expected to rule against same-sex marriage rights.
Support for the lawsuit initially was less than overwhelming within LGBT legal and activist circles. But the initial reservations — at least in public forums — appeared to vanish when American Foundation for Equal Rights leaders managed to pull off what some considered a stunning coup.
The group lined up conservative Republican attorney and acclaimed constitutional expert Theodore "Ted" Olson, a former U.S. Solicitor General under President George W. Bush; and esteemed litigator, law school professor and U.S. Justice Department attorney during the Clinton administration, David Boies, as the lead attorneys for the two couples in the case.
Olson, who had not spoken out on LGBT issues in the past, emerged as a champion for LGBT equality, saying the right to marry for same-sex couples was protected by the U.S. Constitution and should be a fundamental principle in U.S. law.
The two attorneys' arguments and actions during the Prop 8 trial appeared to dominate the proceedings and prompted many legal observers to conclude that their side came across far stronger than the legal team defending Prop 8.
Olson and Boies argued during the trial, among other things, that Prop 8 violates the U.S. Constitution's Equal Protection Clause and the Fourteenth Amendment as well as the Constitution's Due Process Clause by "impinging" on fundamental liberties.
The two also argued that Prop 8 singles out gays and lesbians for "disfavored legal status" and thus creates "second-class citizens." They also told the court the same-sex marriage ban discriminates on the basis of gender and sexual orientation.
Attorneys Andrew Pugno and Charles Cooper with Protect Marriage presented just two witnesses during the trial. The credentials of both witnesses as experts were challenged by the plaintiffs, and both supporters and opponents of Prop 8 thought the attorneys did a lackluster job of defending the marriage ban statute.
Vaughn, 65, who was first nominated for his federal judgeship post by President Ronald Reagan, became the focus of unexpected publicity when media reports disclosed in February that he's gay.
Some gay rights opponents demanded he be removed from the case, saying he could not render an impartial decision. Other same-sex marriage opponents said Vaughn's sexual orientation should not matter but accused him of being biased against the defendants in his procedural rulings during the trial.
LGBT legal groups and public opinion leaders, including newspaper editorials, disputed claims that Vaughn was biased and dismissed calls for him to step down from the case. Some noted that the judge had been criticized during his earlier years on the bench for handing down conservative, libertarian oriented decisions that in a few cases went against gay rights.
Gay rights attorneys familiar with the case said Vaughn's strongly worded ruling overturning Proposition 8 on federal constitutional grounds lays the groundwork for striking down laws banning same-sex marriage in all states that have them.
But the attorneys noted that the other states won't be directly impacted unless or until the Ninth Circuit Court of Appeals and the U.S. Supreme Court upholds Vaughn's ruling. With the Ninth Circuit long considered to have liberal and progressive leanings, LGBT activists and gay rights attorneys believe they have the best shot at winning there.
According to Jenny Pizer, an attorney and same-sex marriage law specialist with Lambda Legal, if the Supreme Court does not reverse a favorable ruling by the Ninth Circuit, either by refusing to take the case or by upholding the appeals court's decision, laws banning same-sex marriage in the nine states under the Ninth Circuit's jurisdiction would likely fall.
In addition to California, the states in the Ninth Circuit include Alaska, Arizona, Hawaii, Idaho, Montana, Nevada, Oregon and Washington.
Should the Supreme Court uphold Vaughn's decision, laws banning same-sex marriage in virtually all states – as well as the federal Defense of Marriage Act – could also be expected to fall.
"The federal Constitution's guarantee of equal protection and due process, including the fundamental right to marry, need to mean the same thing in every state in the union," Pizer said.
"The ruling issued today concludes, and we think of course rightly, that lesbian and gay Americans have the same fundamental right to marry that heterosexual Americans have. And they should be able exercise that right to marry."
Pizer noted that Vaughn cited repeatedly in his ruling two key Supreme Court rulings considered landmark breakthroughs for LGBT rights—Lawrence v. Texas, which overturned state sodomy laws for consenting adults in private; and Roemer v. Evans, which overturned a Colorado ballot measure that banned local jurisdictions within the state from adopting laws prohibiting discrimination based on sexual orientation.
"The Roemer decision affirmed the liberty rights of gay people, which is at the center of the freedom to marry the person that you choose," Pizer said.
She said the Lawrence decision, written by Supreme Court Justice Anthony Kennedy, established that "traditions and moral beliefs alone do not justify maintaining a discriminatory system."
Speaker of the House Nancy Pelosi (D-Calif.), the American Civil Liberties Union, People for the American Way, and Judy Shepard, mother of gay student Matthew Shepard, whose murder in a 1998 anti-gay hate crime drew attention to LGBT rights, were among those praising Judge Walker's decision.
The White House released a brief statement on the Prop 8 decision through spokesperson Shin Inouye.
"The president has spoken out in opposition to Proposition 8 because it is divisive and discriminatory. He will continue to promote equality for LGBT Americans," the statement says.
Rep. Tammy Baldwin (D-Wisc.), who is lesbian, appeared to sum up the views of LGBT civil rights groups and supportive members of Congress on the question of whether the courts should overturn a law passed by the voters.
"We live in a democracy wherein majority rule is checked and balanced by the guarantee of inalienable minority rights," Baldwin said in a statement.
"This case, as it wends its way up to the U.S. Supreme Court, presents jurists with fundamental questions about minority rights and majority rule. I believe Judge Walker got it right, declaring that denial of marriage rights and protections to gay and lesbian citizens violates the Constitution even if it reflects the will of the majority of Californians," she said.
Calif. school district meeting over LGBTQ studies turns violent
Police officers and protestors clashed outside Glendale Unified School Board meeting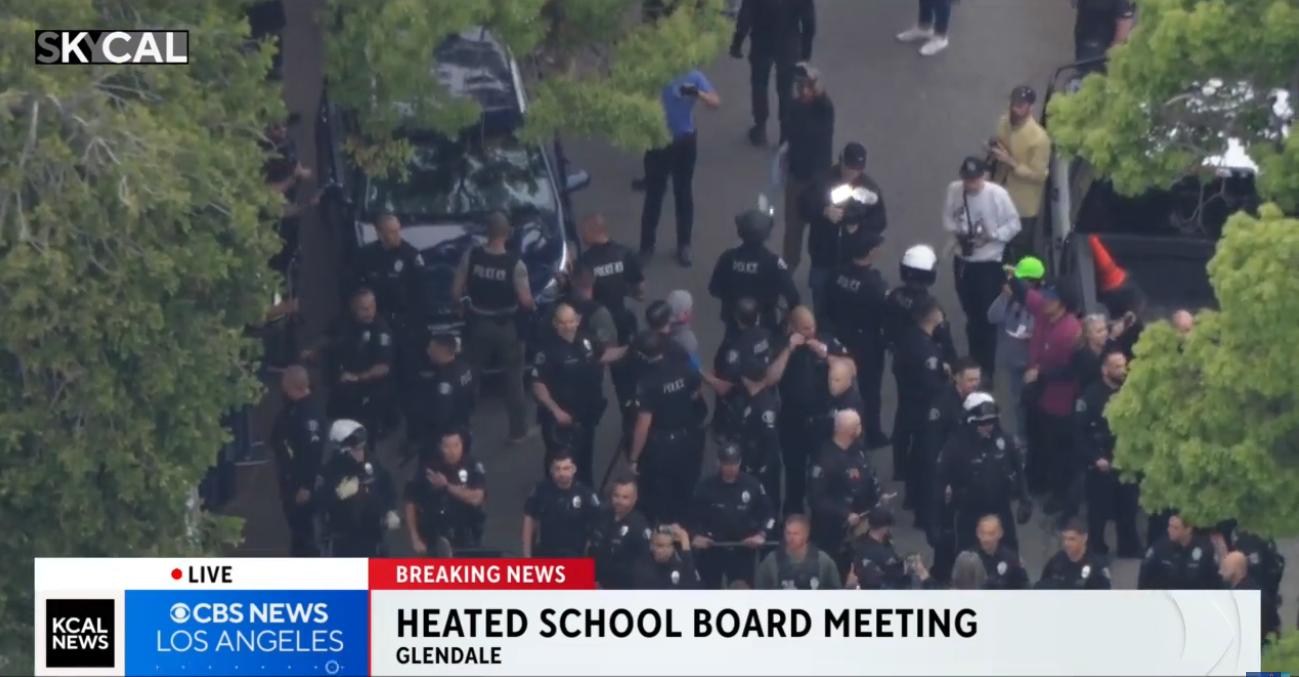 Police officers and protestors clashed outside a meeting of the Glendale Unified School Board over LGBTQ studies and the GUSD polices on addressing LGBTQ related issues.
News footage from CBS Los Angeles KCAL showed approximately 50 Glendale police officers attempting to keep the two groups separated and then fists were thrown as both sides engaged in physical assaults. A Glendale police spokesperson confirmed that some arrests had been made but wouldn't comment further.
Witnesses and news crews noted that many of those protesting against the LGBTQ community were from the same group that had protested at Saticoy Elementary School in North Hollywood, angered over a Pride month assembly. Officers from the LAPD's North Hollywood Community Station responded and there were physical assaults as well.
The situation in Glendale has become increasingly acrimonious. Last year during Pride month, a third grade teacher at Thomas Jefferson Elementary, Tammy Tiber, had enraged some parents after speaking to her students about LGBTQ topics on Zoom. The GUSD officials later transferred her because Tiber had told them she no longer felt safe.
A spokesperson for the district said that all materials are vetted by the GUSD, and are in full compliance with curriculum that deals with LGBTQ history, mandated under California's FAIR Education Act, which was signed into law on July 14, 2011, and went into effect on Jan. 1, 2012.
It amends the California Education Code to include the Fair, Accurate, Inclusive and Respectful reference to contributions by people with disabilities and members of the LGBTQ community in history and social studies curriculum.
Last month on May 18, a man who is not the parent of a child in the district, accused GUSD school board vice president Jennifer Freemon of concealing consistent attempts to "indoctrinate" students on LGBTQ issues.
"They are saying boys can be girls and girls can be boys," Henry said during the board meeting. "If you believe in that, that is your opinion, and if that is your official policy, Jennifer, that is indoctrination because it offends a lot of people's actual doctrine."
As an example of instructing students to "behave inappropriately," Henry referenced an alleged recent incident involving a student with special needs. GUSD student Thelma Gonzalez, who spoke later in the meeting, was allegedly asked to provide the definition of "scissoring" during a health lesson, despite her mother requesting that she be excused.
"A violation of their doctrine, their Christian doctrine," Henry said, referring to Gonzalez and her mother. "Regardless of what you think, what I think, what the community thinks about any faith, you violated that. And if you don't condemn that today, Jennifer, you are a hypocrite and a liar."
He then mounted an attack on district polices regarding its transgender students.
"If you think they value your children, you're more than entitled to think that," Henry said. "They will not lie to you about your child, they will lie to these parents. They will conceal that private information from parents. You have enshrined that into doctrine, into policy, which is a misinterpretation of the law."
It is not immediately clear what policy Henry was referring to. However, GUSD's anti-discrimination policy states the district will only disclose a student's "transgender or gender-nonconforming status" with their consent. It also mandates that a district official may discuss with that same student "any need" to confide in their parents or guardians.
#BREAKING: The protest outside the Glendale Unified School Board meeting has turned violent, with protesters clashing. @GlendalePD trying to regain control now. @RoadSageLA overhead in #SKYCAL. @kcalnews pic.twitter.com/g0YWp1KVWI

— Mike Rogers (@MikeRogersTV) June 7, 2023
Inside the Tuesday GUSD board meeting, pro- and anti-LGBTQ protesters faced off over how schools teach gender and sexuality, attendees were suddenly told to shelter in place as the violence outside escalated. The interruption came after about an hour of public comments, most of them in defense of the LGBTQ community and the district's handling of materials and policies.
A mob of anti-LGBTQ bigots in Glendale engaged in violence outside a school board meeting while protesting against teaching about LGBTQ people

This violence flows from the anti-LGBTQ rhetoric sweeping the U.S. It's why @HRC declared a national state of emergency for LGBTQ people https://t.co/2jrMBCx2pJ

— Senator Scott Wiener (@Scott_Wiener) June 7, 2023
New video from last night in Glendale shows far right extremists pepper spraying a religious clergy member who was there in support of LGBTQ families. pic.twitter.com/9DtSvcZztu

— Alejandra Caraballo (@Esqueer_) June 7, 2023
Protesters fight outside Glendale school district meeting about LGBTQ studies:
Related:
Anti-LGBTQ laws, drag bans loom over Pride celebrations
Organizers in Florida, Texas, Montana, Tennessee coping with new restrictions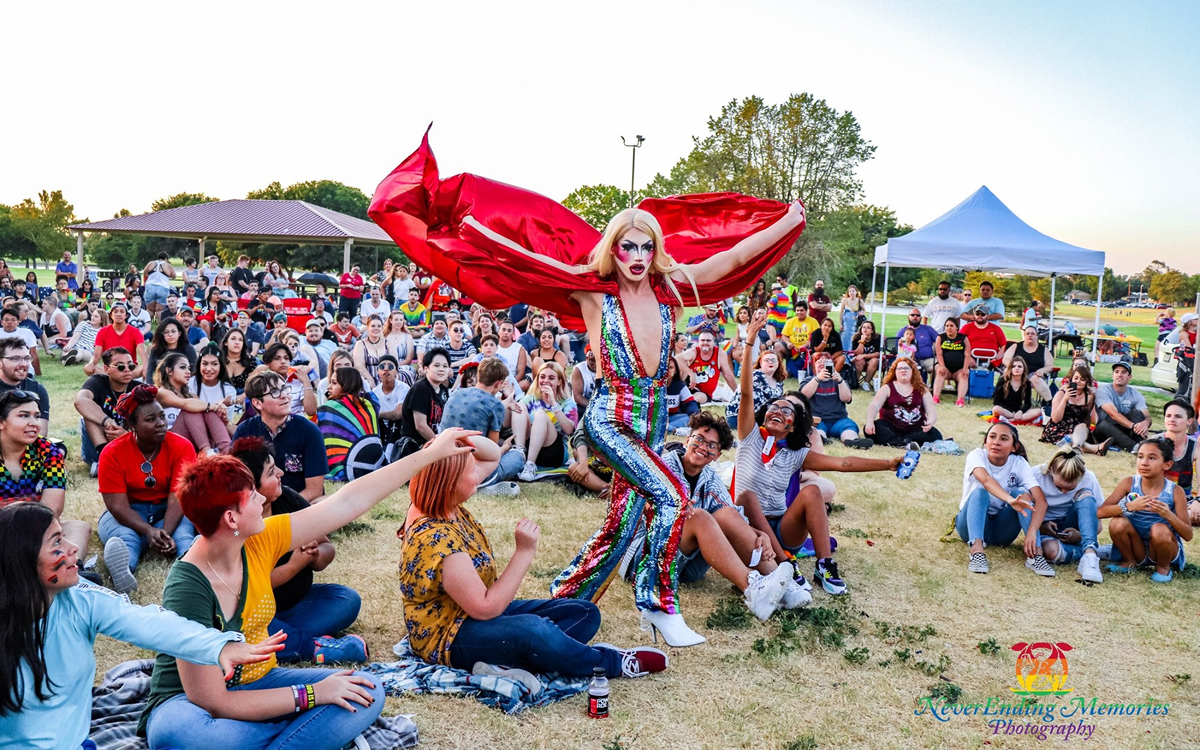 Anti-LGBTQ and anti-drag laws that Republican governors have signed have prompted Pride organizers to reconsider or even cancel their events this year.
The Bozanich Photography Collaborative, which organizes St. Cloud Pride in Florida, in its statement that announced the cancellation of its June 10 event noted the state "has recently passed a number of laws that target the LGBTQIA+ community" and they have "created a climate of fear and hostility for LGBTQIA+ people."
Florida Gov. Ron DeSantis on May 17 — the International Day Against Homophobia, Biphobia and Transphobia — signed bills that ban gender-affirming health care for minors, restrict pronoun usage in schools and require public buildings and other facilities' restrooms and locker rooms to have "separate facilities for men and women based on biological sex." DeSantis on that day also signed House Bill 1438, which "protects children from explicitly adult performances in all venues — including drag shows and strip clubs" and "imposes fines and license suspension for hotels and restaurants that admit a child into an adult performance."
The Republican presidential candidate last year filed a complaint against a Miami restaurant after LibsofTikTok broadcast a video of children attending a drag show.
The DeSantis administration this year has sought to revoke the liquor license of the Hyatt Regency Miami and filed a complaint against the Orlando Philharmonic Plaza Foundation after children attended drag shows at the respective locations.
Tampa Pride on May 18 announced the cancellation of its "Pride on the River" event. Organizers of Pridefest in Port St. Lucie only allowed those who were at least 21 years old to attend their annual event that took place in April.
Hamburger Mary's in Orlando has sued DeSantis over HB 1438.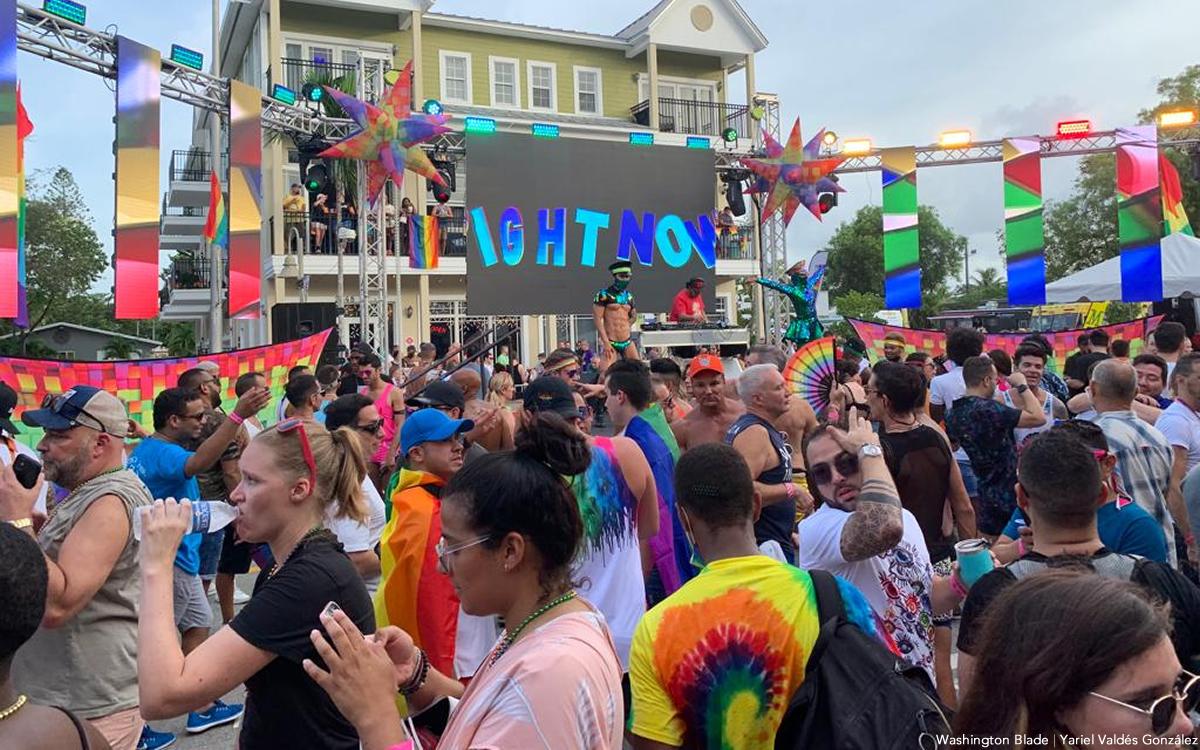 The annual Stonewall Pride Parade and Street Festival is scheduled to take place in Wilton Manors on June 17.
Stonewall Pride CEO Jeffrey Sterling on Monday during a telephone interview with the Washington Blade pointed out Wilton Drive, the road on which the parade and festival will take place, is a state road.
He said performers and vendors will have to abide by a series of rules that include no nudity, no lewd conduct and no vulgarity or overtly sexual language. Sterling admitted HB 1438 and the other anti-LGBTQ bills that DeSantis signed "indirectly" prompted Stonewall Pride to implement them, but he stressed they do not apply to those who attend the parade and festival.
Sterling denied reports that suggest drag queens will not be allowed to perform.
"We need to be proud of the beauty of our culture while keeping in mind who we are entertaining," he said. "Our standards should be that which we would use around our own children or our families' nieces or nephews. We are performing for all ages, so the youngest in the audience should dictate the minimum standards we should adhere to."
Miami Beach Pride took place on April 16, less than a week after Equality Florida and the Florida Immigrant Coalition issued a travel advisory for the state. The event took place before DeSantis signed HB 1438 and the three other anti-LGBTQ laws.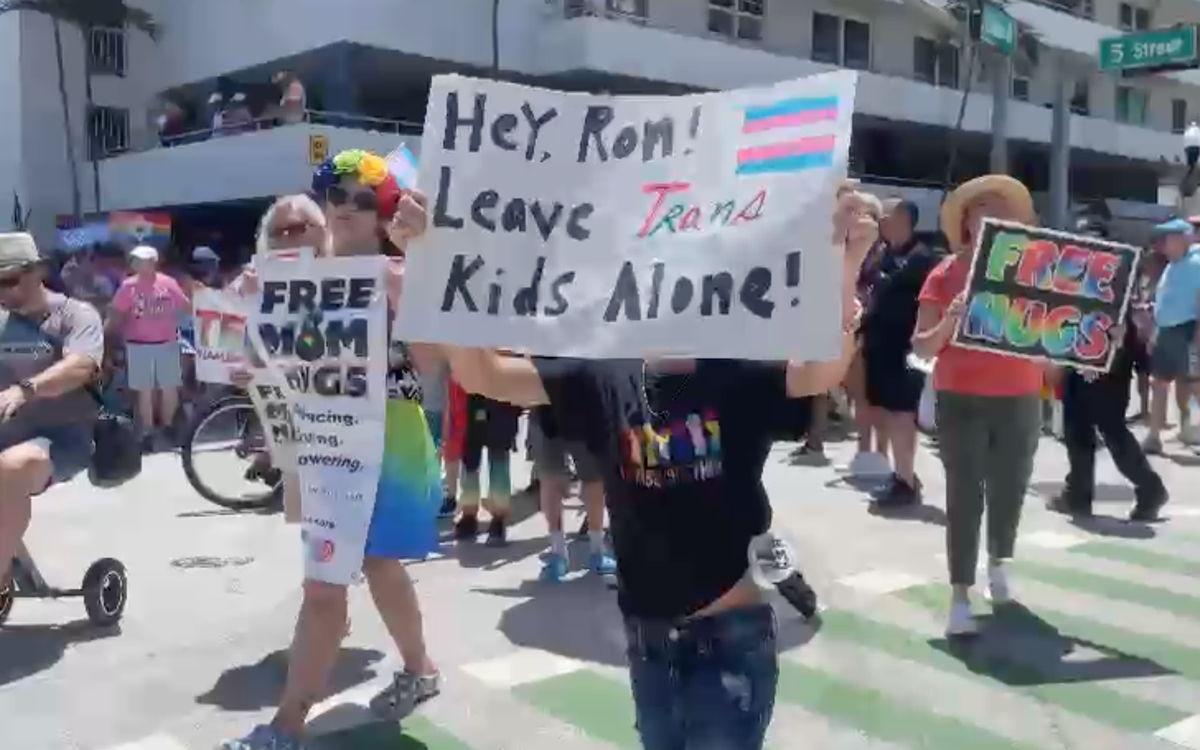 The third annual PensaPride will take place in Pensacola in Florida's Panhandle on June 24.
Sydney Robinson, who is a member of PensaPride's board of directors, during a June 1 telephone interview with the Blade noted the all-day festival is a sober event and "family-friendly, open to all ages."
She noted drag queens typically perform at PensaPride, but organizers are "still sort of grappling to try and do something or if we want to avoid it altogether because of the new law." Robinson was nevertheless adamant that Pride events should continue to take place in Florida, despite DeSantis and the anti-drag bill he signed.
"I'm really disappointed with any Pride events that cancel for that reason because I think there is a way to have a vibrant Pride event that doesn't have drag," she said. "If you really want to follow the law, if that's your main concern, you could easily do a wonderful Pride event and just not have that element involved."
"On the other end it's like well Pride is a protest," added Robinson. "That was the basis of Pride from the start."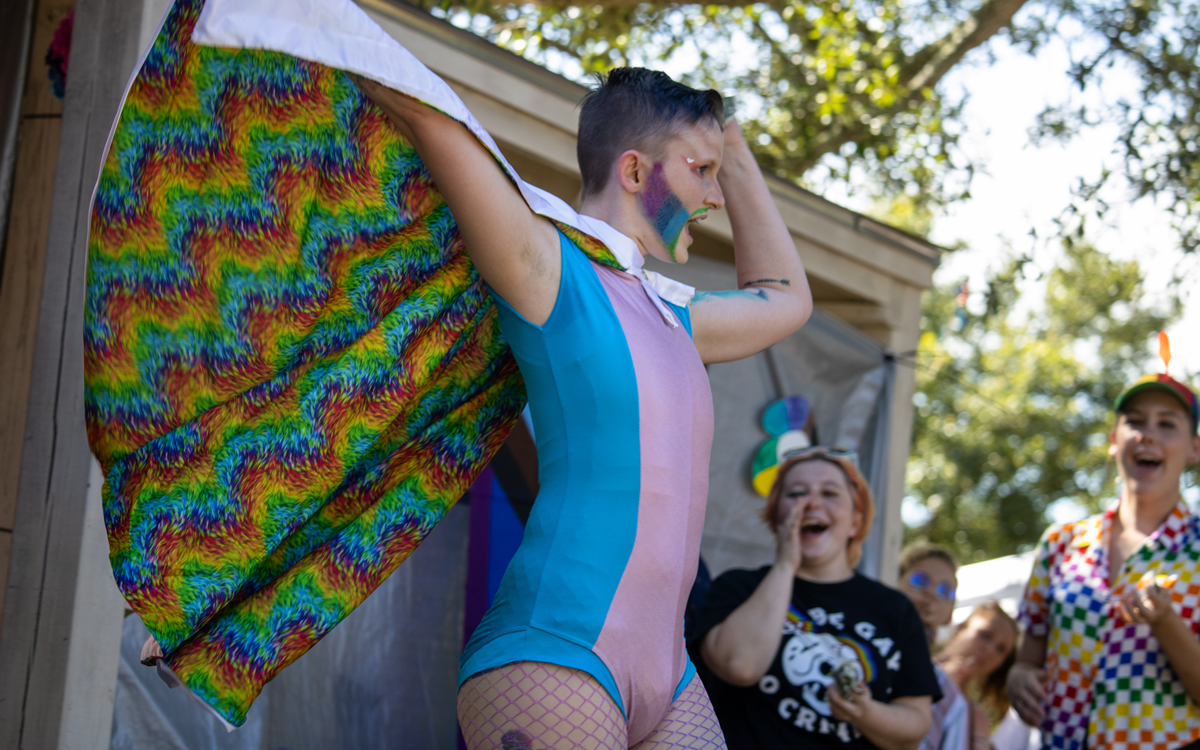 'We're more motivated than ever'
Montana Gov. Greg Gianforte on May 22 signed a bill that bans drag story hours in public schools and libraries and restricts "sexually oriented performances" on public property. (His nonbinary child urged him to veto anti-LGBTQ bills that reached his desk during this year's legislative session.)
Missoula Pride will take place from June 16-18.
"We're more motivated than ever to put on just one big hell of a Pride festival," Andy Nelson, executive director of the Western Montana LGBTQ+ Community Center, which organizes Missoula Pride, told the Blade on June 2 during a telephone interview. "This legislative session here in Montana has been devastating and we just need to come together as a community more than ever."
Nelson noted the bill that Gianforte signed is specific to public libraries and schools. Nelson said drag queens will perform at Missoula Pride as they normally do.
"As far as drag performers performing at our street party in downtown Missoula, we're good to go," Nelson told the Blade. "And so we're going to have a bunch of queens up there, like usual, doing their thing. They'll be in the parade and we're still going to have multiple drag events throughout the weekend."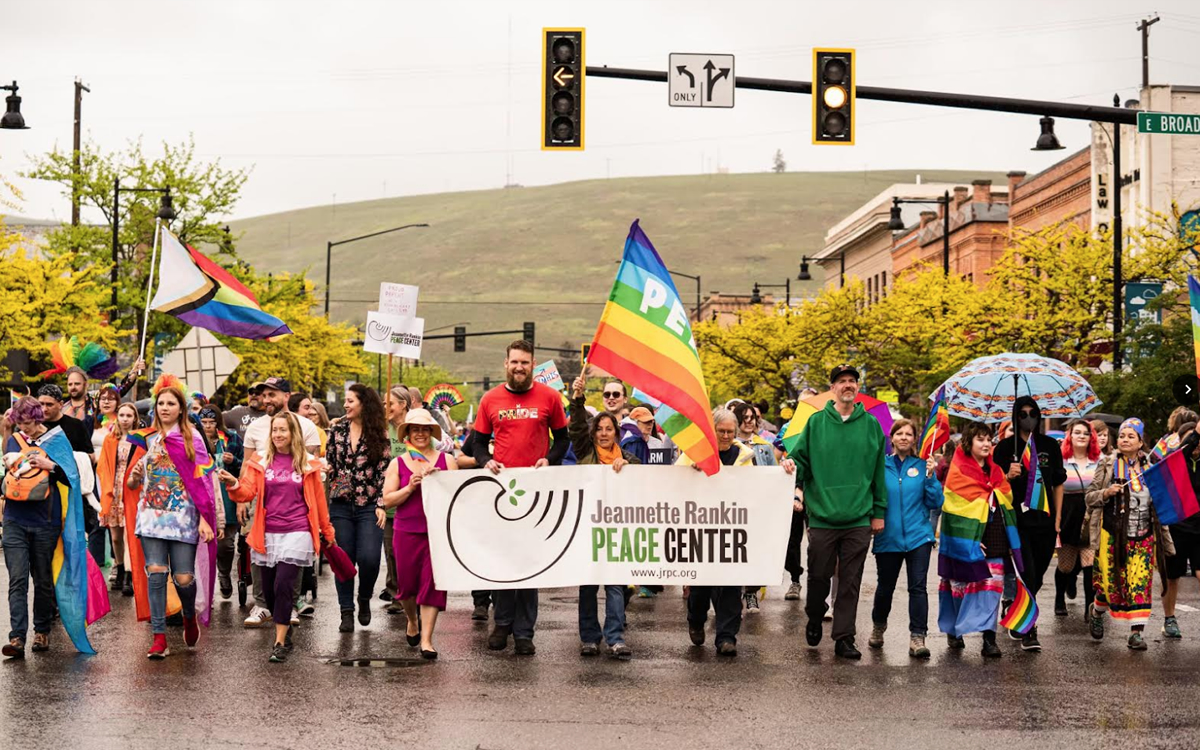 A document the Department of Homeland Security shared with law enforcement and government agencies on May 11 notes anti-LGBTQ threats are increasing and are linked to "drag-themed events, gender-affirming care and LGBTQIA+ curricula in schools." The document also warns of the potential increase in attacks against health care providers and businesses that specifically cater to LGBTQ people.
Police in Coeur d'Alene, Idaho last June arrested 31 armed white nationalists who were protesting a Pride event
"We were definitely on edge," said Nelson, who noted Coeur d'Alene is less than three hours from Missoula and the arrests took place days after Missoula Pride. "What happened there is not out of the question, that it could happen here as well."
Nelson noted a small group of neo-Nazis with AR-15s in March protested an International Trans Day of Visibility event that took place at Missoula's courthouse. He said a private security team and members of the Missoula Police Department will be on hand during Pride.
"We're definitely keeping safety and security top of mind," said Nelson.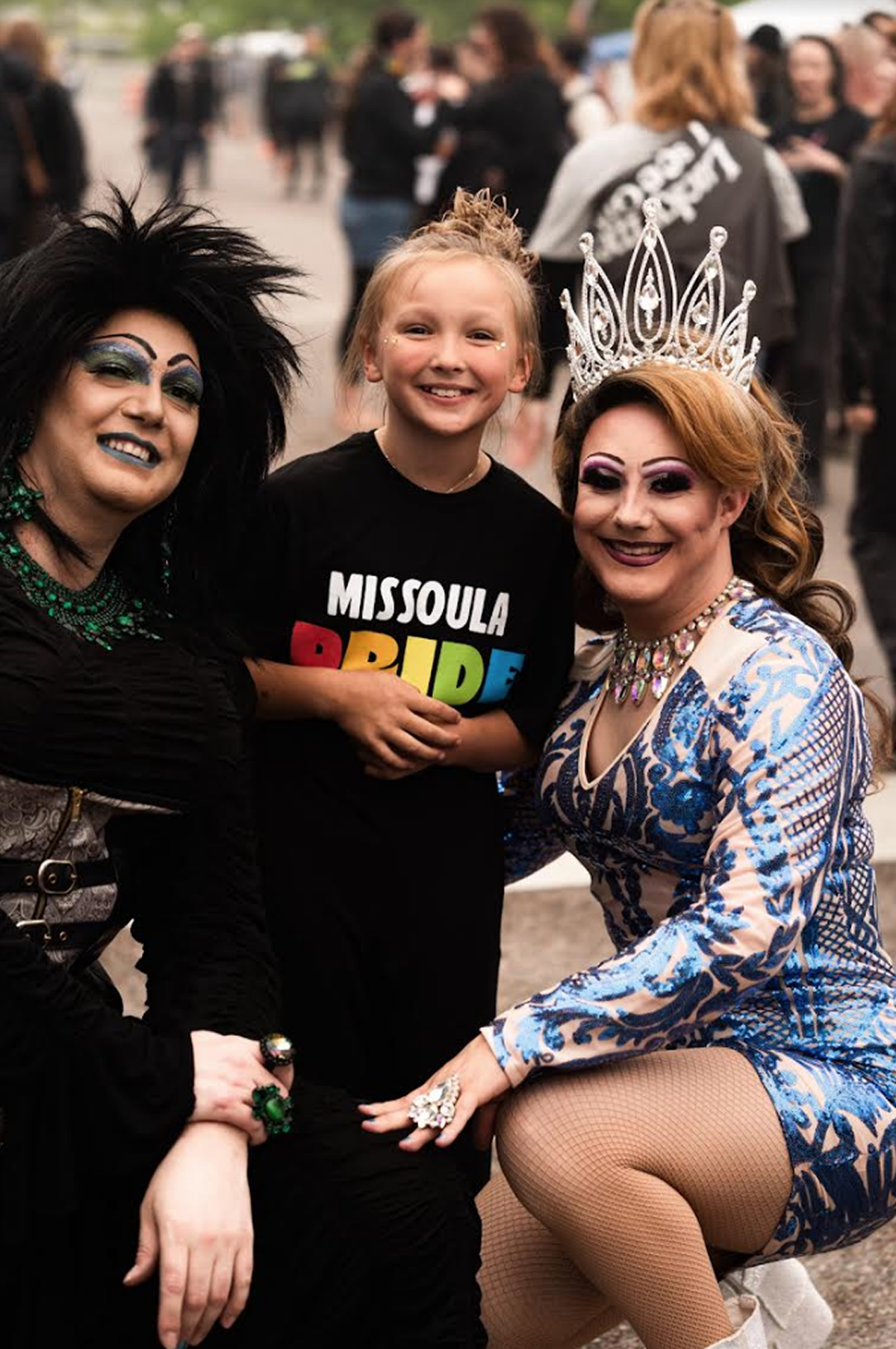 Tennessee Gov. Bill Lee on March 2 signed Senate Bill 2, which imposes fines and even jail time for "male or female impersonators who provide entertainment that appeals to a prurient interest" on public property or where children are present.
Friends of George's, a Memphis-based LGBTQ theater company, challenged SB 2 in federal court.
U.S. District Court Judge Thomas L. Parker of the U.S. District Court for the Western District of Tennessee on June 2 declared SB 2, which is also known as the Adult Entertainment Act, unconstitutional. The same federal judge temporarily blocked the law hours before it was to have taken effect.
Tennessee Equality Project Executive Director Chris Sanders on Monday noted to the Blade that Pride events took place in Memphis, Cookeville and in other cities across the state over the past weekend.
Sanders said drag queens performed in a public park during Columbia Pride that took place on Sunday. He noted some Pride celebrations "probably did make some contingency plans or change the way their celebration went on, but many continued to have drag as part of their celebrations."
Sanders told the Blade that activists in Tennessee remain "extremely stressed, particularly about the anti-trans laws."
The American Civil Liberties Union has filed a lawsuit against the state law that bans gender-affirming care for anyone who is under 18 years old. Sanders noted that statute "continues to hang over everything," but Parker's ruling was something to celebrate.
"People got a bit of relief, obviously, because of the drag ruling and people are very excited about that," said Sanders.
Texas anti-drag bill has 'broad and vague wording'
Texas Gov. Greg Abbott on June 2 signed a law that bans gender-affirming health care for minors in his state. Senate Bill 12 — which would "regulate sexually oriented performances" and "those performances on the premises of a commercial enterprise, on public property, or in the presence of an individual younger than 18 years of age" — is currently awaiting the Republican governor's signature.
Nick Harpster, the public relations and advocacy coordinator of Lubbock Pride, on June 1 noted to the Blade during a telephone interview that SB 12 would take effect after his city's Pride events if Abbott were to sign it into law.
He said SB 12 has "such a broad and vague wording and it's left up to so much interpretation," and questioned how it may specficially impact the Dallas Cowboy cheerleaders. Harpster said Texas lawmakers have definitely targeted drag queens with SB 12 and another bill that sought to defund public libraries that host drag queen story hours.
"That's been the goal from the get go," said Harpster.
Harpster said Lubbock Pride "may have to do some things differently" next year if Abbott signs SB 12. In the meantime, drag performances and drag story times are among the events that will take place during this year's Lubbock Pride that will take place on June 10.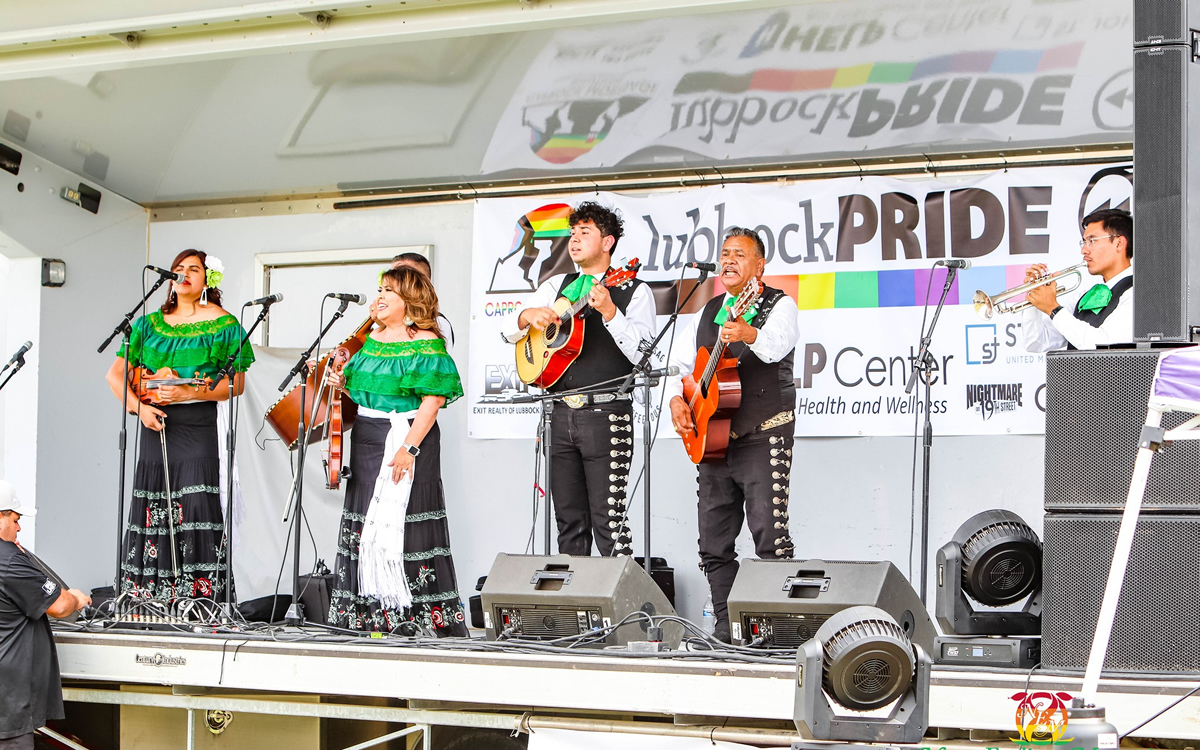 Dawn Ennis, Christopher Kane, Michael Key and Brody Levesque contributed to this story.
Federal judge halts enforcement of Fla. trans healthcare ban
Advocacy groups challenged Senate Bill 254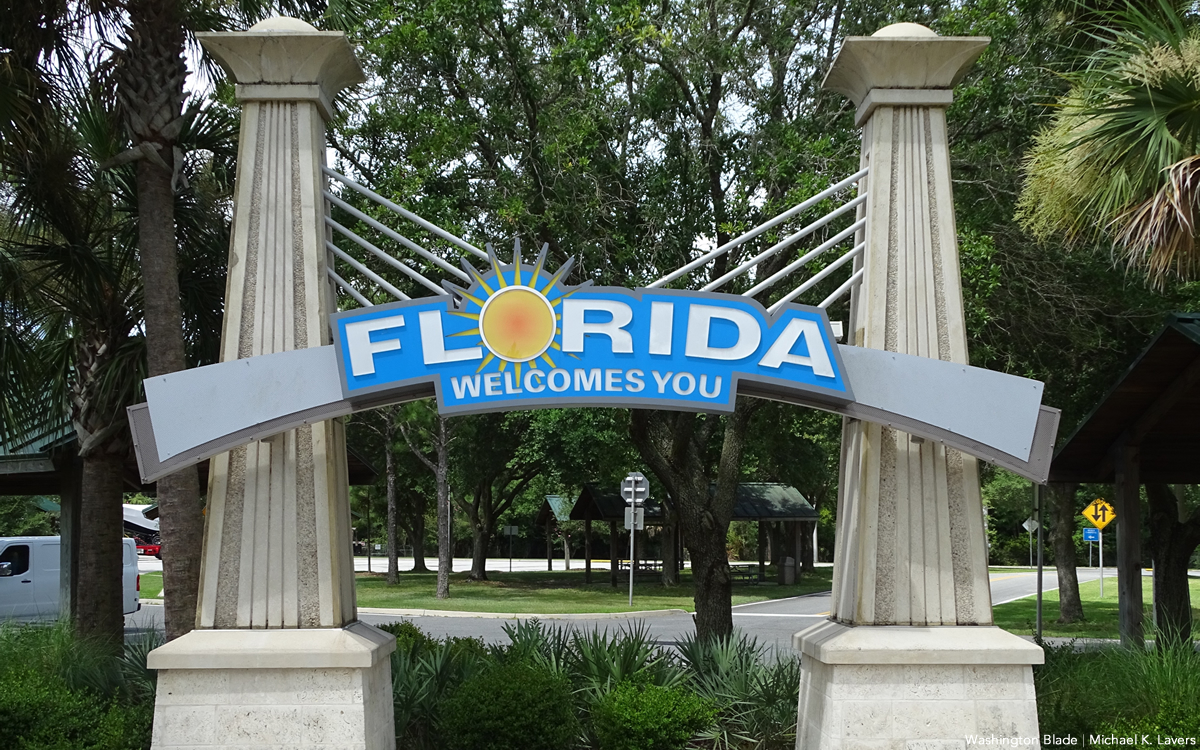 In his 44 page ruling, Judge Robert Hinkle of the U. S. District Court for the Northern District of Florida has barred the state from any further enforcement action against transgender youth or their parents from seeking appropriate gender-affirming care.
Hinkle's ruling allows Florida parents challenging the ban to access necessary medical care for their trans children while the legal challenge to the bans continues. The ruling blocks enforcement of Florida state Boards of Medicine and Osteopathic Medicine rules banning established medical care for trans adolescents as well as provisions in Senate Bill 254 that codify those rules into state law with added criminal and civil penalties.
In his summary Hinkle wrote: "Gender identity is real. Those whose gender identity does not match their natal sex often suffer gender dysphoria. The widely accepted standard of care calls for evaluation and treatment by a multidisciplinary team. Proper treatment begins with mental health therapy and is followed in appropriate cases by GnRH agonists and cross-sex hormones. Florida has adopted a statute and rules that prohibit these treatments even when medically appropriate."
In today's ruling the court indicated that the plaintiff parents are likely to succeed in their claims that SB 254 and the Boards of Medicine rules unconstitutionally strip them of the right to make informed decisions about their children's medical treatment and violate the equal protection rights of trans youth by denying them medically necessary, doctor-recommended healthcare.
The challenge to the Boards of Medicine and SB 254 healthcare bans is likely to proceed quickly to trial.
The families are represented by Southern Legal Counsel, GLBTQ Legal Advocates and Defenders, the National Center for Lesbian Rights and the Human Rights Campaign, which issued the following statement:
"Today's ruling is a powerful affirmation of the humanity of transgender people, the efficacy of well-established, science-based medical care, and of the rights of parents to make informed healthcare decisions for their children. The court recognized the profound harm the state of Florida is causing by forcing parents to watch their kids suffer rather than provide them with safe and effective care that will allow them to thrive. We are incredibly relieved that these Florida parents can continue to get healthcare for their children while we proceed to challenge these bans and eventually see them fully overturned."
Read the ruling: