Fall into great exercise weather
Cooler temps means skipping the gym and heading outside
Working out in the gym during the heat of the summer months may be more comfortable than being outside, especially considering all the heat we had earlier this summer.
However, not everyone enjoys being inside and now that fall is around the corner and the weather will be cooler outside, workouts are a more viable and pleasurable option. Outdoor exercise routines can very well be more challenging than taking yourself through a series of machines, free weight exercises or running on a treadmill.
But what do you do without equipment and where can you work out? Washington, D.C. has more parks and grassy knolls than most cities in the United States. Whether you are in the heart of the city or in the suburbs, there is no shortage of grass and green to take your workouts.
Running outside does not have to be your only exercise option. Rock Creek Park is award winning and many areas have outdoor circuits with instruction that allow you to perform a variety of exercises that target all of your major muscles. There are also rolling hills and off-path trails throughout Rock Creek that allow you to vary your terrain, not to mention breath-taking scenery.
I am partial to Meridian Hill Park at 16th and Florida Avenue, N.W.  The park is an outdoor fitness haven and stunningly beautiful with statues, water fountains throughout and a giant lily pond at the base. The top of the park houses an enormous courtyard type "track" with vast grassy fields in the center.
You don't have to worry about bringing along any equipment. Instead, you can use your own body weight and you can work all your major muscles in doing so. If you want to add additional resistance without lugging too much around with you, then invest in lightweight resist-a-bands that allow you to simulate weight training and offer several degrees of resistance. They are available here and they come with diagrammatic instructions.
I generally start my boot camp program with a warm-up consisting of light jogging throughout the park, up and down stairs and hills and throughout the maze of paths the park has to offer.
I will often continue the warm-up with what I call "stair suicides." Most would argue that this drill is not in the least a warm-up, but it definitely revs up the body. The gist of the drill is to jog, walk or double step up one flight of stairs at a time and then down one flight. Continue by adding another flight going up two flights and down two flights and then three, etc.
Then we navigate through more paths and hills followed by a variety of drills, calisthenics and body weighted exercises. Think back to your high school gym days and do what you did then – jumping jacks, butt kicks, nausea inducing squat thrusts, simulated jump rope, skipping, side shuffles, running backwards and more stairs and hills.
Add in pushups, dips and pull-ups on the park benches followed by other lower body exercises such as lunging forward and backward, squats, Bulgarian Split Squats (yes, they are as awful as they sound, but will give you buns of steel), squat walks and sumo-wrestlers.
For more upper body work I simulate weight training moves using the body's natural resistance and you will be amazed at how 40 overhead presses with no weight can burn like hell. It's usually the men who whine during this phase and we move from one exercise to the next with no rest.
I will integrate intervals into classes so that the heart rate is always elevated and calorie burning and conditioning are at their peak. I leave little time for rest and within an hour we have worked every major muscle including the heart and lungs and everyone leaves pleasantly exhausted.
If you have an imagination you can create an effective outdoor workout and you may not want to go back into a gym anytime soon.
The Mind Your Own Body Boot Camp at Meridian Hill Park, N.W., begins again on Saturday, Sept. 11, 2010. Please send me an e-mail for further information.
Here's your guide to the merriest gay holiday season!
Cocktails, music and dancing at upcoming parties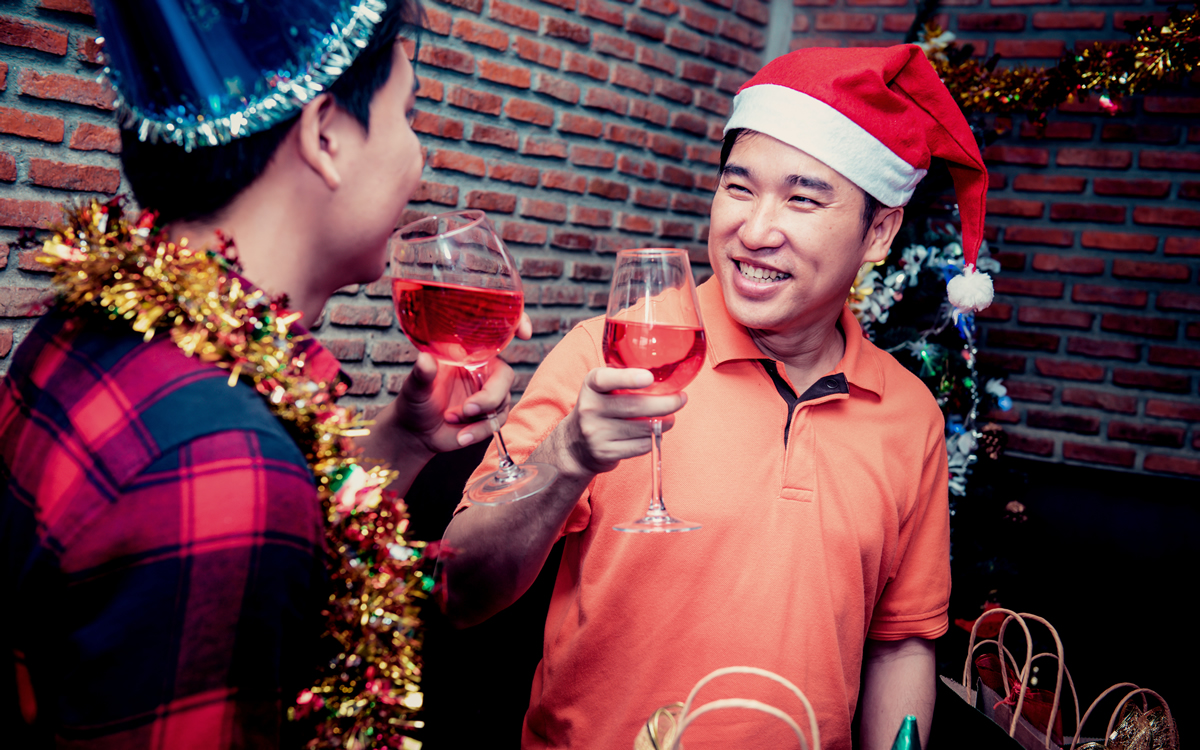 "LGBTQ Social Mixer – Pride On The Patio at Showroom" will be on Tuesday, Dec. 27 at 5:30 p.m. at Showroom.
There will be happy hour cocktails and dinner on the heated patio at the venue. Dress is casual, fancy, or comfortable. Guests are encouraged to bring their most authentic selves to chat, laugh, and get a little crazy.
Admission is free and more details are available on Eventbrite.
The Iconic International House of Balenciaga will host "Naughty or Nice: A Holiday Extravaganza" on Thursday, Dec. 22 at 10 p.m. at Privilege.
There will be a limited buffet and open bar, hookah, VIP packages, bottle specials and music by DJ Dave Thom and DJ Obie. There will also be a sweater contest with a cash prize.
Tickets are $20 and can be purchased on Eventbrite.
"Hip Hop Garden DC Day Party" will be on Saturday, Dec. 24 at 4 p.m. at Lost Society. This exclusive day party experience will feature non-stop music, dancing, and good vibes. Music played will be a crossover of genres and fusion of cultures.
Tickets are $20 and can be purchased on Eventbrite.
Winterfest remains in full force
Yappy Hour will be on Sunday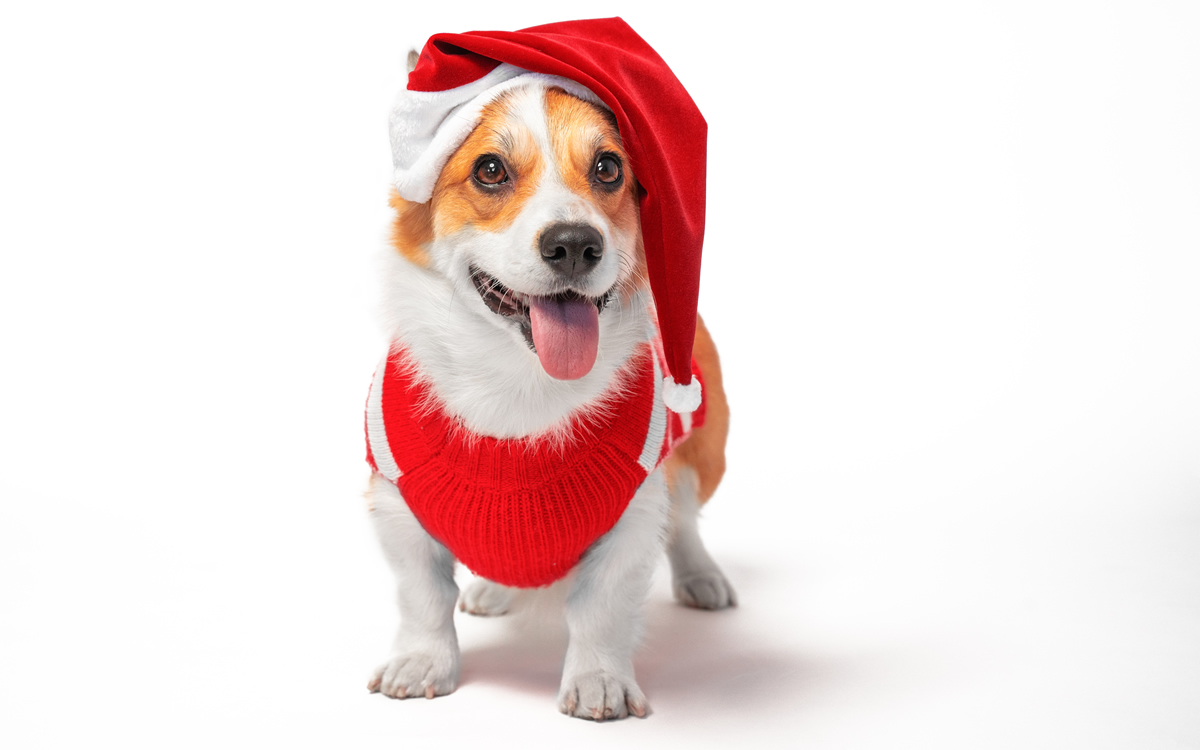 Events for Wunder Garten's 6th Annual Winterfest are still underway at one of D.C.'s most enthralling beer gardens at 1101 First St., N.E.
A Night of 1,000 Santas will be on Saturday, Dec. 17 at 8 p.m. Guests are encouraged to come dressed as Santa, Mrs. Claus, an elf, a reindeer, anything or anyone, to dance the night away and celebrate the holidays. This event is free and more details are available on Eventbrite.
Yappy Hour will be on Sunday, Dec. 18 at 12 p.m. This is a special day for the pups and their "hoomans" and perfect opportunity for the pups to get some treats and make new friends. Select beers cost $6 and there will be free pupucinnos with a purchase. This event is free and more details are on Eventbrite.
Trivia Mondays will be on Monday, Dec. 19 at 7 p.m. This event will be hosted by Mark Lloyd. Guests are encouraged to bring friends and test their knowledge to win prizes and glory. There will also be boozy cocktails, seasonal beers and themed decor. Tickets are free and more details are available on Eventbrite.
Halloween is back and more queer than ever!
Freddie's Beach Bar to host Halloween party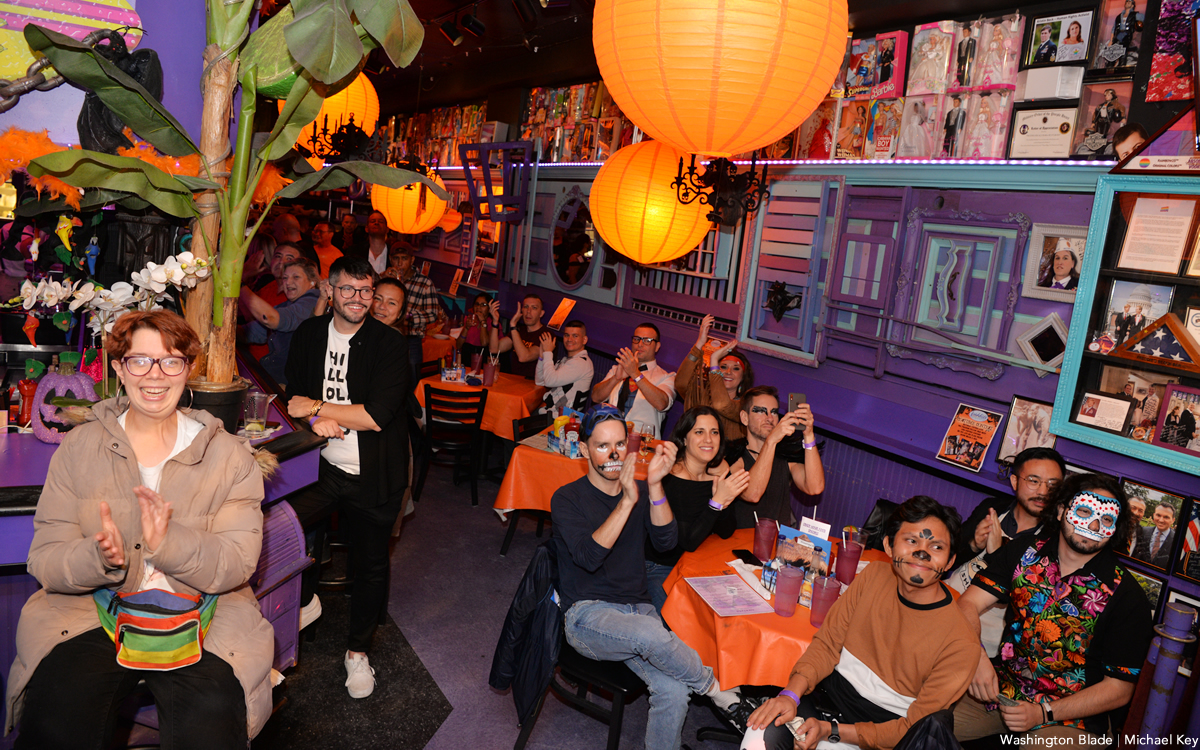 Freddie's Beach Bar and Restaurant will be hosting a Halloween party on Monday, Oct. 31 at 6 p.m.
Guests are encouraged to bring friends and meet new people from all over the world. Guests will gather in the back outside patio if the weather is nice or near the stage if not. Go Gay DC leader TJ Flavell will be there to greet you. Name tags will be provided. There's no cover charge.
For more details, visit Eventbrite. 
Metrobar DC to host 'Booze and Brews' Halloween Brunch'
"Booze and Brews Halloween Brunch" will be on Saturday, Oct. 29 at 7 p.m. at metrobar DC.
Guests are encouraged to come enjoy sounds from DJ Lalee and tasting tables from Catoctin and Republic Restoratives from 7-10 p.m. and drink specials featuring Catoctin or Republic Restoratives spirits all evening long.
This event is free to attend with an optional $15 Bash + SMYAL Fundraiser Ticket to help support LGBTQ youth across the district. Ticket holders will be honored with a cocktail.
For more details, visit Eventbrite.
Cake Pop to host 'HallowQueen Drag Brunch'
"HallowQueen Drag Brunch" will be on Sunday, Oct. 30 at 11 a.m. at The Hall CP. New host Cake Pop will be hosting this ultimate Halloween-themed event.
Flavored mimosas and Bloody Marys will cost $24 and the brunch buffet costs $30 and will include French toast casserole, buttermilk pancakes, tater tots hash, among many other menu items.
Tickets for this event start at $25 and can be purchased on Eventbrite.
Baltimore Playhouse to hold 'Haux-lloween' party
"Taste.Touch.Feel: Haux-lloween" will be on Saturday, Oct. 29 at 7:30 p.m. at Baltimore Playhouse – Private Social Club.
Guests are encouraged to come and enjoy top-tier burlesque and specialty performances, kink edutainment, interactive games, and plenty of surprises to thrill one's senses.
There will also be a costume ball with three categories. Each category is limited to eight participants. The categories are:
Alien Superstar: Most unique, intergalactic freak
Fetish Faerie: Whimsy, kinky, faerie hauxs
Best Couples Costume: Period.
After the costume ball, there will be an "Adult Play Date After Party" for mingling and a night of no inhibitions where guests can enjoy spontaneous performances, play with their lover(s) or be a voyeur while the music plays.
Tickets start at $45 and can be purchased on Eventbrite.
Sirene, X and Nadia to perform at Firefly
Firefly Halloween Special Event will be on Saturday, Oct. 29 at p.m. at Firefly. This event will feature performances by drag queens Sirene, X and Nadia. There will also be two competitions:
• "Holy" a ghoulie drag performance with a cash prize of $100 and a bookings prize of $100.
• A costume contest where the 1st place winner wins a one-night stay at Hotel Madeira, 2nd place wins dinner for two at Firefly, and 3rd place wins brunch for two at Firefly.
This event is free and more details are available on Eventbrite.