A winning team: Gray, Ray and Kwame Brown
Inclusive and responsive leadership for D.C.
Editor's note: Washington Blade is not making endorsements in next week's elections. The following column represents the writer's opinions and is not intended as an official Blade endorsement of any candidate.
On Tuesday we have the opportunity to vote for a better future for the District. We can elect leadership that will move D.C. into the 21st century in an inclusive, open and transparent way. We can elect three individuals who have proven their mettle and who have shown they will value everyone's ideas and opinions when making the tough decisions that will impact us for years to come.
Vincent Gray for Mayor. Gray is an intellectual, a thinker and an inclusive leader with a record of success in government and the non-profit sector. He has proven he can make the tough decisions. Gray is not a career politician. He has accomplished much during his six years on Council, two representing the people of Ward 7 and four as Council chair. He is a civil rights leader who was the first African-American to join a fraternity at George Washington University. One year later he was elected its president.
He was a good enough baseball player to be scouted by the White Sox and Dodgers. Rather than pursue a baseball career Gray chose to work to improve the lives of people with cognitive challenges working to build and then lead the Association for Retarded Citizens (ARC). He was then asked to come into government to take over the failing Human Services Administration, a dysfunctional 7,000-person agency. He streamlined the budget and worked to rebuild the agency from the ground up.
He had many successes and yes some failures but he put in place new management procedures and policies and the first HIV/AIDS agency, during a time of crisis in District government. He implemented programs still in place today and a new vision for the agency. He then left government to become the first executive director of Covenant House in D.C. where he successfully built a crisis and community service center for homeless youth.
He was then recruited to run, and he won his race for Ward 7 Council member. Two years later he was elected Council chair. In that role he has been a progressive and successful leader herding what are often called our 12 little mayors into a cohesive body. His Council passed landmark legislation including school reform, universal early childhood education, civil marriage equality and the healthy schools act.
He reformed and streamlined the operations of Council and opened the budget process to TV cameras. These landmark legislative achievements were sent to the mayor's office with veto-proof majorities. This amazing feat earned Council one of the highest ratings of any legislative body in the nation. Gray's collaborative style, his vision for a united city, his in-depth understanding of the issues we will be facing in the next few years make him the ideal next mayor.
Kwame Brown for Council Chair. Brown has been a successful Council member for six years. Brown ran as a community activist going door to door in 2004 promising to be inclusive and to bring people into the process. His successes, and kept promises, were rewarded when he was re-elected with a huge majority in 2008.
Brown has clearly never forgotten who it was who elected him and has continued to be responsive to the community. He has worked collaboratively with all members of Council, both those with whom he agrees and those who oppose him on various issues. Now every member of Council has endorsed him for chair. As chair of the Economic Development Committee he worked to make the city more business friendly. He understands the realities of the tax base in D.C. and that our ability to continue to collect the revenue we need to meet our basic responsibilities to the people of the District is dependent on a vibrant business community since the Congress will not let us impose a commuter tax.
His problems with personal finances may make some think twice. But the D.C. Chamber of Commerce, the Board of Trade, as well as many others have determined that he has the skills and the ability to continue to move Council and the city forward. His collaborative style, commitment to continue the reforms brought to the Council by Vincent Gray, and in-depth knowledge of the issues, make him the ideal choice for council chair.
Clark Ray for Council At-Large. Ray is an energetic, intelligent, responsive community activist with a record he can be proud of. He has experience at both federal and local levels of government. He is going door-to-door to share his vision for the future of the District. He supports school reform and Chancellor Rhee and has two degrees in education. Ray has proven his ability to successfully manage a large city agency, Parks and Recreation, and will be the only member on Council with that background. This gives him the knowledge needed to do agency oversight, a major part of Council's work.
Ray worked as neighborhood services coordinator for Wards 2 and 8 in the Williams administration and as director of that office for the Fenty administration. Ray has experience lobbying Congress and will be a strong ally for our D.C. delegate working for District residents on issues ranging from D.C. voting rights, statehood, budget and legislative autonomy to gaining and protecting equal rights for his LGBT constituents.
He served as a reserve police officer with the MPD and walked the beat to protect us. He is committed to revamping the juvenile justice system, making sure violent juvenile offenders are not back on the streets. His intelligence, activism, proven successes and willingness to bring government to the people and into neighborhoods make him the ideal choice for Council At-Large.
Gray, Brown and Ray are a winning team for the LGBT community and for all the people of the District. As a Catholic from Ward 7, Gray is a "profile in courage" for his outspoken leadership in the fight for civil marriage equality. Gray led Council to speak out on hate crimes, has committed to rebuilding the Gay & Lesbian Liaison Unit, met with Gays & Lesbians Opposing Violence and the Rainbow Response Coalition and committed to continued dialogue and support when he is mayor. Gray doesn't need to "promise to change" but rather he will continue a record of collaboration and inclusiveness.
Brown will also continue to work with our community. He has worked to educate the residents of the District to respect diversity, exemplified by bringing his own son to walk in a candlelight vigil for a gay man killed in Shaw. Brown stood up and spoke out for civil marriage equality even when under pressure not to.
Ray is a leader. He will bring government hearings into our neighborhoods and out of the Wilson Building. He will work to reform the juvenile justice system and close the "open door" at DYRS. He will work closely with our D.C. delegate and walk the halls of Congress for D.C. voting rights and to speak out on issues relevant to his LGBT constituents. Ray represents "another seat at the table" and the chance to change hearts and minds to build a better future for everyone. He has walked the streets as a reserve police officer and understands the issues facing those who need government the most. He will work to give all D.C. residents an opportunity for a more promising future.
The winning team of Vincent Gray, Kwame Brown and Clark Ray will ensure that we are all included in the decision-making process and in every aspect of life in the District of Columbia. Together they will move us toward a brighter future with an open and transparent government where everyone can work together to make D.C. the best place in the world to live, work and recreate.
National Gay & Lesbian Chamber of Commerce Certifies Brown, Naff, Pitts Omnimedia, Inc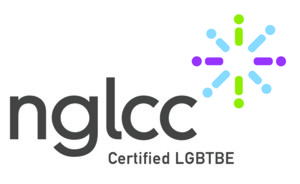 Washington, D.C. — Brown, Naff, Pitts Omnimedia, Inc, the parent company of the Washington Blade and Azer Creative, announced today it has been certified by the National Gay and Lesbian Chamber of Commerce (NGLCC) as an LGBT Business Enterprise. The NGLCC supports and advocates for diversity and inclusion for LGBT-owned businesses. With this certification the Blade's parent company joins more than 510 business and 134 corporate partners of the NGLCC.
Brown, Naff, Pitts Omnimedia, Inc. owns and operates the Washington Blade, the oldest and most acclaimed LGBT newspaper in the country. In 2012, the company launched Azer Creative, a full-service design firm. The company employs more than a dozen full-time LGBT staff.
"We are excited to become one of the 500 LGBT businesses across the country certified by NGLCC," said Lynne Brown, the Blade's publisher and a co-owner of the company. "The LGBT community has been part of our company from the beginning and we look forward to continue that for many years to come."
The Washington Blade was founded in 1969 and is known as the "newspaper of record" for the LGBT community both locally and nationally. Visit washingtonblade.com for more information. Azer Creative is a full-service graphic design firm based in Washington, D.C. Visit azercreative.com for more information. 
Vote now for the 2013 Best of Gay DC!
Choose in dozens of categories among hundreds of nominees, and make your voice heard!
Nominate the 'Best of Gay D.C.' now!
Dozens of categories cover all the best for LGBT Washington. Who deserves the prize this year?