Cirque explores majesty, mayhem of insect world
OVO is a breathtaking, gravity-defying show
The return of Cirque du Soleil to the D.C. area — the OVO show at the Plateau at National Harbor through Oct 24 — is a stunning one. It wows the senses and defies the imagination with dazzling displays of this Montreal-based company's technical magic of sound-and-light projections and imagery deployed to fool the eye.
But, most of all, with Cirque it's the human touch of 54 performers from 16 countries, and director Deborah Colker, the renowned Brazilian choreographer, the first woman to write and direct a Cirque production. Colker has integrated dance movements and a Latin musical beat from composer Berna Ceppas into many numbers in the show.
The basic storyline is set in the world of insects, a huge colony teeming with every variety — fireflies, spiders, scarab beetles, butterflies, even fleas — and one stout-hearted ladybug (played with great expressive humor by Michelle Matlock) who becomes the love interest of a stranger visiting the colony, an impetuous and amorous ant-like creature (played with equally deft humor by Francois-Guillaume Leblanc). The narrative arc of OVO is the tale of their courtship, with insect pheromones flying.
As for the title "OVO" — Portuguese for egg — there is one, and it's the great mystery of the show, with strange power over the insects somewhat akin to that of the monoliths in Stanley Kubrick's 1968 paradigm-bending, psychedelic-science-fiction film "2001."
The insects are struck with awe at its mystery and also intensely curious about it, as they portage it from place to place, and sometimes it even glows with secret intensity. But forget this storyline and instead watch the action, sometimes at ground level — comically, with ants juggling their food, as in bits of kiwi and kernels of corn — and other times high overhead — romantically, in the gorgeous swooning dance of butterflies mating.
As the sun rises on a bright new day, the vibrant cycle of insect life is evoked with a wake-up call from the comical senior bug Flippo, played with knockabout charm by Joseph Collard. OVO overflows with contrasts — highs and lows, majesty and mayhem as the hidden, secret world beneath our feet and fluttering or buzzing about us overhead is revealed as both tender and torrid, noisy and quiet, peaceful and chaotic. It is a world of biodiversity and beauty, filled with ceaseless noisy action, often punctuated with almost voice-like squeaks and squawks yet at other times with moments of simple quiet emotion.
During the two and a half hours of the tightly structured show, interrupted with one intermission, there are acrobatic acts that appear impossible to believe, including a trapeze act where six flyers soar so dangerously high in the biggest ever performance of its kind performed under a Grand Chapiteau (the half-million-dollar yellow and blue, towering Big Top).
This act is considered to be the most difficult in the world in terms of the distance between the stations and combines many circus disciplines — banquine, Russian swing and swinging chair. And the finale, executed to gorgeous music, features 20 artists running, jumping and indeed leaping straight up a high vertical wall.
But all along the hardest working insects are the bright red ants, played with grace and incredible foot-juggling athleticism by a troupe of six young women from China.
As for the  mysterious egg, timeless symbol for the life cycle, it gives the show its underlying thread. In fact, graphically, "OVO" hides an insect in its name. The two letters "O" represent its eyes while the letter "V" forms the nose.  Both wit and wisdom come together in "OVO." This show must be seen to be believed.
Six die in 'Ride the Cyclone,' then must plead to live again
A musical appeal for second chances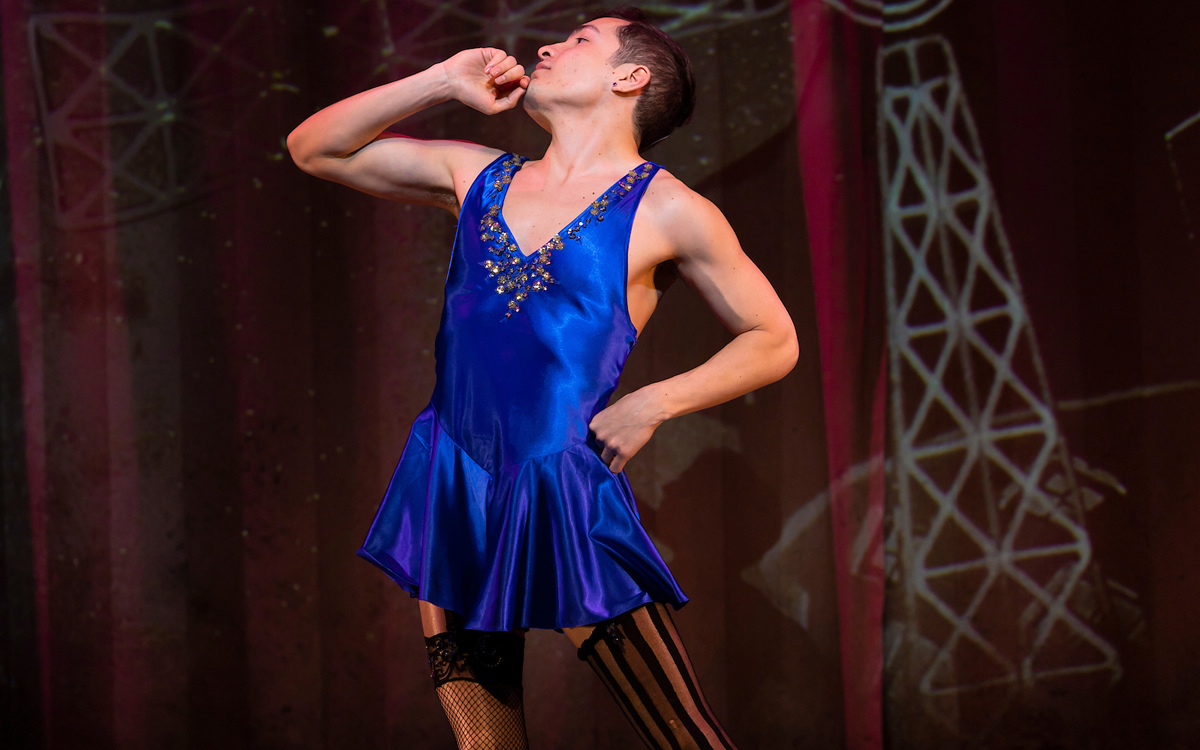 'Ride the Cyclone'
Through Feb. 19
Arena Stage
1101 Sixth St., S.W.
$66-$105 
Arenastage.org
What better way to bond than landing in the afterlife together? In "Ride the Cyclone," a quirky musical now at Arena Stage, six high school choir members perish in a freak roller coaster crash. After croaking, the sextet passes into a sort of limbo where they each have the chance to argue — in song — why they deserve to live again. While vying for the top spot, they learn a lot about each other.
Out actor Nick Martinez plays Noel Gruber, one of the young choristers. He's the only gay kid in a rural town who works at Taco Bell. But in his torchy song "Noel's Lament," he sings of his dream to be a cold-hearted Parisian hooker.
Martinez says, "It's gritty, sexy, and hilarious — not at all Disney. My character is acting out his complete fantasy and taking you along for the ride. It's especially relatable to anyone who grew up queer."
And the New York-based Hispanic actor who grew up queer in Coral Springs, South Florida, understands the material: "I know Noel. So many people in the queer community know him too. Not being able to authentically be ourselves hurts. And when we finally are ourselves and know the rewards that come with that, there's a lot of release and ecstasy."
Fortunately, Martinez was raised in a supportive atmosphere. Still, he was reluctant to be entirely himself, but theater proved a healthy outlet. He says, "Performing was a way to express myself and go balls to the wall with whatever feelings I was having, put it in a spotlight, and share that with an entire audience."
As a third grader Martinez found his way into theater via his older sister whom he adored. When she starred as Cinderella in the gym of their elementary school, he was there to witness her backstage quick-change into a ballgown. It was the coolest thing he'd ever seen.
The following year, he played the Tin Man in "The Wizard of Oz." An old video shows his opening night reaction to enthusiastic applause — first delightedly astonished and then beaming. It's then, Martinez says, that he became hooked.
After graduating from Elon University with a BFA in Music Theatre in 2015, he moved to New York City where he almost seamlessly transitioned into a working actor. He's played parts in terrific shows in admirable places including Moody in "Anne of Green Gables" at Goodspeed Opera House; Doody in "Grease" at The REV; Twink (covered) in "Bat Out of Hell" at New York City Center; Crutchie in "Newsies" at John W. Engeman Theater on Long Island; and Pinball Lad, a small but memorable role in "The Who's Tommy" at The Kennedy Center – part of Broadway Center Stage.
With music, lyrics and book by Jacob Richmond and Brooke Maxwell, "Ride the Cyclone" premiered off-Broadway in 2008 and soon developed a sort of cultish following. "There's nothing quite like it," Martinez says. "It's a silly, quirky, weird little show that tugs at your heartstrings. You need to see it to get the full impact."
Several years ago, he was up for a different part in the show but it didn't pan out, so when he was cast as Noel, a part he wanted badly, he was elated. Before opening at Arena in January, the Sarah Rasmussen-directed production played at Princeton's McCarter Theatre last spring.
When the Arena run ends, Martinez is unsure what's next for him – the actor's eternal lament, but he seems more than OK with that. In fact, Martinez embraces the situation.
"There's something grounding in letting the universe take you where it takes you and trusting in that."
'A Room in the Castle' highlights the women of 'Hamlet'
Trans director DeHais joins Folger Theatre's Reading Room festival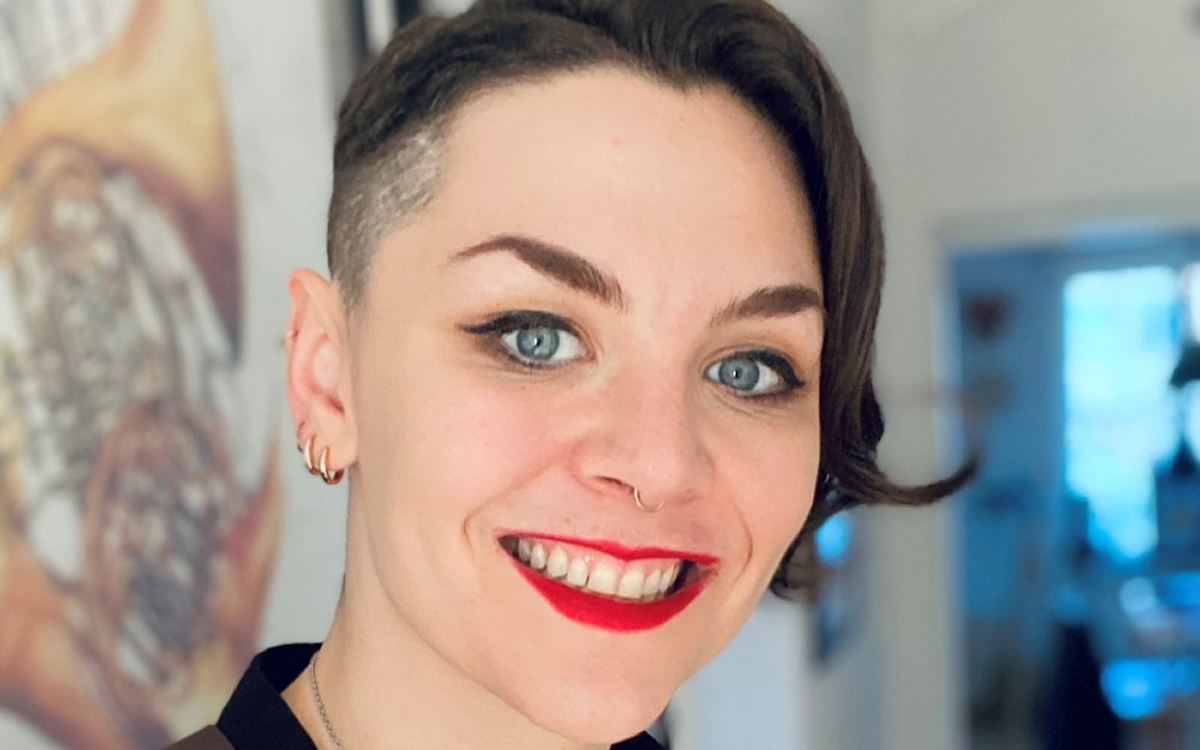 'The Reading Room'
'A Room in the Castle'
Jan. 19 -21 
Folger Theatre @The Lutheran Church of the Reformation  
212 East Capitol St., S.E.
$25 for all four readings; $50 all access pass includes all 4 readings and all pre-show conversations and special events. Students free 1/2 hour before each reading and talk with valid ID.
Franco-American trans director Eddie DeHais is a triple citizen who speaks four languages and works all over the world. This week, they're landing in Washington to direct a reading of Lauren Gunderson's new play "A Room in the Castle," part of Folger Theatre's upcoming festival, The Reading Room.
"A Room in the Castle," focuses on the stories of the women of Shakespeare's "Hamlet," Queen Gertrude, Ophelia, and Tatiana, a middle-aged servant. The traditionally doomed and/or unheard women are seeking a level of safety and freedom in Ophelia's bedroom, a place away from an increasingly dangerous court and mad prince where they can be themselves – something that's forbidden in the greater world. Together they sing, laugh, and argue, trying to create hope in a hopeless situation.
DeHais, who specializes in staging new works and reimagining classics, brings a lot to the collaboration: In addition to boatloads of energy and curiosity, they have a sharp ear and keen sense of humor.
Recently recovered from a gnarly case of laryngitis, DeHais takes time to talk about the project. "Lauren [Gunderson] has written a beautiful piece that's very funny, but also achingly painful. People will see themselves and see their mothers in the play's gently blocked reading."
When we spoke, DeHais (who is nonbinary, trans, and bisexual) had just finished writing a greeting to the three-woman cast. In it, they spoke about the possibilities of living in a room. During the pandemic, DeHais as a grad student at Brown University in Providence spent a lot of time in a tiny apartment. Classes, community, and projects were cancelled, so they took up the ukulele and made a weekly drive to sing songs, admittedly rather badly, to their 90-something grandmother. The experience brought the two much closer together in a deeper, less predicated on structure relationship that continues now.
Similarly, the women in "A Room in the Castle" make discoveries: Their room is a safe but dynamic place filled with wonderfully awkward moments of people trying to connect despite barriers of class and expectation. For instance, we find the Queen of Denmark getting drunk with a servant whom she never noticed before things went awry in the castle, adds DeHais.
"I love 'Hamlet,' but this is a play that tells the other half of the story. And because 'Hamlet' is a rich text which means there's a rich story happening behind closed doors."
The director began making attempts at coming out starting in their teens; a final public proclamation in their twenties stuck. They say it's the best thing they ever did: "If I have to read another play about how painful it is to be a trans person I will kick the wall. And I'm asked to direct those. My life is amazing. Being me is the best thing that ever happened to me. There are very difficult parts of that story but that's not my life."
Based between New York and Berlin, they recently worked on a production of Salome in Paris. Next season, they're slated to direct a lot in Seattle. "When offers come in, I ask my agent to tell whoever it is that I'm local – then I'll get to wherever they want me."
DeHais closes with a nod to Folger Theatre's director of programming/artistic director Karen Ann Daniels: "Few people know how to create community better than Karen Ann. We met when she was running the Public's Mobile Unit in New York, and we stayed in touch. I don't know D.C. well, so it was doubly flattering that she reached out. And where better than D.C. to talk about political structures that are silencing us?"
Other new plays featured in The Reading Room are Al Letson's "Julius X," a re-visioning of "The Tragedy of Julius Caesar" set during the life and times of Malcolm X; "Hamlet," a radical bilingual New York City-set reimagining of the original created by Reynaldo Piniella and Emily Lyon; "Our Verse in Time to Come," a Shakespeare inspired piece about legacy and storytelling by Malik Work and Karen Ann Daniels.
'Safe Word' explores Dom-sub relationship
An emotionally stunted masochist confronts self-loathing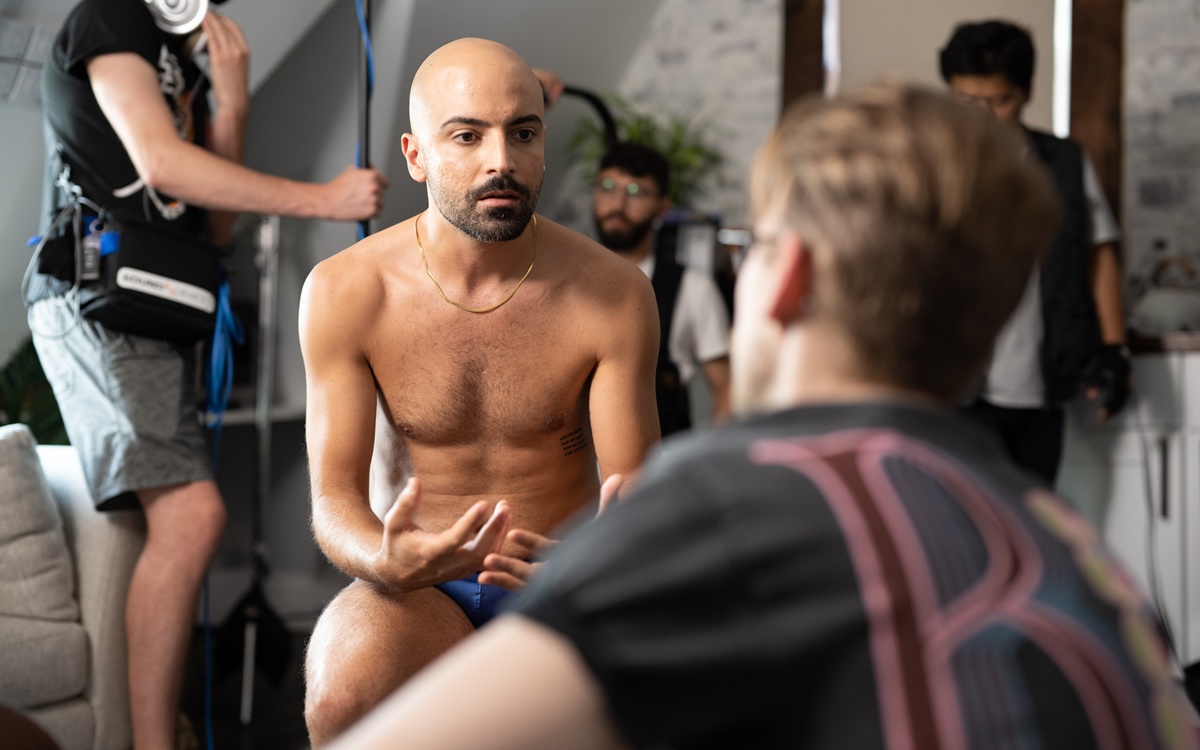 In "Safe Word," out Venezuelan-American actor Mauricio Pita plays Cesar, an emotionally stunted masochist who's forced to confront his self-loathing after his Dom, Bear (Jonathan Adriel), reinterprets the rules of their game.
"For the film's characters, it's about taking it to the next level," says Pita, 37. "The experience has been very personal because a lot of the characters' stories are also my own. Consequently, I put myself in a very vulnerable position. Still, I felt I had no choice but to tell this story."
A short but visually and emotionally compelling work, "Safe Word" is produced by Tepui Media (a name inspired by the flat-top mountains in the Guiana Highlands of South America). Prior to the pandemic, Pita, who serves as the company's executive director, was mostly involved in theater, but increasingly, film has become his medium of choice.
Pita also works at Arena Stage where he manages and collaborates with the director of education in executing the artistic vision of Arena's devised theater program, Voices of Now (VON), which produces 10 original works each season. During the COVID-19 pandemic, Mauricio managed VON's transition from a theater festival to a feature film.
Filmed over about a week last summer in a rented D.C. apartment, "Safe Word" wasn't easy for Pita who as producer, filmmaker, in addition to actor, likened the experience to exposing himself through layers. He says, "Awards and money would be great, but my measure of success was getting the film made, getting to the finish line."
After debuting "Safe Word" at GALA Hispanic Theatre in November, the goal has been to get the film seen. It's currently slated to screen at the upcoming Ocean City Film Festival and Washington International Cinema Festival at Miracle Theatre; they're also focusing on LGBTQ festivals.
WASHINGTON BLADE: What was your inspiration for the piece?
MAURICIO PITA: My own inner voices. I'd share journal entries with Eva von Schweinitz, our storywriter, and she divided my experience into two characters. I really had no choice but to share my feelings. I felt compelled. I no longer wanted to feel scared.
BLADE: Was there a process?
PITA: It was a collaboration. I wrote up the idea that I wanted to make a film about my inner voices and self-conflict. I handed over journal entrees and she interviewed me. It was like therapy sessions.
Eva then presented me with story options including superhero/ romantic comedy/ and a bondage story, the one I thought was most dangerous and scariest to do. If we failed it would certainly be the most embarrassing.
BLADE: Can you talk about your inner dialogue?
PITA: Sure, it's about me not being loveable. Me being queer made me think I wouldn't be loved. Growing up I was scared of being gay, I saw being gay as a death sentence. Those feelings don't just go away because you come out.
BLADE: Does it get better?
PITA: I'm 37, more open, but it's not automatically fixed. Over many years of therapy new positive voices were introduced but even so those negative voices aren't entirely wiped out. They argue in my head and that's something I wanted to investigate.
"Safe Word" asks how comfortable are we at choosing our own pain? And what could hold us back from connecting to ourselves and to one another? In the film, they arrive at a paradigm-shifting result neither one of them expects.
BLADE: How did you select Jonathan to co-star? "Safe Word" is a very intimate piece.
PITA: By the third or fourth draft we were looking at casting. And though I didn't know him that well, I immediately thought of him.
His body is insane, muscularly imposing. Yet there's a softness that I was intrigued by. I suggested him to our director, Christopher Cunetto. We scheduled a screen test, basically looking for chemistry. Jonathan was phenomenal. He took it very seriously; he came prepared and ready. I had a really good time working with him.
BLADE: Are you into bondage offscreen?
PITA: Well, of course, I am. I like role playing. I've been ashamed about stuff like that my whole life. But fuck it. Why not? I've learned that you have power in those situations even when you're the sub. After all, my character Cesar has the safe word. He can stop everything. That's a lot of power.