HIV remains a gay disease
Four facts all gay men need to know about the virus
Monday is National Gay Men's HIV Awareness Day, a new addition to the growing list of CDC-sponsored efforts to draw attention to the disproportionate toll this disease takes on certain high-risk populations. Sadly, I fear this day will come and go without notice; but I hope I am wrong.
As highlighted in the recent National HIV/AIDS Strategy, the plight of gay and bisexual men has taken a turn for the worse over the past decade. Once again, we have reached a tipping point in the course of this epidemic with an imminent rise of new HIV infections on the horizon — the likes of which we have not seen since the early '90s.
Nationally, MSM are 44 to 86 times more likely to be infected with HIV than their heterosexual counterparts, for they account for 53 percent of new infections, despite comprising an estimated 2 percent of the total population. HHS Secretary Kathleen Sebelius even noted recently "in some U.S. cities, it is estimated that nearly half of gay African-American men are HIV-positive."
While many factors are to blame for this new epidemic of HIV among gay men – including a growing complacency around the disease and the threat it still poses to one's health; the advent of the internet, facilitating quick and often anonymous sex; and, until recently, the lack of a coordinated domestic plan to fight HIV – gone from our memories, it seems, is a time when the gay men rallied together to fight for our survival, galvanized by the death and destruction that HIV/AIDS inflicts on our community. Thus, as our communal urgency around the disease has waxed and waned, so has our perceived need to protect each other and ourselves.
In D.C. the picture is especially grim. For despite the recent National HIV Behavioral Surveillance (NHBS) study revealing that 14 percent of those sampled tested HIV-positive, only 57.4 percent reported using a condom during the most recent anal intercourse. Considering our community's history, we should know better. Yet for whatever reason, HIV/AIDS continues to remain an undeniably "gay disease," begging the question: How have we backslid so terribly in preventing its spread?
Perhaps it's because so many of those who would have passed on memories of the disease's devastation have since died, while others may insist it's because we've recently been distracted by so many other LGBT civil rights issues. Or maybe it's because those who have survived are so exhausted from practicing and preaching safer sex that they have finally given way to HIV "prevention fatigue."
Regardless, today we find a new generation of gay men that never endured the fear and suffering of those who lived and died only decades before them. They never attended weekly funerals or had their social circles decimated overnight. Today, when just one young gay man dies, it's a tragedy; but back then it was commonplace.
Yet despite the pressing challenges our community currently faces, we now have a much broader arsenal of information and technology to protect ourselves than ever before. Knowledge is power; but this knowledge does us little good if we're unwilling to educate ourselves and our fellow gay men. As such, in recognition of NGMHAD, following are four important, and often-overlooked, facts that all gay men should know about this disease and the new epidemic we now face.
• Newly infected individuals who are still within their "window period" (less than three months since being infected) are both most infectious and unlikely to test positive for the virus: In a perverse twist of fortune, until newly infected people seroconvert, they will continue to falsely test negative for HIV while also being at the greatest risk of transmitting the virus to someone else.
In the early stages of HIV infection, the virus expands rapidly, seeding throughout the body, as one's immune system delays in mounting an appropriate response. Only when this robust response occurs, producing HIV-specific antibodies, will a screening test identify someone as positive. In the meantime, one's viral load becomes astronomically high, dramatically increasing the chance of transmitting the virus. Thus, at times when people may feel most safe, they may be at most risk of infection. So close those windows!
• The advent of PEP: Post-exposure prophylaxis (PEP) was initially developed for healthcare workers who were accidentally exposed to HIV. Ultimately, it was found that following a month-long regimen of anti-retroviral therapy, begun within 72 hours of the exposure, dramatically reduced one's chance of developing an infection. Thus, if you believe you've been exposed to HIV (i.e. condom breaks), go to the nearest clinic or department of health to begin PEP within three days.
• The importance of routine testing: Stigma around HIV testing will forever remain a barrier to early diagnosis unless we are adamant about asking for the test and routinely expecting it from our providers. Despite drastic changes to the CDC HIV testing guidelines in 2006, many physicians still refuse to implement such proven cost-effective approaches. As a result, among those gay men who tested newly positive in the recent NHBS study, who had seen a doctor within the past year, approximately two-thirds had NOT been offered an HIV test, often presenting with full-blown AIDS at the time of diagnosis. These cases are missed opportunities for early treatment and care, the most effective way to curb future spread of the disease. This practice has to change; so ask your primary care physician to routinely offer the test.
• Taking action against HIV: For the younger generation of gay men, it's an accident of history that we are living in 2010, instead of 1980. If that were the case, well over half of us would be dead or dying within the next few years. We're lucky. Conversely, if you endured those years unscathed, you know what it was like. So please share your story with the next generation of gay men. They need to hear it. And perhaps, you may motivate all of us to take action. One great way to help is by volunteering for a HIV vaccine research study at one of many NIH-sponsored sites throughout the country. They need your help and are now actively recruiting MSM. Go here to get involved.
National Gay & Lesbian Chamber of Commerce Certifies Brown, Naff, Pitts Omnimedia, Inc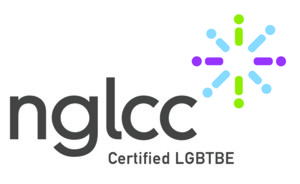 Washington, D.C. — Brown, Naff, Pitts Omnimedia, Inc, the parent company of the Washington Blade and Azer Creative, announced today it has been certified by the National Gay and Lesbian Chamber of Commerce (NGLCC) as an LGBT Business Enterprise. The NGLCC supports and advocates for diversity and inclusion for LGBT-owned businesses. With this certification the Blade's parent company joins more than 510 business and 134 corporate partners of the NGLCC.
Brown, Naff, Pitts Omnimedia, Inc. owns and operates the Washington Blade, the oldest and most acclaimed LGBT newspaper in the country. In 2012, the company launched Azer Creative, a full-service design firm. The company employs more than a dozen full-time LGBT staff.
"We are excited to become one of the 500 LGBT businesses across the country certified by NGLCC," said Lynne Brown, the Blade's publisher and a co-owner of the company. "The LGBT community has been part of our company from the beginning and we look forward to continue that for many years to come."
The Washington Blade was founded in 1969 and is known as the "newspaper of record" for the LGBT community both locally and nationally. Visit washingtonblade.com for more information. Azer Creative is a full-service graphic design firm based in Washington, D.C. Visit azercreative.com for more information. 
Vote now for the 2013 Best of Gay DC!
Choose in dozens of categories among hundreds of nominees, and make your voice heard!
Nominate the 'Best of Gay D.C.' now!
Dozens of categories cover all the best for LGBT Washington. Who deserves the prize this year?