The enduring appeal of Betty White
Why are LGBT people so fond of the 'Golden Girl'?
Hang on a sec, while I catch my breath! I'm trying to keep up with the latest on Facebook's sweetheart and LGBT icon Betty White.
The word icon is so overused that it should be put out of its misery. But how else can you describe former "Golden Girl," animal welfare advocate and seven-time Emmy winner (most recently for her "Saturday Night Live" gig) Betty White?  On Thursday, White, 88, was a guest star on the season two premiere of the NBC sitcom "Community" and she'll appear with Jamie Lee Curtis and Sigourney Weaver in the movie "You Again" opening nationwide today.
You'd think that White, who began her career in the 1940s, played everyone's fave nymphomaniac Sue Ann Nivens on the "Mary Tyler Moore Show," morphed into Rose Nyland in the "Golden Girls" and was a scene stealer in "The Proposal" last year, might slow down.
But, no! The octogenarian is just getting geared up. There's the Betty White 2011 calendar (featuring photos of the actress with animals and hunky men — with proceeds from its sales going to the Morris Animal Foundation). In November, White will star in a comic book "Female Force: Betty White" and in January, the second season of her series "Hot in Cleveland" begins on TV Land.
If you're like me, White's rush of accomplishments and onslaught of accolades, makes your head spin. But, White, like the Energizer Bunny, just keeps going. She's writing two books.  "Listen Up," to be released in the spring, will be about "life lessons learned during her incredibly varied and long career," according to her publisher G. P. Putnam's Son's. "The Zoo and I" about White's experience with the animals at the Los Angeles Zoo will be published in 2012.
In our polarized cultural climate few public figures or even entertainers are universally loved, and though, homophobia is decreasing in many circles, queer icons aren't always understood by hetero folk. Yet, I can't imagine anyone – gay or straight, 8 or 80, red or blue state who doesn't know of or love Betty White. Take my brother, a straight, gay-friendly guy. He's not up at all on Lady Gaga, but when I recently mentioned White, he said, "Oh, Betty!  She just got an Emmy."
Though White's talent, grandmotherly demeanor and quick, bawdy-but-not-crude wit make her widely popular, she has a special resonance for queer folk.
It's ironic. Few segments of our society worship youth more than the queer community. Yet hardly anyone is more beloved by LGBT people than White, who was born in 1922. Why are we so fond of White? Because she's thrived through the Depression, World War II, divorce, the loss of her husband Allen Ludden (who she calls the "love of her life") and aging. We've carried on (and often prospered) in the midst of bigotry, rejection from our families, ostracism by our straight peers and AIDS. We identify with and respect survivors. Especially when they're talented and funny.
Our community has an historical memory of being shunned by some of our families. During the early AIDS epidemic when homophobia was rampant, White and her co-stars on "The Golden Girls" were surrogates for our sisters, mothers and grandmothers. On one show, Dorothy, Blanche and Sophia offered love and support when Rose, White's character, thought she had AIDS. On another episode, Rose remains friends with Jean, a lesbian and friend of Dorothy's, who has a crush on her. No matter what prejudice you'd encountered during the week, you knew that you'd feel accepted and loved when you watched the "Girls."
Today, White proves that life isn't over at 25 or even 50 – that it's possible to work and enjoy ourselves when we're old. Granted, most of us don't have the drive or talent of award-winning actresses, and not all elders have good health. Yet, White is a fab example of how to age gracefully, with wit and humanity intact. If our big love for White makes us less fearful of older people and of aging, that would be a lasting legacy to our community.
National Gay & Lesbian Chamber of Commerce Certifies Brown, Naff, Pitts Omnimedia, Inc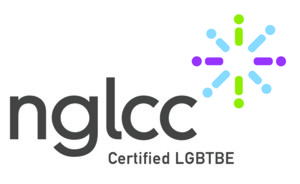 Washington, D.C. — Brown, Naff, Pitts Omnimedia, Inc, the parent company of the Washington Blade and Azer Creative, announced today it has been certified by the National Gay and Lesbian Chamber of Commerce (NGLCC) as an LGBT Business Enterprise. The NGLCC supports and advocates for diversity and inclusion for LGBT-owned businesses. With this certification the Blade's parent company joins more than 510 business and 134 corporate partners of the NGLCC.
Brown, Naff, Pitts Omnimedia, Inc. owns and operates the Washington Blade, the oldest and most acclaimed LGBT newspaper in the country. In 2012, the company launched Azer Creative, a full-service design firm. The company employs more than a dozen full-time LGBT staff.
"We are excited to become one of the 500 LGBT businesses across the country certified by NGLCC," said Lynne Brown, the Blade's publisher and a co-owner of the company. "The LGBT community has been part of our company from the beginning and we look forward to continue that for many years to come."
The Washington Blade was founded in 1969 and is known as the "newspaper of record" for the LGBT community both locally and nationally. Visit washingtonblade.com for more information. Azer Creative is a full-service graphic design firm based in Washington, D.C. Visit azercreative.com for more information. 
Vote now for the 2013 Best of Gay DC!
Choose in dozens of categories among hundreds of nominees, and make your voice heard!
Nominate the 'Best of Gay D.C.' now!
Dozens of categories cover all the best for LGBT Washington. Who deserves the prize this year?