Exposing Tea Party's down-low homophobes

National Coming Out Day got off to an unfortunate start as Carl Paladino, the Tea Party-backed GOP nominee for governor of New York, made the morning talk show rounds to elaborate on anti-gay remarks he made over the weekend.
Paladino told a group of Orthodox Jewish leaders that he does not want children "to be brainwashed into thinking that homosexuality is an equally valid and successful option — it isn't."
This morning on the Today show, Paladino told Matt Lauer that he would hire openly gay officials for his administration if he wins. But he went on to say that kids shouldn't be exposed to gay people. On Good Morning America, Paladino mentioned his gay nephew. "My nephew tells me he didn't have that choice. And I believe it's a very, very difficult life for a young person."
It's a life made more difficult by bigots like Paladino, who parrots old, discredited and offensive stereotypes about the supposed dangers of allowing gay men to spend time with kids. It's the most disgusting slur directed against gay men and Paladino had a national platform on National Coming Out Day to disseminate it.
Luckily, Paladino is a fringe candidate trailing Andrew Cuomo by more than 20 points in a recent poll. But his views highlight a problem with the Tea Party that hasn't received much attention: its homophobia. The Tea Party has focused on economic issues, not because its supporters are so concerned about the national debt, but because they know that independent voters are increasingly turned off by anti-gay attacks.
Don't be fooled by the Tea Party's lack of focus on social issues. It's a Trojan horse approach — as soon as one of these crazies is elected on economic issues, the anti-LGBT attacks will commence. From Christine O'Donnell's advocacy of reparative therapy to Paladino's sickening slurs, the Tea Party's candidates are mostly down-low homophobes, hiding their views because a pollster advised them against overt expressions of bigotry. Paladino's meltdown exposes the first cracks in that veneer. There will be more to come.
Meanwhile, where are Michael Steele, Sarah Palin, Mitch McConnell and John Boehner? If the Republican Party wants to change its image and broaden its appeal, it must stop giving refuge to people like Paladino. Party leaders should condemn these comments and distance themselves from Paladino.
National Gay & Lesbian Chamber of Commerce Certifies Brown, Naff, Pitts Omnimedia, Inc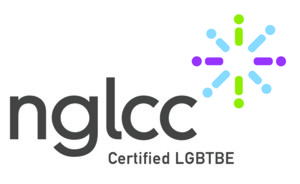 Washington, D.C. — Brown, Naff, Pitts Omnimedia, Inc, the parent company of the Washington Blade and Azer Creative, announced today it has been certified by the National Gay and Lesbian Chamber of Commerce (NGLCC) as an LGBT Business Enterprise. The NGLCC supports and advocates for diversity and inclusion for LGBT-owned businesses. With this certification the Blade's parent company joins more than 510 business and 134 corporate partners of the NGLCC.
Brown, Naff, Pitts Omnimedia, Inc. owns and operates the Washington Blade, the oldest and most acclaimed LGBT newspaper in the country. In 2012, the company launched Azer Creative, a full-service design firm. The company employs more than a dozen full-time LGBT staff.
"We are excited to become one of the 500 LGBT businesses across the country certified by NGLCC," said Lynne Brown, the Blade's publisher and a co-owner of the company. "The LGBT community has been part of our company from the beginning and we look forward to continue that for many years to come."
The Washington Blade was founded in 1969 and is known as the "newspaper of record" for the LGBT community both locally and nationally. Visit washingtonblade.com for more information. Azer Creative is a full-service graphic design firm based in Washington, D.C. Visit azercreative.com for more information. 
Vote now for the 2013 Best of Gay DC!
Choose in dozens of categories among hundreds of nominees, and make your voice heard!
Nominate the 'Best of Gay D.C.' now!
Dozens of categories cover all the best for LGBT Washington. Who deserves the prize this year?