Happy Nat'l Coming Out Day

By TYGER LATHAM
Today across American college campuses, lesbian, gay, bisexual and transgendered students will be celebrating National Coming Out Day, an internationally observed civil awareness day for coming out and other issues impacting the LGBT community. Since its inception, NCOD has been a day of celebration, giving those who participate a sense of solidarity and pride.
While today indeed will be a time of celebration for many, I suspect the spirit of the occasion will be somewhat tempered as we mourn those young men and women who take their lives every year because their sexual orientation causes them to be the target of peer bullying. If you have been following the news you probably know that there have been a wave of gay teen suicides over the past month, all of which allegedly occurred in response to bullying. The oldest victim, for example, involved an 18-year-old Rutgers University student, who leapt off the George Washington Bridge after discovering that his roommate had planted a video camera in his dorm room that captured him and a male friend engaging in a sexual encounter.
This incident sadly highlights the challenges that many (far too many) LGBT youth face in what remains a heterosexist culture on many college campuses. While some students are fortunate enough to be raised in affirming communities, far too many still face challenges when coming out to family and friends. Although alarming, it is not entirely surprising, that nearly one-third of LGBT-identified students report attempting suicide (not contemplating but attempting!). This is a truly alarming statistic. It is not a person's sexual orientation per se that necessarily increases the risk of such behavior, but rather the external factors of discrimination, intolerance, and, yes, in extreme cases psychological and physical terror, that directly contribute to increased levels of depression and suicidal thoughts.
A change in the culture of our college campuses is needed. While there are, of course, limitations to what any university administration can do for these students, administrators need to take more active steps, not only to protect LGBT students from bullying but also to promote communities of tolerance and acceptance on campus.
According to Dr. Sue Rankin, an associate professor at Penn State University, homophobia and violence against LGBT students on campus is more rampant than many would suspect. In a co-authored research study entitled 2010: The State of Higher Education for Lesbian, Gay, Bisexual and Transgender People, Rankin and her colleagues showed that campuses have not become significantly safer for students and faculty that identify as LGBT. The authors noted that only 7 percent of U.S. universities have resources for lesbian and gay students on campus. Establishing and promoting such resources would go a long way to eliminating the barriers that many LGBT students have when coming out to family and friends.
Like heterosexuals, LGBT-identified youth benefit to the extent that they are able to share their lives with and receive support from their family, friends and other people who are important to them. Several studies have shown that individuals exhibit better mental health when they are able to hold positive feelings about their own sexual orientation and are able to integrate it into their lives by disclosing it to others.           
Events like NCOD are certainly a step in the right direction but it is my hope there will come a time when we won't need artificially created events like NCOD to let young people know that it is OK to be out.
National Gay & Lesbian Chamber of Commerce Certifies Brown, Naff, Pitts Omnimedia, Inc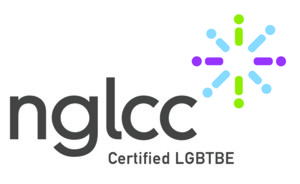 Washington, D.C. — Brown, Naff, Pitts Omnimedia, Inc, the parent company of the Washington Blade and Azer Creative, announced today it has been certified by the National Gay and Lesbian Chamber of Commerce (NGLCC) as an LGBT Business Enterprise. The NGLCC supports and advocates for diversity and inclusion for LGBT-owned businesses. With this certification the Blade's parent company joins more than 510 business and 134 corporate partners of the NGLCC.
Brown, Naff, Pitts Omnimedia, Inc. owns and operates the Washington Blade, the oldest and most acclaimed LGBT newspaper in the country. In 2012, the company launched Azer Creative, a full-service design firm. The company employs more than a dozen full-time LGBT staff.
"We are excited to become one of the 500 LGBT businesses across the country certified by NGLCC," said Lynne Brown, the Blade's publisher and a co-owner of the company. "The LGBT community has been part of our company from the beginning and we look forward to continue that for many years to come."
The Washington Blade was founded in 1969 and is known as the "newspaper of record" for the LGBT community both locally and nationally. Visit washingtonblade.com for more information. Azer Creative is a full-service graphic design firm based in Washington, D.C. Visit azercreative.com for more information. 
Vote now for the 2013 Best of Gay DC!
Choose in dozens of categories among hundreds of nominees, and make your voice heard!
Nominate the 'Best of Gay D.C.' now!
Dozens of categories cover all the best for LGBT Washington. Who deserves the prize this year?