Democrats earned their drubbing
Two years of squandered opportunities for change

Two years after Barack Obama won the White House and Democrats took commanding majorities in Congress, it's back-to-Earth time for LGBT Democrats.
It's hard to keep track of all the promises Democrats made to LGBT voters just two years ago, but they included quite a laundry list of legislative priorities, administrative policy changes and gay-friendly appointments.
To be sure, Obama's administration has made progress on LGBT issues, from expanding the federal hate crimes law to appointing a record number of openly LGBT officials. The Associated Press — in a story picked up around the country this week — reported that Obama has made more than 150 LGBT appointments. But even that achievement falls short of expectations set back in 2008.
Chuck Wolfe, president of the Gay & Lesbian Victory Fund, was part of a group of LGBT leaders that met with the Obama transition team in December 2008. He told the Blade at the time that Obama's team said gay activists "would be very happy with the results of the appointments."
"Our point is we will be happy if there is a cabinet-level appointment," Wolfe said. "Anything less than a cabinet-level appointment would demonstrate that they did not hear us."
Despite the many LGBT appointees, including John Berry at OPM, Obama has not named an openly LGBT person to a cabinet-level position.
The problem with campaigning on big change is that when you fail to deliver, as Obama has on multiple fronts, voters aren't going to show up next time. Next week's elections will bring the country a new House of Representatives headed not by a San Francisco Democrat, but by Ohio Republican Rep. John Boehner, who last week received a zero percent pro-LGBT rating from the Human Rights Campaign. Boehner has consistently voted against LGBT interests and refused to co-sponsor any legislation to benefit gay Americans.
If the Democrats manage to hold the Senate — not a foregone conclusion according to the latest polls — it will likely include more lawmakers hostile to gay rights, including at least a couple of Tea Party-backed candidates. Make no mistake that the Tea Party's reluctance to talk social issues is not an indication of moderation. It just means they know that anti-gay attacks turn off independent voters during campaign season. But as soon as they're elected, you can bet on the return of a federal marriage amendment and the inevitable attacks on D.C.'s same-sex marriage law.
Given the history of midterm elections being hostile to the party in power, we knew Obama and the Democrats had just two years to deliver on some key LGBT initiatives, most notably repeal of "Don't Ask Don't' Tell" and passage of the Employment Non-Discrimination Act. But hopes were far higher than just those two issues. In September 2009, Rep. Jerrold Nadler (D-N.Y.) introduced the Respect for Marriage Act, which would overturn the Defense of Marriage Act. Just one year ago, Nadler boldly declared, "… we can and we will dump DOMA once and for all." Obama campaigned on supporting a full repeal of DOMA, which bars the federal government from recognizing same-sex marriages. One year later, the bill is nowhere and repealing DOMA has vanished from the radar.
As gay Rep. Barney Frank said in an interview with the Blade last year, "I think getting ENDA, a repeal of 'Don't Ask, Don't Tell' and full domestic partner benefits for federal employees will take up all of what we can do and maybe more in this Congress." Boy was he right. This Congress has so far failed to deliver on any of those promises.
Even if this lame Congress manages to repeal "Don't Ask" in the lame duck session — again, not a foregone conclusion given Sen. John McCain's promise to filibuster it — the damage to this administration's relationship with LGBT voters is done. In typically sloppy Democratic fashion, the party has managed to alienate its most ardent supporters — gays — by half-stepping on repeal and appealing a federal judge's ruling that the military's gay ban is unconstitutional.  Leave it to the Democrats to piss off a constituency that has nowhere else to go. As bad as the Democrats have been in overpromising and under-delivering, the Republicans are far worse. After next week, LGBT rights advocates return to playing defense on the Hill after failing to capitalize on the incredible and short-lived opportunities of 2009 and 2010.
The Democrats have earned the drubbing they are about to receive next week. Maybe losing the House will teach the party to stay loyal to its base and to fulfill promises made during a campaign. If not, there will likely be a viable alternative for LGBT voters in 2012, as New York Mayor Michael Bloomberg flirts with the idea of running an independent campaign for the White House.
National Gay & Lesbian Chamber of Commerce Certifies Brown, Naff, Pitts Omnimedia, Inc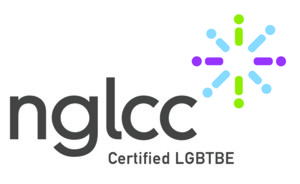 Washington, D.C. — Brown, Naff, Pitts Omnimedia, Inc, the parent company of the Washington Blade and Azer Creative, announced today it has been certified by the National Gay and Lesbian Chamber of Commerce (NGLCC) as an LGBT Business Enterprise. The NGLCC supports and advocates for diversity and inclusion for LGBT-owned businesses. With this certification the Blade's parent company joins more than 510 business and 134 corporate partners of the NGLCC.
Brown, Naff, Pitts Omnimedia, Inc. owns and operates the Washington Blade, the oldest and most acclaimed LGBT newspaper in the country. In 2012, the company launched Azer Creative, a full-service design firm. The company employs more than a dozen full-time LGBT staff.
"We are excited to become one of the 500 LGBT businesses across the country certified by NGLCC," said Lynne Brown, the Blade's publisher and a co-owner of the company. "The LGBT community has been part of our company from the beginning and we look forward to continue that for many years to come."
The Washington Blade was founded in 1969 and is known as the "newspaper of record" for the LGBT community both locally and nationally. Visit washingtonblade.com for more information. Azer Creative is a full-service graphic design firm based in Washington, D.C. Visit azercreative.com for more information. 
Vote now for the 2013 Best of Gay DC!
Choose in dozens of categories among hundreds of nominees, and make your voice heard!
Nominate the 'Best of Gay D.C.' now!
Dozens of categories cover all the best for LGBT Washington. Who deserves the prize this year?