Warhol Foundation to withhold Smithsonian money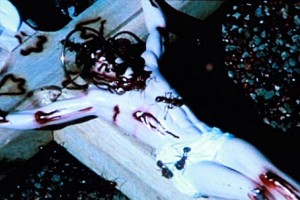 The Andy Warhol Foundation for the Visual Arts, a major funder of the "Hide/Seek" exhibit about the presence of same-sex desire in American art, has decided to withhold all future funding for all Smithsonian Institution museums in the wake of the decision by Smithsonian Secretary G. Wayne Clough to pull down a video about AIDS from the exhibit.
The decision was announced on Monday in a letter from Joel Wachs, the foundation's president, in a letter to Clough demanding that "you restore the censored work immediately," an action that Wachs said was decided unanimously by the foundation board of directors last week.
In the letter, made public by Wachs, he told Clough that the action to remove a video artwork from the exhibit, a four-minute video titled "A Fire in the Belly," by painter, filmmaker and performance artist David Wojnarowicz, was "blatant censorship" and "unconscionable" and "inimical to everything the Smithsonian Institution should stand for."
After noting that the foundation has previously donated more than $375.000 over the past three years  to fund several exhibits at various Smithsonian museums, including $100,000 to help stage "Hide/Seek," Wachs told Clough:  "we cannot stand by and watch the Smithsonian bow to the demands of bigots who have attacked the exhibition out of ignorance, hatred and fear."
In early December, the Catholic League complained over several seconds in the short silent video which ants are shown crawling on a crucifix — a familiar use of the insects in the artist's work, in this case to represent the agony of HIV/AIDS. Wojnarowicz, prominent in the New York City art world in the 1980s, died of AIDS-related complications in 1992 at the age of 37.  But the Catholic League claimed the work to be offensive to Roman Catholics and was anti-Catholic "hate speech," a theme quickly taken up by two Republican House leaders including incoming Speaker John Boehner.
After these complaints, Clough consulted with National Portrait Gallery director Martin Sullivan and Smithsonian art historian David Ward, co-curator of the exhibit, but not with the other curator, Jonathan D. Katz, who was then in London lecturing at the Tate Modern. The decision to remove the video was made by Clough over the objections of Ward and late also from Katz.
Ward told the Washington Post that the video "is not anti-religion or sacriligious.  It is a powerful use of imagery."  He said the action was reminiscent of the Corcoran gallery of Art decision in 1989 to cancel an exhibit of Robert Maplethorpe's photography — ironically, Maplethorpe is featured in the current NPG exhibit.  "Once again," said Ward, that same weapon" — to halt federal funding of the arts — "is being brandished, and once again we cower."
Katz also denounced the decision, adding that it's unfortunate that "the exhibition itself is being lost in the mudslinging" and that "homophobia and raw politics" were at the root of the action." However, said Katz, the show itself, "by remaining up, continues to resist the politics."
On Dec. 9, NPG commissioner James T. Bartlett resigned in protest.  Earlier, on Dec. 2, activists marched from the Transformer Gallery, which showed the video briefly following its removal from the exhibit, to the Portrait Gallery, and on Dec. 5 two protesters were detained by police and barred from the gallery for holding leaflets while one of men, Mike Blasenstein, was wearing an iPad running the Wojnarowicz video, an action forbidden by Smithsonian policy.
Wachs told Clough that the Warhol Foundation action was necessary because "the decision to censor this important work" put the donors in this position.
Newly diagnosed HIV cases increased slightly in D.C. in 2021
Report cautions fewer people were tested during COVID-19 pandemic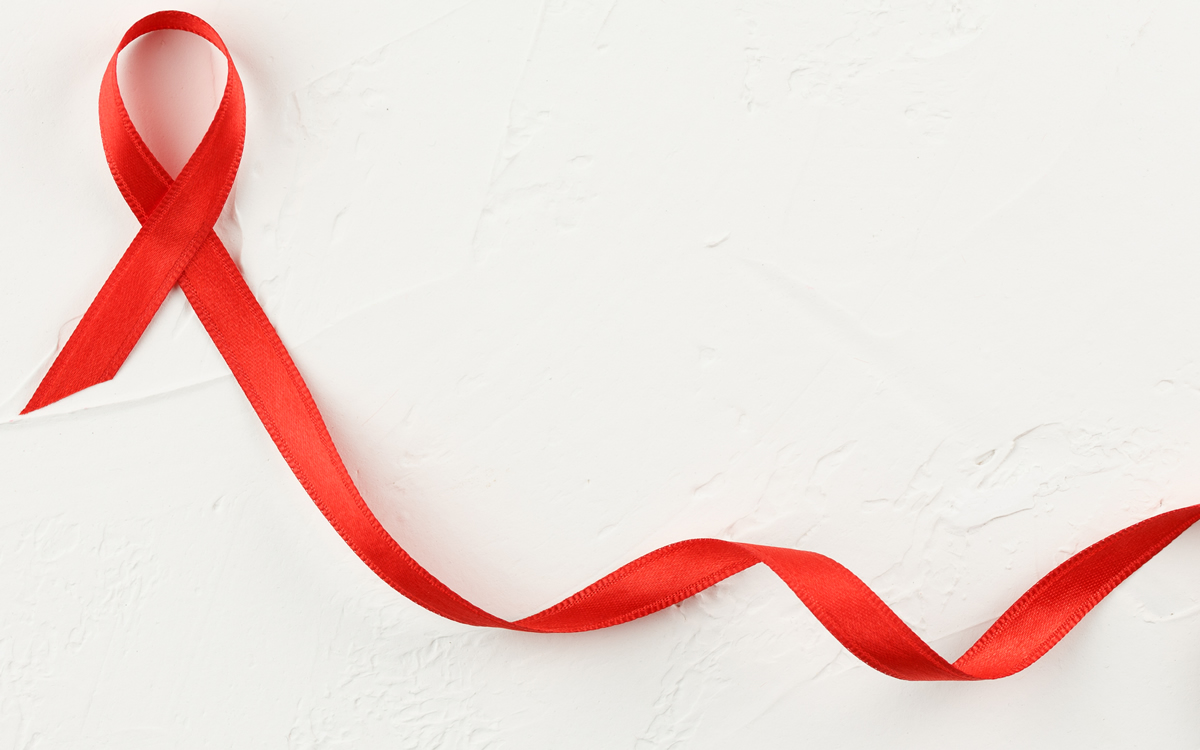 The D.C. Department of Health's Annual Epidemiology and Surveillance Report released on Tuesday shows there were 230 newly diagnosed HIV cases in the D.C. in 2021, the most recent year in which data have been analyzed.
The report says the 230 cases in 2021 represents an 83 percent decline in new cases from the peak number of 1,374 cases in 2007, but a slight increase from 219 cases reported in 2020. The report shows there were 273 newly reported HIV cases in 2019, 331 cases in 2018 and 386 in 2017.
In addition to HIV, the report includes data related to the number of newly reported cases of hepatitis, tuberculosis, and other sexually transmitted infections such as syphilis, gonorrhea and chlamydia.
"Annual surveillance data is critical to our understanding of disease trends and our planning and programmatic efforts to control and prevent disease," the report says. "However, the data in this year's report must be examined in the context of the COVID-19 pandemic. The pandemic continues to have an immense impact on the availability, accessibility and utilization of disease screening, prevention, and care services," according to the report.
Among other things, the report says the D.C. Department of Health, to which it refers as D.C. Health, saw a 20 percent decline in the volume of HIV, chlamydia, gonorrhea, syphilis and hepatitis laboratory reports received in 2020 compared to 2019, indicating fewer people were being tested and diagnosed for the diseases.
"HIV lab volume decreased further from 2020 to 2021 with a 20 percent decline, and an overall decline from 2019 to 32 percent," the report says. "Given disruptions to screening services, the potential for underdiagnosis and underreporting is most substantial for those with asymptomatic infections," it says.
The Annual Epidemiology and Surveillance Report was released at a Tuesday event at the city's Town Hall Education Arts Recreation Campus in Southeast D.C. in commemoration of Black HIV/AIDS Awareness Day.
Among those who attended or spoke were Harold Phillips, director of the White House Office of National AIDS Policy, and Dr. Demetre Daskalakis, deputy coordinator of the White House Mpox Response who's on leave from his role as director of HIV/AIDS Prevention at the U.S. Centers for Disease Control and Prevention.
Also participating in the event were Rita Harcrow-Flegel, drector of the U.S. Department Housing and Urban Development's Office of HIV/AIDS Housing; Dr. Sharon Lewis, interim director of D.C. Health; Clover Barnes, senior deputy director of D.C. Health's HIV/AIDS, STD, and TB Administration, and Erin Whelan, executive director of the D.C. LGBTQ youth advocacy group SMYAL.
Statements at the event by the White House and D.C. officials and a statement released by the office of D.C. Mayor Muriel Bowser point to stepped up efforts by D.C. to provide HIV testing and treatment services to all those at risk for HIV, including services free of charge for those unable to pay for them.
Among the services announced is the availability of Post Exposure Prophylaxis, or PEP, a medication D.C. Health is offering free of charge that is taken to prevent HIV infection if taken within 72 hours of being exposed to HIV. Also available, officials said, is the medication known as Pre-Exposure Prophylaxis, or PrEP, which, when taken as a daily pill, prevents people from becoming infected with HIV. That too is available free of charges for those in need, the statement from the mayor's office says.
"We want people in D.C. to know their status and get connected to the right care at the right time — with no shame or stigma attached," Bowser said in the statement. "We have so many fantastic healthcare partners in D.C., and they have helped us expand access to free PEP, free PrEP, free condoms, free at-home tests, and more," the mayor said. "Now, we need to make sure people know what's available and how to access it."
The statement calls on the public, especially those at risk for HIV, to access information about the city's HIV prevention and support related services through a new website: sexualbeing.org.
It says the city continues to push for its "bold goal" of having fewer than 21 new HIV diagnoses each year by 2030. It says the city is also stepping up efforts to ensure that everyone who tests positive for HIV will quickly access the anti-retroviral medication that, if used as directed, prevents HIV related illness and suppresses a person's HIV viral load to a point where they cannot transmit HIV to another person through sexual contact.
The newly released report includes these findings for the year 2021:
• There were 11,904 current D.C. residents, or 1.8 percent of the population, living with HIV in 2021.
• Sexual contact was the leading mode of transmission of newly diagnosed HIV cases in 2021.
• There were 230 newly diagnosed HIV cases in 2021, a small increase over the 219 new cases reported in 2020, but a significant drop from the 1,373 cases in the peak year of 2007 and the continued decline in cases in subsequent years.
• The proportion of people living with HIV in D.C. in 2021 that are Black is 71 percent
• The proportion of Black men diagnosed with HIV in 2021 who have sex with men (MSM) was 35 percent.
• The proportion of white men diagnosed with HIV in 2021 who have sex with men (MSM} was 8 percent.
• The proportion of Black heterosexual men diagnosed with HIV in 2021 was 8 percent.
• The proportion of Black heterosexual women diagnosed with HIV in 2021 was 15 percent.
• The report does not show the proportion of white heterosexual men who tested positive for HIV in 2021.
• The proportion of transgender persons diagnosed with HIV in 2021 was 3.5 percent.
• In 2021, the overall gender breakdown in the proportion of newly diagnosed HIV cases was 73.9 percent male and 22.6 percent female.
The report was expected to be posted for access on the D.C. Health website at www.dchealth.dc.gov
Va. House passes two anti-transgender bills
Measures likely to die in Democratic-controlled state Senate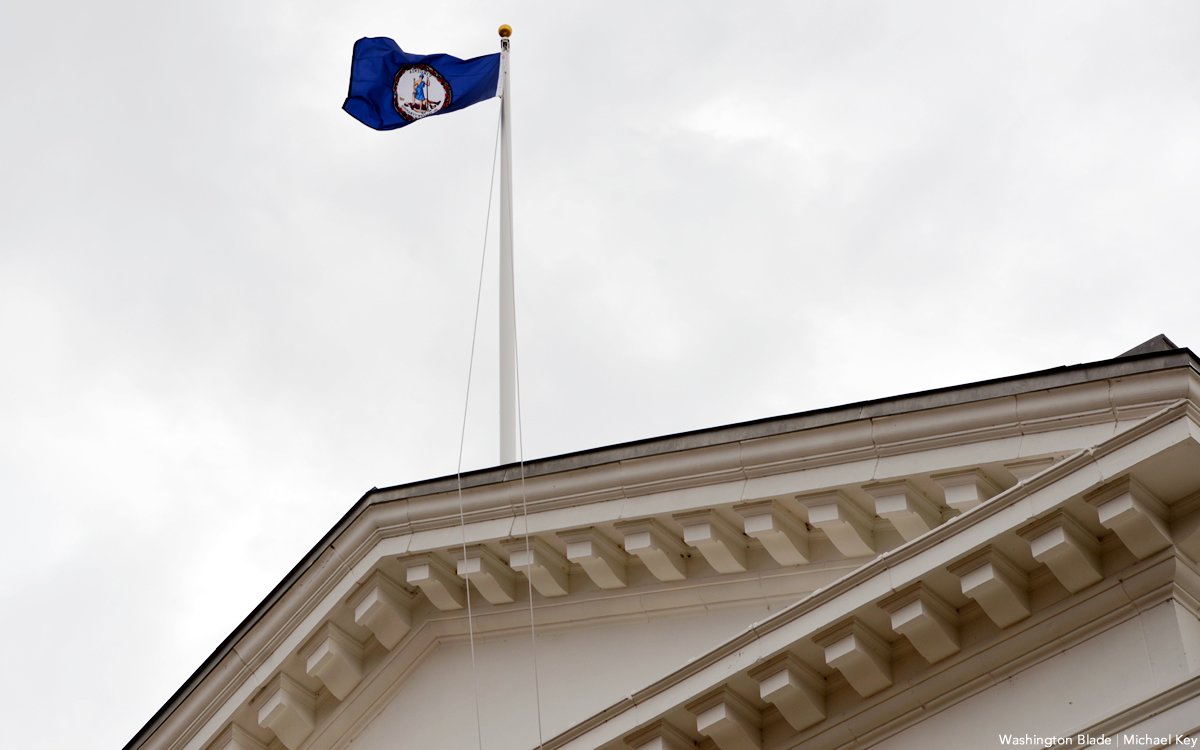 The Republican-controlled Virginia House of Delegates on Tuesday approved two anti-transgender bills.
State Del. Karen Greenhalgh (R-Virginia Beach)'s House Bill 1387, which would ban trans athletes from school sports teams that correspond with their gender identity, passed by a 51-47 vote margin. State Del. Dave LaRock (R-Loudoun County)'s House Bill 2432, which would require school personnel to out trans students to their parents, passed by a 50-48 vote margin.
"We are dealing with forcibly outing kids regardless of the safety of their home," said state Del. Danica Roem (D-Manassas) on Monday when she spoke against HB 2432. "You have no idea of the harm you're causing. Do better for them."
Roem, who is the first openly trans woman seated in a state legislature in the U.S., also spoke against HB 1387 on the House floor.
WATCH: Del. @pwcdanica's powerful statement on the House floor today, calling out the hypocrisy behind the anti-trans sports ban.

Trans youth playing sports isn't a problem. Period. pic.twitter.com/kLdcjivQZB

— ACLU of Virginia (@ACLUVA) February 6, 2023
Equality Virginia and the Human Rights Campaign are among the groups that condemned the bills' passage.
"It can be hard for people to understand what it means to be a transgender or nonbinary young person if they've never met one. But trans and nonbinary young people are our friends, family members and neighbors, and like all young people, they deserve safe and inclusive learning environments where they can thrive and be supported as they are," said Kasey Suffredini, vice president of advocacy and government affairs at the Trevor Project, in a statement. "These bills would only contribute to further isolation and stigma at a time when trans young people are already struggling."
The two bills will now go before the Democratic-controlled Virginia Senate.
The Senate Education Committee last week killed six measures that would have banned transition-related health care for minors in Virginia and prevented trans athletes from school teams that correspond with their gender. It is likely HB 1387 and HB 2432 will meet a similar fate.
Gay Rehoboth couple loses property worth $125,000 to hostile neighbor
Judge cites 'adverse possession' in ruling allowing seizure of vacant lot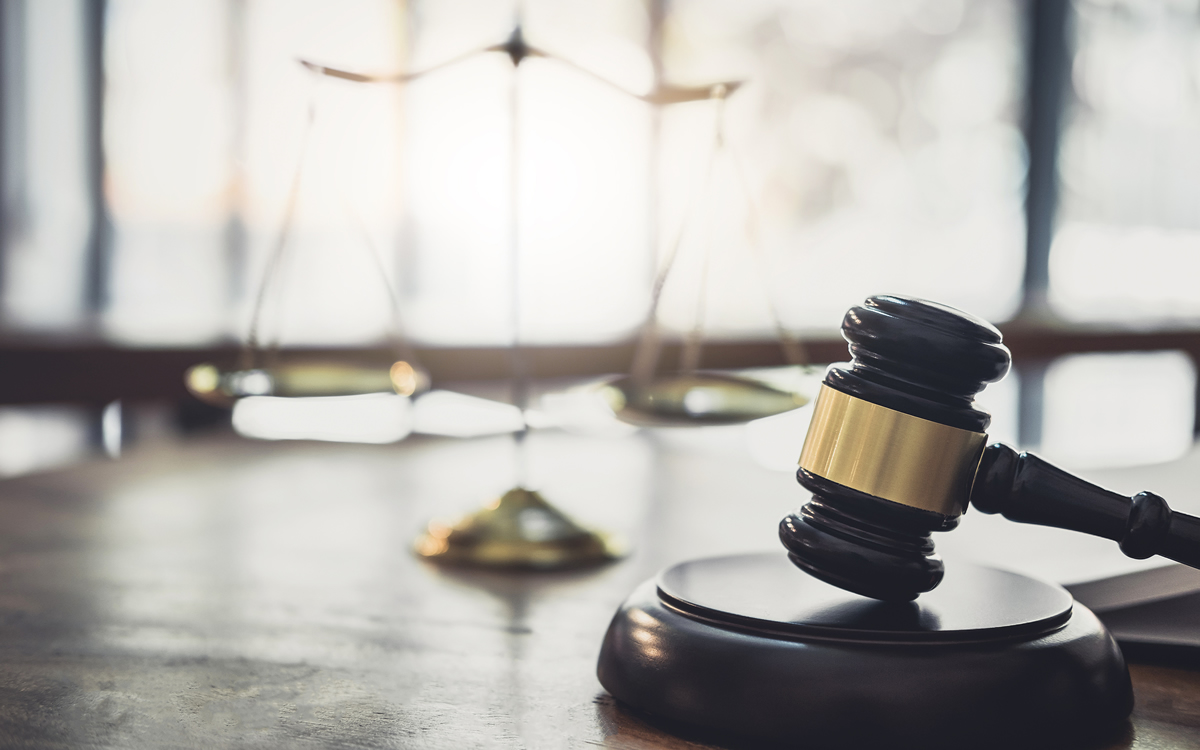 A Delaware Superior Court judge on Feb. 2 issued a decision allowing a woman who owns real estate property in Ocean View, Del., that is adjacent to property owned by a gay couple who spend the summer months in nearby Rehoboth Beach to assume ownership of the couple's vacant lot through a little-known law in Delaware and other states called the "adverse possession" statute.
"We are in the shocked and depressed stage and freaking out a little bit," said Burt Banks, who, along with his husband, David Barrett, were not aware that the neighboring property owner had been using the property in question for 20 years as required under the adverse possession law until 2021, when they put the property up for sale, Banks told the Washington Blade.
Banks said his family has owned the property for several generations and he inherited it a year after his father died in 2004. The judge's ruling shows that Banks in 2016 deeded the property to himself and his husband Barrett in the form of a living trust.
When the couple put the property up for sale in 2021 and their Realtor set a $125,000 sale price for the property, a prospective buyer discovered the adjacent property owner had a claim on the couple's property, according to the ruling by Judge Craig A. Karsnitz of the Georgetown, Del.-based Superior Court.
The judge's ruling says Banks and Barrett then filed a Complaint for Ejectment against Mellissa Schrock to require that she vacate the property.
Karsnitz's 27-page court ruling says Schrock filed a legal response challenging the ejectment complaint and a short time later filed a counterclaim invoking the Adverse Possession statute to gain legal rights to become the owner of the property in question. The ruling describes the property as an unimproved wooded lot consisting of "mature, densely foliated woodlands."
The judge's ruling says he decided in favor of Schrock because she met the criteria for invoking Adverse Possession, which includes occupying or using the property for at least 20 years continuously and doing so in an open and "notorious" way without objection from the owner.
"The matter was tried before me on Dec. 7, 2022, and I visited the property for a visual inspection on Dec. 8, 2022," Karsnitz says in his ruling. "I asked the parties to submit their closing arguments in writing, which they both did on Dec. 20, 2022, the ruling continues.
"This is my decision after trial," the judge states. "Because by a preponderance of the evidence I find open and notorious, hostile, and adverse, and exclusive use of the Property by Defendant, and actual and continuous possession of the Property by Defendant, for the twenty-year statutory adverse possession period, and finding no assertion of ownership or control by Plaintiffs during that period, I quiet title to the Property in Defendant," the ruling declares.
"I also deny Plaintiffs' Complaint for Ejectment," it says.
The ruling also states that Banks and Barrett testified at the trial that Banks' father had installed a saw mill on the property in the early 2000s and used the saw mill before he died in 2004. It says the couple also testified that they visited the property periodically over the years and never observed anyone else using the property, but they acknowledged they never placed a no-trespassing sign on the property or introduced themselves as the owner to any of their neighbors.
"There was no evidence that Plaintiffs used the Property as their own or sought to exclude Defendant from her use of the Property," Karsnitz says in his ruling. "I therefore give Defendant's testimony and other evidence more weight than that of Plaintiffs on this element," the ruling states.
Banks told the Blade that he and his husband, whose main residence is in Atlanta, may not be able to afford at this time the cost of appealing the ruling to the Delaware Supreme Court. But he said the couple hopes the loss of their property will serve as a warning to others who buy property in the Rehoboth Beach area.
"We are meeting with our trial attorney this week and hopefully he can provide some guidance," Banks said.