Queery: Tina Frundt
The Courtney's House founder/director answers 20 gay questions
Tina Frundt had a harrowing childhood.
Shuffled around in foster care and abused until age 12, she was then adopted but felt her parents didn't understand her. She fell under the influence of a man a decade older who showered her with attention and listened to her problems and within six months convinced her to run away to be with him in Cleveland.
She was too naive to realize his ulterior motives then but soon found herself working as a prostitute in his human trafficking business that almost immediately turned abusive.
The 36-year-old Chicago native was with him for about a year and a half from the time she was 14 to 15. She was reunited with her parents — whom she says were wonderful, though they've since died — and says it took her 10 years to get her life straightened out.
"It was a lot of trauma," Frundt says. "Especially with healthy relationships. I still struggle with that."
She later formed Courtney's House, a D.C.-based non-profit that helps youths escape domestic sex trafficking and commercial sex exploitation. It was founded in 2008 and operates on a $450,000 annual budget that comes from foundations, churches, corporations and private donors. It encompasses an undisclosed group home in Northern Virginia with long-term housing (six months to three years) for girls age 11 to 17 and an emergency drop-in center for those aged 12 to 21. The organization's four employees and a team of 30 volunteers also do street outreach on weekends.
Frundt, who's bi, says between 50 and 90 percent of those she helps are LGBT. She attributes the high rates to youths exposed to a variety of same-sex sexual encounters as early as 8 or 9 years old.
"It's not always an issue of orientation," Frundt says. "But it's how they identify because it's what they know."
Frundt identifies as bisexual and says she's dated more women than men over the years.
Frundt is in a relationship but doesn't disclose specifics. She lives with her two daughters — ages 13 and 18 — in the D.C. area and enjoys cooking and dancing in her free time. (Washington Blade photo by Michael Key)
How long have you been out and who was the hardest person to tell?
I have been out as bi since I was 11 or 12. Nobody in my family supported it but my mother always told me even if she didn't agree, never stop being who I was for anyone.
Who's your LGBT hero?
Anybody who is true to who they are.
What's Washington's best nightspot, past or present?
Hung Jury — those were the days.
Describe your dream wedding.
On a beach.
What non-LGBT issue are you most passionate about?
There are non-LGBT issues?
What historical outcome would you change?
Slavery. I mean, really, when did we think this was a good idea?
What's been the most memorable pop culture moment of your lifetime?
Seeing what would happen if Madonna and Grace Jones had a baby = Lady Gaga.
On what do you insist?
Laws to protect U.S. boys, girls and transgender kids from child sex trafficking.
What was your last Facebook post or Tweet?
http://www.Halogentv.com presents Tainted Love.
If your life were a book, what would the title be?
"Tina's Handbook on Surviving Life"
If science discovered a way to change sexual orientation, what would you do?
Nothing — why change perfection?
What do you believe in beyond the physical world?
I'll let you know as soon as I find out.
What's your advice for LGBT movement leaders?
To learn more about how LGBTQ youth are being affected by sex trafficking.
What would you walk across hot coals for?
Better laws and services for all domestic sex trafficking victims.
What LGBT stereotype annoys you most?
That if you're bi you're confused or it takes three drinks and then you're bi.
What's your favorite LGBT movie?
"The L Word." I know it's a TV series instead of a movie, but hey!
What's the most overrated social custom?
Saying sorry all the time when it's not appropriate.
What trophy or prize do you most covet?
The Frederick Douglass Award for saving myself and more than 500 victims from sex trafficking.
What do you wish you'd known at 18?
That I had something to say even when I thought people weren't listening.
Why Washington?
I love the diversity!
The trendiest paint colors of 2021
Ultimate Gray, Illuminating, Urbane Bronze among year's hues.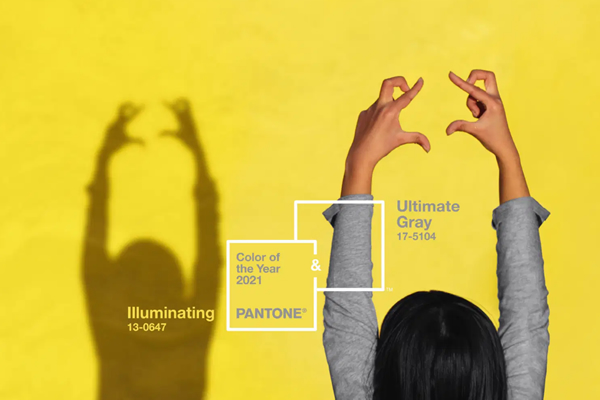 Last year, I decided to forego writing about the paint colors of the year, since many people in our vibrant community were out of work. Buying Farrow and Ball paint for $125 a gallon, it would seem, was not the first thing on their to-do lists.
So here we are in 2021 where the Pantone color of the year is…wait for it…Ultimate Gray.
Aren't we tired of gray yet? Sure, Pantone pairs it with an outrageously bright yellow called Illuminating, which I would have guessed was a blue-toned white had I not seen it online. The combination of gray and yellow has been used in linens and fabrics for several years, albeit in softer hues, so while the stronger hues have been updated for 2021, I don't find them fresh or exciting anymore.
There is an array of colors in the lineup this year that are reminiscent of dirt. Dulux has Brave Ground, a neutral earth tone that "creates a feeling of stability, growth and potential, and provides a firm foundation for change and creativity." That sounds like a color I need to have in my paint collection just to write articles, negotiate real estate contracts, and watch the news.
Sherwin Williams brings us Urbane Bronze, which they describe as "sophisticated" and "rooted in nature." Harvard naturalist Dr. Edward Wilson would have likened it to biophilia, a term he coined for humankind's desire to search for "a connection to nature and other forms of life." I think it would accent cicadas nicely.
Contemplative, the 2021 choice from Pratt and Lambert paints, is a color to think about. It's a deep moss like that found in the rainforest or on the front of my house. I guess it's time for a power-wash.
Teal has been around for decades, but it became so over-used that 20 years ago, Crayola removed Teal Blue from its crayon collection. Now it's back in Benjamin Moore's Aegean Teal, a deep, muted blue-green-gray combination, the ocean's equivalent of mossy Contemplative.
Southwestern dirt is represented by Behr's Canyon Dusk, which looks a little like a New Mexico landscape on a hot, dry day, without the cacti interspersed or the mountains on the horizon. Or try it on the exterior of your organic adobe home.
Glidden suggests using its 2021 choice, Aqua Fiesta, a softer, muted turquoise-aqua blend that won't overpower your bedroom, bathroom and kitchen walls, and will promote a feeling of calm where used.
Dutch Boy has selected Earth's Harmony for 2021. While the name implies a brown tone, this color is actually a cheerful blue that takes you to the moon and back. (Well, to the sky anyway.) Check out how it looks on kitchen cabinets on Dutch Boy's website. Forget the gray-on-the-bottom and white-on-the-top cabinet theme and liven up your kitchen with this vibrant color.
Now, if you're not already on overload, Valspar gives us 12 new colors to select from. Many are neutral and all are muted.
The brown and tan tones include Maple Leaf (think Vermont maple syrup candy), Unforgettable (a perfectly forgettable beige), Arizona Dust (refer to Behr's Canyon Dusk above), and Gallery Gray (gray is possibly a misnomer – it looks tan to me).
The blues and greens are Lucy Blue (teal by another name), Blissful Blue (a mid-toned blue gray), Granite Dust (a very light blend of green and gray), Garden Flower (a happy green with only a touch of gray), and Academy Gray (more akin to teal than gray and the darkest of their 2021 choices).
In addition, Valspar gives us Soft Candlelight (a not-too-bright yellow), Cherry Taupe (a neutral with slightly pink tones), and my favorite, Dusty Lavender (true to its name, although anything called Dusty makes me want to go and take a shower).
Clark and Kensington paint combines its colors into three collections of six colors each: Understated Impact, Mindful Living, and Creative Escape, which sound like things to ruminate about while doing goat yoga.
Each collection features hues that are like the blues, greens, tans, and grays created by every other paint company. The one exception is Red Tulip, found in the Understated Impact collection. It's more of a ruby or garnet than a true red, but it's nice to see someone paint outside the box.
This month, I hope to see more decorating in gem colors: Garnet, Amber, Citrine, Emerald, Sapphire, and Amethyst, with accents of Smoky Quartz and Tiger Eye, and a smattering of Sky-Blue Topaz, Rose Quartz, and Pearls.
Now, wouldn't that make a nice flag?  Stay colorful, my friends.
Valerie M. Blake is a licensed Associate Broker in D.C., Maryland, and Virginia with RLAH Real Estate. Call or text her at 202-246-8602, email her via DCHomeQuest.com, or follow her on Facebook at TheRealst8ofAffairs.
D.C. restaurants, bars ready to celebrate Pride
Many drink, food specials to benefit local LGBTQ charities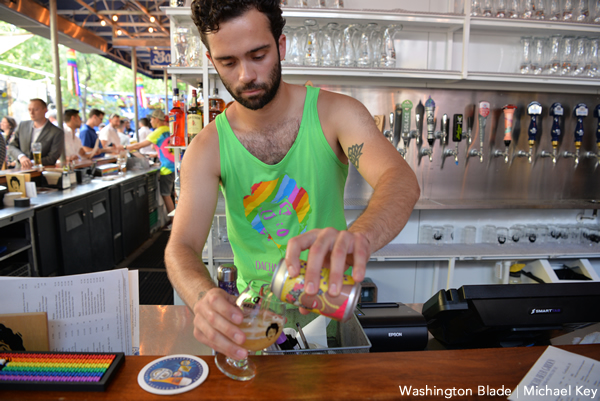 Capital Pride looks different this year as the city wakes from its pandemic closures. While official Pride events are mostly virtual in June, bars and restaurants will still have plenty going on to celebrate and commemorate LGBTQ+ Pride in DC.
Selected options for drinks, food, and events are listed below.
Food & Drinks
Aslin Beer Company (847 S Pickett St., Alexandria) made news this spring with an announcement of a planned second location on 14th Street where Dacha had sought to open a location. The brewery will again produce its "Now More Than Ever" beer, an 8.6% double IPA hopped with citra and sabro, in recognition of Pride month. It will be $20 for a pack.
Astro Doughnuts & Fried Chicken (1308 G St., N.W.) is circling the Pride square with fried goodies. At all three locations, the Pride doughnut ($3.75) is a vanilla glazed with rainbow sprinkles – plus other decorations, including one with a non-edible rainbow ring that can be worn after the doughnut is enjoyed. A portion of proceeds go to SMYAL.
ANXO Cidery (300 Florida Ave., N.W.) is producing a Pride cider, with a portion of proceeds benefitting Casa Ruby. It will be a Northern Spy apple cider, fermented dry in in stainless steel. It is sugar-free and gluten-free, and will sold nationwide. The can will be decked out in rainbow colors.
Karma Modern Indian (611 I St., N.W.) is offering a special cocktail for the month of June: the Banyan Shade ($14). It's made with Tito's Vodka, Domaine Canton, and "Spinach Aqua" and has a garnish resembling a colorful flag. Karma will be making a donation to Casa Ruby from the proceeds.
Dirty Habit DC is having "Colors of the Rainbow," a month-long series during which the restaurant will feature a different color themed food and beverage offering each week. A portion of sale of every "Colors of the Rainbow" signature item will be donated to the Human Rights Campaign and PFLAG.
As an LGBTQ-owned business, KNEAD Hospitality + Design is supporting the Capital Pride Alliance by donating a portion of proceeds on punch cocktails at all KNEAD restaurants: The Grill, Succotash, Gatsby, and Mi Vida, on June 12 and 13.
Foxtrot Market (1267 Wisconsin Ave., N.W.), the new upscale corner store and café in Georgetown, is partnering with Brooklyn artist Cute Brute to create a Confetti Cake Brownie for the month of June. Proceeds from sales of the brownie will go to Casa Ruby.
In keeping to its annual tradition, DC Brau Brewing is making its hops queer, with a limited run of a special PRIDE PILS. Proceeds will go to benefit SMYAL. DC Brau will do a second run of PRIDE PILS in October, benefiting The Blade Foundation, set for the weekend of National Coming Out Day.
El Tamarindo, the Mexican-Salvadoran restaurant more than three decades old, is serving a Walter Mercado cocktail ($11), garnished with an elegant orchid. The front window display is dedicated to Walter Mercado and his cultural influence. Proceeds from the drink go to Casa Ruby.
The eco-friendly plant-based fast-food joint HipCityVeg is mixing up its first-ever Pride drink: The Love Shake, served all June long. This strawberry shake is topped with rainbow and glitter sprinkles and gets a compostable rainbow straw. A percentage of sales go to SMYAL and Whitman-Walker. "We wanted something colorful and festive that would both raise spirits and raise funds for organizations that serve the community," explains Director of Marketing Aviva Goldfarb. "We have tons of LGBTQ+ staff members and customers and knew this would also be meaningful (and fun) for them. Plus, we have seasonal strawberry shakes in stores in June so adding the colorful and glittery sprinkles and the rainbow straw made sense." 
Events
Dacha Beer Garden (1600 7th St., N.W., and 79 Potomac Ave., S.E.) is hosting a Cause Tuesday fundraiser with Gay for Good on Tuesday, June 7, and a Dacha Beer Club with local brewery 7 Locks on Wednesday, June 8. The Beer Club event will showcase the 7 Locks Surrender Dorothy beer, part of the sour series Bitch Monkey. Dacha will have a Dorothy Drag surprise, and guests are encouraged to wear their Wizard of Oz best. Special Dacha brand tank tops will be on sale at both locations.
Via the Capital Pride Alliance is its official weekly mixer of Pride Season, Hooked on Capital Pride! It will take place at Hook Hall (3400 Georgia Ave., N.W.) in Petworth. Every Wednesday beginning June 9, there will be drink specials, music, and celebrations. A portion of the proceeds from this event will support the Capital Pride Alliance and partner Pride organizations through the GivePride365 Fund. Every reservation will include a bottle of Rose Bubbly, and a celebration kit. This event will take place on June 9, 16, 23, and 30 from 3-9 p.m.
Bark Social (935 Prose St, North Bethesda, Md.) is partnering with Montgomery County Council member Evan Glass to celebrate D.C. Pride with a PAWrade and canine costume contest on Saturday, June 12 from 11 a.m.-4 p.m. This beer garden and coffee house for dogs and humans will create a rainbow-filled canine festival of pride + paws. The bar will pour a special Pride-inspired cocktail with proceeds donated to the Moco Reconnect Center to work with other local creating inclusive spaces for LGBTQ+ youth.
Capital Pride is hosting a citywide Sunday funday on June 13 to support local LGBTQ businesses with the first-ever city-wide Taste of Pride Brunch. Various local restaurants have made a commitment to support Pride and local LGBTQ+ charities, featuring food items, drink specials, and entertainment. The event will raise awareness and resources for the GivePride365 Fund, benefiting local LGBTQ+ charities, and help to ensure the return of a full-scale Pride in 2022.
The speakeasy-style back room at Capo Deli (715 Florida Ave.) rounds out Pride weekend parties with an post-brunch event Sunday, June 13, 2-5 p.m. The event, called Bubbles & Bass, features DJ Babbitt and DJ Chris Adam playing disco over rose, Champagne, and other drink specials.
Caboose Commons (2918 Eskridge Rd., Fairfax, Va.) and its dog-friendly patio is hosting an event for Pride on Saturday, June 19 with Beer Babes Drag. There will be two seatings (12 p.m. and 3 p.m.) and a portion of sales (including items sold) will support PFLAG and the National LGBTQ Task Force.
Celebrate PRIDE with a staycation, via Kimpton Monaco. This hotel is the Trevor Project's "Premiere National Hotel Partner." When guests make a reservation at Hotel Monaco D.C., Kimpton will donate $10/night to The Trevor Project, and guests receive 15% off the hotel's "Best Flexible Rate."
Multiple offers? Multiple headaches? Here's some medicine
Tips for navigating our hot seller's market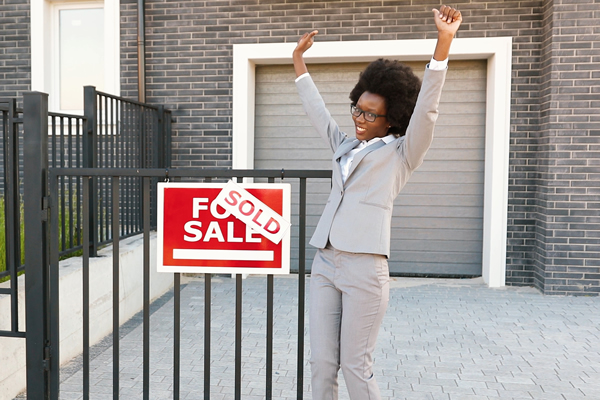 As a seller's agent, multiple offers can be great. Who doesn't love options? Does my seller want to take offer A, B, or C? (Or even D, E, or F?).
As a buyer's agent, multiple offers can mean more stress, headaches, nail biting, and taking on more risk. Lately it has been described as a seller's market. With the combination of low interest rates and a global pandemic that led thousands of people to decide to look for a bigger house with more rooms, outdoor space, and a more desirable location than their last residence, the result has been multiple offer bidding wars on homes that buyers find desirable. So, what are some suggestions for handling this multiple offer laden market? Here are a few tactics I have learned over the years:
Do a pre-inspection so that the home purchase is not contingent on a home inspection. If you find too many red flags, you can just skip making the offer and keep looking.
Ask your lender to approve you beyond just a pre-approval. This might take more energy on the front end so that you can have the bank give you a solid approval letter, but it might mean that you can close on the house in less time and seem like a more solid choice than the other offers.
Be willing to ask the sellers what they need. Some sellers want a high price, while other sellers are OK with a decent price, but with features such as a rent-back for a month or so while they coordinate closing on their new home, or even begin looking for their new home. Being flexible can be crucial to winning the offer.
If you are a seller, and need to sell before buying the new home, you might just want to move out, get a six-month or a one-year rental and put the house up for sale. You might find that the profit you make in a multiple offer situation could be enough to cover the cost of the rental and make the search for the next house less frantic and stressful.
These are just a few ideas a good Realtor can help their clients to decide on. Find a trusted Realtor to help you. Oh, and happy Pride month everyone!
Joseph Hudson is a Realtor with The Rutstein Group at Compass. Reach him at 703-587-0597 or  [email protected].