Adjusting to freshman life on the Hill
Gay Rep. Cicilline on being in the minority, the prospects for a pro-LGBT omnibus bill — and D.C.'s social scene

As Rep. David Cicilline (D-R.I.) and his fellow House Democrats are discovering, being in the minority is rough.
The freshman lawmaker — and fourth sitting openly gay member of Congress — offers help to the best of his abilities to a group of disability advocates from his district, but knows his influence is limited with U.S. House Speaker John Boehner (R-Ohio) running the chamber and pledging to slash billions from government programs.
The Blade spent a day shadowing Cicilline last week. Six weeks into his first term as a member of Congress, he meets with about a dozen constituents working on disability issues in his office at the Cannon Office Building.
The meeting is one of four today for the Providence, R.I., mayor-turned-member of Congress, which is a typical load for Cicilline. Among his planned meetings is a talk with gay Rhode Island State House Speaker Gordon Fox, a leader in the fight to legalize same-sex marriage in the Ocean State.
But for this meeting, Cicilline listens intently as the advocates voice their concerns and hand him data sheets on problems facing the disabled and potential cuts to government programs.
Donna Martin, executive director of Rhode Island's Community Provider Network, asks the lawmaker to push for continued funding for Medicaid programs through appropriations to the Department of Health & Human Services.
"The FMAP, the federal Medicaid match, the increased FMAP percentage is due to expire at the end of June," she says. "That is going to have a tremendous impact on Rhode Island, specifically on our services. We are asking for consideration that those funds be extended until [health care reform] can be implemented — a provision in [health care reform] that expands the Medicaid safety net, if you will, which is active in 2014."
Martin acknowledges that the Republican-controlled House doesn't have "a whole lot of appetite" for talking about the extension of Medicaid funds, but emphasizes the importance of the program.
"It is a piece that has managed to keep many of these organizations afloat," she says.
The disruptive noise of a loud conversation is heard from an adjoining room. Ever the attentive host, Cicilline rises from his seat to shut the door to his office.
Meanwhile, Jack Padien, CEO of Arc of Blackstone Valley, discusses the need for continued funds for the Department of Housing & Urban Development and Section 811 programs, which provide housing for low-income people with disabilities.
"The concern is, and I'm sure the concern with you and everyone else on the Democratic side, is that the Republicans have just put in a $63 billion cut — proposed cut — and that takes out a lot of things," he says. "It would be devastating to take out $250 million out of a $300 million budget for low-income housing."
Clad in a pinstripe suit, French cuffs and Italian loafers, Cicilline articulates his response in his distinctively raspy voice, starting with a comparison of President Obama's fiscal year 2012 budget request to what the Republicans are proposing.
"If you look at the president's budget — I mean, there are many things in that budget that I don't agree with," he says. "There's some cuts in programs that I know are good programs, but the distance between the president's budget and what the Republicans are proposing are just night and day."
Cicilline cites figures that the Republican proposal would cost 80,000 jobs and, by comparison, says the president's budget would be effective in reducing the deficit and spending while providing funds for infrastructure and education.
"It's what families would use by tightening the belt by taking out the things that aren't working and you don't need, but also continue to invest in things that your family needs for its future security," Cicilline says.
The freshman pledges to work hard to pass the president's agenda in the House, but says he suspects Democrats won't be able to accomplish that while being in the minority.
"It's going to depend a lot on the role the Senate plays and how we stop some of this because I think the House Republicans are going to pass something, which, I think, everybody in this room would find really unacceptable," he says.
As a final request, Cicilline asks for specific examples of how cuts proposed by Republicans would cost jobs or harm programs that rely on federal programs.
"We talk about it in public hearings — $2 billion we cut here or $5 billion here," Cicilline says. "That much money? It should get cut. And I think to the extent that you can provide me, 'Look if this program is cut in half, 25 less people will be enrolled in this service and we'll have to close that,' that would be very useful both in terms of making the case to other colleagues and also just describing to people back home what the consequences of the Republican budget would mean."
The meeting concludes with a group photo of Cicilline and the Rhode Island constituents who sat in on the meeting. Staffer Brad Greenburg is poised to take the photo, although Cicilline has to remind him to remove the cap from the lens before hitting the flash button.
The theme of Republicans working to slash funds from programs while Democrats urge for continued appropriations is a common one lately.
On Tuesday, as the House debates a resolution to continue funds for the remainder of the fiscal year, Cicilline takes to the floor to denounce cuts Republicans are proposing.
"The Republicans are moving forward with a dangerous spending bill, one that continues to give rewards to the rich and literally guts the initiatives most meaningful to middle class families," Cicilline says. "Simply put, the Republicans' spending bill is irresponsible and tone deaf to the needs of a healing nation."
Cicilline says the Republican spending proposal would cut Pell Grants by $800 per student and kick more than 200,000 children out of Head Start. Additionally, he says the measure would undermine domestic security by eliminating 1,330 police officers and 2,400 firefighters throughout the country.
"The work of reducing our deficit and controlling spending will be hard, to be sure," Cicilline says. "The fact of the matter is that we have to cut spending. But we have to do it responsibly. We cannot cut what makes us competitive and what helps us to innovate, to succeed in the global economy, and ultimately to create jobs."
But in the end, the Republicans have their way on the continuing resolution. On Saturday, the House passes a measure with $61 billion in cuts from last year's spending levels by a vote of 235-189.
The legislation now heads to the Democratic-controlled Senate, and a failure of both chambers to reach an agreement by March 4 could result in the shutdown of the U.S. government.
Following the vote, Boehner commends the House for passing the continuing resolution with reduced spending, noting, "the House works best when it is allowed to work its will."
"This week, for the first time in many years, the People's House was allowed to work its will — and the result was one of the largest spending cuts in American history," Boehner says in a statement. "We will not stop here in our efforts to cut spending, not when we're broke and Washington's spending binge is making it harder to create jobs."
Learning the ropes
After his constituents leave his office, Cicilline removes his jacket and retires behind his desk as he prepares for his interview with this reporter.
Papers and folders are neatly piled in different stacks. Also on his desk is a copy of "The American Way to Change" by Shirley Sagawa and "George Washington's Sacred Fire," a biography on the first president by Peter Lilback.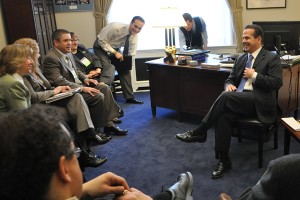 Adorning his wall is a large green abstract painting by Tom Sgorous, a Rhode Island artist. On a nearby table, a glass bowl is displayed with the inscription, "Italio-American Club Man of the Year 2003 — Mayor David Cicilline."
During his six weeks in office, Cicilline has been busy hiring staff and setting up offices both in D.C. and in Rhode Island's 1st congressional district. He's also been serving on the policy steering committee to set the House Democratic agenda for the 112th Congress.
"I've been really learning how Congress operates and how I can have the greatest impact as a new member and as a freshman in the minority," Cicilline says.
He made the trip from Rhode Island to D.C. solo. Asked whether he has a partner, he says he's single.
"You're asking me that right after Valentine's Day?" he jokes. "How cruel!"
Still, Cicilline says he's already visited at least one local gay bar since arriving in the District, although he can't immediately recall the name of the establishment he visited last week.
When asked if it could have been Cobalt, Nellie's or JR.'s, he quickly interrupts.     "JR.'s," Cicilline exclaims as he snaps his fingers. "It was just like a bar, bar. I met a friend from Rhode Island for a drink who works here in Washington."
But focusing on the business before him on Capitol Hill, Cicilline says his top legislative priority is passage of what he calls the "Made in America" block grant.
As he envisions it, the legislation would encourage companies to keep manufacturing jobs in the United States by providing $2 billion in funds to retrofit factories, retrain workers and buy new equipment.
"I think one of the things that we have to do to really rebuild the economy in this country is start making things again and selling them in the global market," he says.
Cicilline says he's already spoken with House Minority Leader Nancy Pelosi (D-Calif.) about the "Made in America" block grant, which he says she supports.
Figuring out how to advance LGBT issues is also on the agenda. Upon his swearing in, Cicilline became a co-chair of the LGBT Equality Caucus and is learning from more senior openly gay members of Congress — Reps. Barney Frank (D-Mass.), Tammy Baldwin (D-Wisc.) and Jared Polis (D-Colo.) — about where to focus their attention.
Cicilline emphasizes that he's new to Congress and learning about the legislative priorities for the LGBT community, but knows that with Boehner as presiding officer of the House, moving forward will be challenging to say the least.
"But this is the year when it's going to be very, very difficult — maybe impossible — to make progress on most of our issues," he says. "We're going to be very defensive mostly. Protecting the progress we've made and try to prevent the clock from turning back with Republican leadership in the House."
Cicilline says he isn't sure what kind of anti-gay measures, if any, the Republicans might pass out of the House, but expresses confidence that the Democratic-controlled Senate would block any such initiatives from reaching Obama's desk.
One item that has Cicilline's interest is comprehensive legislation that would roll all pro-LGBT initiatives — such as the Employment Non-Discrimination Act, the Uniting American Families Act and repeal of the Defense of Marriage Act — into one piece of legislation.
"One of the things I'd like to explore is this idea of developing an omnibus bill that contains many of the specific pieces of legislation that have been on our agenda for a number of years and put them together in a comprehensive equality measure for the LGBT community," Cicilline says. "I'd like to obviously talk to my colleagues about that as a strategy versus individual bills."
But what to do about ENDA, one of the LGBT community's top outstanding legislative priorities? What's the best way to draw attention to the issue of job discrimination in the interim as Republican control of the House makes passage of the legislation unlikely for at least two years?
Cicilline notes as a legislator in the Rhode Island State House, he worked to help pass legislation that would bar discrimination in the state against LGBT people in situations of housing, credit, public accommodations and employment.
The Rhode Island lawmaker says the best way to draw attention to the lack of employment protections for LGBT people is to showcase people who've been wronged under current law.
"I think people are really fair-minded," he says. "Most people if you sat them down and said, 'Someone who's working everyday and goes to work and is doing their job, their employer can say, 'You want what? I'm firing you because you're gay."' Most people would say, "That's wrong!" They would be surprised even to learn you can do that."
Tongues are also wagging about another LGBT march on Washington in 2012 as a means to draw attention to LGBT issues and energize the Democratic base in the upcoming election. Still, Cicilline says he thinks resources could be better spent on constituents encouraging their members of Congress to support pro-LGBT initiatives.
"I guess you could get lots of people to march on Washington," he says. "I just assume they were door-knocking for progressive candidates that support marriage equality, but if they're willing to do both, I think it's fine."
Cicilline has landed choice committee assignments, including seats on the Small Business and Foreign Affairs committees. The lawmaker says he hopes his position on the panel overseeing international affairs will give more visibility to "the hideous treatment of LGBT members all over the world."
For example, Cicilline says he hopes he can build awareness about the plight of LGBT people in Uganda, where activist David Kato was murdered in January and a bill that would institute the death penalty is pending before parliament.
"I think we need to be sure that we have hearings on the issue," Cicilline says. "I'll be raising awareness and using my role on the foreign affairs committee to work to develop a strong U.S. policy against that."
Earlier in the week, Cicilline met with Frank Mugisha, an LGBT Ugandan activist and executive director of Sexual Minorities Uganda.
Another LGBT agenda item that's important to Cicilline: the advancement of same-sex marriage. Rhode Island is among a few states seeing progress this year on relationship recognition for same-sex couples.
Cicilline says he's "very much" glued to the legislative effort to pass marriage legislation in Rhode Island and believes "the prospects are very good this year" for enactment of such a measure.
"I think there is strong support from the House leadership and from the members," he says. "The challenge is to make sure that it comes out of the House strongly because I think the fight is in the Senate."
Cicilline adds that Gov. Lincoln Chafee's (I) support for the marriage bill "is a big changer" from when former Republican Gov. Donald Carcieri, who opposes marriage rights for gay couples, was running the state.
But what about Obama's position on same-sex marriage? The president has said his position could evolve on the issue and that he's wrestling with the idea of same-sex marriage, but he hasn't yet endorsed marriage rights for same-sex couples.
"I think the president is being very honest about his thinking that — and I take him at his word — that his position is evolving," Cicilline says. "I think marriage equality is the right answer because it shows that every single American has access to this important institution."
Cicilline dismisses the notion that Obama's lack of support for same-sex marriage has a significant impact on legislative efforts to enact marriage rights for gay and lesbian couples in Rhode Island.
"I think legislators in Rhode Island will make up their minds on the issue of marriage equality based on their own view on it and by listening to constituents on it," he says. "I'm not sure that the president's position will have a direct impact on that."
He adds that he doesn't have any way of knowing whether Obama will come to support same-sex marriage, but has high hopes the president will come around.
"Everything that I know about him leads me to believe that he will look very strongly at equality and justice and ending discrimination of any kind," Cicilline says. "So, I would hope that the conclusion of his thinking will also get him to where he supports marriage equality."
With his Blade interview complete, Cicilline moves on to the rest of the day's meetings. However, his schedule isn't limited to private meetings with constituents.
Busy day on the Hill
Cicilline is scheduled to hear testimony in the afternoon as part of the House Small Business Committee. The title of the hearing is "Putting Americans Back to Work: The State of the Small Business Economy."
The Republicans who control the committee — and the GOP-chosen witnesses — use the hearing to denounce the Obama administration's policies.
House Small Business Committee Chair Sam Graves (R-Mo.) plays up the trials that small businesses face in the United States even in times when the economy is prosperous.
"Even though there has been recent signs that our economy is starting to improve, our recovery from this recession remains sporadic at best," Graves says. "As we've said many time before, small businesses need certainty for plan for not only the next day but also the next month and the next year."
Graves also takes a dig at the health care reform law passed by the 111th Congress. Repealing or defunding the initiative has been a priority of Republican leadership in the current Congress.
"After the new health care law passed last year, I heard from countless small businesses in my district and right here in this committee room that not only will this new law fail to provide health care benefits to employees, but the costs will put them out of business," Graves said.
The Republican-appointed witnesses offer testimony bemoaning practices the Obama administration has put in place.
Representing the U.S. Chamber of Commerce — known for its hostility to the president — is Bill Feinberg, president of Allied Kitchen and Bath, Inc., in Fort Lauderdale, Fla., who blasts the health care reform law.
"I know that in 2014 the new employer mandate starts — the mandate says an employer with 50 or more employees must offer government-approved health insurance or pay steep fines," he says. "Wouldn't incentives, rather than penalties, have been a better way to send the message that government and businesses can work together?"
Dixie Kolditz, owner of Open-Box Creations in Cathlament, Wash., says regulations that the Obama administration has put in place are stifling her import business.
"We have had to be creative and make our money stretch more than it used to," she says. "This becomes harder when there are expected and unexpected regulations and hidden government taxes and fees."
Cicilline arrives at the committee hearing after the witnesses have given their opening statements. Taking his seat on the dais — far to the end in accordance with his freshman status — the lawmaker dons a pair of spectacles and presumably reads the written testimony submitted by witnesses.
When Graves gives Ciclline the green light to begin his questioning, he starts by expressing his interest in growing small businesses in the United States.
"I think we're all very interested in what we need to do to make small business grow and to create more jobs," Cicilline says. "So, I'm interested in specifics — because I understand the feeling that you may have of small business being overregulated and overburdened, but to be helpful in terms of coming to address that, I need to understand what the specifics are."
Beginning his questioning with Feinberg, Cicilline notes the small business owner already provides health care benefits to employees, even though he is not required to do so.
"I presume you do that because you decided it's valuable to have employees who are healthy and well and can be productive," Cicilline says.
"My employees are my partners," Feinberg says. "That's what grows my business."
Cicilline presses Feinberg on whether the entrepreneur thinks "it's a good idea" to have a system in place that provides affordable health care to small businesses.
"I can't say whether or not," Feinberg says. "As a business owner, I look at what's going to grow my business. Knowing that I have to provide insurance — that limits me. That does not give me the flexibility as a business owner that I think is required to grow my business."
Following up, Cicilline asks whether he's aware that he's entitled to a tax credit in exchange for providing health insurance to at least 50 employees. Feinberg says he's aware of the law.
"The reason I ask that is that I think it's important that we also at the [Small Business Administration] or relevant federal agencies should share that information with small businesses," Cicilline says. "The tax cut is designed to help small business and make providing health care affordable, so I think that's an important responsibility."
On his way out of the hearings, Cicilline tells the Blade he realizes the committee lineup was orchestrated to favor Republican policy.
"The witnesses are clearly invited by the majority party, so I think they have a very clear view on what they think about some of those issues that was reflected in the witnesses," Cicilline says.
Cicilline heads back to his office, but not before a constituent approaches and asks for a picture with him. This reporter complies with a request to take a photo of the two, then watches as the Rhode Island lawmaker heads back to the Cannon House Office Building to continue his work.
Louisiana lawmakers fail to overturn Edwards veto of Trans sports bill
Edwards further said that the bill was "mean" because it targets "the most emotionally fragile children in the state of Louisiana."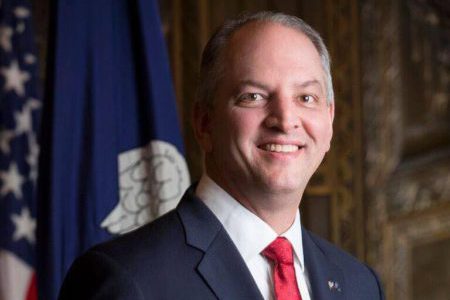 BATON ROUGE – Louisiana lawmakers failed to override Gov. John Bel Edwards' (D) veto last month of a bill that would have barred trans girls and women from participating on athletic teams or in sporting events designated for girls or women at elementary, secondary and postsecondary schools.
The measure, Senate Bill 156 authored by Sen. Beth Mizell titled the 'the Fairness in Women's Sports Act,' in the Governor's eyes, "was a solution in search of a problem that simply does not exist in Louisiana," Edwards said in his veto statement;
"As I have said repeatedly when asked about this bill, discrimination is not a Louisiana value, and this bill was a solution in search of a problem that simply does not exist in Louisiana. Even the author of the bill acknowledged throughout the legislative session that there wasn't a single case where this was an issue.
The Republican majority state House chamber failed to override the Governor's veto after voting 68-30 to override it, according to the state legislature's website.
The vote narrowly missed the 70-vote threshold needed in the lower chamber to override the veto.
Two-thirds of both the House and Senate must vote to override a governor's veto, according to the local Baton Rouge newspaper The Advocate.
The Governor reacted to the news that his veto withstood Republican efforts to overturn it in a press conference Wednesday.
Edwards noted that in his view he had "rejected a play" that had no place in Louisiana.
"I would rather the headlines going out from today be that Louisiana did what was right and best. We rejected a play out of a national playbook that just had no place in Louisiana. That bill wasn't crafted for our state, I mean go read it and look at the arguments that were made. None of that applies here," Edwards said.
He further said that the bill was "mean" because it targets "the most emotionally fragile children in the state of Louisiana."
"We have to be better than that," Edwards said. "We have to be better than that."
Federal court blocks West Virginia Law banning Trans youth sports
"It hurt that the State of West Virginia would try to block me from pursuing my dreams. I just want to play."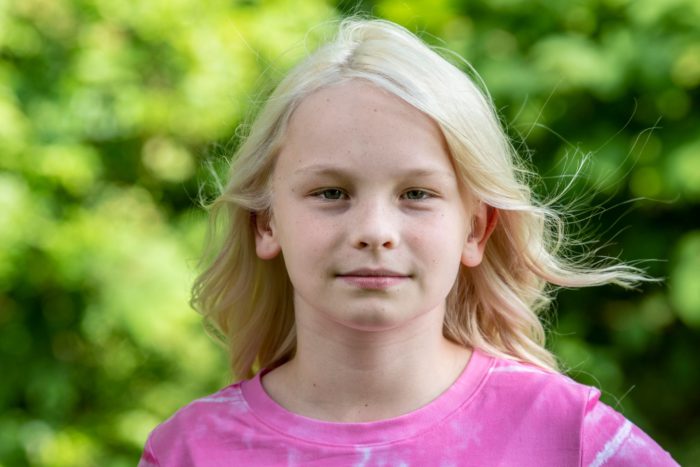 CHARLESTON, W.Va. — A judge of the United States District Court, Southern District of West Virginia ruled Wednesday that 11-year-old Becky Pepper-Jackson must be allowed to try out for the girls' cross-country and track teams at her school, blocking West Virginia from enforcing a law that bans transgender girls and women from participating in school sports.
The ruling came in the lawsuit challenging the ban filed by Lambda Legal, the American Civil Liberties Union, the ACLU of West Virginia, and Cooley LLP.
"I am excited to know that I will be able to try out for the girls' cross-country team and follow in the running shoes of my family," said Becky Pepper-Jackson, the plaintiff in the lawsuit. "It hurt that the State of West Virginia would try to block me from pursuing my dreams. I just want to play."
West Virginia Gov. Jim Justice signed H.B. 3293 into law at the end of April. It was one of hundreds of anti-LGBTQ bills pushed in state legislatures across the country in 2021. During legislative debate, it was not endorsed by any mainstream sporting or health organizations. A similar law in Idaho was blocked by a federal court in 2020, and a federal court in Connecticut recently dismissed a challenge to policies that allow all girls, including girls who are transgender, to participate on girls' sports teams. Legal challenges are underway against similar laws passed in other states.
The Supreme Court recently refused to disturb Gavin Grimm's victory at the U.S. Court of Appeals for the Fourth Circuit, where he prevailed in challenging his school's anti-transgender discrimination against him. This decision — which is binding precedent in West Virginia federal court — said that federal law protects transgender students from discrimination in schools.
"This is great news for Becky, and while our work is not done yet, today's ruling jibes with similar rulings in other courts across the country," said Avatara Smith-Carrington, Tyron Garner Memorial Law Fellow, Lambda Legal. "It is our hope that courts recognize and address discrimination when they see it, and nowhere is it more visible than in these stark attacks against trans youth."
"Becky — like all students — should have the opportunity to try out for a sports team and play with her peers," said Josh Block, senior staff attorney with the ACLU LGBTQ & HIV Project. "We hope this also sends a message to other states to stop demonizing trans kids to score political points and to let these kids live their lives in peace."
"We've said all along this cruel legislation would not survive a legal challenge, and we're encouraged by the court's decision today," said ACLU-WV Legal Director Loree Stark. "We hope trans kids throughout West Virginia who felt attacked and wronged by the passage of this legislation are feeling empowered by today's news."
"We are extremely gratified — for Becky, and for all trans youth — at the court's recognition that the law and the facts clearly support treating people who are transgender fairly and equally. Discrimination has no place in schools or anywhere else," said Kathleen Hartnett of Cooley LLP.
Conservative groups attack proposed Alabama capital city's LGBTQ law
Allege law requires Christians to violate their religious beliefs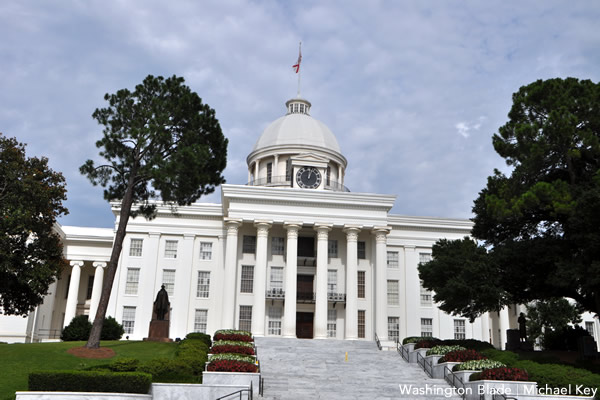 MONTGOMERY – The Alabama capital's City Council is being urged to reject a proposed ordinance that would make sexual orientation and gender identity protected classes under the law. Matthew Clark, the Executive Director of the conservative Alabama Center for Law and Liberty sent a letter on behalf of his group and six allied organizations asking the Council to abandon a vote implementing the ordnance.
According to the letter, the groups allege that the law would require Christians to violate their religious beliefs or face fines under certain circumstances. Prominent among the other signatures is Mathew D. Staver, Chairman of Liberty Counsel which the Southern Poverty Law Center lists as an extremist anti-LGBTQ hate group.
The SPLC, which has its headquarters in Montgomery, writes; "The Liberty Counsel has also been active in the battle against same-sex marriage and hate crimes legislation, which it claimed in a 2007 news release to be "'thought crimes' laws that violate the right to freedom of speech and of conscience" and will "have a chilling effect on people who have moral or religious objections to homosexual behavior." In that same release, the Liberty Counsel falsely claimed that the brutal murder of Matthew Shepard in Laramie, Wyo., had nothing to do with homosexuality, but instead was "a bungled robbery."
In the letter Clark noted; ""As we read the ordinance, churches could be fined if they refuse to allow transgender people to use the bathroom of their choice, and they might be fined if they refused to let same-sex couples use their facilities for weddings," Clark said. "They could also be fined if they declined to hire non-ministerial personnel, such as facility managers or secretaries, whose sexual orientation or gender identity contradicts the tenants of the church's faith."
"Christian schools, small business owners, and homeowners are also in the crosshairs. Schools could face liability if they decline to let transgender students use the locker rooms of their choice," Clark said. "Small business owners like Jack Phillips [referring to Masterpiece Cakeshop v. Colorado Civil Rights Commission] could face liability. And homeowners who list their homes on Airbnb could be fined if they declined to let a same-sex couple engage in sexual activities in their home that violate the tenants of their faith."
Clark then warned the City Council that if it passes the ordinance, litigation could result and the City would likely lose.
The Montgomery Advertiser reported last month that City Mayor Steven Reed said a council vote in favor of the LGTBQ nondiscrimination ordinance that's now being drafted in Montgomery would send a message.
"There are signals that communities can send, and this is an important signal not only to those residents that live here right now but people all over the country that have maybe one idea of Alabama and Montgomery, and we want to show them that there's a different reality here," he said.
Reed and his team have been working with the Human Rights Campaign and other advocacy groups to draft an ordinance that would expand protections for LGBTQ residents in the state's capital city. The proposed measure, which would specifically target discrimination in government, employment and housing based on sexual orientation or gender identity the Advertiser reported.