Helping LGBT youth in D.C.
New solutions needed to address homelessness

The Sexual Minority Youth Assistance League recently released an excellent report titled "Assessing the Urgent Needs of DC Area LGBTQ Youth." The report highlights several challenges facing youth in our area.
A combination of increased community and government support can be harnessed to reduce some of these challenges. There has been some progress in improving the lives of youth, but there are significant steps needed to address the problems that persist.
LGBT youth are at much greater risk for being homeless. The Center for American Progress recently issued a report that shows that LGBT youth make up a disproportionate percentage of LGBT homeless. It is estimated that anywhere from 25-40 percent of all homeless youth are LGBT. Despite challenges getting accurate data on the population there has been tremendous progress in getting LGBT youth some resources in the District of Columbia.
In 2008, the city provided funding for the Wanda Alston House, which is a transitional housing program for LGBT youth. The house currently provides space for eight youths and has a long waiting list. In addition to establishing the house, there was a concerted effort between the city and community groups to develop cultural competency programs to train staff at other youth shelters. There is a tremendous demand for housing with a finite amount of government resources. To that end, a community advisory board is being established to begin to aggressively raise more private funds that will increase the capacity of Wanda Alston House.
In addition to being at a greater risk to be homeless, LGBT youth are much more likely to attempt suicide than non-LGBT youth. According to the 2007 Youth Risk Behavior Survey (YRBS), 28 percent of all LGB respondents indicated that they attempted suicide. In the fall of 2010 there was a string of high-profile youth suicides, which led to the creation of the "It Gets Better Campaign." It has been suggested that one of the causes of this high rate of suicide ideation is bullying in schools. The YRBS data show that LGBT youth are three times more likely to report being bullied in schools.
The District of Columbia has one of the more progressive anti-bullying laws on the books —clearly prohibiting discrimination on the basis of gender identity and sexual orientation. DCPS has made some important first steps in attempting to reduce bullying in the public schools, but there is significant room for improvement. The District needs a centralized response to bullying that includes clear data reporting, adequate training and consistent disciplinary policies.  Additionally, these policies need to be adopted by other government agencies that serve youth especially in the Parks and Recreation Department and other facilities where youth gather.
While improved school policies are important, much more needs to be done to reach the families of LGBTQ youth. The state of Massachusetts has been on the forefront in collecting youth data and creating safe spaces for youth in schools; however, the suicide ideation rates have not gone down. Recent groundbreaking research by Caitlin Ryan and the Family Acceptance Project has shown a direct link for higher suicide attempts, substance abuse and an increased risk for HIV to the level of rejection that youth experience at home. This groundbreaking work provides data and recommendations to parents that show how an increase in accepting behavior will dramatically improve the well being of LGBT youth. This program needs significant financial support, but provides a roadmap for progress.
Local youth-serving agencies are beginning to start this outreach to parents but it will take support from schools, social service providers and the faith community to continue to disseminate this message to parents in the region.
SMYAL has once again done a good job in developing this report and in their work with LGBT youth. As a result of work done by SMYAL and several other LGBT youth providers, more LGBTQ adults and agencies are aware of the challenges facing youth and there is data that clearly identify challenges. There are also potential solutions, but it will require a significant increase in community efforts to create this change through lobbying elected officials and increased financial support of youth-serving agencies. These challenges aren't insurmountable and there is an extraordinary opportunity for our community to create a better future for our youth.
National Gay & Lesbian Chamber of Commerce Certifies Brown, Naff, Pitts Omnimedia, Inc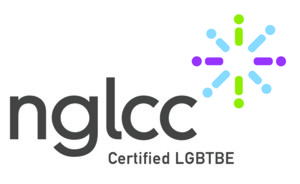 Washington, D.C. — Brown, Naff, Pitts Omnimedia, Inc, the parent company of the Washington Blade and Azer Creative, announced today it has been certified by the National Gay and Lesbian Chamber of Commerce (NGLCC) as an LGBT Business Enterprise. The NGLCC supports and advocates for diversity and inclusion for LGBT-owned businesses. With this certification the Blade's parent company joins more than 510 business and 134 corporate partners of the NGLCC.
Brown, Naff, Pitts Omnimedia, Inc. owns and operates the Washington Blade, the oldest and most acclaimed LGBT newspaper in the country. In 2012, the company launched Azer Creative, a full-service design firm. The company employs more than a dozen full-time LGBT staff.
"We are excited to become one of the 500 LGBT businesses across the country certified by NGLCC," said Lynne Brown, the Blade's publisher and a co-owner of the company. "The LGBT community has been part of our company from the beginning and we look forward to continue that for many years to come."
The Washington Blade was founded in 1969 and is known as the "newspaper of record" for the LGBT community both locally and nationally. Visit washingtonblade.com for more information. Azer Creative is a full-service graphic design firm based in Washington, D.C. Visit azercreative.com for more information. 
Vote now for the 2013 Best of Gay DC!
Choose in dozens of categories among hundreds of nominees, and make your voice heard!
Nominate the 'Best of Gay D.C.' now!
Dozens of categories cover all the best for LGBT Washington. Who deserves the prize this year?