March 10, 2011 at 2:50 pm EST | by Terri Schlichenmeyer
Home for the holidays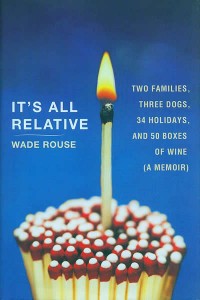 You've got half a year, more or less.
It's going to take that long to recover from the last round of family holidays and to get used to the next Forced March of Togetherness. You'll need time to forget about the angst that comes from spending more than 20 minutes in the presence of loonies, grumps, loudmouths, and old Uncle Epp, who annually fails to remember that you outgrew that "got yer nose" bit several decades ago.
You've got half a year to steel yourself, because you'd never even consider spending holidays away from kin —and neither would Wade Rouse. In his new memoir "It's All Relative," he writes about family, celebrations, and fiercely loving both.
Who among us hasn't endured some memorable holidays in our lifetimes? Remember, for instance, the Christmas when … well, some things are best forgotten. Others should be remembered for the lessons they imparted.
Still smarting from the last disastrous holiday? Yep, we've all had them and "It's All Relative" is empathetic —to a point — and surprisingly bawdy.
Rouse has a way of making us laugh. He writes of life with his eccentric family and his partner, Gary, who is deeply romantic and Rouse's perfect opposite. Rouse isn't afraid to be the bad guy in his books, and that self-deprecating honesty is hilarious.
But beware.
Rouse is quick with his wit, but he has the amazing ability to turn tears of laughter into tears of emotion in the space of 20 words. He knows how to make a funny bone tingle, but he also knows well how to charge a moment with feeling.
If you're staring at a family get-together anytime soon, this book is a nice nudge toward grace and gratitude.