Castro catastrophe
'We Were Here' offers first-hand accounts of AIDS horrors in San Francisco

There were angels in San Francisco.
But unlike in Tony Kushner's two-part Pulitzer-Prize-winning play about AIDS — "Angels in America," set in New York City in the mid-1980s — these angels were real people.
In the Kushner play, an angel descends to earth, as his fictional characters struggled with this unsettling new disease, the "gay cancer" as it was being called, an epidemic that seemed to spring from nowhere and then spread like a wicked wildfire.
In San Francisco it also struck like a bolt from the blue and purple unknown, its stigmata the purple-ish and dark reddish-blue marks of skin lesions — those herpes-like, cancerous tumors of Kaposi's sarcoma — that began to dot faces and limbs and torsos with an ugliness that was unmistakable and the cause unknown. Right-wing televangelist Jerry Falwell called the lesions, which were seen as the defining illnesses of AIDS in the 1980s, to be the signs of Satan's claim over sins of the flesh and God's punishment for those same-sex sins, demons of a heaven-sent plague upon homosexuality.
"For a group of gay men, so into physical appearance, this was a disease whose very physical manifestations were horrifying," says Daniel, one of the five people profiled in a new and deeply affecting documentary film, "We Were Here," a gut-punch of a feature-length film by producer-director David Weissman, about the coming of AIDS to the Bay Area, and the human havoc it wrought.
This film is truly a moving picture. Co-presented with Reel Affirmations, as part of the 25th Annual FilmFest D.C. (now through April 17), it is playing tonight and Saturday night at the Regal Cinemas Gallery Place, on 7th Street, N.W., near Verizon Center. Each showing is at 6:30 p.m. followed by town meetings to discuss the film and its ramifications today in D.C. where the disease still flourishes.
Each one of the five in "We Were Here" is a witness, a survivor, and haunted in some indelible way by what they saw. Four of them are gay men (Daniel, Ed, Guy and Paul), who each contracted HIV yet somehow survived. One is a straight woman (Eileen) who ministered to the patients, as a nurse who cared about them as human beings, not clinical case studies.
Like Eileen, who appears to be a modern-day Florence Nightingale, each one is an angel, each able to say, "we were here." Each is a survivor of the mysterious epidemic that moved through San Francisco in the 1980s with all the ferocity of an avenging angel, a grim reaper carrying off those who had sown such pleasure, but now so many of them faced death as a result.
Each is an eyewitness. At the skillful hand of filmmaker Weissman, who also earlier produced "The Cockettes," a documentary about the campier side of the Bay Area, the testimony of the five is heartfelt and eloquent, bringing the kind of emotion that only those who experienced it first hand can bring.
Daniel's voice is such an example. His voice is riveting, his gaze impossible to turn away from. He's a modern-day Ancient Mariner come to tell us of how wrong things can get when bad things happen to good people.
He recalls that tragic time when no one could comprehend what was happening, as the virus burned its way through the carefree, almost heedless hedonism that came to the Bay Area after Stonewall in 1969, when hippies flocked to the Haight Ashbury and gays to the Castro. For a time all was well. But it was the sexual romp before the gathering storm.
Paul, who found his early calling in political action working with Harvey Milk, says, "I came to San Francisco with nothing but my backpack and my boyfriend." He recalls that in the mid-1970s, "I believed that at that time in San Francisco there were nothing but crazy dreamers."
Daniel went, recalling that, "I always wanted to meet a blond surfer but I was still in the closet, but then I came out with a bang," in part spurred by being cast in the gay-themed play "The Boys in the Band."
One observer, appearing in the film, puts it bluntly about that era: "If you took a lot of young gay men and asked them, 'How much sex would you like to have?,' the answer was, 'A lot,' and the sense was, sex is good, and more sex is good," and after all, he adds, "We came to San Francisco to be gay." Ed, who moved to the city in 1981, is equally blunt: "I was always in relationships, but they were open … My sexual outlet was always the bath houses and it was fun."
But times were changing. In 1979, Harvey Milk was assassinated. In 1980, Ronald Reagan was elected president. The hopes and dreams of hippie hedonism didn't last. But then, says Weissman, who documents it with clinical detail from archival footage, signs of trouble began to appear.
"People were wasting, losing so much weight, [San Francisco's Castro neighborhood] looked like a concentration camp," says Daniel. "You almost had to turn away, it was just too scary." He felt haggard and haunted: "I was losing all the fat in my face and my butt — I would walk by a store window and jump, 'Who was that?' — I was skin and bones."
At times death came with startling swiftness. Eileen, who chose to care for AIDS sufferers and then to work on clinical trials seeking pharmaceutical relief of the worst symptoms, says that in the hospital where she worked, "People were coming in with a KS lesion one day and were dead 10 days later." Her own heart went out to them, but others shrank away in fear and ignorance, as some voices were raised calling for tattoos to be stenciled onto all persons diagnosed with HIV and some even called for packing them away into leper-like colonies.
"From the beginning," she says, "I just couldn't understand the homophobia that was going on and the fear of going into the [hospital] rooms."
"There was nothing that unusual in that people are of course going to die," says Ed, who speaks like a creative writer, a craft in which he earned a graduate degree. But in San Francisco, he says, "It's just that it happened in a targeted community, to people who were disenfranchised, separated from their families."   But then a kind of miracle happened when people like Eileen stepped forward, as well as gay men who were not infected. In Ed's words, "A whole different group of people stepped up and became their families."
They got involved. Eileen joined ACT UP. Daniel fought his way back from depression and worked on the Names Project, which made the AIDS quilt.
Each of five was chosen, says Weissman, because they had a special story to tell, and the film delivers what they have to say with an emotional wallop. But more than that, he admits, "The city is also a character" in the film, which he calls "Very personal to me" and "a love letter to San Francisco," where after some years living in Portland, Ore., he is now based. A commercial release is planned for later in the year.
Weissman, who is gay, was born in 1954 in Los Angeles, and never went to college, he explains, because he "lived through the hippie times." He got into filmmaking in his late 20s. He says it was "something on the spur of the moment." He took coursework at the City College of San Francisco, but says at first he never thought of himself as a documentarian. Instead, he produced a series of short comedies until finally, after "a moment of unexpected inspiration," he made the 2001 acclaimed documentary, "The Cockettes," about the Bay Area's legendary theater troupe of hippies and drag queens.
"Some people worry that seeing a film like this will be a downer," Weissman says. "But that's definitely not the case. Instead, it's a cathartic experience, healing and empowering."
"Especially for young gay men today, who don't know very much about our history," Weissman says the film opens "a window about how we got where we are today, and the resilience our community has shown in the face of terrible adversity."
Other gay-themed films slated for fest

The Washington, D.C. 25th annual international film festival event comes alive this week overflowing the Historic Lincoln Theatre on U Street, AMC Mazza Gallerie, Regal Gallery Place at Verizon Center on 7th Street N.W., the Landmark E Street Cinemas, the Avalon and other venues through April 17.

"We know for sure that people in D.C. are interested in films other than Hollywood films," says Tony Gittens, who founded the festival in 1987.

Themes include "Justice Matters," a cluster of films focusing on social justice issues; Global Rhythms, a special section of music films; Short Cuts, eight films less than feature length from around the world; and "Lunafest," nearly 90 minutes of short films for, by and about women. Tickets for most films are $11, he says, and shows tend to sell out, so buying tickets online is the smart bet.

For a complete list of films and events, which include "freebies" for children and seniors, and to purchase tickets, visit filmfestdc.org or call 888-996-4774 from 10 a.m.-6 p.m. Monday through Friday and from noon-5 p.m. on weekends. Tickets may also be purchased at the theater on the day of the show, with the box office opening one hour before the venue's first screening of the day.

In addition to "We Were Here," three others have LGBT appeal:

"Circumstance" ("Sharayet") in Persian with English subtitles 9 p.m. tonight and 6 p.m. Saturday at Regal Cinemas Gallery Place. Directed by Maryam Keshavasrz, this joint French-Iranian-USA production won this year's Sundance Film Festival audience award. A young Iranian girl, still in her teens, Atafeh, and her best friend Shireen, experiment with mutual sexual attraction amid the subculture of Tehran's underground art scene and face familial disapproval.

"For 80 Days" ("80 egunean") in Spanish with English subtitles co-presented with the Embassy of Spain at 7:30 p.m. Sunday and 8:30 p.m. Monday at the Avalon Theatre, 5612 Connecticut Ave. N.W. Directed by Jon Garano and Jose Maria Goenaga, this Spanish entry depicts two women, one of them lesbian, who were best friends in youth, who meet again by accident 50 years later.

"Loose Cannons" ("Mine Vaganti") in Italian with English subtitles screens at 9 p.m. tonight and 7 p.m. Saturday at AMC Mazza Gallery, 5300 Wisconsin Ave. N.W.

Directed by Ferzan Ozpetek, the films depicts a large, eccentric family whose patriarch puts pressure on the two sons, who are gay, to follow in the family business.
What to watch for during an open house
Check condition of kitchen, flooring, windows, and more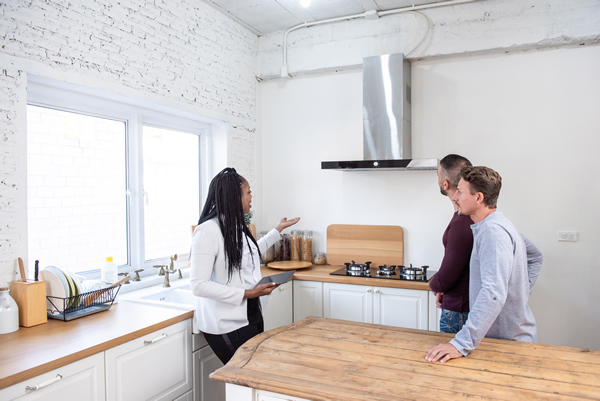 Anyone who knows me might say that I am detail obsessed. This has proven to be an amazing asset when looking at real estate. When I scour through listings for clients I am analyzing the photos, floor plans, and square feet of each property to ensure that everything flows properly into what my clients are looking for in their home. These items I search for also tell the tale of how recently renovated a property is, how well loved it was and a general idea of how much will be needed to make improvements and get it into the condition and aesthetic of which my clients are dreaming. When the time comes to see property in person, the fun begins and I am going to provide a few simple tips that you can use on your Sunday open house strolls that we all love to do.
The following is by no means an exhaustive list of things that I, and other individuals, keep an eye out for when touring homes, but these are perhaps the most noticeable and least controversial. Let me state here (for my lawyer warned me) I am by no means a home inspector, contractor, interior designer, etc.
• The kitchen truly is the heart of the home, especially with the holidays approaching. Some obvious items to identify are the cabinets. Are they soft close or can you slam them shut in an argument and really get your point across? If they are not soft close this means that likely they are on the older side and as such most items in the kitchen are also on the older side. In the kitchen I focus mainly on items that are difficult to remove, like cabinetry and counter surfaces. Appliances, while sometimes costly, can easily be replaced due to wear and tear.
• Moving through the house I take note of windows. What material are they made out of? Are they operational or painted shut? And how many are there? This last piece is CRUCIAL. This not only comes to mind when you need to replace windows but more immediately for the purpose of window coverings — it all adds up quickly.
Flooring is next on the list. Not so much that the warm wood tones will clash with my client's furniture, but more so the condition of the flooring and how much there is. Again, similar to the windows, coming from a place of utility and replacement. What condition is the flooring in and what type? If I'm lucky enough to find original wood floors my clients have been searching for, how many times have they been refinished and can they be refinished again? If not, then how large is the home and what's the cost to replace the flooring. As I pointed out earlier, on behalf of my lawyer, I am not a structural engineer either. I would take note of any low points or dips in the flooring and if needed, consult an engineer to take a look at the support pieces of the home.
Moving onto electrical components. An easy thing to look for is outlets. Identify the type of outlets a home has. We are fortunate here in the DMV to have a plethora of older homes. This comes with its own set of challenges. If you see an outlet that only accepts a two-prong plug then likely the electrical system is older and will need to be upgraded. Looking at the electrical panel for the home is also a very important step. If there are two prong outlets and glass fuses in the electrical panel then this is a great time to call Chip and Joanna Gaines as this home will likely need a massive overhaul.
Again, this is in no way an exhaustive list of things to identify as you are house hunting but rather some items that I always look for and point out when advising clients with perhaps one of the most expensive and scariest purchases of their lives. These items above are not meant to condemn a home but instead identify if a home is a good fit for you based on a more in-depth look. Paint and light fixtures can be changed, similar to hair color, but it's a bit harder to change one's heart. Ensuring the overall structure of the home and the more expensive components are in working order and have several useful years left is paramount. 
Justin Noble is a Realtor with Sotheby's International Realty licensed in D.C., Maryland, and Delaware for your DMV and Delaware Beach needs. Specializing in first time homebuyers, development and new construction as well as estate sales, Justin is a well versed agent, highly regarded, and provides white glove service at every price point. Reach him at 202-503-4243 or [email protected]. 
Investing in real estate: What you need to know
From REITs to flips, tips for getting started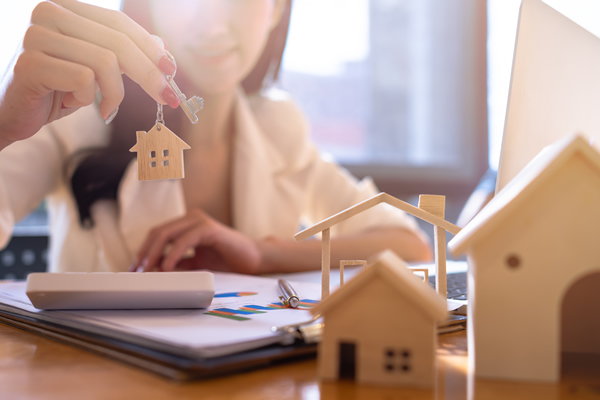 In many cases, buying or selling a home is a very personal experience. Many people buy a home with the intention of living there – making memories, building a family, becoming part of a community. The same is true of sellers. Selling a home, in many cases, is simultaneously difficult and exciting – it means the ending of one chapter and the beginning of another. While the majority of buying and selling experiences may be personal – increasingly, others in the market are interested in real estate not just to find a home, but also to make a great investment.
In our current market, it's easy to see why real estate can often end up being quite a profitable investment. In 2021, sellers often saw huge profits on the sale of real estate – but even in years where profits aren't quite as significant as this year, real estate has often proven to be a sound and reliable long-term investment strategy. Real estate investments can add diversification to your portfolio, and a very successful venture, particularly if you buy and sell when the circumstances are right.
Over the last several years, many gay neighborhoods around the country have shown steady appreciation, leading investors, and particularly LGBTQ investors, to consider whether the time is right to consider adding real estate to their investment portfolio. For those considering real estate as an investment strategy, here are a few helpful tips:
• Consider REITs: For those just getting started with real estate investment, Real Estate Investment Trusts, or "REITs" for short, might be a good option. These provide the opportunity to invest in real estate without owning the physical real estate yourself. They are often compared to mutual funds, and you invest in a company, a REIT, which owns commercial real estate like office buildings, apartments, hotels, and retail spaces. Generally, REITs pay high dividends, which make them a popular investment in retirement, as well as for investors not wanting to own one particular piece of property.
• Consider investing in rental properties: Rental income can often be a steady, reliable source of income if you do your due diligence researching the property itself, the surrounding neighborhood, and the potential community of renters. While maintaining a rental property will certainly require some investment of time and energy on your part, it can be a profitable long-term investment and one that is appealing to many people.
• Put your skills to work: If you have a skill set that includes being able to renovate and upgrade homes – or if you know a trusted person or team of people who does, flipping a home that could use some renovation can be quite a profitable investment indeed. Getting a home that could use some extra TLC at a good price and updating it can result in a sales price that is significantly higher than the purchase price. This can certainly be a very good investment – and a fulfilling project too.
• Be willing to listen and learn: When trying something new, it is almost always helpful to talk to those with experience in that area. Investing in real estate is no different. Having a mentor who can give you some tips and advice from their own experience is invaluable.
• Get to know the neighborhood: When making any real estate decision, whether you're going to live in a home yourself or purchase property for investment purposes, knowing the neighborhood and community you're interested in is important. A key part of that will be finding a real estate agent who knows and loves the community that you're interested in, and who understands the market in that area. This can make all the difference between a smooth and successful process, and a stressful one.

(At GayRealEstate.com, we are dedicated to our mission of connecting LGBTQ home buyers and sellers with talented, knowledgeable, and experienced real estate agents across the country who can help them to achieve their real estate goals. Whether you're interested in buying or selling a home that you live in personally, or buying and selling for investment purposes, we can connect you with an agent who knows and loves the community, and who can help you achieve your goals. Contact us at any time. We look forward to helping you soon.)
Jeff Hammerberg is founding CEO of Hammerberg & Associates, Inc. Reach him at
303-378-5526 or [email protected].
Bistro du Jour transports you from Wharf to Seine
New casually sophisticated restaurant a welcoming, inclusive space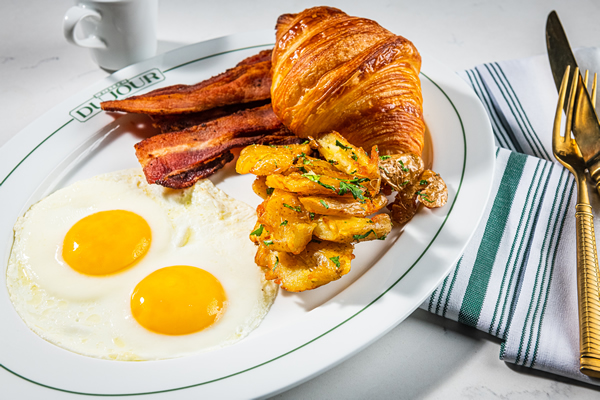 Delights run morning to night at The Wharf's new Bistro du Jour, a casually sophisticated French outpost sliding into a prime waterfront space.
Courtesy of gay-owned KNEAD Hospitality + Design, this new restaurant flaunts a menu born from a Seine-side bistro, serving coffee in the morning hours to Champagne in the evening. Its all-day culinary oeuvre begins with coffee (from La Colombe) and omelettes, and ends with items like a towering and meaty bi-patty cheeseburger L'Americain.
Taking over the sweet spot vacated by Dolcezza, Bistro du Jour is a sister to Mi Vida and The Grill, KNEAD group's two other Southwest waterfront locales. The group also runs several other formal and large-format restaurants they have populated across the city.
Why bring French to the Wharf?
"We have been here for almost four years and we knew what the area was missing and acted on it," says one of the co-owners, Jason Berry. "We wanted something where people could come in at all hours of the day and find something they wanted, from coffee and pastry to a full-on sit down at night."
The Bistro opens at 7:30 a.m. serving that local La Colombe coffee, plus flaky, buttery pastries from KNEAD's partner Mah-Ze-Dahr Bakery. Breakfast service starts at 8 a.m. with brioche doughnuts, quiches, a "massive" Belgian waffle, and French toast topped with a blueberry compote and sweetened whipped cream.
Executive Chef Treveen Dove – transferred after three years at another KNEAD spot, Succotash Prime) – oversees the offerings, a tour of the "greatest hits" of a typical Parisian bistro.
"Oeufs Sur Le Plat is to die for, with the griddled buttered bread topped with a sunny side up egg, sautéed mushrooms and a Mornay sauce… It's so rich and delicious."
By 11 a.m., the Bistro transitions to other traditional French fare, like French onion soup, tuna Niçoise salad, steak frites, mussels in a white wine and garlic butter, and a croque madame sandwich dripping with gruyere and creamy Bechamel. One unique offering is whipped brown butter with radishes and crostinis. There are also gougeres, warm cheese puffs shot through with gruyere.
Come 4 p.m., the dinner menu fills out even more, with additional dinner items confit de canard (duck leg with green lentils and red wine shallots); and a robust, earthy coq au vin (braised chicken with bacon, mushrooms and mashed potatoes); and a lamb shepherd's pie with mashed potatoes that would be at home on a French Alps farm.
Due to space limitations, the Bistro lacks a sit-down bar. Yet beverage director Darlin Kulla, who has been a part of the KNEAD family for more than four years, has put together a focused menu of six craft cocktails. You'll find not only a French 75 (gin, lemon verbena, lemon, bubbles), but also a Manhattan and a "Champs Elysees" with cognac, chartreuse, lemon, and bitters.
The bar itself carries only one brand of each liquor: one gin, rum, and vodka. " If you want vodka, you're having Grey Goose," notes Reg with a smile.
Given the cuisine, there is a considerable French wine list topping 60 bottles, leaning heavily on Champagne and sparkling wine. There are almost 20 red, white, rose, and Champagne options by the glass and carafe, as well. The bar rounds out its stock with French aperitifs and bottled beer.
Notably, the majority of the restaurant's seating is situated on the building's exterior, in a newly constructed all-season patio enclosure with almost 70 seats. The owners designed the space to maximize waterfront views, capacity, and flexibility. During warmer days, the Potomac breeze is welcome to flutter around coffee-sippers; in the colder months, the windows roll down for a fully enclosed and conditioned space. The patio's banquettes arrived directly from France, and twinkling strung lights sway from the ceiling.
The interior is done up in Mediterranean greens, pinks, and creams. Big windows welcome in daytime natural light, but allow for a dim, mood-lit atmosphere in the evening. Traditional bentwood bistro chairs dot the space and antique-style tin tiles reflect a classic Parisian flair. Over at the bar, the glassware display was created from a single panel of antiqued brass. At the rear, a daytime counter offers coffee, pastries, and drinks.
As Bistro du Jour's owners are both gay men, they note that, "Our restaurants are intended to be welcoming to all guests of all backgrounds, beliefs and demographics. We cater to everyone, which is the only way to lead a hospitality organization."
"When you're part of a minority group in society," they say, "the only way to lead your restaurants is as inclusive, welcoming, and hospitable leaders."
Though smaller than their other ventures, a French bistro right on the teeming, pedestrian-heavy Wharf "was the perfect fit," they say.