Local news in brief: April 15
Delaware passes civil unions bill; Stein Club elects new president
Del. Senate passes civil unions bill
The Delaware Senate voted 13-6 late last week to approve a civil unions bill that would provide same-sex couples with all of the rights and benefits of marriage under state law.
LGBT activists were optimistic that the Delaware House of Representatives would approve the bill; a vote was expected this week. The state's governor, Democrat Jack A. Markell, has said he plans to sign the bill.
"We are delighted that not only did the civil unions bill get passed by the Senate but that it got passed by a two-to-one margin," said Lisa Goodman, president of Equality Delaware, a state LGBT group coordinating lobbying efforts for the bill.
"We think that says a lot about what the citizens of Delaware want to see, that the citizens of Delaware are two-to-one in favor of civil unions," she said.
Joe Solmonese, president of the Human Rights Campaign, called on the Delaware House to quickly pass the bill and send it to the governor for signing.
"Today we applaud the Delaware Senate for valuing all Delaware families," Solmonese said.
A public opinion poll commissioned by Equality Delaware and conducted in March by the survey research firm Lake Research Partners found that 62 percent of voters favor allowing same-sex couples to form legalized civil unions, with 31 percent opposing such a law. Seven percent of the voters polled were undecided. The poll had a margin of error of plus or minus 3.8 percent.
"We feel very optimistic about getting the bill through the House," Goodman said. "We have all three of the Democratic leaders in the House on the bill as sponsors and we've been working very hard with House members."
Democrats hold a 26 to 15 majority in the 41-member Delaware House of Representatives.
Goodman said a debate and vote on the bill in the full House was expected to take place April 14.
Similar to civil unions laws in other states, the Delaware measure, Senate Bill 30, would provide same-sex couples with all of the rights, benefits and obligations of marriage under state law but would not provide any federal rights or benefits related to marriage.
The Defense of Marriage Act (DOMA), which Congress passed in 1996 and President Bill Clinton signed, bars same-sex couples from receiving federal marriage-related rights or benefits.
If the Delaware civil unions measure is approved by the legislature and signed by the governor, Delaware would become the eighth state to provide marriage-related rights and benefits to same-sex couples – either through either civil unions or comprehensive domestic partnership laws.
Two of the other states – Illinois and Hawaii – approved such laws earlier this year. The Illinois law is scheduled to take effect in June and the Hawaii law goes into effect in January 2012.
Stein Club elects new president
The Gertrude Stein Democratic Club, the city's largest LGBT political group, Monday night elected local attorney and lesbian activist Lateefah Williams as its new president.
Williams replaces Jeffrey Richardson, who resigned as president after being appointed by Mayor Vincent Gray as director of the Mayor's Office of GLBT Affairs.
She becomes the first African-American woman to hold the post of Stein Club president since the club's founding nearly 35 years ago.
Williams also serves as national committeewoman for the D.C. Young Democrats and is a member of the D.C. Democratic State Committee and the Metropolitan Women's Democratic Club.
Career wise, Williams is political and legislative director for Local 689 of the Amalgamated Transit Union. She previously worked as a policy analyst for the think tank and government watchdog group OMB Watch and as an attorney in private practice for local D.C. area law firms. She holds a law degree from Georgetown University Law School and is a member of the bar in D.C. and Maryland.
"It is truly an honor to preside over an organization with such a storied history and to follow in the footsteps of the many great club presidents who have preceded me," she said. "I am truly committed to service and l look forward to working with our members and the community at large to continue to advance LGBT equality and Democratic ideals in the District of Columbia."
DC Front Runners Pride 5K to take place as scheduled
Air quality improved overnight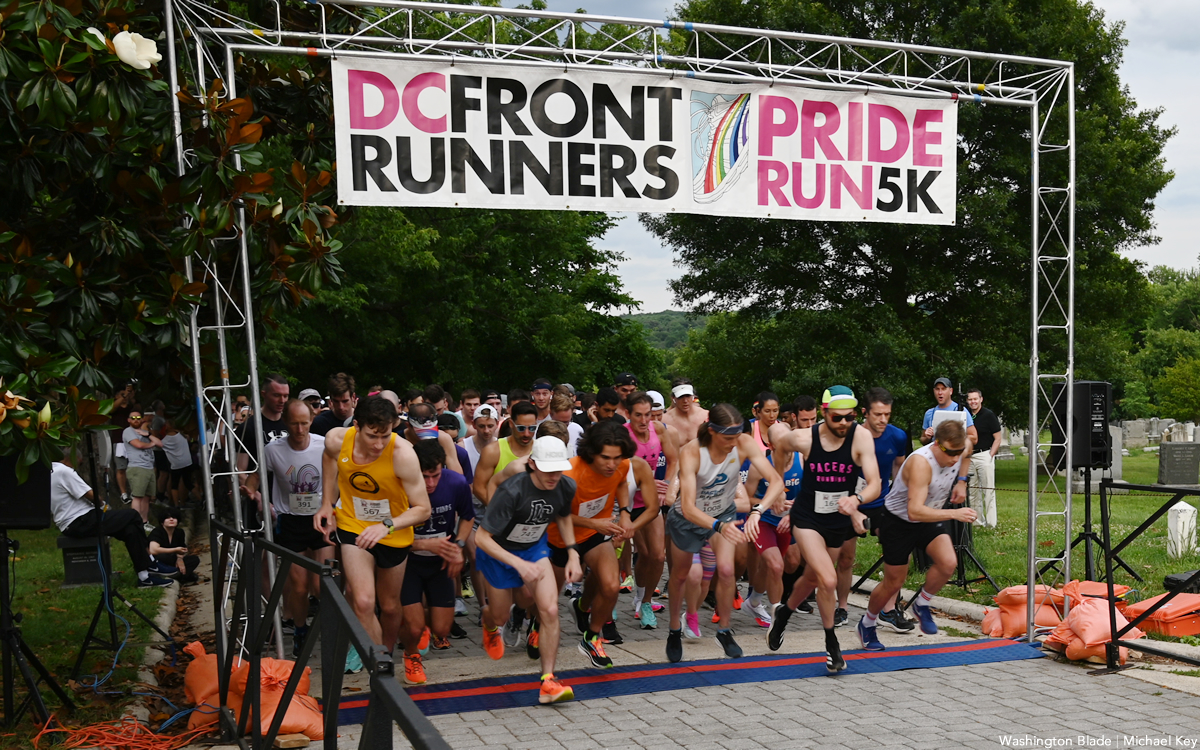 The D.C. Front Runners' annual Pride Run 5K will take place as scheduled at Congressional Cemetery on Friday.
The Blade Foundation, SMYAL, the Wanda Alston Foundation, Team DC, Teens Run DC, Pride 365 and Ainsley's Angels of America are among the race's beneficiaries. Wegmans, Shake Shack, Knead Hospitality and Design, Choice Hotels and Capital One Café are among the sponsors.
Rooftop Pool Party postponed
Capital Pride Alliance moves official event to June 22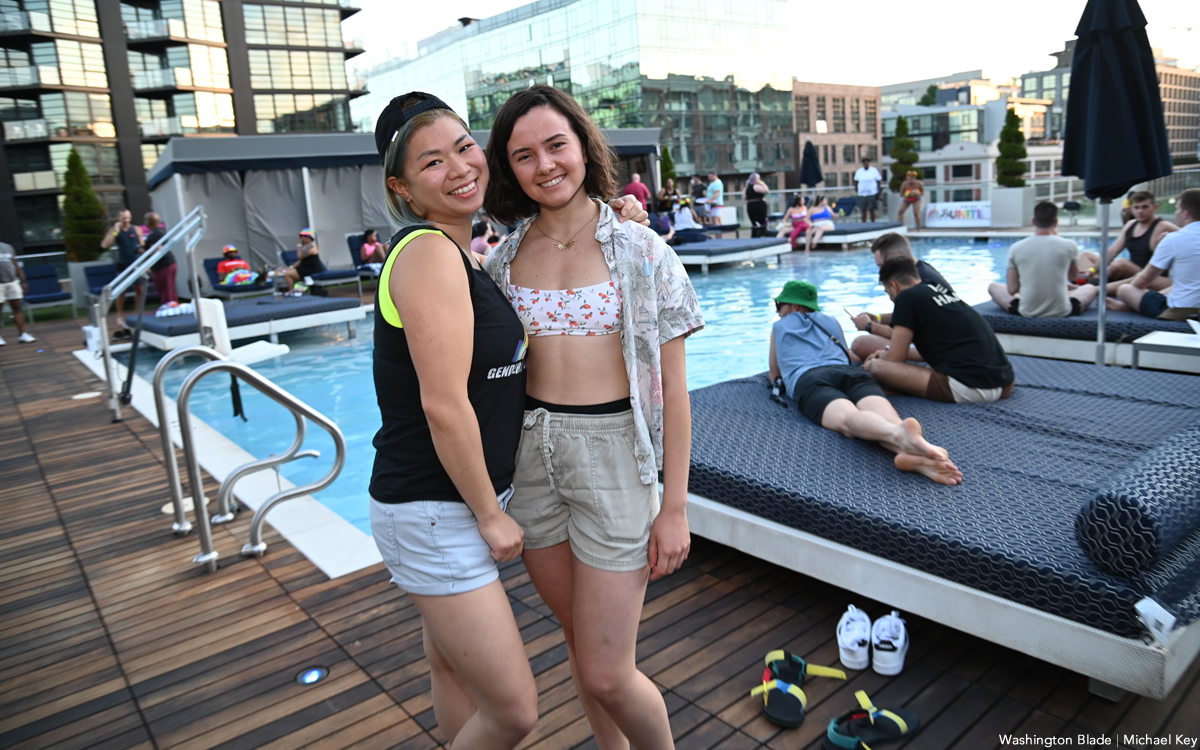 The Capital Pride Rooftop Pool Party, originally scheduled to begin at 8 p.m. tonight, has been postponed until Thursday, June 22, according to a statement released by the Capital Pride Alliance on Instagram. This action comes amid an international climate event created by the Canadian wildfire that has resulted locally in poor air quality and a haze around the region.
The Capital Pride Alliance Instagram account posted, "As with all concerns regarding health and safety issues, the Capital Pride Alliance will closely monitor the air quality situation resulting from Canadian wildfire smoke and take necessary precautions in consultation with our partners in the DC government."
"What does this mean for the pool party?" a question one private Instagram account user posed in the comment section.
"Important Update:" A representative of the Capital Pride Alliance responded through the group's official Instagram account. "Tonight's Capital Pride RoofTop Pool Party at VIDA The Yards is being postponed until Thursday, June 22 at 8:00 pm, due to the current air-quality situation resulting from the Canadian wildfires smoke. Please note that this postponement only applies to today's event."
The Capital Pride Alliance has yet to cancel or postpone any further events.
The White House earlier today rescheduled a large outdoor Pride reception planned for this evening to Saturday.
White House postpones Pride event due to wildfire smoke
Thousands expected for celebration bumped to Saturday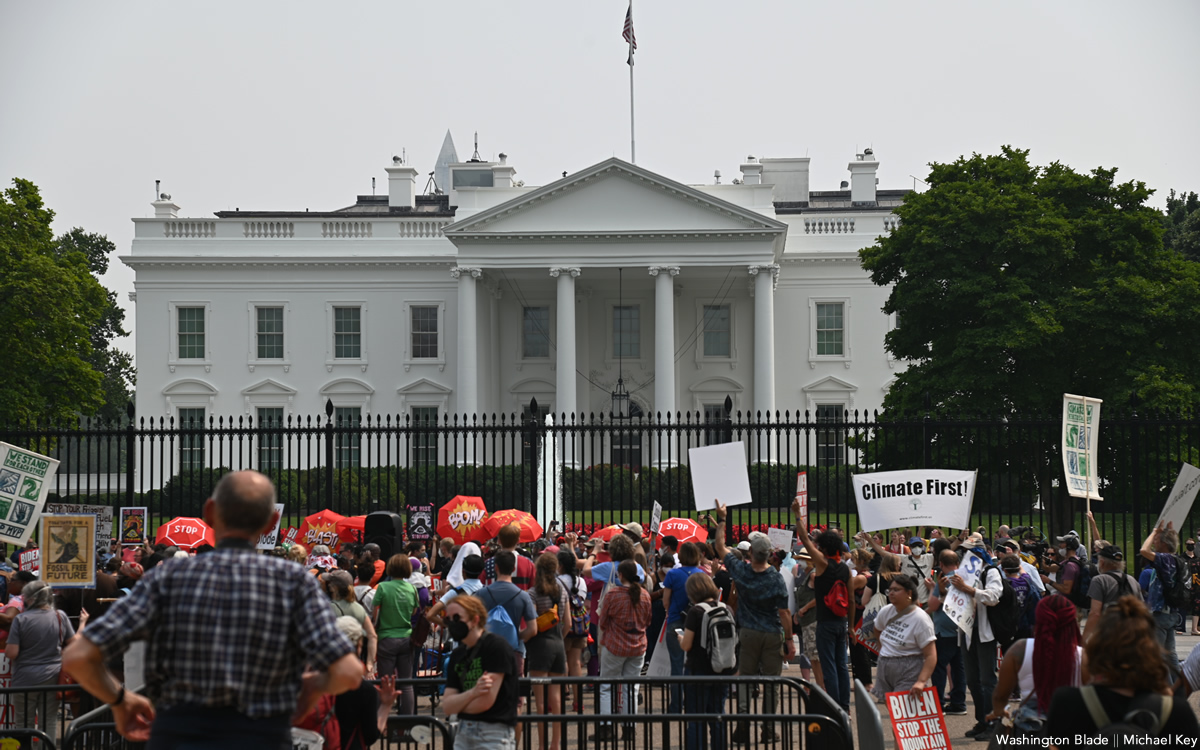 The White House announced Thursday that a Pride event scheduled for this evening has been postponed to Saturday due to the lingering Canadian wildfire smoke.
The smoke has enveloped D.C. in a dangerous haze that triggered a "purple alert" on Thursday, considered worse than a "red alert."
The event, expected to draw thousands of invited LGBTQ advocates and supporters to D.C., has been rescheduled for 1 p.m. on Saturday on the South Lawn of the White House, the same day as D.C.'s Capital Pride Parade, which kicks off at 3 p.m., and Pride on the Pier celebration, which starts at 2 p.m.