Council candidates compete for LGBT vote
Wooing crowds at Town, Nellie's and Ziegfeld's as low turnout expected next week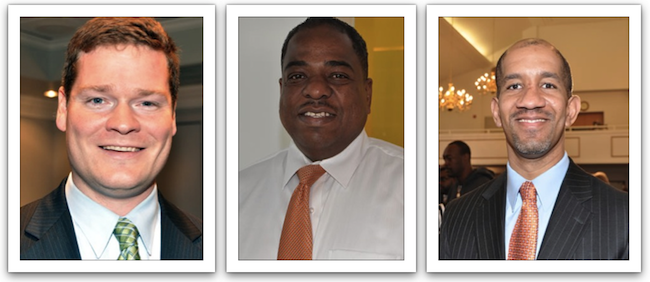 At least four of the nine candidates running in the April 26 special election for an at-large D.C. City Council seat are aggressively courting LGBT voters in a race that political observers say is highly unpredictable.
With special elections known for yielding a low voter turnout, LGBT voters could be the deciding force in the election if they coalesce behind one candidate, according to activists following the race.
Many of the city's LGBT activists are supporting Democrat Sekou Biddle, a former Ward 4 school board member who won an interim appointment to the at-large Council seat in January. Biddle has expressed strong support for LGBT rights.
But Democrat Vincent Orange, a former Ward 5 Council member, and Republican Patrick Mara, a Ward 1 school board member, have surprised some LGBT activists by recruiting prominent LGBT supporters and by waging active campaigns targeting the LGBT community.
In the Ward 8 race for a vacant seat on the city's Board of Education, veteran gay Democratic and Ward 8 civic activist Phil Pannell is leading a field of nine candidates in money raised and spent, according to a campaign finance report he filed on April 18, the last report to be filed before the April 26 election.
Pannell has been an outspoken advocate for LGBT rights, including same-sex marriage, in a ward where the majority black population is known to be more conservative on social issues. The Ward 8 Council member, former D.C. Mayor Marion Barry, was one of just two of the city's 13 Council members who voted against the same-sex marriage bill that the Council approved in December 2009.
"I'm running on a platform that supports the very best in public education for all of our youth, including LGBT youth," Pannell said last month after receiving the endorsement of the Gertrude Stein Democratic Club, the city's largest LGBT political organization.
He is the only gay candidate running in the April 26 election, which was called to fill two school board seats – one in Ward 8 and another in Ward 4 – in addition to the at-large Council seat.
His campaign finance report shows he has raised $21,307 as of April 18, with $17,225 coming from a personal loan he made to his campaign. The report shows Pannell spent $10,672 on campaign-related activities as of April 18.
Pannell's closet rival in the money department is LGBT supportive D.C. home rule advocate Eugene Dewitt Kinlow, who raised $11,133 and spent $3,000 as of April 18. Pannell had $9,471 in cash on hand for the remaining week of the campaign, his finance report shows, compared to Kinlow, who had $7,633 in cash on hand.
The at-large Council seat became vacant after Democrat Kwame Brown, who held the seat, won election last year as D.C. Council Chair. The city's Democratic State Committee appointed Biddle to fill the seat on an interim basis in January until a "permanent" Council member was chosen in the April special election.
Since the at-large Council seat held by Brown was scheduled to come up for election in 2012, the winner of the special election on April 26 must also stand for re-election in 2012.
Orange has raised more than $261,000 in campaign funds as of April 18, the last required campaign finance reporting period before the election. Biddle's April 18 finance report shows he has raised just over $175,000 for his campaign, putting him in second place in money raised. Mara's report shows him in third place in the money department, with $60,559 raised.
Many of the city's political pundits believe Orange and Biddle are the frontrunners in the race, with Orange having the advantage in funds raised as well as an endorsement by the city's influential municipal employees union. Biddle has been endorsed by Mayor Vincent Gray, City Council Chair Kwame Brown, and several other Council members, including gay Council member David Catania (I-At-Large).
Mara received the endorsement of the Washington Post, which billed him as a needed independent voice in a city government dominated by Democrats. The Post backing is expected to give his campaign a boost in Wards 2, 3 and 6, where voter turnout is often higher than in the other wards.
Orange came out against same-sex marriage when he ran unsuccessfully for mayor in 2006. Earlier this year, he announced he had changed his position on the issue and now fully supports the right of gays and lesbians to marry under the city's same-sex marriage law. He also pointed to what he called his long record of support on other LGBT issues during his tenure as a Ward 5 Council member.
Mara emerged as an early supporter of same-sex marriage when he ran unsuccessfully for a City Council seat in 2008. He has billed himself as a "fiscally responsible and socially progressive" Republican who strongly supports LGBT equality. He notes in his campaign literature that he was the only one of the nine candidates now running for the at-large seat who testified in favor of same-sex marriage when the same-sex marriage bill came up for a hearing before the City Council in 2009.
Biddle has said he spoke out in support of the same-sex marriage law when it was pending before the Council. He notes that he was an advocate for LGBT youth related issues during his tenure as a school board member.
Ward 1 Advisory Neighborhood Commissioner Bryan Weaver, a Democrat, has also spoken out in support of LGBT issues at candidate forums across the city. He, too, spoke out in support of the same-sex marriage law and backed an ANC resolution endorsing the proposed law as it was pending before the Council.
Biddle's gay supporters, including leaders of the Gertrude Stein Democratic Club, the city's largest LGBT political group that has endorsed Biddle, say they believe Biddle will capture the lion's share of the LGBT vote. They acknowledge, though, that other candidates are challenging Biddle for the gay vote and could capture some of that vote.
Rick Rosendall, vice president of the Gay and Lesbian Activists Alliance, said that similar to nearly all D.C. elections since the early1980s, virtually all candidates running for public office in the District express support for LGBT equality. According to Rosendall, D.C.'s LGBT community – unlike other cities and states – has the luxury of setting a higher standard for selecting candidates based on their knowledge, understanding and sophistication on specific LGBT and AIDS-related issues.
"It's not a matter of just saying I support you," he said. "It's a matter of demonstrating an understanding of the issues and showing what they will do to address them."
GLAA, a nonpartisan organization, has rated candidates on LGBT and AIDS-related issues, along with some broader issues, since the group was founded in 1971. Based on candidate responses to a questionnaire and their record on LGBT-related issues, the group assigns them a score ranging from +10, the highest possible rating, and -10, the lowest rating.
In the at-large Council race set to be decided on April 26, GLAA gave Biddle and Weaver a +5.5, the highest rating among the nine candidates in the race.
Mara and Statehood Green Party candidate Alan Page received a +4. Orange received a +3.5 and Joshua Lopez, a Ward 1 Democrat and aide to former Mayor Adrian Fenty, received a +2.5.
Each of the candidates expressed support for all of the LGBT issues and positions raised by GLAA on the group's questionnaire, including strong support for the city law that legalized same-sex marriage.
The remaining three candidates in the at-large race – Democrats Tom Brown and Dorothy Douglas and independent Arkan Haile – did not return the GLAA questionnaire and had no record on LGBT issues known to GLAA, prompting the group to give the three a "0" rating.
In addition to Kinlow, four other candidates running against Pannell in the Ward 8 school board race expressed general support for LGBT rights and pledged to back policies supportive of LGBT youth attending the city's public school system during a candidate forum sponsored by the Stein Club. The five are Sandra Williams, Tijwanna Phillips, Larry Pretlow II, and Cardell Shelton.
The other three candidates in the Ward 8 race – Trayon White, R. Joyce Scott and Anthony Muhammad – did not attend the Stein Club forum and have not publicly disclosed their positions on LGBT issues.
Biddle, Mara and Orange have been the most visible of the nine candidates running for the at-large seat in the LGBT community during the past two weeks. Biddle, among other things, hosted a "meet and greet" reception for the LGBT community at the gay nightclub Town last week.
With the assistance of Pannell, who is supporting him, Orange spent Saturday night, April 16, campaigning in several D.C. gay bars, including the Southwest D.C. nightclub Ziegfeld's, where he spoke to the crowd. Another two Orange supporters, gay Democratic activists Barrie Daneker and Lee Brian Reba, organized an LGBT fundraiser for Orange scheduled for Thursday night at Nellie's Sports Bar, a gay venue on U Street, N.W.
The Mara campaign, meanwhile, placed full-page ads promoting his campaign and outlining his support for LGBT issues in the Washington Blade during the past two weeks.
The April 26 special election is open to all registered D.C. voters of all party affiliations as well as to independent votes.
Long-time LGBTQ activist running for Md. House of Delegates
Patrick Paschall is former FreeState Justice executive director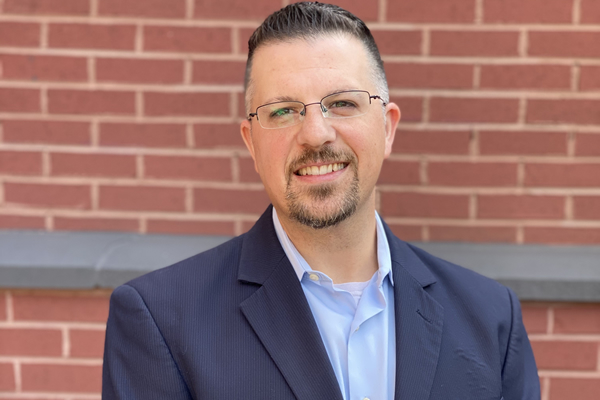 Former FreeState Justice Executive Director Patrick Paschall last week announced via social media that he is running for the Maryland House of Delegates.
"As a proud parent of two kids in Prince George's County public schools, former Hyattsville City Council member, and lifelong civil rights advocate and policy analyst, I've spent my life and career working for equity, community and sustainability for my family," Paschall said in a statement posted to Facebook on Nov. 23.
Paschall, who currently is the American Rescue Plan Program Manager for the city of Hyattsville, previously served as executive director for FreeState Justice from 2015 to 2017.
His LGBTQ advocacy work also includes serving as senior policy counsel for the National LGBTQ Task Force, as an organizer for Pride at Work and as a policy fellow for the National Center for Transgender Equality.
He also worked for Family Equality Council, an organization advocating for the rights of same-sex couples and their children.
"One of the things I'm running on is being a parent," Paschall told the Washington Blade. "We can provide more opportunities for families to succeed in our communities."
Paschall is running to represent District 22, which includes Hyattsville, where he has lived for over 10 years with his two children, who currently attend Hyattsville Elementary School, and his wife, who identifies as pansexual. 
He told the Blade he views his family as a "rainbow family," but pointed out since he and his wife did not have to endure the same difficulties as his friends who are married same-sex couples when they wanted to adopt children.
"When I became a parent, no one stopped by my house to make sure it was an adequate living situation for my child, no one checked to make sure I had a room dedicated to the child and for no other purpose," he said. "But my friends Jamie and Sean went through all of that when they tried to adopt a kid."
Paschall explained that even though he and his wife didn't go through these experiences, there was still room for Maryland to improve in the areas of adoptions and civil rights.
"It strikes me how much privilege I have because the state doesn't design to make it hard for me like it does for so many same-sex couples," he explained.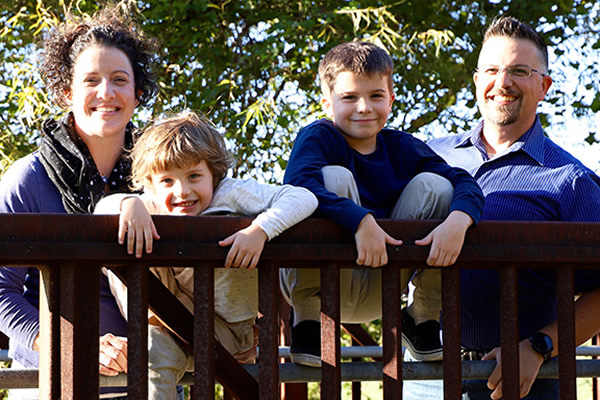 Much like with the recent elections in neighboring Virginia, Paschall said helping parents is an important issue for him — one he wants to carry to Annapolis — if elected "because my district deserves better schools for our kids, more child care options and family support like paid family leave."
"I think that District 22 needs a voice in Annapolis to represent progressive parents and to exercise policy expertise in achieving the values of our community," he added. "And I have the experience to get it done."
D.C. area LGBTQ bars, eateries receive $100K COVID-19 relief grant
Pitchers, League of Her Own received NGLCC, Grubhub funds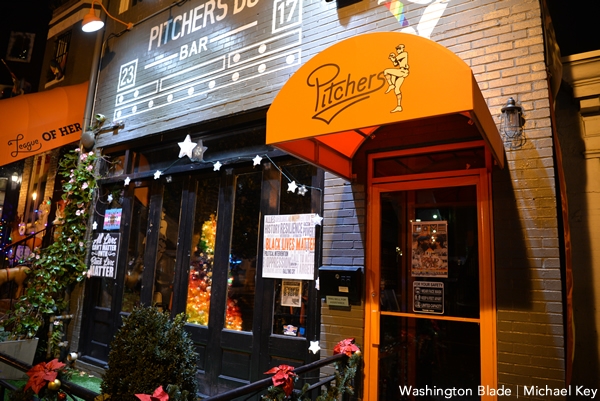 The D.C. LGBTQ sports bar Pitchers and League of Her Own, its adjoining lesbian bar, are among the nation's first LGBTQ bars that serve food as well as alcoholic beverages to receive a $100,000 COVID-19 relief grant under a $2 million Community Impact Grant Program.
The program, aimed at supporting LGBTQ-owned and LGBTQ-allied small businesses struggling from the pandemic, was launched in September as a joint project of the National LGBT Chamber of Commerce, which goes by the initials NGLCC, and the global online food delivery company Grubhub.
In a Tuesday announcement, NGLCC and Grubhub said Pitchers and League of Her Own, which operate as one business in adjoining buildings in D.C.'s Adams Morgan neighborhood, are among the first three recipients of $100,000 grants under the Community Impact Grant Program. The other two recipients are FOODE + Mercantile of Fredericksburg, Va., and Café Gabriela of Oakland, Calif.
"Following this initial round of recipients, more grants will be issued in late 2021 and early 2022," the announcement by the two groups says. In an earlier announcement, the groups said the application period for the grants program took place from September through Oct. 12, and the grants would range in amounts from $5,000 to $100,000.
"The impact of COVID-19 has been debilitating for countless restaurant and bar owners, including the many LGBTQ+-owned restaurants across the country who have persisted through lockdowns, operational changes and labor supply shortages," said NGLCC Co-Founder and President Justin Nelson. "We're grateful to have partnered with Grubhub to offer real lifelines to support businesses throughout the nation," Nelson said.
"Building community in a fun and safe place has been our mission since the very beginning," said David Perruzza, the owner of Pitchers and League of Her Own. "We're relieved and thankful for these funds, and are looking forward to more stable days ahead," Perruzza said.
"As a trans masculine and queer immigrant person of color, I've worked hard and put all my love and energy into building a beautiful and welcoming space in Café Gabriela," said owner Penny Baldado. "I've remained resilient through COVID, and this grant is the injection of funds that we need to continue along our journey to full recovery," Baldado said.
The statement announcing the first three grant recipient says funds for the $2 million grant program were generated by Grubhub's "Donate the Change" program of which NGLCC became a partner in June. Grubhub says the program asks customers receiving food delivered by Grubhub "to round out their order and donate the difference" to the charitable fund.
"COVID has turned the restaurant industry on its head the last 18 months, and at Grubhub, we've been working hard every day to support our restaurant partners across the country," said Amy Healy, Grubhub's vice president of government relations. "As the world starts to return to a new normal, we're proud to partner with the NGLCC and provide these grants to LGBTQ+-owned and LGBTQ+ ally-owned restaurants across the country that are pillars of their communities."
Va. businessman apologizes for burning of rainbow flag poster
'Shocked and horrified': Ashburn incident caught on video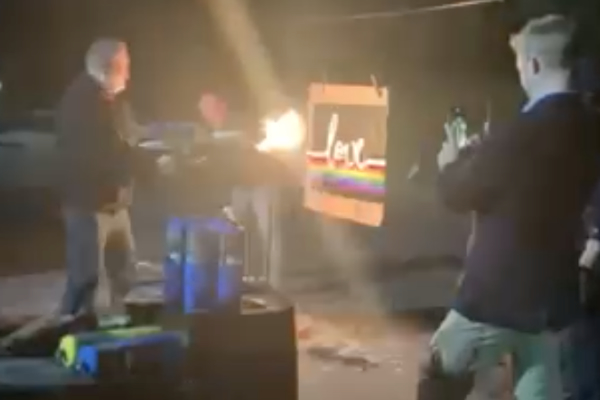 The owner of a Virginia technology company that hosted a private Veterans Day party on the grounds of an Ashburn, Va., brewery in which a company employee used a flame-throwing device to ignite a rainbow flag poster said the selection of the poster was a mistake and he and his company have no ill will toward the LGBTQ community.
The Washington Blade learned about the poster burning from a customer of the Old Ox Brewery in Ashburn, where the incident took place on its outdoor grounds. The customer made a video of the incident with his cell phone and sent a copy of the video to the Blade.
The video, which includes an audio recording, shows a man using a hand-held flame-throwing device to ignite the rainbow poster, which was hanging from a cable and appeared to be mounted on cardboard or a thin sheet of wood. Bystanders can be heard laughing and cheering as the poster is set on fire.
The poster consisted of a variation of the LGBTQ Pride rainbow flag that included the word "love" configured from an upper white stripe on the rainbow symbol.
The customer who took the video, who has asked not to be identified, thought the decision to set the poster on fire was a sign of disrespect if not hatred toward a longstanding symbol of LGBTQ equality and pride.
Chris Burns, Old Ox Brewery's president, shared that view, telling the Blade he and his staff were "shocked and horrified" when they learned later that a rainbow flag poster had been burned on the brewery's grounds. Burns said Old Ox supports the LGBTQ community and participated in LGBTQ Pride month earlier this year.
He said the company that held the private party paid a fee to hold the event on the brewery's grounds, but the brewery did not know a rainbow poster would be burned.
"I'm mortified that our event was interpreted in this way," said Nate Reynolds, the founder and partner of Hypershift Technologies LLC, the Falls Church, Va.-based technology company that organized the Nov. 11 party at Old Ox Brewery. "I can assure you that ZERO ill-will or offense was meant," Reynolds told the Blade in a Nov. 24 email.
"We held a small private party for a few clients, which included a demonstration of Elon Musk's Boring Company 'Not a Flamethrower,'" he said in his message. He was referring to one of billionaire businessman Elon Musk's companies that specializes in boring through the ground to create tunnels for cars, trains, and other purposes.
"After so many being isolated during COVID, we wanted to have an event that was lighthearted and to some small effect, silly," Reynolds said in his message to the Blade.
According to Reynolds, in thinking about what should be used for "fodder" for the flame-thrower, he went to a Five Below discount store and purchased items such as stuffed animals and posters, including a "Space Jam" movie poster as well as what he thought was a poster of the British rock group The Beatles.
"When I pulled the Beatles poster out of the tube it was instead the 'Love' poster," he said, referring to the rainbow flag poster the Blade asked him about in an earlier email.
"All I focused on was the 'Love' wording and not the rainbow and did not draw the conclusion that the poster was an icon that represents the LGBTQ community," Reynolds said. "It was my own ignorance of not connecting the symbolism of the poster. If I had realized it was a symbol of the LGBTQ community, I would not have used it," he said.
"I feel terrible, and I want to emphasize that I am solely responsible for this mistake – not the Old Ox Brewery," he wrote in his message. "Nobody at Old Ox had anything to do with this activity."
Reynolds added, "Hate has no place in my heart, and I sincerely apologize for any offense that could have been drawn from what I now realize was poor judgement on my part. I simply didn't correlate this poster with the LGBTQ pride symbol."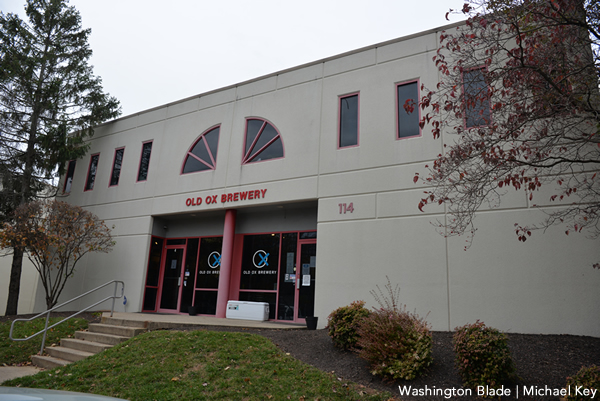 Before Reynolds issued his statement of apology, Burns, the Old Ox Brewery co-owner, told the Blade in an email he was "saddened and upset" over the rainbow poster burning on the grounds of his brewery.
"We do not wish to benefit from this event," he said in his email message. "Therefore, Old Ox is donating 100% of the revenue generated from the private event to GLSEN."
GLSEN is a national LGBTQ advocacy group that focuses on education and support for LGBTQ youth. Burns said Old Ox Brewery also donated proceeds from a Pride month event it organized earlier this year to GLSEN.
LGBTQ activists and organizations contacted by the Blade said they were unfamiliar with the variation of the rainbow flag with the word "love" that was the subject of the poster burning incident. The poster is available for sale at Five Below stores in the D.C. metropolitan area for $5.
Small print writings on the poster show it is produced by Trends International LLC, which describes itself on its website as "the leading publisher and manufacturer of licensed posters, calendars, stickers and social stationery products." The Blade couldn't immediately determine who designed the poster.
The video of the poster burning incident can be viewed here: