National News in brief: June 10
Cubs; Red Sox join Giants in 'It Gets Better,' Conn. to add trans protections, White House to celebrate Pride this month

Cubs, Red Sox join 'It Gets Better' campaign
CHICAGO — On the heels of a new "It Gets Better" video recorded by the San Francisco Giants — the first professional American sports team to record a video for the project to stem LGBT youth suicide — the Boston Red Sox and Chicago Cubs have announced they will join the campaign.
The Cubs, who play at Wrigley Field just blocks from Chicago's gay neighborhood known as "Boys Town," are owned by openly gay Laura Ricketts and her siblings.
"The Cubs applaud the Giants for their stand against anti-LGBT bullying. Bullying of anyone for any reason is unacceptable," Ricketts told Chicago's LGBT newspaper, the Windy City Times, Saturday. "We are proud to join the Giants in taking a stand against bullying and encourage other professional sports organizations to do the same."
On Monday, the Boston Red Sox announced they would be the third professional sports team to add to the library of 10,000 "It Gets Better" videos, in answer to a Change.org petition started by 12-year-old Sam Maden of New Hampshire. A similar petition has been launched to encourage the Baltimore Orioles to record a video; it's available at change.org.
Conn. adds trans protections to bias law
HARTFORD, Conn. — The first state to bring about marriage equality by legislative vote, rather than judicial intervention, is poised to extend employment protections to transgender residents.
Though 21 states and the District of Columbia ban employment and public accommodations discrimination based on sexual orientation, only 14 states ban such discrimination based on gender identity. The bill, HB6599, which adds gender identity and expression as a protected class to race, age, sex, marital status and physical ability, passed 20-16, and heads to Gov. Dan Malloy (D) who has vowed to sign it.
Meghan Stabler, a national advocate and educator on transgender rights, who testified at the Judiciary Committee hearing in March, hopes Connecticut's strategy will be duplicated elsewhere.
"This was the result of a lot of consistent work by a number of organizations for several years, not just pushing for a bill that's inclusive, but education and outreach to legislative people and state and local organizations — both of faith as well as other allied organizations," Stabler told the Blade.
White House to host Pride celebration
WASHINGTON – The White House plans to host a reception on June 29 to commemorate June as Pride month, the Washington Blade learned this week.
A White House official, who spoke on condition of anonymity, said the celebration would take place, but added further information isn't yet available.
"Later this month, the White House will hold a reception to observe LGBT Pride month," the official said. "Further details will be provided at a later date."
The White House has hosted Pride celebrations in June for each of the two previous years in which President Obama has been in office.
Hendricks to run for Va. Assembly seat
An official with the National Black Justice Coalition announced this week that he would seek the Virginia Assembly seat opening up in his hometown upon the retirement of independent Del. Watkins Abbitt.
Jasper Hendricks, III, has worked for the National Black Justice Coalition for three years, and has previously worked in politics, including on the staff of Rep. Kendrick Meek of Miami as well as serving as political director of the Wisconsin Democratic Party during the 2006 governor's race.
Hendricks, however, has lived in the 59th District his entire life.
"I'm originally from here. I went to school in Appomattox," he said, "I have been commuting via Amtrak to D.C. three days a week." He says he spends long weekends with his family at home.
"Right now I'm the first Democrat to announce. I've heard there are others who are considering it, but taking advice from locals, I was the first person to file."
When asked about his chances in this sometimes red, sometimes blue district, Hendricks expressed confidence.
"The district is very rural, encompasses Appomattox County of the famous Civil War battles … so it's a very rural district."
The current state delegate of 26 years, Watkins Abbitt, was originally a Democrat, but he switched to independent about 15 years ago, and now caucuses with Republicans. His father, Watkins Abbitt Sr. is a former member of Congress.
ACLU and Justice Department to jointly challenge anti-Trans laws
Recently passed anti-transgender laws in West Virginia and Arkansas violate the Equal Protection Clause of the U.S. Constitution.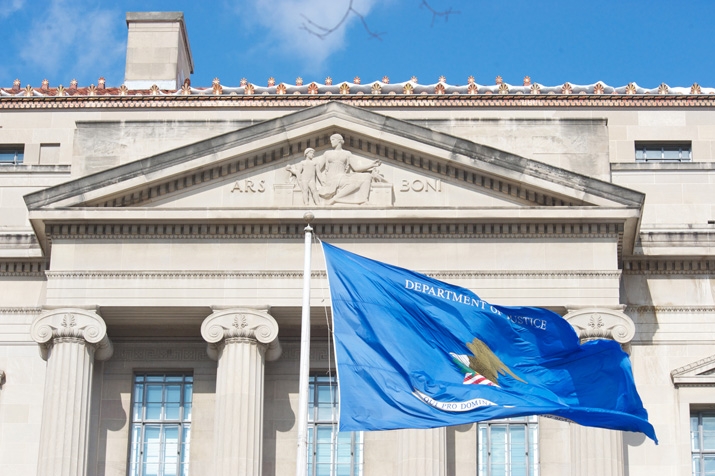 WASHINGTON – In court documents filed Thursday in the U.S. District Court for the Southern District of West Virginia and in U.S. District Court for the Eastern District of Arkansas, the U.S. Department of Justice, in Statement of Interest filings, joined the American Civil Liberties Union, (ACLU), arguing that recently passed anti-transgender laws in West Virginia and Arkansas violate the Equal Protection Clause of the U.S. Constitution.
The suits filed by the ACLU challenges an Arkansas law that bans gender-affirming care for transgender youth and a West Virginia law banning transgender youth from participating in school sports.
Chase Strangio, deputy director for Trans Justice with the American Civil Liberties Union LGBTQ & HIV Project, issued the following statement responding to the Department of Justice submitting a statement of interest in two federal courts supporting transgender youth;
"Today's filings from the Department of Justice send a powerful message that discrimination against transgender youth is not just wrong, it is also plainly unconstitutional. These filings from the Department of Justice confirm what we have been telling legislatures all year: Banning trans youth from sports and denying trans youth health care violates the Constitution and federal law. We hope that state legislatures finally get the message."
Law and Crime reported that in the West Virginia case filing, the Justice Dept. argued that House Bill 3293, which bans transgender athletes at public schools from competing in female sports at the middle school, high school, and collegiate level, violates both the Equal Protection Clause and Title IX of the Education Amendment of 1972.
The case stemmed from a complaint filed by the parents of transgender girl who said their daughter was unlawfully prohibited from trying out for the school's cross-country track team because of the measure.
In Arkansas, the Justice Dept. backed an ACLU-filed lawsuit challenging a state law (Act 626) which bans gender-affirming health care for transgender youths. The DOJ also claims that state ban violates the Equal Protection Clause of the Fourteenth Amendment, Law & Crime reported.
Immigrant rights groups demand ICE release transgender, HIV-positive detainees
Letter notes Roxsana Hernández case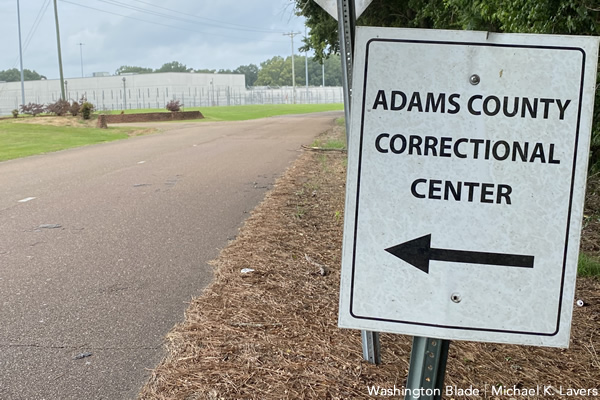 Eight immigrant advocacy groups this week demanded the release of all transgender and HIV-positive people who are in immigrant detention facilities.
Immigration Equality, the National Center for Lesbian Rights, the Transgender Law Center, the Santa Fe Dreamers Project, the Center for Victims of Torture, Familia: Trans Queer Liberation Movement, Mijente and the National Immigrant Justice Center made the request in a letter they sent to Homeland Security Secretary Alejandro Mayorkas and acting U.S. Immigration and Customs Enforcement Director Tae Johnson on June 16.
"As you know, transgender and HIV-positive people are severely suffering in U.S. immigration detention facilities," reads the letter. "Those who do not perish from mortally deficient medical negligence are regularly mistreated, isolated and sexually assaulted."
The letter notes DHS "for years" has "attempted to create conditions of confinement that are safe for these historically disenfranchised minorities."
"This has been a fool's errand," it says. "Under both Democrat and Republican leadership, DHS has wasted millions of taxpayer dollars attempting to overcome a simple and inevitable truth: It is not possible for the U.S. government to house transgender and HIV-positive asylum seekers safely. Every progressive policy, every well-meaning protocol and every specialized facility has utterly failed. This has to stop. It is in your exclusive power to put an end to this ongoing human rights atrocity."
"What makes this situation even more intolerable, is that the vast majority of the transgender and HIV-positive people suffering in immigration detention fled to the U.S. to escape persecution and torture," adds the letter. "To these asylum seekers, the U.S. is more than a symbol of liberty. It is one of the few places in the world where they may hope to build a safer future. And yet, by detaining trans and HIV-positive people in such inhumane and unsafe conditions, the U.S. government is subjecting them to some of the same kinds of mistreatment they sought to escape."
The groups in their letter demand ICE and U.S. Customs and Border Protection "to immediately release all transgender and HIV-positive people in their custody" and "review its system for identifying transgender and HIV-positive individuals, and work with stakeholders to ensure that it is effective and safe." The groups also seek the creation of a policy "that deems all transgender and HIV-positive individuals non-detainable."
The letter notes the case of Roxsana Hernández, a trans asylum seeker from Honduras with HIV who died in a New Mexico hospital on May 25, 2018, while she was in ICE custody.
Hernández's family in a lawsuit it has filed against the federal government and five private companies who were responsible for Hernández's care allege she did not have adequate access to medical care and other basic needs from the time she asked for asylum at the San Ysidro Port of Entry in San Diego on May 9, 2018, to her arrival at the Cibola County Correctional Center, a privately-run facility in Milan, N.M., a week later.
ICE in 2017 opened a unit for trans women at the Cibola County Correctional Center. It closed last year.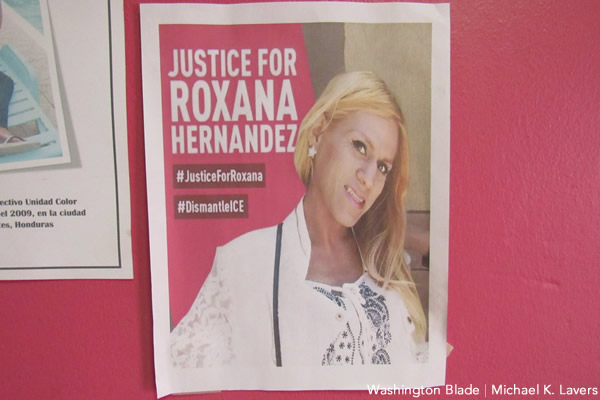 The letter also notes the case of Johana "Joa" Medina León, a trans woman with HIV from El Salvador who asked for asylum in the U.S. in 2019 after she suffered persecution in her home country because of her gender identity.
Medina was in ICE custody at the privately-run Otero County Processing Center in Chaparral, N.M., until her transfer to a hospital in nearby El Paso, Texas, on May 28, 2019. ICE on the same day released Medina from their custody.
"She became worse, worse, worse," Medina's mother, Patricia Medina de Barrientos, told the Washington Blade in an exclusive interview in the Salvadoran capital of San Salvador that took place a few weeks after Medina's death. "She asked for help because she was a nurse, but they refused. She was denied help. There was no medical attention."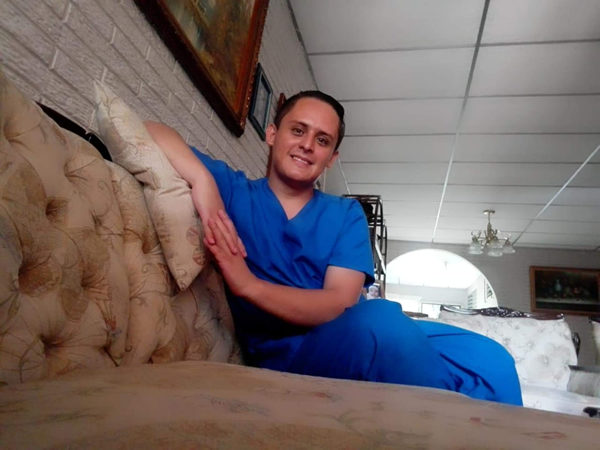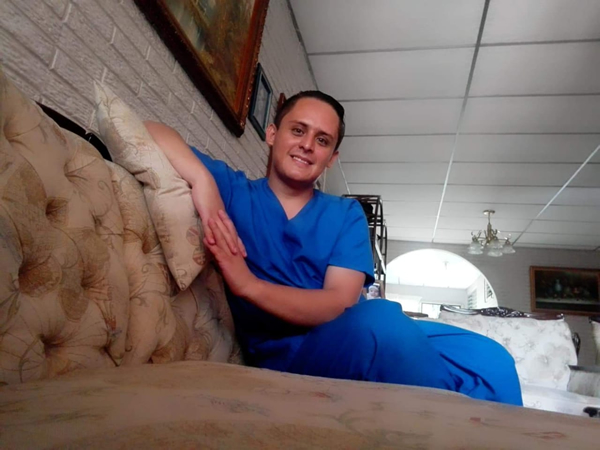 The letter also includes testimonials from dozens of other trans and/or HIV-positive people who say they suffered physical abuse and survived sexual assault while in ICE custody. They also allege they did not receive adequate health care — including access to hormones and antiretroviral drugs — while in detention.
"Throwing LGBTQ and HIV-positive asylum seekers into prison is cruel, expensive and dangerous. For transgender and HIV-positive people, it can even be deadly," said Immigration Equality Policy Director Bridget Crawford in a statement. "In response to years of consistently documented abuses against the community, the government has implemented ineffective half-measures that have utterly failed. That is why we have demanded that DHS release all transgender and HIV-positive people immediately. No one should ever be locked into prison because they fled persecution based on their sexual orientation, gender identity, or HIV status. Doing so during a pandemic is a human rights atrocity."
Immigration Equality is among the groups that have previously demanded ICE release all trans people who are in their custody. Advocacy organizations have also called for the release of people with HIV in ICE custody, especially during the COVID-19 pandemic.
DHS, which oversees ICE, has not responded to the Blade's request for comment on the June 16 letter.
Anti-LGBTQ Colorado baker loses Trans birthday cake court case
Phillips violated Colorado's ant-discrimination law citing the fact that at issue was a 'product' not freedom of speech or expression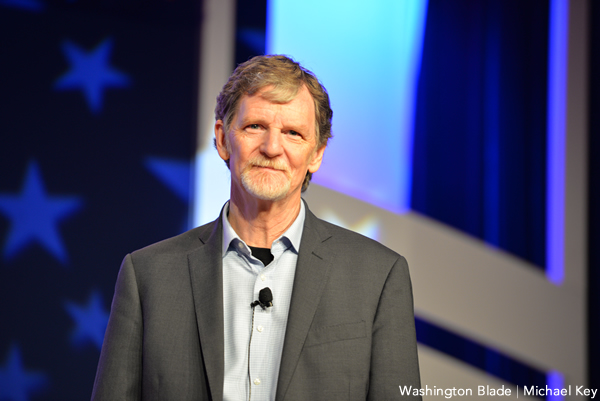 DENVER – A Colorado State District Court Judge ruled against the baker who had previously refused to bake a cake for a same-sex wedding and won at the U.S. Supreme Court a partial narrow victory in that case in 2018.
CBSN Denver reported that Denver District Judge A. Bruce Jones order that Jack Phillips violated Colorado's anti discrimination law Tuesday citing the fact that at issue was a 'product' not freedom of speech or expression.
In court documents, Jones said that Phillips refusal to make the plantiff, Autumn Scardina a cake made with blue icing on the outside and pink on the inside to celebrate her gender transition on her birthday because of her transgender status but without a written message, was in violation of the law. Phillips was ordered to pay a $500 fine.
Jones noted in his ruling that Phillips testified during a trial in March that 'he did not think someone could change their gender' and he would not celebrate "somebody who thinks that they can."
"The anti-discrimination laws are intended to ensure that members of our society who have historically been treated unfairly, who have been deprived of even the every-day right to access businesses to buy products, are no longer treated as 'others,'" the judge wrote.
The Scottsdale, Arizona based Alliance Defending Freedom, an anti-LGBTQ legal group that has been place on the Southern Poverty Law Center's Hate Watch List for spreading propaganda and lies about LGBTQ people, told CBSN that the group would appeal Jones' ruling.
"Radical activists and government officials are targeting artists like Jack because they won't promote messages on marriage and sexuality that violate their core convictions," ADF's general counsel, Kristen Waggoner, said in a media statement.
The maximum fine for each violation of Colorado's Anti-Discrimination Act is $500. But it was not clear from the ruling if the fine was for the two attempts that Scardina made to order the cake or just one.
BREAKING: A court has ruled Jack Phillips should be punished for not designing a cake celebrating a gender transition, an act that would violate his conscience.

Jack has been enduring this harassment for a decade and it must STOP.@AllianceDefends will appeal this decision.

— Kristen Waggoner (@KWaggonerADF) June 16, 2021