Effort underway to award Kameny Freedom Medal
Activists say highest civilian honor should go to gay legend

An effort is under way to have gay activist Frank Kameny honored with a Presidential Medal of Freedom, the nation's highest civilian award, from the White House.
Long-time San Francisco-based activist/blogger Michael Petrelis is unofficially spearheading the effort. He says Kameny is highly deserving.
"He is a civic-minded American who has brought America more freedom through his activism," Petrelis said. "Listen, Frank is 86 years old. Before I was even born, he was doing gay activism work at a very dangerous time … if you want to go through all the things he's done over the years, we'd be here for the next two hours."
Widely considered one of the most influential figures in early gay liberation, Kameny was fired from the Army Map Service in 1957 for being gay. He protested it and argued his case to the Supreme Court. In 1961 he and fellow activist Jack Nichols co-founded the Mattachine Society of Washington and by 1965, he was picketing at the White House and Philadelphia's Independence Hall for gay rights, among many other activities over the years.
Petrelis says his friend Bob Roehr, a D.C.-based journalist, suggested the idea to Petrelis two years ago. It hadn't occurred to Petrelis, but he immediately thought it was a great idea. He's hoping some of the national LGBT rights groups — he mentions Human Rights Campaign, Lambda Legal and the Task Force — will pick up the effort. Several have commented on Petrelis' site that they agree it's a great idea, including Kameny colleague Charles Francis, London's Peter Tatchell and law professor Art Leonard.
"Few people are as deserving of the Presidential Medal of Freedom as Dr. Franklin Kameny," wrote Richard Sincere, president of Virginia-based Gays and Lesbians for Individual Liberty. "At a time when nobody stood up for the rights of America's gay and lesbian citizens, Dr. Kameny rose to the task."
The effort, though, has not been without controversy. When Petrelis floated the idea in the comments section of a recent Blade article about a new White House interim LGBT liaison, some said the community has more pressing concerns.
"Kameny's been honored plenty over the years," wrote New Jersey-based trans activist Rebecca Juro. "And this isn't something [that] should be high on our community's agenda. What should be top on the agenda is that we still live in a country where in 29 states you can still be fired or thrown out of your home just for being gay and in 35 just for being transgender."
Kameny concedes his house is overflowing with accolades. One wall in his upstairs office is covered in plaques. There's another mountain in a spare bedroom that haven't been hung yet. A table in the dining room is full of freestanding trophies and mementos such as White House pens used to sign significant gay-related legislation. A spare D.C. street sign designating three blocks of 17th Street N.W. in his honor is propped up on a living room sofa.
Kameny says he would be highly honored if the White House chose to award him the medal, which comes in the form of star medallion surrounded by gold eagles attached to a blue-and-white ribbon.
"It would be very nice," Kameny said. "It would sort of tie up what has been a very long effort and it would leave me feeling very content. I'm deeply appreciative of Michael Petrelis' effort."
The White House has been noncommittal on the matter. Outgoing White House LGBT liaison Brian Bond told Petrelis that Kameny's name was "in consideration."
"He sent me about 25 words in the tersest of statements back in 2009 when I first proposed the idea, then I've never heard from him ever again about this," Petrelis says. White House spokesperson Shin Inouye said in an e-mail this week, "the best we can do is point you to the website."
Lesbian tennis legend Billie Jean King has been awarded the Medal of Freedom. Harvey Milk, the slain pioneering member of the San Francisco Board of Supervisors, was awarded the medal posthumously.
Kameny says he hopes he's most remembered for coining the phrase "gay is good."
Prince George's County library system launches banned book club
First discussion to take place in Hyattsville on June 14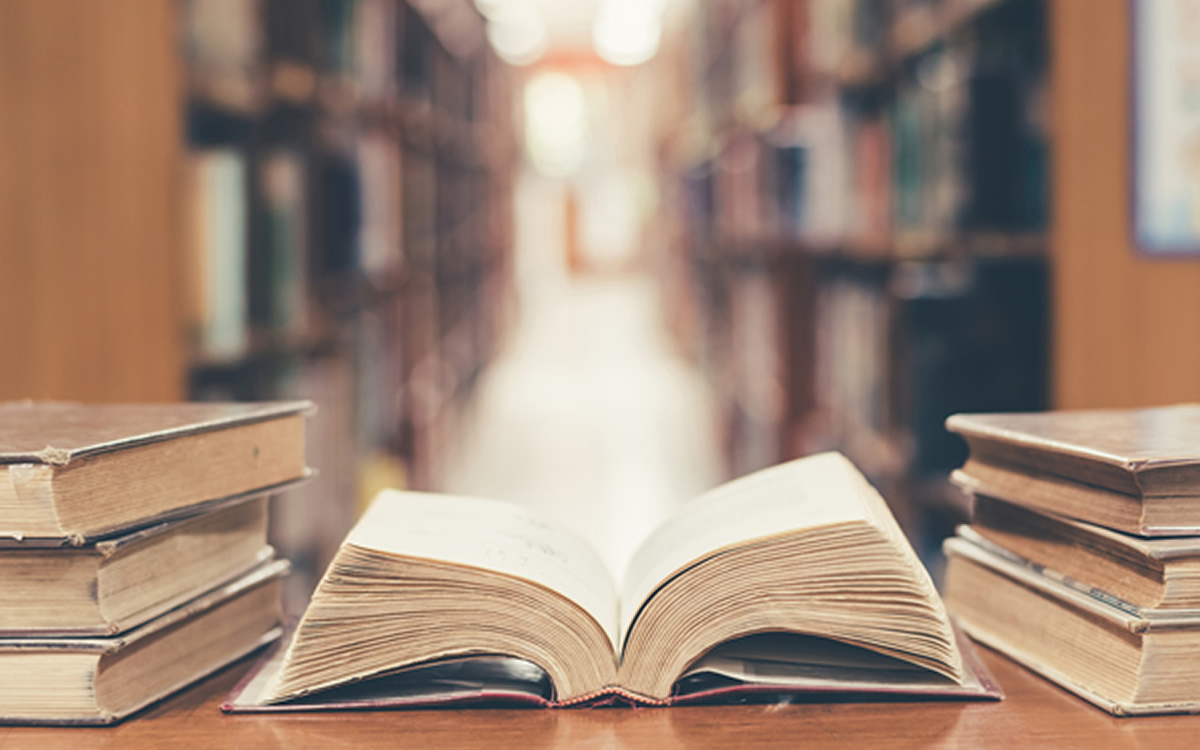 The Prince George's County Memorial Library System has launched its Rock Banned Book Club.
The club will feature monthly discussions of the 13 top banned books from 2022, most of which focus on LGBTQ-specific themes.
The club's first discussion, which will take place at the Hyattsville Branch Library on June 14, will be on "Gender Queer: A Memoir" by Maia Kobabe.
Kobabe's memoir won the 2020 American Library Association Alex Award and recounts Kobabe's exploration of gender identity and sexuality through adolescence and adulthood. According to the American Library Association, the book faced the most censorship challenges of any novel at 151.
"We're seeing nationally the highest rate of challenges to books in libraries since the data has been collected by the American Library Association," Nicholas Brown, acting co-chief executive officer of the library, said. "I think what happens with all of the discourse around book banning is that, oftentimes, not everyone participating in that discourse is actually taking the time to read the full works and discuss them and understand where the author might be coming from and whose stories are being reflected in these books."
Along with the book club, the library system is hosting a Pride celebration at the Hyattsville branch on Saturday from 12 – 4 p.m. It will feature a panel discussion, vogue and runway workshops, free HIV testing and more.
The library system will host its second annual Rainbow Festival on June 24 from 11 a.m. to 2 p.m. at the Bowie Branch Library with family-friendly events like craft stations, story time and a live DJ. In April, the library system won a Top Innovator Award from the Urban Libraries Council for its banned books campaign.
"I think a lot of folks don't always realize that your local public library is kind of the front line of democracy and we always have been," Brown said. "Public libraries across the country are very united on this and if the right to read continues to be under threat like it's been, it is not a good time for the state of our democracy."
Bowser: No credible threats to D.C. Pride events
Mayor spoke with the Blade after flag-raising ceremony at the Wilson Building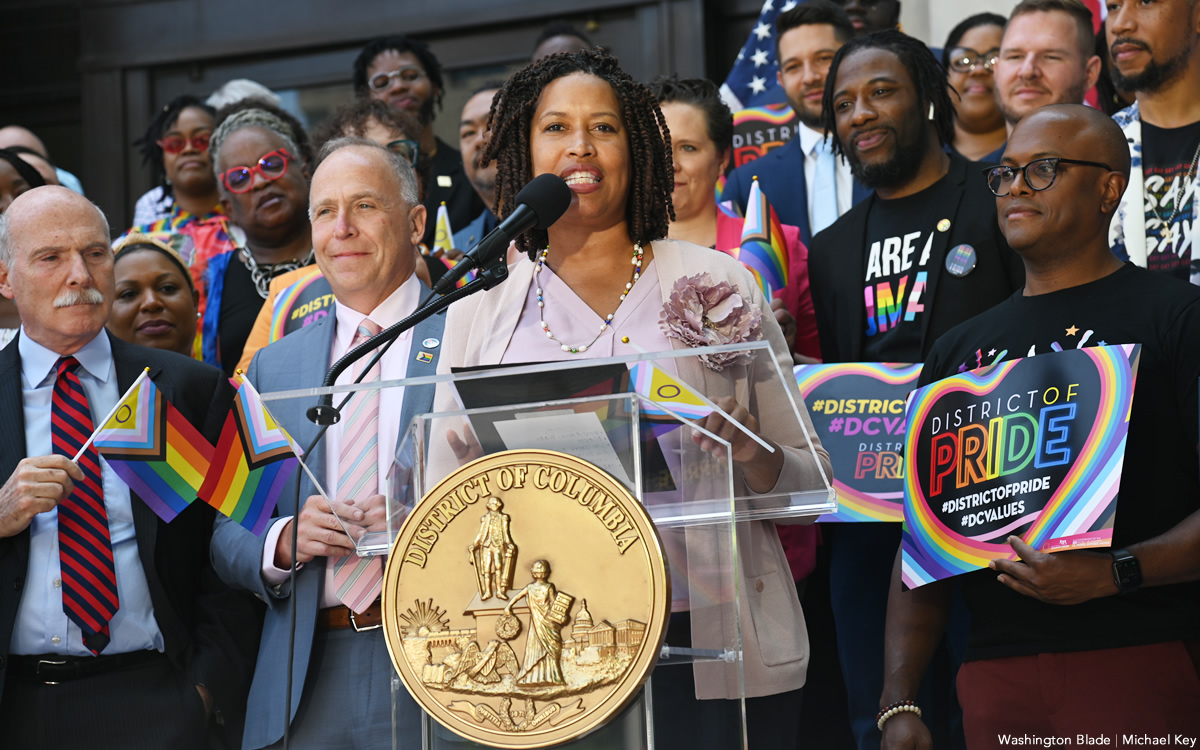 D.C. Mayor Muriel Bowser on Thursday said authorities have not received any credible threats to upcoming Pride events.
"We don't have any to report," she told the Washington Blade.
"MPD is constantly working with all of our agencies to make sure we have safe special events and we're going to keep going with our planning, like we do every year," added Bowser. "There's always a scan for any threats to the District."
Bowser spoke with the Blade after she joined D.C. Council Chair Phil Mendelson, Council members Anita Bonds, Charles Allen, Kenyon McDuffie and Zachary Parker, D.C. Attorney General Brian Schwalb, D.C. Mayor's LGBTQ Affairs Office Director Japer Bowles and other officials and activists in raising the Progress Pride flag in front of the Wilson Building.
The Blade last month reported D.C. police are investigating a bomb threat a Twitter user made against the annual District Pride concert that will take place at the Lincoln Theater on June 29. Bowles in a May 19 statement said his office reported the tweet, but further stressed that "no credible threat at this time has been made."
Moore issues Pride month proclamation
Governor on May 3 signed Trans Health Equity Act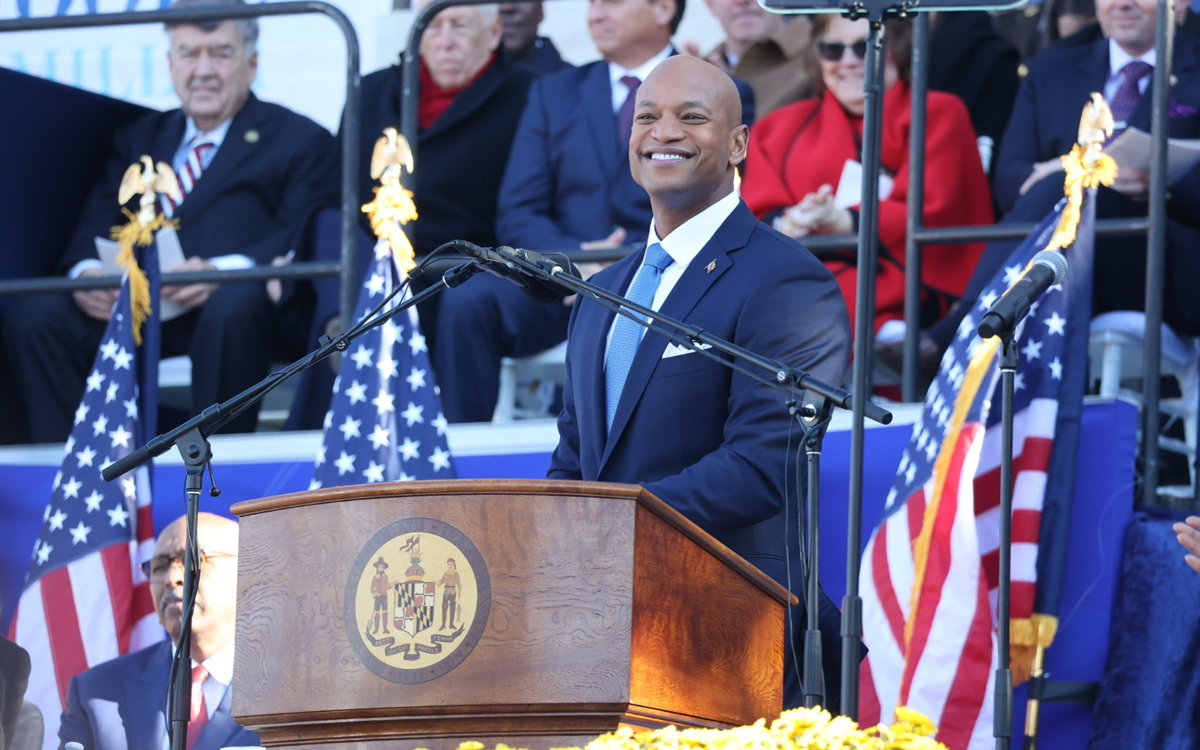 Maryland Gov. Wes Moore on Thursday proclaimed June as Pride month in recognition of "the contributions, resilience, courage and joy of LGBTQIA+ Marylanders," according to a press release.
"In Maryland, we lead with love and inclusion. I want everyone in our LGBTQIA+ community to know that they deserve to be seen for who they are, and our administration will stand with them in the fight for equality and equity," Moore said. "We need to elevate the stories, embrace the courage, and celebrate the humanity of our LGBTQIA+ community — and as long as I am governor, we will take the steps forward to protect and celebrate all Marylanders."
Moore on March 31 became the first governor in Maryland history to recognize the Transgender Day of Visibility and last month he signed into law the Trans Health Equity Act into law, which requires Maryland Medicaid to provide coverage for gender-affirming care beginning next year.
"This month is a celebration of the beauty and uniqueness of the queer community, but it's also a time to reaffirm our commitment to uplifting LGBTQIA+ Marylanders and continuing to fight against hatred, discrimination, and bigotry," Lt. Gov. Aruna Miller said in the same press release that Moore's office released. "LGBTQIA+ Marylanders deserve to be who they are, to live their pride — without fear or having to hide. This administration will always stand alongside and protect the rights of all Marylanders."