September 22, 2011 at 1:18 pm EDT | by Terri Schlichenmeyer
The 'Facts' of Jewell's life
'I'm Walking as Straight as I Can'
By Geri Jewell with Ted Nichelson
$19.95
252 pages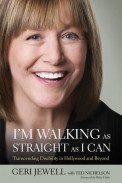 Once author Geri Jewell's parents received the diagnosis of cerebral palsy for their daughter, they never let her think she couldn't do anything. In her book "I'm Walking as Straight as I Can" (with Ted Nichelson), Jewell talks about her life and her determination.
Geri Jewell was born in September 1956, three months early due to a car accident involving her mother. Eighteen months later, after her parents noticed developmental delays and begged doctors for an explanation, Jewell was diagnosed with cerebral palsy.
Though institutionalization was recommended, the Jewells were adamant that Geri would be treated like their other children. They moved from New York to California so that she could get first-class care and they enrolled her in schools that could accommodate her disabilities. Though she sometimes met discrimination, Jewell remembers a good childhood.
After graduating from high school, Jewell went to college, where she fell in love with acting. She wanted to fall in love, too, but she writes that she was emotionally stunted, "a child," and she was also very confused.
Geri Jewell was attracted to women, but swore that she was not gay.
Her emotional immaturity didn't stop her determination, though. Having found her funny bone, Jewell accepted as many comedy gigs as she could find and she clawed for her place in entertainment. Humor gained her lots of fans, which led to a TV career on "The Facts of Life," as well as a wildly popular stage show.
But, like many Hollywood careers, Jewell's had its problems.
She was unceremoniously ousted from "Facts" for reasons she still doesn't know. Her hearing impairment got her into trouble, as did her emotional immaturity. Jewell was naïve and too trusting, which almost landed her in jail. She was broke, divorced, depressed, prescription-drug-addicted, and still in the closet when a chance encounter in a pharmacy line gave her the lifeline she needed most.
As Tinsel Town memoirs go, "I'm Walking as Straight as I Can" isn't bad.
Though author Geri Jewell is a star herself, it's refreshing to read about her brushes with other celebs. She drops names and tells tales with obvious wonder, much as any fan would and that's a sweet humility that readers – tired of tabloid-type Hollywood drama – will love.
On the other hand, the trademark Jewell humor is largely missing in this book and there's a lot of (often-justifiable) complaining that felt repetitious to me after a while. That, some odd anecdotes, and repeated comments on urination detracted from this bio.
Overall, this book is worth a look-see but it might be best enjoyed if you're a big Geri Jewell fan. For you, in particular, "I'm Walking as Straight as I Can" is a book you can't miss.