Dupont Circle vigil for slain engineer, theater director draws over 200
Friends read from Shakespeare plays to honor life of Gaurav Gopalan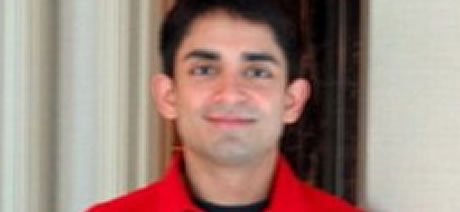 More than 200 people turned out Sunday night in Dupont Circle for a candle light vigil in honor of Gaurav Gopalan, a 35-year-old gay aerospace engineer and theater director who was found dead Sept. 10 on a sidewalk near where he lived in the city's Columbia Heights section.
Police have ruled the death a homicide and said Gopalan died from blunt force trauma to the head. Police say they have no suspects and no known motive for the murder.
Transgender activists have expressed concern that Gopalan might have been targeted for his gender identity because he was found dressed in women's clothes and wearing facial makeup.
Nearly a dozen friends and community activists spoke at the vigil, with most reading excerpts from Shakespeare plays and sonnets to pay tribute to what they said was Gopalan' love of Shakespeare's works.
Many of the friends said they met Gopalan through various theater companies and groups, and worked with him on productions of Shakespeare plays, where he served as an assistant director.
"Gaurav touched so many souls in D.C.," said Jason McCool, who collaborated with Gopalan on the production of Shakespeare plays. "He was a bright ray of positive energy and I will never, ever forget what he contributed to my life. To me, his spirit will remain forever alive and present."
Gopalan's partner, Bob Shaeffer, thanked organizers of the vigil and those who attended for their support of him during a trying time.
"This would have pleased Gaurav," he said. "Gaurav changed my life. There wasn't a day we were together that we didn't say we loved each other."
Shaeffer called on the community to apply pressure on D.C. police to "do more" to find out who killed his partner and bring that person to justice.
Other speakers included D.C. Council member Jim Graham (D-Ward 1), who represents the Columbia Heights neighborhood where Gopalan was found dead; transgender activist Earline Budd; Shiva Subbaraman, director of Georgetown University's LGBTQ Resource Center and a friend of Gopalan's; and a representative of the South Asian LGBT group Khush D.C., who didn't identify himself. McCool read a letter from D.C. Congressional Delegate Eleanor Homes Norton praising Gopalan for his contribution to D.C. both as an aerospace engineer and a theater director.
"We are determined to get to the bottom of this," Graham told the gathering. "We are determined to bring this killer to justice and to support everyone in the District of Columbia affected by this."
At the conclusion of the vigil, participants marched from Dupont Circle to Columbia Heights, where they gathered on the 2600 block of 11th Street, N.W., at the site where Gopalan was found unconscious shortly after 5 a.m. on Sept. 10.
The site is marked by a large photo of Gopalan that friends attached to a tree and by flowers placed at the foot of the tree. Virgil participants, who had walked more than two miles from Dupont Circle, placed lit candles next to the flowers, creating a glowing memorial on the sidewalk.
With the candles flickering before him, McCool read from a theater program note that Gopalan wrote in connection with one of the Shakespeare plays that Gopalan played a role in producing in the D.C. area:
"There is no judgment…only light and dark, only truth and ignorance," McCool quoted Gopalan as saying. "What is true is good; evil is quite simply ignorance."
Missing gay man found 'alive and well'
Police say Richard 'Rick' Woods found in good health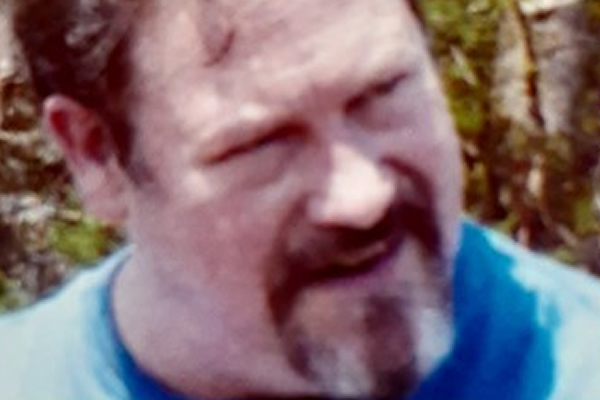 D.C. police announced on Friday that Richard G. 'Rick' Woods, a 65-year-old gay man who police said was reported missing and last seen on July 14, has been located. But the announcement doesn't provide information on where he was found or why he went missing.
Friends who know Woods say he operated for many years an antique wood furniture restoration business in various locations in D.C. The most recent location of his business, friends said, was in Georgetown a short distance from where police said he was last seen on the 1600 block of Wisconsin Avenue, N.W.
"MPD does not publicly disclose the circumstances surrounding a missing person and how they are found, however we do release their flyer as well as a notification when they are located," said D.C. police spokesperson Brianna Burch. "Mr. Woods was found in good health," Burch told the Blade.
Police sought help from the public in their initial announcement that Woods was missing. The announcement said he was reported missing to police on Friday, July 23.
Logan Circle Advisory Neighborhood Commissioner and LGBTQ rights advocate John Fanning, who said he has been friends with Woods for many years, said he was delighted to hear Woods was found in good condition.
"Rick is known by many in our community," Fanning told the Blade at the time Woods was reported missing. Fanning said he and others who know Woods stand ready to provide support for him should he be in need of such support.
The Blade couldn't immediately reach Woods for comment.
Some D.C. gay bars to require proof of COVID vaccination
Action prompted by mayor's order reinstating masks indoors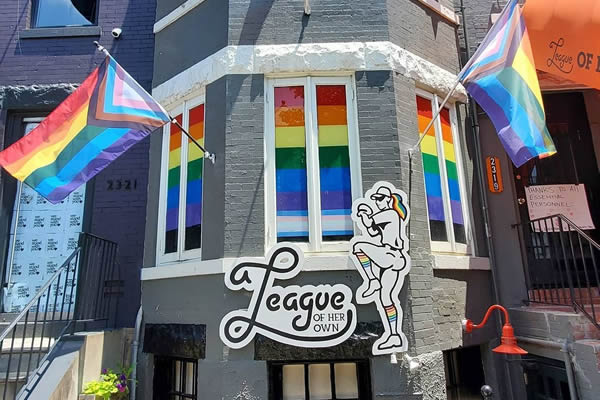 At least four D.C. gay bars announced this week on social media that they will require patrons to show proof that they have been vaccinated for COVID-19 as a condition for being admitted to the bars.
They include the Logan Circle area gay bars Number Nine and Trade, which are operated by the same co-owners, and the Adams Morgan gay sports bars Pitchers and A League of Her Own, which are also operated by the same owner and share the same building.
The four bars, which also offer dining service, announced their proof of vaccination requirement shortly after D.C. Mayor Muriel Bowser on Thursday issued a new order reinstating the city's requirement that facial masks be worn inside all businesses and other public establishments.
The mayor's order applies to all vaccinated and unvaccinated people over the age of two. It was scheduled to take effect 5 a.m. Saturday, July 31.
At a July 29 news conference, Bowser pointed to a new U.S. Centers for Disease Control and Prevention guidance issued two days earlier recommending that fully vaccinated people resume wearing masks indoors in places where transmission of the coronavirus is considered "substantial" or "high."
The mayor said that, at the advice of her public health experts, she decided to issue the new order to help curtail the rising number of COVID cases in D.C. over the past month or more due to the rapid spread of the virus's delta variant, which is surging throughout the nation. Like other parts of the country, Bowser and D.C. Department of Health Director Dr. LaQuandra Nesbit said people who are unvaccinated in D.C. make up nearly all of the newly infected cases.
"I know D.C. residents have been very closely following the public health guidelines, and they will embrace this," Bowser said in referring to the new mask requirement.
The four-page order released by the mayor's office, similar to the city's earlier mask requirements, allows indoor patrons of restaurants and bars to remove their masks while "actively" eating or drinking.
But some representatives of restaurants and bars have pointed out that other jurisdictions, including Maryland and Virginia, have followed the CDC's initial policy of making mask wearing a recommendation rather than a requirement.
"Mayor Bowser's announcement that nightlife hospitality patrons must wear a mask indoors when not 'actively eating or drinking' renders the reinstated mandate essentially unenforceable and results in the rule being reduced to a largely theatrical requirement," said Mark Lee, director of the D.C. Nightlife Council, a local trade association representing bars, restaurants, nightclubs, and other nightlife related businesses.
"The greatest disappointment for many venue operators and staff, however, is that the mayor's decision does not allow an option for establishments to admit only fully vaccinated patrons and be exempt from the mandate, as a number of other jurisdictions across the country have done," Lee said.
John Guggenmos, co-owner of the bars Trade and Number Nine, told the Washington Blade he and his co-owners adopted the proof of vaccination policy as an added means of protecting the safety of both patrons and employees of the two bars.
"We're hopeful that this will be in effect for just a few weeks or a month or two," Guggenmos said. "Our patrons have always been very supportive," he said in referring to the city's public health directives last year and early this year in which masks were required up until May of this year.
Guggenmos said Trade and Number Nine will allow an alternative to the vaccination requirement if patrons provide proof of a negative COVID-19 test conducted within the previous three days of their admission to the bars.
In its social media postings, Pitchers and A League of Her Own said their proof of vaccination requirement was based on the concern for the health of their patrons and staff.
"We will require proof a COVID vaccination until further notice at Pitchers/ALOHO and masks per the mayor," a Facebook posting says. "We take guidelines and the health of our patrons and staff very seriously. We will accept a picture or hard copy of your COVID vaccination card," it says. "No exceptions, no arguing, no talking to the manager."
Tammy Truong, owner of the gay bar Uproar Lounge at 639 Florida Ave., N.W., told the Blade the bar has no immediate plans to require proof of vaccination as a requirement for admission, but Uproar will fully comply with the mayor's order requiring indoor masks.
Justin Parker, co-owner of the nearby gay bar The Dirty Goose at 913 U St., N.W., told the Blade he and his staff decided on Friday to also put in place a requirment that patrons show either proof of vaccination or proof of a negative COVID-19 test within the past five days. He said a 5-day window for the COVID test, which the CDC allows in some cases, was chosen rather than three a requirement to accomodate people who may not be able to get tested during weekends.
Owners of other D.C. gay bars couldn't immeidately be reached. But the Blade could not find any announcements by the other gay bars as of Friday afternoon that they planed to put in place a proof of vaccination requiremenet.
Judge dismisses lawsuit against Va. school guidelines for transgender students
Christian Action Network and other conservative groups filed suit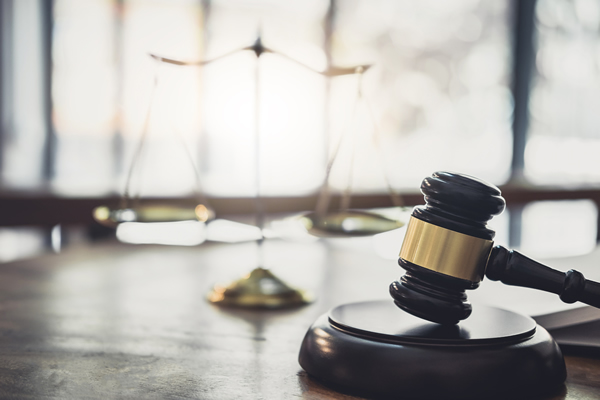 Lynchburg Circuit Court Judge J. Frederick Watson on Tuesday dismissed a lawsuit that challenged the Virginia Department of Education's model policies for transgender students that are to be implemented for the 2021-2022 school year.
The VDOE introduced the policies in March to better protect and affirm trans and non-binary students in schools, considering they are more likely to face discrimination and harassment from their peers and students. The directives would require Virginia schools to allow them to use school bathrooms and locker rooms that conform to their gender identity and pronouns and a name that reflects their gender identity.
Several conservative organizations, including the Christian Action Network, and families whose children attend Lynchburg public schools had sought to overturn the VDOE's policies. The groups cited their need to protect their right to free speech and religion under the First Amendment.
Challenging the enactment of non-binary and trans-inclusive school policies in Virginia is not a new occurence.
Tanner Cross, a Loudoun County teacher, was suspended in May after stating he would not use trans students' preferred pronouns. Circuit Judge James E. Plowman, Jr., who invoked Pickering v. Board of Education, a 1968 U.S. Supreme Court ruling in favor of a teacher that stated they have the right to provide commentary on issues of public importance without being dismissed from their position, reinstated Cross after he filed a lawsuit,
Equality Virginia on Tuesday a statement celebrated what they described as "a win for Virginia schools and students."
"This ruling is important progress and emphasizes the continued need to protect transgender and non-binary youth in Virginia," said Executive Director Vee Lamneck. "These policies will create safer classrooms and will reduce bullying, discrimination and harassment. It's imperative school boards adopt these policies as soon as possible because the lives of transgender students are at risk."
Equality Virginia, ACLU of Virginia, and more than 50 other organizations and school board leaders across the state filed an amicus brief earlier this month encouraging the court to deny the lawsuit.
The brief's arguments included references to historic lawsuits like Brown v. Board of Education and Grimm v. Gloucester City School Board that specifically addressed inequalities in schools for minority students.
While Tuesday's ruling is a win for LGBTQ rights advocates in education and their respective students, there still remains a final barrier to ensure that the VDOE's policies are sanctioned in the fall.
"The dismissal clears one statewide hurdle for the guidelines and limits future challenges," reports the Virginian-Pilot newspaper. "But it leaves the fight to continue at local school boards, which are currently debating how or if to implement policies before the start of the school year."