'Nevermind' anniversary reminds of gay musical alienation
Nirvana certainly deserves kudos for its groundbreaking work but reissue illustrates how out of step Gen X gays felt with grunge zeitgeist

It's a disconcerting feeling to be so wildly out of step with the hot music of one's era and yet feeling like an odd duck is so essential to most coming-of-age gay experiences. I'll argue, though, that it was most pronounced for gay Gen. X men coming of age at the height of the grunge era in the early '90s. Way more so than gays who were bopping around to '6os Motown, '70s disco or '80s New Wave. Yes, I'll concur that outside of Janis, Woodstock and the classic rock era offered little for many gay musical tastebuds — I'm speaking VERY loosely here — but in almost every era, there was a chance for gays to join in the popular fun until Seattle grunge hit big.
I've had many of these thoughts for years — they came back to the surface in recent weeks reading all the media brouhaha about the 20th anniversary of Nirvana's "Nevermind" album. It's out now in a super deluxe reissue with rehearsals, b-sides, etc. It was impossible to avoid the band in the early '90s — right about the time I was finishing high school and starting college.
I totally agree, like it or not, Nirvana and grunge certainly needed to happen. The late '80s and first couple years of the '90s are largely a musical schlockfest that's aged horrifically. It was a time when M.C. Hammer, Vanilla Ice, Michael Bolton and Bel Biv DeVoe were MTV and pop radio staples, all acts remembered with a snicker if at all. Even if they hadn't been lip syncing, Milli Vanilli were pretty musically dubious.
And yes — more qualifiers — music of yesteryear has to kind of go through a time of disdain before it "comes back" into retro-cool hipness. Early Jackson 5 hits, for instance, were considered disposable garbage for decades in the '80s and '90s. Now that Michael's gone, they're considered touchstones of an era. Same with disco. Always embraced by gay men, hits like "YMCA" and "We Are Family" were ripe for the most vehement derision in the '80s. I could be wrong, but I don't see the pre-Nirvana Hot 100 music coming back with any retro-infused delight (Dee-lite perhaps?) anytime soon. Epochs don't simply happen. Nirvana didn't "just happen" any more than Stonewall did. Culture and society eventually have enough of the same old junk and it often peaks and explodes at unexpected times. That's exactly what happened with Nirvana.
At the time, though, I just totally didn't get it and was appalled that such anti-fashion, anger and depression were rampant in the prevailing music that would come to define my generation. Sure, I had angst. Like most gay kids at the time, I was a closet case pining away for the high school jocks I knew I'd never have. Hormones, gay or straight, are in overdrive — it's part of why rock in general is primarily the music of the young. But I was so wildly out of step musically with my straight peers, it was laughable and I found no outlet for my closeted inner turmoil in the grunge angst. I was buying albums like Diana Ross's "The Force Behind the Power" (going to see her tomorrow night in Penn.!), Janet Jackson's "Janet," Madonna's "Erotica" and Mariah Carey's "Emotions" while all the other kids were gung ho for Pearl Jam, Smashing Pumpkins, Nine Inch Nails and making Lollapalooza plans. The summer after my freshman year of college I was working night shifts at a hotel check-in desk. Lollapalooza was in town and the lobby was a beehive of adrenaline-fueled kids who'd just come from the festivities. I never felt so left out of anything in my whole life. And yet, I didn't really have any interest in going either. Musically or otherwise, I just didn't seem to fit in anywhere. I couldn't even wrap my head around what "alt rock" was or why I should care.
I eventually did get in on a little of the action. Tori Amos — an artist I love and follow to this day — and REM (RIP) provided some highly welcomed middle ground where I could at least latch onto a melody or ride a groove, yet it was just alt enough to have some zeitgeist cred. It wasn't until years later, of course, that I realized why — as grotesque as he can be at times — Michael Stipe hit a nerve.
Thankfully there was enough going on musically to keep me buying CDs and watching MTV and VH-1. This was also "The Bodyguard" (Whitney) era, of course, and the time when Mariah was having No.1 after No. 1. Yeah, there was a lot of schlock there, too. A cousin of the kind of schlock that provided Nirvana a breeding ground in the first place, for sure. But even with the dated production, nobody can argue Whitney and Mariah aren't vocally talented. Yes, they each released a lot of junk but, with those two at least, the cream rose despite what was edgy and hip at the time. To the gays, these singles were musical lifelines. I have no idea what the vibe was like in Chelsea or West Hollywood at the time, but in my little town, at least there was some new music that excited me and that was getting radio play too. Amy Grant, a gospel singer I'd grown up listening to, had crossed over with mammoth (and delightfully unexpected) success and was bringing a neo-Motown kind of pop fluff excitement to radio with hits like "Baby Baby" and "Good For Me," wonders that stand up well even today.
But the pop culture plates kept shifting as did my own tastes. Eventually, of course, I started to "get" the grunge appeal a little. I reviewed albums every week at my first newspaper job and reviewed everything people were buying so I gradually started to get the Radioheads, the Tools and the Chili Peppers of the world. I didn't often play those albums after that week's review ran the way I wore out Madonna's "Music," Tina Turner's "What's Love" soundtrack or Tori's "Choirgirl Hotel," but at least I didn't feel so out of it. By the time Britney and Ricky Martin hit in the late '90s, it felt like the gays were back on the bandwagon somewhat. This music wasn't ostensibly gay, of course. Kudos to the Indigo Girls for never hiding it even during their peak! But it overflowed with gay sensibility and thus resonated. And has there been a more delicious gay pop radio moment in the last 25 years than when Cher topped the Hot 100 with "Believe" in '98? Cher, whom we'd loved all along, finally adored among the masses again! Oh happy day. Some might ask why it matters? It matters because it's a straight man's world. When something gay — overtly or covertly — goes through the roof, it's a big deal. It means straight white men — the driving force behind grunge — don't call all the shots.
Coming out, which would come a few years later, also would have mammoth effect on all this. Suddenly it didn't matter if pop radio wasn't playing Diana Ross or if Madonna was in a post-"Sex," pre-"Evita" radio slump (although, come to think of it, that was the "Take a Bow" era too, wasn't it?). A place to enjoy these events communally seemed to magically appear. It was called Deer Park and it was in Boonesboro, Md. Someone should do a study of how in sync (no pun intended) the stuff getting heavy rotation in the gay clubs over the years mirrored the Billboard Hot 100. I guess, for all practical purposes, you just compare the Billboard dance chart to the everything chart and go from there. It's why a No. 1 has proved so elusive in the U.S. for Madonna for more than a decade now but she has more dance No. 1s than anybody in the history of the charts. On the personal side, age, of course, brought with it less need for peer validation, a blessing.
The bigger realization, too, would come later — we don't need mainstream validation for our tastes and likes. If we're out of step with society, who cares? Fuck 'em. Just this week, bi organist Cameron Carpenter was telling me how delicious it is to enjoy an open relationship that's not defined in any way but the constrains of mainstream society. Yes, we still want to have the option to marry each other if we want, but we can still define our relationships however we want. Same with our record collections.
National Gay & Lesbian Chamber of Commerce Certifies Brown, Naff, Pitts Omnimedia, Inc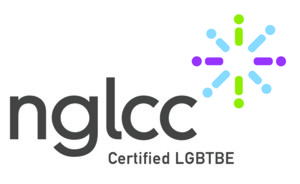 Washington, D.C. — Brown, Naff, Pitts Omnimedia, Inc, the parent company of the Washington Blade and Azer Creative, announced today it has been certified by the National Gay and Lesbian Chamber of Commerce (NGLCC) as an LGBT Business Enterprise. The NGLCC supports and advocates for diversity and inclusion for LGBT-owned businesses. With this certification the Blade's parent company joins more than 510 business and 134 corporate partners of the NGLCC.
Brown, Naff, Pitts Omnimedia, Inc. owns and operates the Washington Blade, the oldest and most acclaimed LGBT newspaper in the country. In 2012, the company launched Azer Creative, a full-service design firm. The company employs more than a dozen full-time LGBT staff.
"We are excited to become one of the 500 LGBT businesses across the country certified by NGLCC," said Lynne Brown, the Blade's publisher and a co-owner of the company. "The LGBT community has been part of our company from the beginning and we look forward to continue that for many years to come."
The Washington Blade was founded in 1969 and is known as the "newspaper of record" for the LGBT community both locally and nationally. Visit washingtonblade.com for more information. Azer Creative is a full-service graphic design firm based in Washington, D.C. Visit azercreative.com for more information. 
Vote now for the 2013 Best of Gay DC!
Choose in dozens of categories among hundreds of nominees, and make your voice heard!
Nominate the 'Best of Gay D.C.' now!
Dozens of categories cover all the best for LGBT Washington. Who deserves the prize this year?