October 18, 2011 at 3:13 pm EDT | by Lou Chibbaro Jr.
Donations sought for Kameny funeral
Friends who worked closely with veteran gay activist Frank Kameny are asking the community to contribute to a local LGBT-oriented charitable group to help it meet the cost of Kameny's funeral, which they say is expected to be held within the next two weeks.
The group, Helping Our Brothers and Sisters (HOBS), has assisted Kameny for the past year or two, helping him meet basic household needs such as the delivery of groceries, assistance in paying utility and property tax bills, and providing transportation to and from community events, according to HOBS co-founder and President Marvin Carter.
Kameny, one of the nation's most prominent gay rights advocates, died in his home in Washington on Oct. 11 at the age of 86.
Messages of condolence over his passing continue to pour in from across the country. Nearly all major news media outlets have published obituaries recognizing Kameny as a leading figure in the LGBT rights movement over the past 50 years.
Longtime Kameny friend and gay rights advocate Bob Witeck, CEO of Witeck-Combs Communications, said friends and activists who have known Kameny for many years are developing plans for a Kameny funeral that they hope will be held in a public building in Washington.
He said Kameny's friends and associates working on funeral plans are asking members of the LGBT community and supporters from the community at-large to make a tax deductable contribution to HOBS, which has established a Kameny funeral fund.
Contributions can be made at helpingourbrothersandsisters.com or sent by mail to HOBS, P.O. Box 53477, Washington, D.C. 20009.
"HOBS is an all-volunteer micro-charity that helps marginalized GLBT individuals in the Washington, D.C. area meet short-term needs," the group states on its website. "HOBS's focus is on those who do not fit the criteria for help from other organizations and agencies."
Witeck said Kameny's friends and associates also are planning a separate memorial service in a larger space with a target date of Nov. 15, which will mark the 50th anniversary of the Mattachine Society of Washington, the city's first gay rights group that Kameny co-founded.
Funeral arrangements could not be made immediately, Witeck said, because Kameny's Washington friends had to reach out to his surviving sister, 83-year-old Edna Lavey, who lives in Riverhead, N.Y. Under D.C. law, Lavey, as the next of kin, has sole legal authority to decide on what to do with Kameny's remains.
"She's been very gracious and very supportive of our efforts to plan the funeral," said Witeck.
He said that under advice from lawyers, Lavey has agreed to sign a legal document giving Witeck and other friends in Washington authority to move ahead with funeral plans, including the release of Kameny's body from the D.C. Medical Examiner's office to a D.C. funeral home.
According to Witeck, friends will fulfill Kameny's long-stated wish to be cremated and to have a non-religious funeral or memorial service.
One option under consideration is an offer to accept a donated cemetery plot to have Kameny's ashes interred at D.C.'s historic Congressional Cemetery near the gravesite of the late gay Air Force veteran Leonard Matlovich. Matlovich, a decorated combat veteran in the Vietnam War, approached Kameny for assistance in his decision to become the first active duty member of the military to publicly declare that he was gay in 1975 in an effort to challenge the ban on gay service members.
The widespread media coverage of Matlovich's declaration, which included the now famous cover story in Time magazine with the headline "I am a homosexual," has been credited with kicking off the campaign that led to the repeal this year of "Don't Ask, Don't Tell."
The Blade will report all details surrounding Kameny's funeral and memorial service as soon as they become available.
Lou Chibbaro Jr. has reported on the LGBT civil rights movement and the LGBT community for more than 30 years, beginning as a freelance writer and later as a staff reporter and currently as Senior News Reporter for the Washington Blade. He has chronicled LGBT-related developments as they have touched on a wide range of social, religious, and governmental institutions, including the White House, Congress, the U.S. Supreme Court, the military, local and national law enforcement agencies and the Catholic Church. Chibbaro has reported on LGBT issues and LGBT participation in local and national elections since 1976. He has covered the AIDS epidemic since it first surfaced in the early 1980s. Follow Lou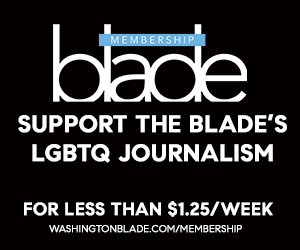 Sign Up for Blade eBlasts