Abraham Lincoln: A life in the closet?
By Mark Segal
National Gay History Project
Abraham Lincoln (1809-65) may likely be the most studied and researched of the United States presidents. The first reference to him possibly being "homosexual" came from notable Lincoln expert Carl Sandburg in his 1926 biography, "Abraham Lincoln: The War Years." In describing the early relationship between Lincoln and his close friend, Joshua Fry Speed, Sandburg wrote "a streak of lavender, and spots soft as May violets." This line got historians talking about an issue from which many had previously shied away. Still, the biography was written in the early 20th century, a time when such topics were only discussed in whispers. But by including the line, Sandburg felt the relationship deserved acknowledgement. It wasn't until 2005 when the first book was published on Lincoln's relationships with men, C.A. Tripp's "The Intimate World of Abraham Lincoln."
Detractors of Lincoln's possible homosexuality, such as historian David Herbert Donald, often say there is no new evidence on Lincoln. Yet historians continue to draw fresh conclusions from Lincoln's letters. Those who attempt to refute Lincoln's possible "homosexua
lity" usually focus on one particular incident — of the many — that supports the theory: his relationship with Speed.
Yet history, like everything else, is open to interpretation and influenced by new findings. Bias also motivated the retelling of historical events. The best example of bias in American history is the story of Thomas Jefferson and his slave/concubine Sally Hemings, which was not accepted as a truthful account until 1998 — and only after DNA proof. African-American citizens — not historians — led the effort to give Hemings her rightful place in history. Likewise with Lincoln, most historians have referred to isolated facts rather than the pattern of events in his life to tell his personal story. Will history once again prove historians wrong?
The Poem
I will tell you a Joke about Jewel and Mary
It is neither a Joke nor a Story
For Rubin and Charles has married two girls
But Billy has married a boy
The girlies he had tried on every Side
But none could he get to agree
All was in vain he went home again
And since that is married to Natty
So Billy and Natty agreed very well
And mama's well pleased at the match
The egg it is laid but Natty's afraid
The Shell is So Soft that it never will hatch
But Betsy she said you Cursed bald head
My Suitor you never Can be
Beside your low crotch proclaims you a botch
And that never Can answer for me
This poem, about a boy marrying a boy, is thought to be the first reference to gay marriage in U.S. history. A 20-year-old man in rural Indiana wrote it 182 years ago. That young man was Abraham Lincoln. Most historians agree Lincoln wrote the poem as a joke or rebuttal to the lack of an invitation to a friend's wedding, but how a backwoodsman conceives a boy-marries-boy poem in 1829 remains a question.
The poem was included in the first major biography of Lincoln, written by his law partner, William Herndon. Revisionists omitted it in subsequent editions. It didn't reappear in Herndon's edition until the 1940s.
Billy Greene
In 1830, when Lincoln's family moved to Coles County, Ill., he headed out on his own. At age 22, he settled in New Salem, Ill., where he met Billy Greene — and, as Greene told Herndon, the two "shared a narrow bed. When one turned over the other had to do likewise." Greene was so close to Lincoln at that time that he could describe Lincoln's physique. However, Lincoln was poor at the time and it was not unusual for men in poverty to share a bed.
Joshua Fry Speed
In 1837, Lincoln moved to Springfield, Ill., to practice law and enter politics. That's where he met the two men who would be his greatest friends throughout his life. One, Joshua Fry Speed, became his bed partner for a while; the other was law partner Herndon. Beyond the revelation that Lincoln and Speed had an intimate friendship, little has been written about how diligently Speed worked for Lincoln's legal and political career. Speed's name popped up in many of Lincoln's legal filings and on the Illinois Whig Party's central committee. The two were almost inseparable. Most Lincoln historians agree this relationship was the strongest and most intimate of the president's life. What they don't agree on is why they slept in the same bed together for four years when they had the space and means to sleep separately, as was expected of men their age. They were no longer young and poor. And this was a house with ample room, unlike the hotels that accommodated Lincoln and his team on the road; then, it was common to sleep two or more in a bed.
By 1840, both Lincoln and Speed — now 31 and 26— were considered well past the marrying age. Both bachelors reportedly were hesitant to tie the knot, but it was a de-facto requirement to have a wife if you wanted to move in political circles — or at least create the perception of interest in marriage. Both Speed and Lincoln dreaded this "requirement," as evidenced by Lincoln's letters. Speed takes the marriage plunge first and moves back to Kentucky, leaving Lincoln. At this precise time, Lincoln suffered a mental breakdown. Historians have been all over the map as to what caused the breakdown, but it was so intense that friends, including Herndon, worried he would take his own life. Lincoln only recovered after Speed invited him to visit him and his new wife in Kentucky.
Lincoln's most emotional and intimate writings were contained in his letters to Speed. From the time they lived together until shortly after Speed married and moved to Kentucky, Lincoln always signed his letters "forever yours" or "yours forever."
Lincoln wrote to Speed shortly before the latter's Feb. 15, 1842 wedding: "When this shall reach you, you will have been Fanny's husband several days. You know my desire to befriend you is everlasting — that I will never cease, while I know how to do any thing.
"But you will always hereafter, be on ground that I have never occupied, and consequently, if advice were needed, I might advise wrong.
" … I am now fully convinced, that you love her as ardently as you are capable of loving … If you went through the ceremony calmly, or even with sufficient composure not to excite alarm in any present, you are safe, beyond question, and in two or three months, to say the most, will be the happiest of men.
"I hope with tolerable confidence, that this letter is a plaster for a place that is no longer sore. God grant it may be so.
"I would desire you to give my particular respects to Fanny, but perhaps you will not wish her to know you have received this, lest she should desire to see it. Make her write me an answer to my last letter to her at any rate. I would set great value upon another letter from her.
"P.S. I have been quite a man ever since you left."
The two exchanged letters regularly and, in October 1842, Lincoln observed the newlywed Speed was "happier now than you were the day you married her." He continued: "Are you now, in feeling as well as judgment, glad you are married as you are? From any body but me, this would be an impudent question not to be tolerated; but I know you will pardon it in me. Please answer it quickly as I feel impatient to know."
The urgency in his letter is palpable: Lincoln married Mary Todd on Nov. 4, 1842, despite that he broke off their engagement two years earlier.
Even after the Civil War broke out and Speed lived in Kentucky — a border state, Lincoln and Speed continued to write. On numerous occasions, Speed visited Lincoln at the White House; he even spent a night with Lincoln in the president's cottage at the Soldier's Home, 3 miles northwest of the White House.
Throughout Lincoln's political career, he urged Speed to accept a political appointment that would bring him to live in Washington, D.C. When that failed, he appointed Speed's brother, James, U.S. attorney general in 1864.
Elmer Ellsworth
After Speed and Lincoln's marriages, there were no traces of other men in Lincoln's life until Elmer Ellsworth in 1860. According to "The Abraham Lincoln Blog," in 1859, Ellsworth formed the Chicago Zouaves, a precision military drill team based on the famous Zouave soldiers of the French Army based in northern Africa.
The Chicago Zouaves, led by Ellsworth, toured the northern states in the months before the Civil War, with the so-called regiment performing acrobatic moves, marching and weapons displays. The regiment impressed the crowds — despite the fact that they'd never seen military action.
Lincoln met Ellsworth through these displays and the two became friends. Lincoln invited Ellsworth, who had been a law clerk in Chicago, to move to Springfield to study law. Ellsworth became devoted to Lincoln and adored by the entire Lincoln family. One author wrote that it seemed Lincoln had a "schoolboy crush" on the much-younger Ellsworth. He first worked in Lincoln's law practice, then moved on to his political career and eventual campaign for president. Once elected, Lincoln asked Ellsworth to accompany his family to Washington.
At the beginning of the Civil War, Ellsworth asked Lincoln to assist in obtaining a position for him in the Union Army. In a letter dated April 15, 1861, Lincoln wrote: "I have been, and still am anxious for you to have the best position in the military which can be given you."
When a call for soldiers went out, Ellsworth headed to New York and rallied 1,000 men, then returned to Washington, D.C. When Virginia voted to secede on May 23, 1861, a hotel owner in Alexandria, Va., across the Potomac River, raised a Confederate flag — visible from Lincoln's office. Early the next morning, Ellsworth and his men crossed the river and occupied the telegraph office to cut off communications. Seeing that the hotel was next door, Ellsworth entered it and took down the flag, then was fatally shot by the hotel's proprietor. Ellsworth would be the first Union soldier killed in the war.
After hearing of the tragedy, Lincoln wept openly and went with Mrs. Lincoln to view the soldier's body. Lincoln arranged for Ellsworth to lay in state in the White House, followed by a funeral. The president was inconsolable for days.
Lincoln wrote condolences to Ellsworth's parents: "My acquaintance with him began less than two years ago; yet through the latter half of the intervening period, it was as intimate as the disparity of our ages, and my engrossing engagements, would permit … What was conclusive of his good heart, he never forgot his parents."
As with Speed and his family, Lincoln appointed Ellsworth family members to positions in the government.
David Derickson
In 1862, Lincoln met Capt. David Derickson, who served as his bodyguard, providing protection for the president when he commuted from the White House to his cottage at the Soldier's Home. Lincoln spent about a quarter of his presidency at the cottage, which allowed him some escape from D.C.'s summers and from public interruptions at the White House.
Lincoln and his bodyguard became close, and historians Tripp and David Herbert Donald noted two recorded mentions that Lincoln and Derickson slept in the same bed: Derickson's superior, Lt. Col. Thomas Chamberlain, and Tish Fox, the wife of Assistant Navy Secretary Gustavus Fox, both wrote about it. Tish wrote in her diary that Derickson was devoted to Lincoln and "when Mrs. Lincoln was away, they slept together."
But there were more than just two eyewitnesses to this relationship. After the war, Chamberlain published an account of the regiment called "History of the 150th Regiment of Pennsylvania Volunteers, Second Regiment, Bucktail Brigade." Before it was published, many members of the company reviewed the manuscript and no one objected to the following:
"The president was also not an infrequent visitor in the late afternoon hours, and endeared himself to his guards by his genial, kind ways. He was not long in placing the officers in his two companies at their ease in his presence, and Capts. Derickson and Crozier were shortly on a footing of such marked friendship with him that they were often summoned to dinner or breakfast at the presidential board. Capt. Derickson, in particular, advanced so far in the president's confidence and esteem that in Mrs. Lincoln's absence he frequently spent the night at his cottage, sleeping in the same bed with him, and — it is said — making use of his excellency's nightshirt! Thus began an intimacy which continued unbroken until the following spring, when Capt. Derickson was appointed provost marshall of the 19th Pennsylvania District, with headquarters in Meadville."
The Bucktails witnessed the relationship between the president and his bodyguard, which was public enough that they knew Derickson kept him company when Mrs. Lincoln traveled, and wore his nightshirt. Historical interpretations aside, why would the president, then in his 50s, sleep with his bodyguard?
Lincoln and women
Lincoln's lack of interest in women was frequently documented as awkward. Most historians agree there are only three women with whom Lincoln was close: his stepmother, Sarah Bush Johnston Lincoln, who raised him with affection; Ann Rutledge, who he was romantically linked to but not engaged; and Todd. He also courted Mary Owens for a time in 1836, but the relationship ended on mutual agreement. If Lincoln was a closeted gay man, he still could have loved and adored Todd, for the same reasons many closeted men love their wives: She brought him a sense of being loved and the family he craved. While Todd was always described as high-strung, she reportedly took a turn for the worse — many historians have labeled her as insane — during their marriage. The Lincolns endured many tragedies — three of their four children did not survive to adulthood — which could have caused her decline, but it's also possible that she stumbled upon her husband's same-sex affections.
Detractors
The most outspoken and respected of detractors is historian and Lincoln biographer David Herbert Donald, arguably the most notable Lincoln observer since Sandburg. In his attempts to refute Lincoln's possible homosexuality, Donald claims in his book "Lincoln's Men" (2004) that while Speed and Lincoln slept together for four years in the same bed, they both were romancing women during two of those years. But the fact that he courted women doesn't rule out the possibility that Lincoln may have preferred men. Donald also noted that no contemporaries of the two, including Herndon, claimed to have witnessed Speed and Lincoln having intimate relations. But Donald ignored eyewitness accounts and misinterpreted other witnesses who hinted at it, such as the president's own secretaries. The historian also brushed aside the emotion contained in the letters between Lincoln and Speed, in their own handwriting. Donald pointed out it was common for 19th-century young men to have emotional relationships and share a bed. But Speed and Lincoln weren't considered "young" when they met.
Doris Kearns Goodwin, in an interview on C-SPAN about her 2006 Lincoln biography "Team of Rivals: The Political Genius of Abraham Lincoln," said, "Homosexuals didn't exist before the word was coined in 1868 … " She most likely meant the term didn't exist, but this clearly demonstrates a lack of sensitivity by non-gay historians. Goodwin has to be familiar with Lincoln contemporary Walt Whitman. While the words "homosexual" and "gay" were not coined at that point, Whitman now is considered to have been gay.
Younger historians and Lincoln scholars seem to be more sensitive to the subject than Donald or Kerns were. For example, Jean H. Baker, a former student of Donald, conceded in her acclaimed 1987 book, "Mary Todd Lincoln: A Biography," that Lincoln's distraction from his wife was likely due to more than just his all-consuming work. Baker said, in a New York Times interview, "I previously thought [Lincoln] was detached because he was thinking great things about court cases … now I see there is another explanation."
Conclusions
Taken individually, accounts of Lincoln with other men may not offer enough proof that he was gay. But the pattern reveals a man who, in his sexual prime, slept exclusively with another man for four years — two of those years (according to Donald) without romancing someone of the opposite sex; who wrote a poem about a boy marrying a boy; and who, as president, slept with his bodyguard.
From historical records, one can conclude that Lincoln enjoyed sleeping with men. He did so when it was acceptable in youth and poverty, and also when he was older and successful. While it is documented that Lincoln slept with several men, there is only one confirmed woman who shared his bed — Todd. (Most Lincoln historians dispute an account that he was involved with a female prostitute.) Of the men, we don't know how many reciprocated with emotion. To find one same-sex soul mate in the culture of the 1800s seems a miracle; Lincoln may have sought others when Speed went on to have the life that was expected of men of the time. In that period, only one man in 300 did not marry. And Speed was apparently the love of his life. Lincoln resisted marriage as long as he could, only marrying after Speed was well-entrenched in his own marriage — a phase that coincided with Lincoln's "mental distress."
Mark Segal is founder and publisher of Philadelphia Gay News, the country's oldest LGBT newsweekly. Sometimes called the Dean of the Gay Press, Segal is an award-winning columnist and is fascinated by history.
My Best Of's in D.C. real estate
Favorites in buyer programs, paint colors, and more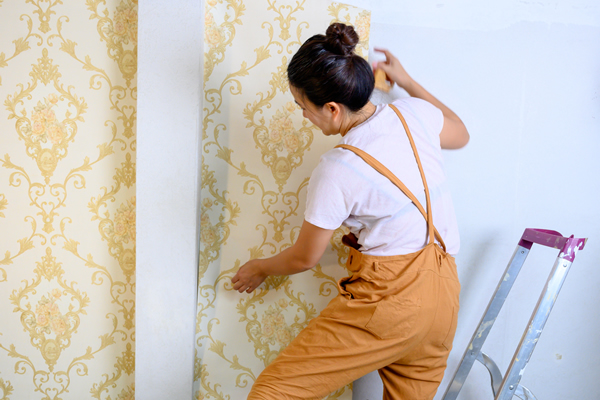 As I congratulate my colleagues and friends who have received the coveted Best of Gay DC awards, I thought it appropriate to share with you my own, subjective "Best of" list.
Best Housing to Buy. With 233 of them on the market in D.C., the one-bedroom, one-bath condominium under $400,000 may be the best option for a personal residence or investment. Given a median price of $320,000 and 49 days on the market, there are deals to be made. You have your choice of areas around the city and of buildings large and small.
Best First-time Buyer Program. D.C.'s Housing Purchase Assistance Program (HPAP) is by far the best option to use if you are eligible. This program is based on household income and size and can provide up to $84,000 toward the purchase of a D.C. personal residence. For example, to receive the full amount, the income of a party of two is limited to a total of $51,600, 50% of the median family income for D.C. Other requirements may apply.
Best Tax Reduction Program. If you qualify, you may be able to take advantage of the DC Tax Abatement Program. Using the example of our party of two working adults buying a personal residence for less than $516,800, the income limit is $79,020 or $113,500 in designated Economic Development Zones.
Approval for the program exempts buyers from paying property taxes for up to five years and reduces the closing costs for the purchase by eliminating the buyer-paid recordation taxes and distributing the seller-paid transfer taxes to the buyer instead of to the DC tax office. For the buyer of that $516,800 personal residence, that can mean a savings of nearly $15,000 in closing costs.
Best Neutral Paint Color. First it was Builder Beige, then Gray was OK, then they blended into Good Grief Greige. While neutrals can be bland and boring, these days, expect to see a variety of off-whites gracing the walls of homes for sale. Sherman Williams 7008, Alabaster, did the trick for my most recent sellers.
Best Wall Décor. Sponge paint and other effects are long gone. Forget shiplap unless you live in a house at the beach or on an actual ship. Distressed wood may still be suitable for a cabin in the woods, but in a modern, urban setting, wallpaper is back, baby!
This is not your grandmother's wallpaper. No chickens, tiny prints, borders, or faux grass cloth are in sight. Today's wallpapers are bold, geometric, or a throwback to mid-century modern and are primarily used on an accent wall so they're not overwhelming. Love vs. Design (lovevsdesign.com) can create custom wallpaper to match your color scheme in a peel and stick application that eschews the mess of wallpaper paste.
Best Indoor Plant. For us plant growing novices, the award goes to The Easy Care Bundle at The Sill (thesill.com). For only $45, you get two potted succulents that are very hard to kill, a Snake Plant and a ZZ Plant. 
You can also set yourself up on a subscription. $60 plus a $10 shipping charge buys a medium sized plant-of-the-month with a black or cream-colored planter. Choose classic plants or select pet-friendly, non-toxic plants for only $5 more with a 3-month minimum subscription. You can even purchase these as gifts.
Best Balcony Plant. For homes with a balcony or a deck, the winner is a potted Winter Gem Boxwood. It's an evergreen that will turn a golden shade in the winter then green again in the spring. It also grows in both full and partial shade – almost a set it and forget it type of shrub – needing water only once a week or twice in hotter climates. Cut it as a topiary à la Edward Scissorhands for a little architectural interest.
Best Freestanding Refrigerator. I would be remiss if I didn't include a best appliance category.An upscale fridge with see-through doors and built-in versions of computers, televisions and smart home elements holds a certain appeal until one of the glitzy attractions breaks and you spend as much for a new motherboard as you would for a whole new refrigerator.
The winner of this category, therefore, is Samsung's model RF28R7351SR. This bad boy is available in both standard and counter depth and features a French door top with external water and ice, a pull-out freezer with dual baskets, and a middle drawer that can be set to one of four temperatures to accommodate food or wine.
There you have it. Now, if you'll excuse me, I'm off to judge the Best of Blake Miniature Schnauzers category. I'm thinking a 4-way tie is in order.
Valerie M. Blake is a licensed Associate Broker in D.C., Maryland, and Virginia with RLAH Real Estate. Call or text her at 202-246-8602, email her via DCHomeQuest.com, or follow her on Facebook at TheRealst8ofAffairs. 
Helpful tips for homebuyers in seller's market
2021 has been a great year for home sales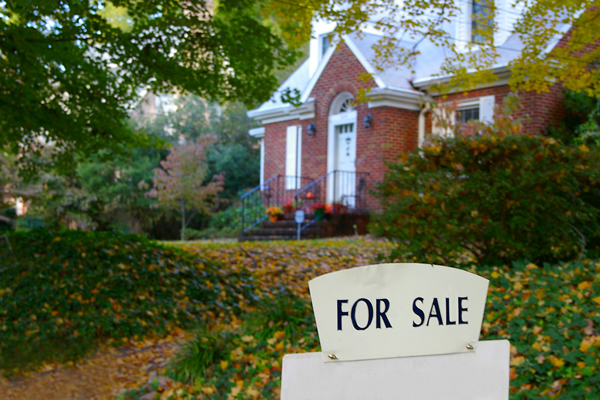 Without question, 2021 was a great year for home sales. Sellers across the country, in many cases, found themselves listing their homes and quickly having not just one, but multiple offers, many of which were at asking price or above. With limited inventory and high demand, it has been an ideal year to sell—and conversely, often a difficult year to buy. Buyers who are interested in a particular home, or even in a specific neighborhood, often find themselves facing stiff competition to have offers accepted.
Fortunately, this doesn't mean that many buyers haven't had successful and rewarding home buying experiences—just that doing so often means making an extra effort and taking helpful steps to make an offer the most competitive that it can be. With that in mind, let's take a look at a few helpful tips for buyers in a seller's market:
Plan ahead with mortgage pre-approval: While there are certainly a wide variety of strategies that real estate agents and financial advisors may recommend, and while those strategies might vary depending upon the buyer and the circumstances of a particular market, one thing almost all experts agree on is that obtaining a mortgage preapproval is a smart decision. A mortgage preapproval is an ideal way to reassure sellers that a reputable lender has verified your credit and approved your buying power up to a certain limit. If you're caught in a bidding war with another potential buyer, having preapproval establishing that you are ready, willing, and able to buy just might give you the advantage you need in a competitive market.
Be willing to look under budget so you can bid higher: In this highly competitive market, many home buyers find themselves in a situation where they are in a bidding war with another—or even several other—buyers. In that situation, you may find yourself having to make an offer at, or even in many cases, above, the asking price. This means that you may want to adjust your budget—and bidding—accordingly. Choosing to make an offer on a home that has an asking price that is already at the top of your budget may mean that you simply don't have much wiggle room when it comes to making an offer over that price. Choosing a home slightly under the top of your budget means you'll have more flexibility to make a bid that is more competitive and likely to be accepted.
Consider offering non-price-oriented incentives: Without question, making a highly competitive offer is going to be the key to increasing your chances of having that offer accepted. It's important to remember that there is more to an offer than just price, however. Buyers may want to consider increasing the appeal of an offer by supplementing it with other incentives beyond just the dollar amount itself. Examples of such incentives might include things like foregoing the seller-paid home warranty that is often offered as part of the process, offering a shorter closing period, not making the purchase contingent upon the sale of a currently-owned home, or other such incentives. Doing so may give you the edge you need to have your offer selected over other competitive bids.
Retain the right real estate agent: Often, for LGBTQ buyers, especially in a competitive market, this piece of the puzzle is particularly important. In many, although certainly not all, cases LGBTQ buyers are drawn to specific areas of a city or community where other LGBTQ individuals live. That means that in a market where inventory is already limited and going quickly, there can be even fewer homes available upon which to bid. When that is the case, you will need a real estate agent who knows the community that you're interested in, and who can quickly help you identify and take action toward making offers on homes that fit your needs. Having the right agent can make all the difference between a smooth and successful home-buying experience, and a stressful one
Jeff Hammerberg (he/him/his) is the Founding CEO of Hammerberg & Associates, Inc. Reach him at 303-378-5526, [email protected] or GayRealEstate.com
Jane Jane brings throwback joy to busy 14th Street
Cocktail bar characterized by warm Southern hospitality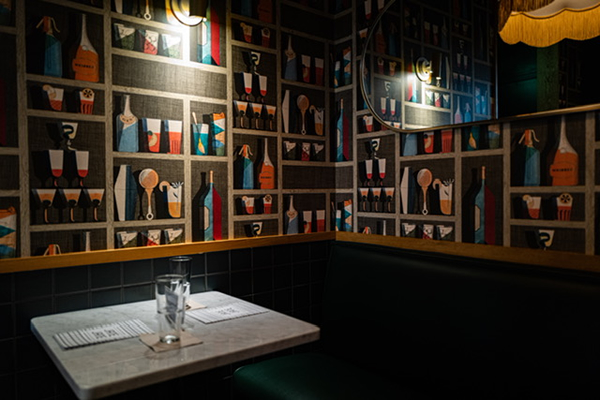 There is no standing at Jane Jane, the new classic cocktail bar in the heart of 14th Street. Its 850 square feet is for sitting and savoring, drinking in the relaxed retro vibe and the thoughtful craft cocktails.
At the foot of the mixed-use Liz development where Whitman-Walker is the major tenant, Jane Jane's creative use of a shoebox-sized space brings throwback joy to a busy thoroughfare.
In the pre-COVID days of 2019, Whitman-Walker approached the Jane Jane owners, hospitality veterans Jean Paul (JP) Sabatier, Ralph Brabham and Drew Porterfield, all gay men, to make good use of the vacant parcel, and ensure it would be run by LGBTQ entrepreneurs. "It required some gymnastics because of the layout," says Brabham, "but we came up with this cozy classic cocktail concept."
The hangout spot is an effort by the trio to "celebrate hospitality. We want everyone who walks into the space to feel like friends of ours we are having over for drinks or a bite. Its a cocktail party in our home," he says. They felt connected to the idea of a tiny bar—a space where they would want to have a drink.
Named for Brabham's mother, Jane Jane is as alluring and lively as it is intimate, each detail in the experience characterized by warm Southern hospitality—right from the bowl of spiced nuts that swiftly appear at each table at the beginning of service.
Sabatier, who has held stints at D.C. institutions like Rappahannock Oyster Bar, Maydan, and Compass Rose, oversees the bar and cocktail program, organized by spirit. (For their part, Brabham and Porterfield, romantic partners, also act as co-owners of Beau Thai and BKK Cookshop; Porterfield is also the current Curator and Director of Long View Gallery in Shaw.)
Sabatier has presented classic cocktails with a few noteworthy nods to current zeitgeist, as imagined by his lengthy experience behind the bar. The booklet-like menu includes a broad selection of familiar favorites like a Negroni, Manhattan, martini, but also features Sabatier's handpicked favorite classics like the Boulevardier (a whiskey Negroni), Last Word (gin married to herbaceous green chartreuse) and Air Mail (rum, honey and cava). Drinks fall in the $13-$16 range; a "Golden Hour" runs daily until 7 p.m. featuring beer and wine specials and a punch of the day.
Sabatier's creative juices flow on the first page through cocktails like the vividly named Tears at an Orgy, with brandy, orange and maraschino, as well as the best-selling, highly Instagrammable Crop Top, a gin cocktail with a red-wine floater—and a name that matches the look of the bi-color drink. "It's fun, delicious, and speaks to the space," says Sabatier. He notes that their vodka of choice comes from Civic, a local, women- and LGBTQ-owned distillery.
Sabatier, a classically trained chef and Culinary Institute of America graduate, also oversees the small selection of bar bites (the space has no kitchen, part of the required "gymnastics" to make it functional.)
Beyond the complimentary vessel of rosemary-flecked mixed nuts, other bar snacks run from pickled vegetables to a Southern-style Pimento cheese dip and an onion dip creamy enough to make your grandmother blush. The "Jane's Caviar" dish is a spread of trout roe and crème fraiche and comes with a towering mound of shatteringly crisp chips. A weekend brunch is in the works, which will serve goodies from local bakeries.
The retro-style interior recalls both California and the South, with only 32 seats inside and a 14-seat patio. Cozy booths done up in a hunter green as warm and inviting as a cool aunt are slung below walnut-wood walls and bar. Bright patterned tiles run the length of the floor; the back wall has playful cocktail wallpaper. A charming needlepoint by the restrooms kindly requests of guests, "please don't do coke in the bathroom."
The owners note that while Jane Jane is not explicitly a gay bar, its location in a traditionally gay-welcoming institution means that it has LGBTQ in its bones.
"Supporting LGBTQ people, businesses, and causes has been in Jane Jane's ownership's DNA at every establishment at which they have been involved," they say, having supported local LGBTQ+ organizations like Casa Ruby, Victory Fund, SMYAL and the Human Rights Campaign, among others.
Porterfield says that they were surprised that, given the locale, people assumed Jane Jane was a gay bar. "It's not a gay or straight bar, just a fantastic cocktail bar that welcomes anyone to hang out with us," he says.
Nevertheless, the owners have taken into consideration the significance of being in the Liz development, as both gay men and as part of the hospitality industry. "It highlights the lack of representation as gay owners in this bar and restaurant world," says Porterfield. They note the lack of women, LGBTQ and BIPOC representation.
"It's very special to us that we opened in this space," says Porterfield, "so we want to show that we have opened a place that is all about inclusivity."