Arts news in brief: Nov. 18
'Hairspray' at Signature, Thanksgiving volunteer opps and more

'Hairspray' at Signature
Signature Theatre's production of 'Hairspray' opens Monday. The musical will star radio host Robert Aubry Davis as Edna Turnblad, Carolyn Cole as Tracy Turnblad and Patrick Thomas Cragin as Link Larkin.
Performances will run Tuesday through Sunday evenings, expect Thanksgiving, after the Monday night opening, with matinees on Saturdays and Sundays.
Tickets range from $62 to $86 and can be purchased online at ticketmaster.com.
The show runs through Jan. 29.
 Capital Queer Prom hosts meet and greet
The Capital Queer Prom Committee is having its official "Meet and Greet" happy hour on Tuesday at Hank's Oyster Bar (1624 Q St., N.W.) from 6:30 to 8 p.m.
At the event, attendees will be able to mix and mingle with members from the committee as well as learn about Transgender Health Empowerment, this year's prom beneficiary. They will also be the first to know about announcements, early bird tickets and how to sign-up to be Prom King or Queen.
There will also be spiked bunch and free appetizer platters and drink specials running until 7:30 p.m.
Tickets are $10 and the funds will benefit Capital Queer Prom and T.H.E. The sixth annual Capital Queer Prom will be held March 24. For more information, visit capitalqueerprom.com.
Thanksgiving brings volunteer opps
With Thanksgiving coming up next week, there are plenty of opportunities to volunteer and help the community.
Food & Friends (219 Riggs Rd., N.E.), an organization that provides meals for people living with HIV/AIDS, cancer and other life-challenging illnesses, has a couple different opportunities for people to help this Thanksgiving.
From Monday to Wednesday, volunteers will be needed to help with turkey box deliveries. These are boxes put together for clients who live further away and need the delivery sooner to make their Thanksgiving dinner. Volunteers will also be needed to assist with food preparation and packing groceries in two hour shifts at 8 and 10 a.m., and 1 and 5 p.m.
On Tuesday, volunteers are needed to help with "Slice of Life," a program where people can buy pies for themselves or clients and each pie bought equals one day of meals. People will be needed to set up pie distribution and assist customers as they arrive with shifts from 10:30 a.m. to 8 p.m.
On Thanksgiving, volunteers will be needed to deliver holiday meals to two or three clients in the D.C. area during one of four delivery shifts at 7:30, 9 and 10:30 a.m. and noon. The organization also needs volunteers to assemble the meals and to help with the logistics of the day.
For more information about volunteering for Good & Friends, visit foodandfriends.org.
The Washington Renegades gay rugby team will be helping out Food & Friends on Sunday from 9 a.m. to 1 p.m. as an annual event.
The team will be prepping turkeys, chopping vegetables and packing bags of prepared food. After volunteering the group will be having a gathering.
Burgundy Crescent Volunteers has some opportunities to volunteer as well. Besides helping with Food & Friends, the organization will be holding its ninth annual "Clear OUT Your Closets" clothing drive for the homeless at Rosemary's Thyme (1801 18th St., N.W.) with donation drop-off running from 10 a.m. to noon.
The group also needs volunteers to help with providing Thanksgiving dinner for the homeless and needy at Rosemary's Thyme from noon to 2 p.m. Volunteers are needed to help set up starting at 10:30 a.m., clean up after and bring a dish of some kind to serve.
For more information about volunteering with Burgundy Crescent, visitburgundycrescent.org.
IOC: 'Trans Women Are Women' Laurel Hubbard set to make sports history
Laurel Hubbard is set to make sports history on Monday and the International Olympic Committee clearly has her back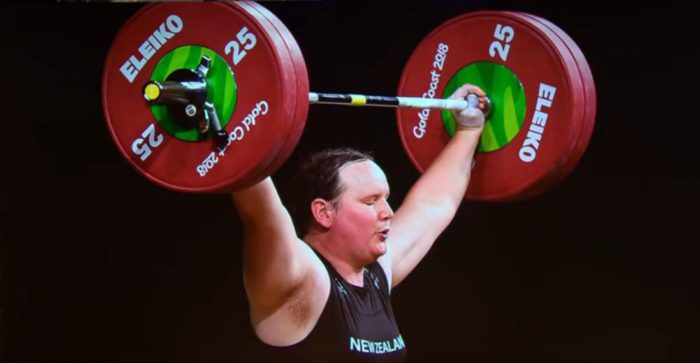 TOKYO – The director of medicine and science for the International Olympic Committee praised weightlifter Laurel Hubbard's "courage and tenacity" as she prepares for her upcoming competition as the world's first out transgender woman Olympian.
In speaking to reporters in Tokyo Thursday, Dr. Richard Budgett directly addressed those who have attacked and mocked the 43-year-old New Zealander and claimed she shouldn't be competing with cisgender women, saying "everyone agrees that trans women are women."
"To put it in a nutshell," he said, "the IOC had a scientific consensus back in 2015. There are no IOC rules or regulations around transgender participation. That depends on each international federation. So Laurel Hubbard is a woman, is competing under the rules of her federation and we have to pay tribute to her courage and tenacity in actually competing and qualifying for the Games."
Hubbard herself has not made any public comments except for a statement following her qualifying for the Summer Games, saying she was "humbled" by the support which had helped her "through the darkness" following a near career-ending injury in Australia in 2018.
Reports around the world have claimed Hubbard is the first trans Olympic athlete, which is actually not the case. As the Los Angeles Blade has reported, Quinn, a trans nonbinary soccer midfielder for Team Canada, last Wednesday became the first out trans athlete ever to complete in the Olympic Games. They posted about it on Instagram, saying, "I feel proud seeing 'Quinn' up on the lineup and on my accreditation. I feel sad knowing there were Olympians before me unable to live their truth because of the world."
The IOC is expected to review and likely revise its policies on transgender participation following Tokyo. Trans athlete and researcher Joanna Harper, who has advised the organization and other sports policy groups, told the Los Angeles Blade her recommendation will be for the IOC to continue to regulate trans athletes sport-by-sport. "There shouldn't be a one-size fits all policy," said Harper.
She also noted how the mainstream cisgender media is consumed with coverage of Hubbard and missing out on the bigger picture, and what it will mean for the next generation watching on TV and online.
"The lack of attention paid to Quinn and to Chelsea Wolfe has been interesting," said Harper.
"A few news outlets have commented on their presence in Tokyo and in Quinn's case the comments have been mostly favorable. On the other hand, the storm of mostly negative press heaped on Laurel Hubbard has been disappointing, although predictable. I hope that the negative press that Laurel has gotten won't dissuade young trans athletes from following their dreams. I think that the next trans woman to compete in the games will get less negative press, and eventually (although probably not in my life) there will come a time when trans women in sport generate little or no controversy."
Hubbard issued a statement Friday via the New Zealand Olympic Committee in which she said: "The Olympic Games are a global celebration of our hopes, our ideals and our values. I commend the IOC for its commitment to making sport inclusive and accessible."
According to a French news outlet, NZOC spokesperson Ashley Abbott told reporters the committee had seen a "particularly high level of interest" in Hubbard's Olympic debut, and much of it has been negative.
"Certainly we have seen a groundswell of comment about it and a lot of it is inappropriate," Abbott said. "Our view is that we've got a culture of manaaki (inclusion) and it's our role to support all eligible athletes on our team. In terms of social media, we won't be engaging in any kind of negative debate."
Abbott reminded the media that the NZOC's job was to support its athletes, including Hubbard. "We all need to remember that there's a person behind all these technical questions," she said. "As an organization we would look to shield our athlete, or any athlete, from anything negative in the social media space. We don't condone cyberbullying in any way."
RELATED: CBS This Morning from 22 Jun 2021
LGBTQ+ ally Jamie Lee Curtis reveals her 25-year-old child is Trans
Curtis and her husband Christopher Guest, British screenwriter, composer, musician, director, and actor have two daughters.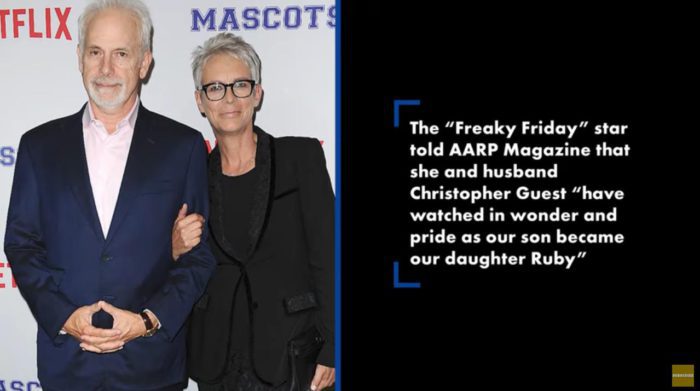 LOS ANGELES – In a new interview with the American Association of Retired Persons' magazine, Golden Globe and BAFTA winning actress Jamie Lee Curtis disclosed that her youngest child is transgender. In the interview Curtis reflected that she has "watched in wonder and pride as our son became our daughter Ruby."
Curtis and her husband Christopher Guest, British screenwriter, composer, musician, director, and actor have two daughters. Ruby, 25, works as a computer gaming editor while Curtis and Guest's 34-year-old daughter, Annie, is married and works as a dance instructor. Curtis also noted that Ruby and her fiancé are getting married next year in a wedding that Curtis will officiate.
The longtime Hollywood couple have been married for more than 36 years but have no grandchildren, "but I do hope to," she told the magazine.
Non-binary Olympian leaves games without a medal but still a winner
For the first time in my entire life, I'm proud of the person I've worked to become. I chose my happiness over medaling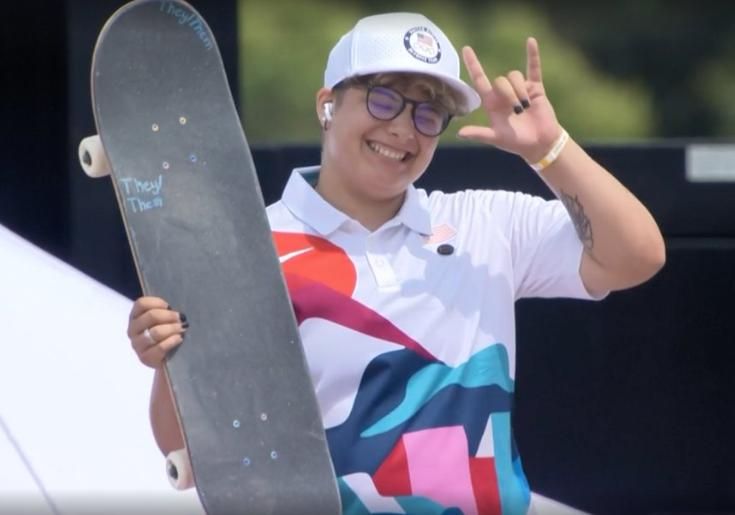 TOKYO – In a series of firsts for the Summer Olympic Games, Alana Smith left the Tokyo games with a sense of accomplishment and a couple of firsts. The 20-year-old non-binary skateboarder competing in the debut of their sport noted on their Instagram account, "My goal coming into this was to be happy and be a visual representation for humans like me."
Smith wrote: 'What a wild f***ing ride…My goal coming into this was to be happy and be a visual representation for humans like me. For the first time in my entire life, Im proud of the person I've worked to become. I chose my happiness over medaling. Out of everything I've done, I wanted to walk out of this knowing I UNAPOLOGETICALLY was myself and was genuinely smiling.
The feeling in my heart says I did that. Last night I had a moment on the balcony, I'm not religious or have anyone/anything I talk to. Last night I thanked whoever it was out there that gave me the chance to not leave this world the night I laid in the middle of the road. I feel happy to be alive and feel like I'm meant to be here for possibly the first time in a extremely long time. On or off day, I walked out of this happy and alive… Thats all I have ever asked for.
Thank you to all the incredible humans that have supported me through so many waves of life. I can't wait to skate for the love of it again, not only for a contest. Which is wild considering a contest helped me find my love for it again. 💛🤍💜🖤"
Smith's Olympic debut was slightly marred by their being misgendered during news coverage of their events by BBC commentators misgendering Smith discussing their performance, which led to protests from LGBTQ+ groups and allies including British LGBTQ+ advocacy group Stonewall UK.
Alana Smith (they/them), American pro-skater in the #Tokyo2020 Olympics has been repeatedly misgendered by journalists. We hope there will be swift corrections. All athletes deserve to be respected & celebrated as part of the games.#OlympicsForAll https://t.co/EO1JiHZOgT 💛🤍💜🖤

— Stonewall (@stonewalluk) July 27, 2021
During the competition, Smith proudly held up their skateboard, which featured their pronouns they/them written across the top. The misgendering was addressed by NBC Sports which issued an apology Tuesday for streaming coverage that misgendered Smith.
"NBC Sports is committed to—and understands the importance of—using correct pronouns for everyone across our platforms," the network said. "While our commentators used the correct pronouns in our coverage, we streamed an international feed that was not produced by NBCUniversal which misgendered Olympian Alana Smith. We regret this error and apologize to Alana and our viewers."
Alana Smith slaps, and I gotta say it was so incredibly cool to see someone so much like me thriving and expressing so much joy at the Olympics. pic.twitter.com/tA9bWWDcj4

— Mel Woods 🌾🌈 (@intothemelwoods) July 26, 2021
NBC also reported that this is the first Olympics in history that has featured skateboarding, with 16 athletes traveling to Tokyo to represent the United States. Smith qualified for the third Olympic spot in the women's street category after competing at the World Skate World Championships in 2019, according to Dew Tour, which hosts international skateboarding competitions.
According to Outsports, the online LGBTQ+ Sports magazine and NBC Sports, Smith is one of more than 160 openly LGBTQ athletes competing at this year's Tokyo Olympics and one of at least three openly nonbinary or Trans athletes.
Quinn, a midfielder for the Canadian women's soccer team who goes by only their first name, is the first openly Trans athlete and nonbinary athlete to compete in the games. Laurel Hubbard, a Trans woman from New Zealand will compete in the super heavyweight 87 kilogram-plus (192 pound-plus) weightlifting category on August 2.