December 15, 2011 at 3:00 pm EDT | by Juliette Ebner
Gifts for your pets
Editor's note: This is part four of our annual gift guide. Go to washingtonblade.com for past installments. Next week's guide will offer ideas for excellent last-minute gifts.
Even pets deserve a little something this holiday season. Here are a few finds from local shops for the companion animals in your life.
The Big Bad Woof (117 Carroll St., N.W.)
Don't like those typical dog beds that just get smelly and covered in fur after a while? Check out Molly Mutt and Molly Meow Cat Duvets. They come is a variety of designs and are green. The only things needed are the duvet cover, a "stuff sack" and stuff like old blankets and clothes to fill the sack. The duvets run from $24.99 to $52.99.
Want something a little more stylish to give your pets water? The Pioneer Pet Stainless Steel Drinking Fountain is an alternative to water cooler-like dispensers. It keeps the water circulating and features a replaceable charcoal filter. These drinking fountains range from $59.99 to $89.99.
Chateau Animaux (733 8th St., S.E.)
Tired of feeling like you're always giving your dog a new bone? Try giving him Naturally Shed Antlers. These are the longest-lasting part and range in price from $27.99 to $29.99 depending on size.
Dogs like to destroy their toys and it gets expensive replacing them. The Bottle Buddy lasts longer than your average toy because dogs destroy the replaceable 20-ounce bottle inside the sock-like toy. Once a bottle is too far gone, just put another one inside. The yellow duck Bottle Buddy is $9.99.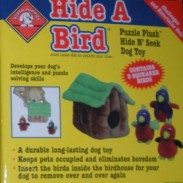 The Plush Puppies Hide-a-Squirrel and Hide-a-Bird feature three plush squeaker toys inside a plush tree stump and birdhouse and dogs must figure out how to get the squeakers out. Treats and other small toys can also be hidden inside. These puzzles run from $14 to $21.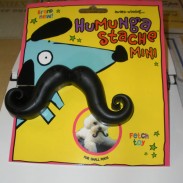 Ever wondered what a dog would look like with a mustache? Throw the Humungastache Mini to your dog and when they grab on to the small ball on the back, they'll be sporting a 'stache. The mini version costs $9.99.
Wagtime (1232 9th St., N.W.)
Wagtime has its own line of collars that vary in sizes and designs. They range anywhere from $16 to $25.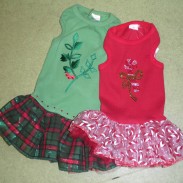 Taking the dog to a holiday party or just want something for him to wear on Christmas? Try one of these holiday-themed dresses. They range from $24 to $32.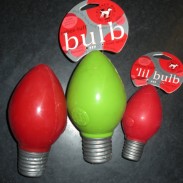 Instead of the dog trying to eat the lights off the tree, try throwing one of these toys to him. There are two sizes good for almost any dog. The large bulb is $15 and the "'lil bulb" is $10.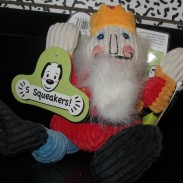 Have a dog that likes squeaky toys? HuggleHounds, running at $15.25, feature five squeakers for your dog to find.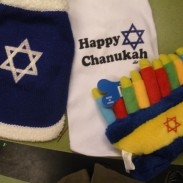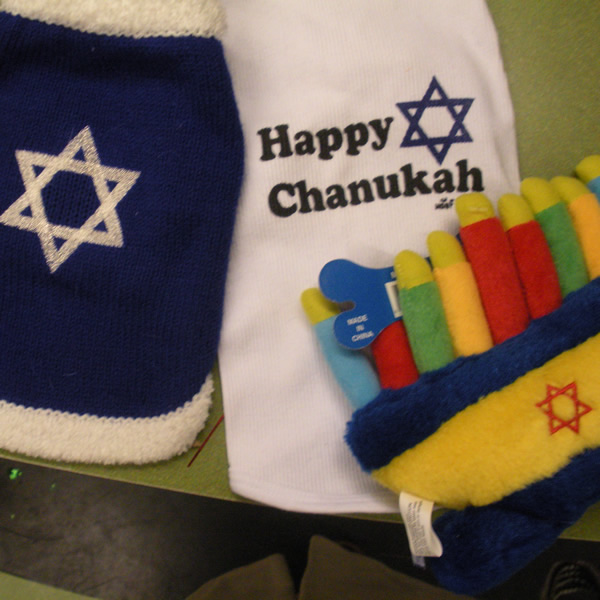 Christmas not your thing? Wagtime offers Chanukah items for dogs as well. The Chanukah clothes run anywhere from $18 to $26 and the plush menorah is $12.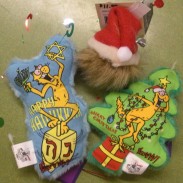 Don't forget your feline friends. Cat toys are all around $10.
Planet Pet (1711 Florida Ave., N.W.)
Want some holiday treats to give your dog while enjoying Christmas dinner? Give them one of these dog cookies in fun shapes like Christmas trees and snowmen. There's even a Star of David for those celebrating Chanukah. The cookies are $1.99 each.
With eight days of Chanukah, give your dog a large dreidel plush toy for $9.99.