Md. gay delegate speaks out on marriage, family
Murphy became seventh out lawmaker in state legislature

ANNAPOLIS, Md. — When Maryland Del. Peter Murphy (D-Charles County) publicly confirmed that he is gay in an interview last year with the Washington Blade, he became the seventh out member of the legislature, the most of any state in the country.
His disclosure came while the legislature was considering a bill to legalize same-sex marriage and shortly after the State Senate approved the bill. The measure died a short time later when supporters determined they didn't have the votes to pass it in the House of Delegates and chose to send it back to committee.
Murphy says he would have voted for it then and plans to vote for it this year when the bill is expected to come before lawmakers again.
In an interview with the Blade this week at his legislative office in Annapolis, Murphy said his long record of support for family-related policies and his role as the father of two daughters, a grandfather, and former foster parent speak volumes to his philosophy as a lawmaker and as a person.
That background and his longstanding roots in Charles County have made it clear that his strong support for same-sex marriage and a transgender rights bill doesn't conflict with the interests of his constituents, Murphy said. To the contrary, he said supporting marriage equality and non-discrimination for all people is a plus for his district and all sections of the state, especially LGBT residents and their families who often must grapple with issues of discrimination.
"This bill is not about me or people my age. I'm 62 years old and I'm living my life," Murphy said of the marriage bill.
"This bill is for every young person that struggles every day with his or her sexuality, goes to bed every night and cries, goes to school scared to death and wonders – wonders – what their life can be like," he said.
"And so this bill is about letting them know that they, too, can be whole. And I think that's why we have to do this. It's so much beyond 71 votes," he said, referring to the number of votes needed to pass a bill in the House of Delegates.
"I think at this point people look at who Peter Murphy is and Peter Murphy is many things," he said." The fact that I'm gay is not what I'm finding people, at least to my face, are talking about. I've had no push-back at all."
Among other things, Murphy talked about how he believes his varied career as a microbiologist, middle school science and math teacher, business owner, counselor and mediator have helped prepare him for his current job as a state delegate.
He won election to his first term in office in 2006 and was re-elected in 2010 as the delegate representing Maryland's 28th legislative district, which covers most of Charles County, a swath of southern Maryland bordering the Chesapeake Bay and dominated by rural towns and small cities. Unlike rural areas in other parts of the country, Charles County's voters are solidly Democratic, although political observers say the district leans to the conservative side on social issues.
Murphy said that although his position in support of gay marriage and a pending transgender non-discrimination bill have been widely reported, his opposition to legalizing slot machines in the county and his strong environmental positions appear to have attracted far more interest in his district.
Following is a transcript of Murphy's interview on Tuesday with the Washington Blade:
Washington Blade: After we ran our story last year about you being gay you told a Maryland newspaper, the Gazette, that you were surprised that some of your colleagues came up to you and said they didn't know you were gay. You said you thought you had been open about your sexual orientation for quite a while.
Peter Murphy: That's exactly right.
Blade: Can you tell about what time in your life or what point in your career you chose to be open about your sexual orientation?
Murphy: I can tell you exactly the time. I ran for office in 2002 for county commissioner. I lost that race. But after that race the Blade actually ran a small piece in the paper that said something along the lines of an openly gay candidate named Peter Murphy lost the race. So it was nothing we ever hid or denied.
We were never going to not claim that if you will. So that was it. I had partners. They would come with me to events and stuff like that. Certainly my family knew. So I just presumed that people would know that. I think that because I was married and had children it may well be that sometimes people see that first. But that's just a guess.
Blade: Were you out to your family before the 2002 election campaign?
Murphy: Yes, back when I divorced. So I was out probably in 1999 roughly.
Blade: Was your family OK with it?
Murphy: Oh yes. It's never been an issue. I have two daughters, grown daughters. They've always participated fully in my campaigns. And we celebrate all of the holidays together. So it has everything to do with the kind of father I've been. It was never an issue. Even with my ex-wife – we're still very good friends. We celebrate holidays together. So it's just never been an issue.
Blade: That sounds like a real success story. Sometimes we hear about cases where things turn out differently.
Murphy: That's right. And I think it's really a matter in my case I can honestly say that the people who are most important to me are the people that are the most accepting.
Blade: Many of the opponents say same-sex marriage is harmful to the family and harmful to children. How do you respond to that?
Murphy: I think there are a couple of things. You need to just look at our state and that there are somewhere been 9,000 and 10,000 children in foster care, and not one of those children comes from a gay family. So when you look at the family structure and you look at children – I was a foster parent as well. And I was on the Foster Care Review Board for 10 years in Charles County.
If you are going to talk about families and you are going to talk about children it's important to look at it from their perspective. Children simply want to be loved, they want to belong. They want to be safe. They want to be cared for. And that has nothing to do with gender or race, sexual orientation, your socio-economic status. Those are all arbitrary things. Those are not what matters to children.
And so if you dare look at it from that perspective, then they have no argument. And there is no argument. Family is defined by the individual and that unit, whatever that is. I can tell you that I know many gay couples have adopted children that nobody else will take. And so those kids are not concerned about if they have two fathers or two mothers. They're concerned most about if they can wake up every day safe, cared for – opportunities that they would never get.
And they didn't come from gay couples. Those children came from straight couples who rejected them or who did whatever they did to those kids. So it is a non-argument. I don't really understand how people who really care about family and commitment and those kinds of things and make people whole would ever deny any child – any child – the opportunity to be cared for and to be loved and to belong.
Blade: You say you served on the county's foster care commission. What are some of the reasons that children are taken from their natural parents and placed into foster homes?
Murphy: Sexual abuse, neglect. I can tell you some of the most horrendous stories that will make you weep about what people will do to their children. And so what happens is then they will have to live with someone else who will provide for them those very basic things and stop what their own family was doing. You know, family isn't necessarily defined by blood when you look at a foster child's care.
Blade: What prompted you to run for public office?
Murphy: I first ran for the County Commission. And I think it's important for people to know that in my case I believe that the only reason to run for office is for public service. I had been on the Planning Commission. I had been in many, many things involved in the county. I saw it as some things I would like to do differently. A lot of it had to do with social services and social justice issues. A lot of it had to do with land issues and the environment and education. Those things are real important to me. I lost that race.
So after I lost that race I had an amazing opportunity to work for Sen. Paul Sarbanes (D-Md.). He hired me as his field director for Southern Maryland…I will make this very clear to him as well. If Sen. Sarbanes decided to run again in 2006 I would have gladly stayed with him and continued to work for him.
So when he said he wasn't going to run I asked him how he felt about me running for delegate. And he encouraged me to do that. It just meant that there was now an opportunity to kind of continue his work but on a much smaller scale.
Blade: Was it an open seat? Did you challenge someone?
Murphy: Well you don't – it's a three-member district. So you just run for one of those seats. And you run county wide. So I wasn't going against any one person. I simply wanted one of those seats.
Blade: The election returns show that you came in third place but you won because the top three vote getters win the seats.
Murphy: That's exactly right.
Blade: And then in the next election in 2010 you moved up a notch. You finished second. You were a good amount ahead of the Republican challengers.
Murphy: Oh yes. Charles County is very heavily Democrat.
Blade: How do you think your constituents feel on the same-sex marriage issue? Have you been asked about it at meetings in the district?
Murphy: I have never been asked about it.
Blade: Really?
Murphy:  No. And this is what gives me such encouragement and excitement about the momentum that this issue has. I have been in the county now since 1976 teaching. I've been a teacher. I've been a foster parent. I've been involved in the schools of my children. I've been on numerous boards. And then I worked for Sen. Sarbanes. And you know I think at this point people look at who Peter Murphy is and Peter Murphy is many things.
The fact that I'm gay is not what I'm finding people, at least to my face, are talking about. I've had no push back at all. But I get more pushback about the fact that they call me a tree hugger. I hear people say that to my face. Or they say I'm the darling of the environmentalists. I've heard that. But no one has ever said to me a thing about my sexual orientation.
But I think that's because I don't judge. I work for everybody. When people call up here for help or call anywhere, I don't ask them if they are Democrats or Republicans. I don't care about that. They need help and that's my job to help government work for people. I think people appreciate the genuineness in that.
I think they appreciate that it's about public service. I don't have an agenda. I'm not pushing anything of mine forward. If I wasn't gay I would still support this bill because it's the right thing to do. And it's the right thing to do because it provides the same rights and privileges under the law for all people in this state as well as it provides for the religions to the freedom to do what they want to do. It doesn't get any better than that. How else can you do it? It provides for all people. You can't do it any better than that. So I think around this particular issue if anybody has an issue with it they may not agree with me because they have their own feelings around marriage. But they don't disagree with me because they think I'm pushing an agenda, because I would vote for it because I'm gay. They know I'm voting for it because I think it's the right thing to do and it's fair. And I would do this no matter what. And I would do it no matter what on other things, too – for our foster children or for any other equal rights. You cannot, in my estimation or my belief; I just see no justification or argument for denying people the same rights.
Blade: What the opponents have said is it infringes on their religious faith.
Murphy: It doesn't. It doesn't at all. It says that religious organizations and institutions can choose and continue as they are. I don't agree with a lot of things they do. It's not how I would see things. But that's OK. It's not like I'm saying to them you can't do that. And government has no place in directing religious organizations about those things. If you're a same-sex couple and you want to get married and you want to get married in your church but your church doesn't permit it, they you have to find another church. That's the way to do it. You don't say the church needs to change. It will one day. We're at the curve. But right now that's not where it is. And let's go to religion for one minute and talk about that and talk about children again. How can any religion say that it's OK to deny children a loving, caring, secure place to belong? How can any religion say that and do that in their name? I don't understand that. I don't get that. But they can still do it. They can choose to place children or not.
Blade: Is Peter Murphy an Irish Catholic?
Murphy: I am Catholic. I was born Catholic, baptized Catholic, grew up Catholic. I'm not actively practicing the religion now. My daughters went to Catholic schools, elementary school. My older daughter went to its high school. But I will say that was a real conscious decision between my wife at the time and myself about where they would go. But the Catholic school where our daughters went to was so warm. It was the priest and the nuns that were there in that environment was such a safe, wonderful environment for them to be in. And we would never put them in a situation that I thought they would be taught things that I found to be distasteful.
… I think part of it is if you talk about family and if that's a value that you hold, whether it's individually, whether it's an institution or whatever, then you've got to talk about love, you've got to talk about commitment, you've got to talk about those kinds of things. And I think people think about that and say that's really what defines it. So does it matter that it's two men or two women? I think people are getting more away from that and more away from this idea of what it is.
Blade: As you know, after the House of Delegates debated the marriage bill last year – and you participated in the debate – the bill was pulled from the floor. Did you get advance warning on that? Were you part of the discussion over whether the bill should be pulled or a vote taken?
Murphy: No, I was not. I was not around any formal discussions on any of that stuff. But we were getting a sense that people either were falling off or they were going to – I was just getting a sense, but I wasn't involved in any discussion.
Blade: Do you think that was the right thing to do? Some people wanted a vote to take place to see where the members stood on the bill.
Murphy: Well you know I don't think so because when you do that then it gets into blame and it gets to pointing fingers at people. This should not be, frankly, a bill that you have to coerce anybody into voting for. People should do it because it is the right thing to do, not because they are worried about getting re-elected or not getting re-elected or someone at their church is upset with them. You do this because it's the right thing to do. And so if there's a mechanism that's going to point fingers to highlight or spotlight people that could make them uncomfortable, I'm not for that. I'm not for blaming people. I'm not for doing those kinds of things. In the long run it doesn't get us anywhere.
Blade: Can you say what you said during the debate on the bill? It was something about your own situation?
Murphy: No I didn't actually. It was the sponsor of the bill, Del. Barnes, did a wonderful introduction. I was so touched. It was well done. It was sensitive. It was right. But he talked about his six colleagues in the House. He kept talking about six colleagues. And I thought, well, this is disingenuous. How could I possibly sit here knowing that I'm here? So I counted them up and said well there's no Peter Murphy on that. So I just simply got up and I thanked him and I said I just want to correct you. There are seven members in this House. That's all I said.
Blade: I recall that there was applause after you said that.
Murphy: People were very generous, they were kind.
Blade: Doesn't your district have a significant number of African-American residents?
Murphy: Yes.
Blade: Are they mostly Democrats?
Murphy: Yea.
Blade: Do you have a sense of where they may stand on the marriage issue?
Murphy: I don't know. I think that with any group there are subgroups – African-American religious or non-African American religious. I really don't know. To be honest with you…people care about their everyday lives. They care about jobs. They care about do they have a job. They care about do they have a home. They want to make sure their kids are getting schooling. That's really what they care about. I'm not so egocentric to think that they really care a lot about Peter Murphy's sexual orientation. It's like, so what, I just want to make sure my kids are healthy. I want to make sure my kids have a good education. And they should do that. And my job is to use government to make sure that those things are there for them.
Blade: What's your sense now of what the legislature will do with the marriage bill this year? Do you sense there's enough support now in the House of Delegates?
Murphy: I think that we're very close. I think some people want to make sure this bill really does what it says it does. And it says it does two things. I'll give the very short version. It provides equal rights to all citizens and it protects religions to be able to teach their doctrine as they choose. And I think that's probably where we are right now. And I don't know exactly where the numbers are. But I think that's kind of where we are. We've got a fairly large number in the House that does understand this.
Blade: House Speaker Busch said there may be about 10 delegates who are sitting on the fence and having some concerns but possibly voting for it. In that regard, would you support what Gov. Cuomo reportedly did in New York. He agreed to expand the religious related exemptions in the bill that, among other things, would allow religious oriented businesses to refuse to offer services to gay and lesbian couples. Reports surfaced that expanding those exemptions enabled a few more legislators to vote for the bill that put it over the top.
Murphy: Well I've heard that in the last session and that was brought up to me by a group of people who said if we don't agree with same-sex marriages why should we have to rent our hall to same-sex couples for their receptions. And I frankly said to them we don't rent your halls. If we do it we do it in a hotel. So it's not very likely that you're going to find us even wanting your facilities.
So I said I don't think you have to worry about that. I think on the other hand, though, maybe the church may not want to do that. But there are plenty of – if you want – religious business people who understand that their business depends on consumers. And I haven't looked at the latest numbers. But I believe that since New York did that there was a lot of money spent by same-sex couples in New York for cakes and receptions and caterers and stuff like that. You know what, that's going to trump anything that any religious organization says that they don't want to rent their hall.
Blade: There is talk now that if it passes in the legislature the opponents have the resources to bring it to the voters in a referendum. What do you think will happen with a referendum?
Murphy: I think it will pass. I'm so against any bill ever that deals with civil rights to be put to referendum. Can you imagine if the voting rights bill and those kinds of things had been put to a referendum? Where would we even be in this country today, in some states in this country? Can you imagine? Things like that absolutely shouldn't go up for a referendum. So I'm against any kind of civil rights bill going to that. But if it goes, I think it will pass.
Blade: When you say pass, do you mean the law will be overturned?
Murphy: No, I think it will stay.
Blade: How do you think the vote will come down in Charles County?
Murphy: Well, I don't know. That's a good question. I would hope that it would hold. We have a very large Democratic population.
Blade: What about the Gender Identity Non-Discrimination Act, which would protect transgender people from discrimination. As you know, it passed in the House of Delegates but was pulled from the Senate last year. Does that have a chance of passing this year?
Murphy: I don't know. I don't know how much work has been done on that. That's a bill that's a little harder to understand. A lot of people really don't know what it means. They have to be educated. I think once people get a better idea of what that is we'll see a different thing. But it's not easy.
People would say things on the floor like, well, if you're sitting across from them how do you know if it's a man or a woman. It's almost adolescent like in the way people approach this because they kind of giggle about it. It's like when people are exploring something they are not familiar with it's a little out of their comfort zone. And I sensed that when I listened to the debate on the floor.
Blade: Did you get any criticism in your district on the transgender bill, which you voted for?
Murphy: No, I didn't hear anything.
Blade: How were you received among your colleagues after the Blade ran its story on you being gay last year?
Murphy: Oh, people couldn't have been kinder… And not just my colleagues but people who are up here a lot, lobbyists and staff. People that were staff would come up to me and hug me and thank me for saying it. And you know what? It came through more than anything – this is why this [marriage equality] bill is so important. It's why we have to be out there. It's because the number of people who came up to me to say my nephew is gay, my cousin is gay. And it was almost like an affirmation to them. It is like somebody else – I love my nephew, I love my cousin, I love my daughter or whatever. And I need to know that there are people that are working to make their lives better.
And that is why we have to pass this bill. This bill is not about me or people my age. I'm 62 years old and I'm living my life. This bill is for every young person that struggles every day with his or her sexuality, goes to bed every night and cries, goes to school scared to death and wonders – wonders – what their life can be like. And so this bill is about letting them know that they, too, can be whole. And I think that's why we have to do this. It's so much beyond 71 votes. It's to send a message that adults are getting it right and making a world – we talk about this all the time. What are we going to leave our kids? I hear this all the time – children are our future. Well if they're our future, let's leave them a future. Let's leave them something so that these kids who suffer from this every day can look at that and say I can fall in love. I can have a partner. I can belong to somebody. And I think that's why we need to do it.
Blade: Does that mean you will do some speaking out if the bill goes to a referendum. As you know, it's lost in every state where it came before the voters. The head of the same-sex marriage advocacy group said he isn't sure advocates for the bill in Maryland have the resources or a plan to defeat a referendum.
Murphy: Well I don't know the answer to that. But I do know it's not an excuse not to do it. We do it. And if it goes to referendum and it's not upheld, so be it. Then we move ahead again in another way. But I would never not do it considering it could fail — never. I think we have to keep putting it out there and keep talking about it. And again, as I've been saying, if we're doing this for young people and people that are just starting their lives, even if it fails they can still look at it and say there are people out there that think I matter. If that helps them to live a better life and to live their life openly and wholly and honestly and with integrity, we just don't lose. But we've got our eye on not letting that happen.
Blade: Do you know what the timing will be for the bill to come up this year?
Murphy: No, I don't know the timing. My sense is they would rather do this sooner rather than later. It takes a lot of time and I appreciate that it gets a lot of attention. I also know that there is a lot of other business that needs to be done up here. We have a very heavy agenda for this session. And it all deserves attention. So for any one thing, no matter what it is, to take away the attention from the other things, then it doesn't give the attention that the other things deserve. So I'm hoping we'll get it started soon.
Blade: Does the LGBT caucus meet – the seven of you? Do you keep in touch?
Murphy: We keep in touch. Obviously any group that is like-minded, no matter what it is, you talk to each other. You get together and so forth. Before last year I didn't even know that there was a caucus…So I'm relatively new to the caucus.
Blade: Have you decided to run for re-election in 2014?
Murphy: That really is a long way off. You know, anything can happen. So I really haven't made any plans to be honest with you.
Two injured in gunfire outside crowded 14th Street restaurants
Witnesses say 20 shots fired near Blade, Whitman-Walker offices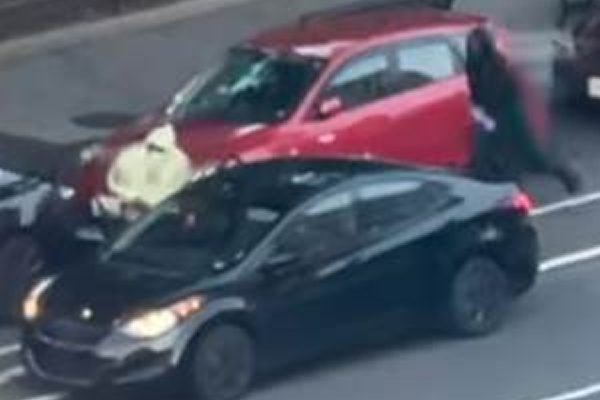 D.C. police are seeking the public's help in identifying at least three suspects involved in a shooting in which two men were wounded shortly after 8 p.m. on Thursday, July 22, on the 1700 block of 14th Street, N.W. where the offices of the Washington Blade and Whitman-Walker Health, the LGBTQ supportive health center, are located.
The shooting occurred while dozens of people were dining at restaurants along the bustling street in the heart of the city's Logan Circle nightlife area.
Police released a video showing two men – one wearing a white hooded sweater or sweatshirt and the other wearing a dark colored similar hooded shirt running along the street and entering the front and rear passenger doors of a black car double parked on the street that police described as an older model Honda Civic with D.C. license plates.
The video shows the car driving away at a fast speed with a third person driving the vehicle.
"Detectives from the Metropolitan Police Department's Third District seek the public's assistance in locating suspects and a vehicle in reference to an Assault with Intent to Kill (Gun) offense," a statement released by D.C. police says.
"At approximately 8:20 p.m., members of the Third District heard the sounds of gunshots and responded to the listed location," the statement says. "Upon arrival, members located two adult male victims, both conscious and breathing, suffering from gunshot wounds," according to the statement. "DC Fire and Emergency Medical Services responded to the scene and transported the victims to area hospitals for treatment of non-life-threatening injuries."
The shooting incident took place at a time when many city residents and police were on edge following the fatal shooting of a 6-year-old girl on July 16 in Southeast D.C. and the firing of gunshots last Saturday outside Washington Nationals Stadium during a game, which prompted people inside the stadium, who heard the gunshots, to duck for cover.
D.C. Police Chief Robert Contee, who was accompanied by D.C. Mayor Muriel Bowser at a news conference at the scene of the shooting on Thursday night, said investigators believe one of the two men wounded by the gunfire was a target of the shooting. Contee said police believe the second victim was hit in the crossfire.
"We've got to make sure we're doing everything we can as an entire system here in the District of Columbia to hold offenders accountable when these things happen in our community," Contee said. "This is unacceptable. That's the bottom line. It is totally unacceptable behavior," he said.
"I'm asking the community to take a look at these videos," he told reporters at the press conference. "If you know the person or the vehicle or somebody who is in that – there is one individual with a very distinctive hoody that he was wearing – please look at that very closely," he said. "We're asking for the community's help."
When asked by a reporter to comment on expressions of outrage by members of the community over the widespread outbreak of gun violence in the city, Bowser said she shares that concern.
"Well, I'm outraged. The chief is outraged. And the community should be outraged," the mayor said. "What we saw tonight and unfortunately what we saw over the last several days is an illegal firearm brazenly used on D.C. streets," Bowser said.
"And we know that our investigators and detectives are going to track down every lead. Our citizens have already been helpful in supplying leads and video and anything else that they saw so that we can get these individuals off the street and hold them accountable," the mayor said.
Witnesses have said the Thursday night shooting on 14th Street reportedly occurred at the intersection of Riggs Street outside the Mexicue Restaurant, which is located at 1720 14th Street, N.W. The Blade office is located just a few doors down and Whitman-Walker's Elizabeth Taylor building is a short distance away across the street at 14th and R Street, N.W.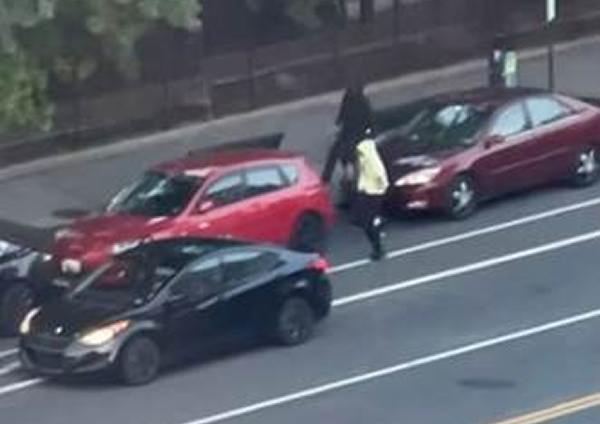 Suspect charged in murder of trans woman in PG County apartment
District Heights man apprehended in Arlington following unrelated arrest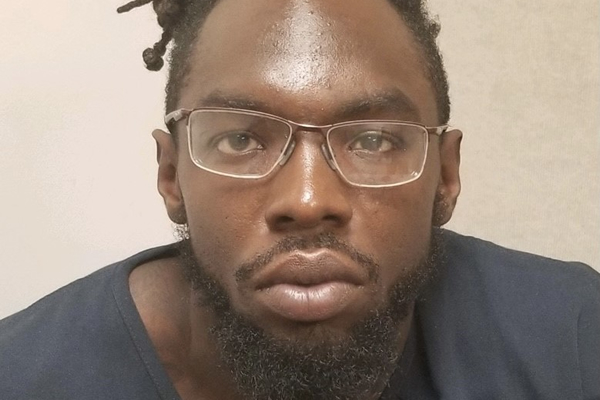 Prince George's County, Md., Police announced on Wednesday that homicide investigators identified and filed murder charges against a 27-year-old District Heights, Md., man for the July 17 homicide of transgender woman Taya Ashton, 20, who was found shot to death in her apartment in nearby Suitland, Md.
In a statement, P.G. Police said they charged DeAllen Davonta Price of the 6400 block of Hil Mar Drive in the unincorporated area of District Heights with first-degree and second-degree murder and related charges in connection with Ashton's death.
According to the statement, while P.G. police detectives identified Price as a suspect in the Ashton murder, Arlington County, Va. Police arrested him on July 18 on an unrelated robbery charge after he attempted to flee from Arlington and Metro Transit police inside a train tunnel at the Pentagon City Metro Station.
"With the assistance of Metro Transit Police, Prince George's County Police detectives and a K9 officer searched those tracks and recovered a weapon that's now been linked to Taya's murder," the P.G. Police statement says.
"Price remains in custody in Virginia pending extradition to Prince George's County," the statement says. "The motive remains under investigation," says the statement, but it adds, "Detectives have uncovered no evidence suggesting Taya's murder was due to her gender identity."
The announcement by P.G. police of Price's arrest came on the same day that family members and friends of Taya Ashton held a vigil to honor her life at 4 p.m. on Wednesday at River Terrace Park in Northeast D.C. along the banks of the Anacostia River, which is part of the neighborhood were Ashton grew up.
Veteran D.C. LGBTQ rights advocate Phil Pannell, who attended and spoke at the vigil, said that in addition to family members and friends of Ashton's, those who spoke included Prince George's County State's Attorney Aisha Braveboy; D.C. Council member Trayon White (D-Ward 8), D.C. transgender rights advocate Earline Budd, and numerous community leaders in D.C. and P.G. County. Budd said more than 200 people turned out for the vigil.
At the conclusion of the vigil, many of the participants drove in a lengthy caravan of cars to the apartment building in the Suitland section of Prince George's County, where Ashton lived and where her life ended, to further honor her.
"The nearby streets were completely filled with people coming out for Taya and her family," Budd said.
A three-page charging document filed in Prince George's County District Court by P.G. Police on Wednesday, July 21, provides a detailed account of how homicide detectives used cell phone records and high-tech firearm ballistics techniques to link Price to the murder.
P.G. police said homicide detectives began an intense investigation into the murder almost immediately after family members who discovered Ashton's body at her apartment on July 17 called police. Ashton's grandfather, Stuart Anderson, who said Taya Ashton's status as a transgender woman was accepted by her family, told the Blade that family members who arrived at the apartment could not find any evidence of a forced entry, leading them to believe the assailant responsible for the murder may have been someone Ashton knew and invited into her home.
The charging document says that although Ashton's phone was missing from the apartment and presumed stolen at the time her body was found, detectives obtained her phone number from family members and used it to discover through the tracing of her calls and text message records that she and Price communicated with each other by text or calls between Friday, July 16, one day prior to the murder, and at 11:42 p.m. Saturday, July 17.
"This is the last call that the Decedent makes or answers before being found deceased," the charging document states.
According to the charging document, earlier in the evening of July 17 Ashton and a friend of hers exchanged text messages in which Ashton wrote, "My dude is on his way" which the friend understood to mean a sexual encounter was expected to take place. A short time later Ashton told her friend in a follow-up text message "that a sexual encounter occurred," the charging document says.
"As the investigation continued, it was discovered that Defendant was arrested on 07/18/2021 at approximately 1642 hours [4:42 p.m.] by the Arlington County Police Department for a theft," the charging document in support of Price's arrest says.
It says that when Arlington Police initially attempted to apprehend Price, "he jumped off of a platform and ran into a subway tunnel towards the Pentagon Metro Station." The document says he hid inside the tunnel for about two hours before being arrested after he walked out of the tunnel into the station.
At the time of his arrest, the charging document says, Price was in possession of a Gucci cross strap bag with distinct markings that Ashton's family members reported was missing from her apartment at the time her body was found.
A short time later, P.G. County homicide investigators, who arrived on the scene, conducted a search of the train tunnel and found a black semi-automatic .40 caliber Smith and Wesson handgun, the charging document states.
It says that that a police firearm expert, after examining the gun, "was able to conclude that the fired .40 caliber cartridge casing recovered from the scene [of the murder] and the fired projectile recovered from the Decedent's body were fired from the Smith and Wesson handgun bearing serial #HTU3274 recovered from the area the Defendant hid from police."
The document states that when questioned after his arrest, Price waived his Miranda rights to withhold comment and obtain representation from an attorney and acknowledged that police had obtained access to his correct cell phone number.
"He also admitted to being sexually intimate with the Decedent and stated that he has known the Decedent for approximately three months," the charging document continues. "He then admitted to being at the Decedent's apartment the night of the murder and being sexually intimate with the Decedent that night," it says.
"Based on the aforementioned facts, the evidence indicates that the Defendant is responsible for shooting and killing the Decedent," the document concludes. The document does not state whether detectives asked Price whether he committed the murder or whether or not he admitted or denied fatally shooting Taya Ashton.
An arrest warrant that accompanies the charging document says that in addition to being charged with first-degree and second-degree murder, police charged Price with Assault-First Degree; Firearm Use/Felony Crime of Violence; Assault-Second Degree; Handgun on Person; and Loaded Handgun on Person.
Court records show that Price had been arrested in Virginia and Maryland several times prior to his latest arrests beginning in 2012 on charges that include illegal possession of a firearm, armed robbery, misdemeanor theft, and grand larceny.
LGBTQ ally Hoffberger stepping down at American Visionary Art Museum
Iconic Baltimore attraction looking for a successor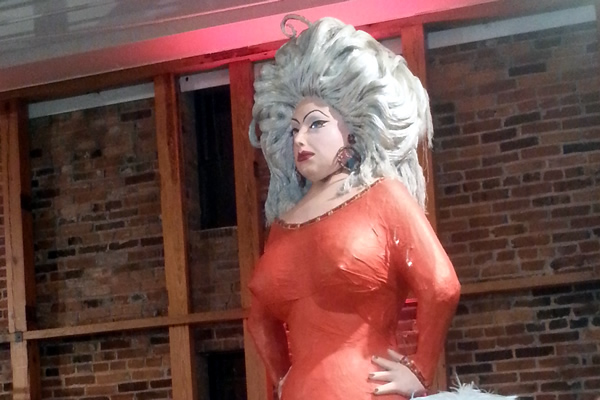 A longtime ally of the LGBTQ community is leaving her job in the arts world.
After 26 years as founder, director and primary curator of the American Visionary Art Museum in Baltimore, Rebecca Alban Hoffberger disclosed this week that she will retire in March of 2022.
In 1992, Congress designated the museum as a "national repository and educational center for visionary art," which is defined as works "produced by self-taught individuals, usually without formal training" which arise from "an innate personal vision that revels foremost in the creative act itself."
Rather than focusing on works of visionary art as objects unto themselves, Hoffberger curates exhibits that combine art, science, philosophy, and humor, always with an underlying focus on social justice and betterment. AVAM's exhibits have explored themes ranging from hunger, public health and climate change to sleep and what makes us smile.
Throughout her tenure, Hoffberger has supported LGBTQ artists by featuring their work and stories in her themed exhibits and adding their work to the museum's permanent collection. While other museums have only recently begun to call attention to their efforts to support Diversity, Equity, Inclusion and Access, AVAM has done it all along.
One of AVAM's best known and most photographed pieces by an LGBTQ artist is British sculptor Andrew Logan's 10-foot-tall statue of Divine, a tribute to the gay actor and Baltimore native who starred in drag in "Pink Flamingos," "Multiple Maniacs," "Hairspray" and other movies by filmmaker John Waters.
Logan, whose paintings and sculpture fill the Andrew Logan Museum of Sculpture between England and Wales, has two other works at AVAM: Icarus, a figure suspended above the main staircase, and the Cosmic Galaxy Egg, an eight-foot sculpture on a plaza outside the museum's Jim Rouse Visionary Center.
Other LGBTQ artists highlighted at AVAM include painter James Snodgrass; Judy Tallwing McCarthy, an Apache leatherwoman and multi-media artist who won the first International Ms. Leather contest in 1987; Andrey Bartenev, a Russian performer, sculptor and experimentalist who won the Alternate Miss World pansexual beauty pageant in 2018 as Miss UFO; and psychic and "consciousness researcher" Ingo Douglas Swann, co-founder of the Stargate Project that was launched to investigate psychic phenomena in military and domestic intelligence applications.
Local visionary talents include woodworker Bob Little; Bob Adams, a multi-media artist and one of John Waters' Dreamlanders, whose photographs, scrapbooks, shrines and other assemblages have been featured in three AVAM exhibits, and Bob Benson, a popular classical music radio host who became a prolific visual artist later in life, responsible for the fart machine in the museum's Flatulence exhibit; the blinged-out Universal Tree of Life visible on Key Highway (made with Rick Ames and David Hess); the ocean beneath Icarus and the sky above him, and many other creations.
The museum has supported the LGBTQ community in other ways as well. It was one of the first places in Maryland to offer a welcoming setting for same-sex weddings, even before they were legal in the state. Couples would get married in the District of Columbia, where it was legal, and then come to AVAM's Meditation Chapel to have a second wedding and reception.
One of Hoffberger's year-long exhibits was called "Race, Class and Gender: 3 Things that Contribute "0" to CHARACTER (Because being a Schmuck is an equal opportunity for everyone!), also known as The Character Show. As part of that 2005-2006 presentation, she wrote an essay entitled "gender," in which she explored the ways people in different countries think about transgender citizens; "intersex" children born with both male and female reproductive organs; gender "verification" for athletes; gender fluidity, the "gender rights" movement and related subjects.
"Every human being is precious," she argued at the end. "We are all, all of us, part of God's family. We all must be allowed to love each other with honor."
The museum's shop, Sideshow, has a gay owner whom she recruited from Chicago, Ted "Uncle Fun" Frankel, and is filled with gay-friendly books and gifts that reflect his sensibility. TripSavvy.com, a website last month named AVAM the LGBTQ+ Best Hidden Gem in Maryland. Readers of The Baltimore Sun just chose it as Baltimore's Best Museum and Best Tourist Attraction.
In announcing her departure, Hoffberger said she loves her time at the museum but wants to pursue other interests, including writing a play about the close friendship between inventor Nikola Tesla and writer Mark Twain.
"I consider myself the luckiest woman I know," she said. "It has been such a fantastic privilege to imagine, birth and to help our American Visionary Art Museum flourish over these past decades, alongside the most wonderful hardworking staff imaginable. Every beautiful thought, opportunity to communally inspire some greater good, we have joyfully undertaken."
Her final curated exhibit as director will be "Healing & The Art of Compassion (And The Lack Thereof!)," scheduled for Oct. 9, 2021 to Sept. 4, 2022. A farewell gala and fundraiser has been set for Nov. 20. The museum's board has appointed m/Oppenheim Executive Search to help find her replacement.
Waters, a big fan of the museum, is one of many who think Oppenheim doesn't have an easy assignment.
"Rebecca Hoffberger's name is almost synonymous with the word 'irreplaceable," the writer and filmmaker said in an email message.
"She has given the world the perfect museum to celebrate Baltimore's reputation as a welcoming home to eccentric artistic outsiders and crackpot personalities," he said. "The statue of Divine watches over the international visiting guests with benevolence and the same understanding Rebecca has for all artists who don't fit in. Rebecca is passionate, obsessive in her drive, and nobody else could have made this place become such a major tourist destination. And now to find a successor? Who knows? We need another Glinda, the Good Witch of the Visionary. She's out there somewhere."