Md. gay delegate speaks out on marriage, family
Murphy became seventh out lawmaker in state legislature

ANNAPOLIS, Md. — When Maryland Del. Peter Murphy (D-Charles County) publicly confirmed that he is gay in an interview last year with the Washington Blade, he became the seventh out member of the legislature, the most of any state in the country.
His disclosure came while the legislature was considering a bill to legalize same-sex marriage and shortly after the State Senate approved the bill. The measure died a short time later when supporters determined they didn't have the votes to pass it in the House of Delegates and chose to send it back to committee.
Murphy says he would have voted for it then and plans to vote for it this year when the bill is expected to come before lawmakers again.
In an interview with the Blade this week at his legislative office in Annapolis, Murphy said his long record of support for family-related policies and his role as the father of two daughters, a grandfather, and former foster parent speak volumes to his philosophy as a lawmaker and as a person.
That background and his longstanding roots in Charles County have made it clear that his strong support for same-sex marriage and a transgender rights bill doesn't conflict with the interests of his constituents, Murphy said. To the contrary, he said supporting marriage equality and non-discrimination for all people is a plus for his district and all sections of the state, especially LGBT residents and their families who often must grapple with issues of discrimination.
"This bill is not about me or people my age. I'm 62 years old and I'm living my life," Murphy said of the marriage bill.
"This bill is for every young person that struggles every day with his or her sexuality, goes to bed every night and cries, goes to school scared to death and wonders – wonders – what their life can be like," he said.
"And so this bill is about letting them know that they, too, can be whole. And I think that's why we have to do this. It's so much beyond 71 votes," he said, referring to the number of votes needed to pass a bill in the House of Delegates.
"I think at this point people look at who Peter Murphy is and Peter Murphy is many things," he said." The fact that I'm gay is not what I'm finding people, at least to my face, are talking about. I've had no push-back at all."
Among other things, Murphy talked about how he believes his varied career as a microbiologist, middle school science and math teacher, business owner, counselor and mediator have helped prepare him for his current job as a state delegate.
He won election to his first term in office in 2006 and was re-elected in 2010 as the delegate representing Maryland's 28th legislative district, which covers most of Charles County, a swath of southern Maryland bordering the Chesapeake Bay and dominated by rural towns and small cities. Unlike rural areas in other parts of the country, Charles County's voters are solidly Democratic, although political observers say the district leans to the conservative side on social issues.
Murphy said that although his position in support of gay marriage and a pending transgender non-discrimination bill have been widely reported, his opposition to legalizing slot machines in the county and his strong environmental positions appear to have attracted far more interest in his district.
Following is a transcript of Murphy's interview on Tuesday with the Washington Blade:
Washington Blade: After we ran our story last year about you being gay you told a Maryland newspaper, the Gazette, that you were surprised that some of your colleagues came up to you and said they didn't know you were gay. You said you thought you had been open about your sexual orientation for quite a while.
Peter Murphy: That's exactly right.
Blade: Can you tell about what time in your life or what point in your career you chose to be open about your sexual orientation?
Murphy: I can tell you exactly the time. I ran for office in 2002 for county commissioner. I lost that race. But after that race the Blade actually ran a small piece in the paper that said something along the lines of an openly gay candidate named Peter Murphy lost the race. So it was nothing we ever hid or denied.
We were never going to not claim that if you will. So that was it. I had partners. They would come with me to events and stuff like that. Certainly my family knew. So I just presumed that people would know that. I think that because I was married and had children it may well be that sometimes people see that first. But that's just a guess.
Blade: Were you out to your family before the 2002 election campaign?
Murphy: Yes, back when I divorced. So I was out probably in 1999 roughly.
Blade: Was your family OK with it?
Murphy: Oh yes. It's never been an issue. I have two daughters, grown daughters. They've always participated fully in my campaigns. And we celebrate all of the holidays together. So it has everything to do with the kind of father I've been. It was never an issue. Even with my ex-wife – we're still very good friends. We celebrate holidays together. So it's just never been an issue.
Blade: That sounds like a real success story. Sometimes we hear about cases where things turn out differently.
Murphy: That's right. And I think it's really a matter in my case I can honestly say that the people who are most important to me are the people that are the most accepting.
Blade: Many of the opponents say same-sex marriage is harmful to the family and harmful to children. How do you respond to that?
Murphy: I think there are a couple of things. You need to just look at our state and that there are somewhere been 9,000 and 10,000 children in foster care, and not one of those children comes from a gay family. So when you look at the family structure and you look at children – I was a foster parent as well. And I was on the Foster Care Review Board for 10 years in Charles County.
If you are going to talk about families and you are going to talk about children it's important to look at it from their perspective. Children simply want to be loved, they want to belong. They want to be safe. They want to be cared for. And that has nothing to do with gender or race, sexual orientation, your socio-economic status. Those are all arbitrary things. Those are not what matters to children.
And so if you dare look at it from that perspective, then they have no argument. And there is no argument. Family is defined by the individual and that unit, whatever that is. I can tell you that I know many gay couples have adopted children that nobody else will take. And so those kids are not concerned about if they have two fathers or two mothers. They're concerned most about if they can wake up every day safe, cared for – opportunities that they would never get.
And they didn't come from gay couples. Those children came from straight couples who rejected them or who did whatever they did to those kids. So it is a non-argument. I don't really understand how people who really care about family and commitment and those kinds of things and make people whole would ever deny any child – any child – the opportunity to be cared for and to be loved and to belong.
Blade: You say you served on the county's foster care commission. What are some of the reasons that children are taken from their natural parents and placed into foster homes?
Murphy: Sexual abuse, neglect. I can tell you some of the most horrendous stories that will make you weep about what people will do to their children. And so what happens is then they will have to live with someone else who will provide for them those very basic things and stop what their own family was doing. You know, family isn't necessarily defined by blood when you look at a foster child's care.
Blade: What prompted you to run for public office?
Murphy: I first ran for the County Commission. And I think it's important for people to know that in my case I believe that the only reason to run for office is for public service. I had been on the Planning Commission. I had been in many, many things involved in the county. I saw it as some things I would like to do differently. A lot of it had to do with social services and social justice issues. A lot of it had to do with land issues and the environment and education. Those things are real important to me. I lost that race.
So after I lost that race I had an amazing opportunity to work for Sen. Paul Sarbanes (D-Md.). He hired me as his field director for Southern Maryland…I will make this very clear to him as well. If Sen. Sarbanes decided to run again in 2006 I would have gladly stayed with him and continued to work for him.
So when he said he wasn't going to run I asked him how he felt about me running for delegate. And he encouraged me to do that. It just meant that there was now an opportunity to kind of continue his work but on a much smaller scale.
Blade: Was it an open seat? Did you challenge someone?
Murphy: Well you don't – it's a three-member district. So you just run for one of those seats. And you run county wide. So I wasn't going against any one person. I simply wanted one of those seats.
Blade: The election returns show that you came in third place but you won because the top three vote getters win the seats.
Murphy: That's exactly right.
Blade: And then in the next election in 2010 you moved up a notch. You finished second. You were a good amount ahead of the Republican challengers.
Murphy: Oh yes. Charles County is very heavily Democrat.
Blade: How do you think your constituents feel on the same-sex marriage issue? Have you been asked about it at meetings in the district?
Murphy: I have never been asked about it.
Blade: Really?
Murphy:  No. And this is what gives me such encouragement and excitement about the momentum that this issue has. I have been in the county now since 1976 teaching. I've been a teacher. I've been a foster parent. I've been involved in the schools of my children. I've been on numerous boards. And then I worked for Sen. Sarbanes. And you know I think at this point people look at who Peter Murphy is and Peter Murphy is many things.
The fact that I'm gay is not what I'm finding people, at least to my face, are talking about. I've had no push back at all. But I get more pushback about the fact that they call me a tree hugger. I hear people say that to my face. Or they say I'm the darling of the environmentalists. I've heard that. But no one has ever said to me a thing about my sexual orientation.
But I think that's because I don't judge. I work for everybody. When people call up here for help or call anywhere, I don't ask them if they are Democrats or Republicans. I don't care about that. They need help and that's my job to help government work for people. I think people appreciate the genuineness in that.
I think they appreciate that it's about public service. I don't have an agenda. I'm not pushing anything of mine forward. If I wasn't gay I would still support this bill because it's the right thing to do. And it's the right thing to do because it provides the same rights and privileges under the law for all people in this state as well as it provides for the religions to the freedom to do what they want to do. It doesn't get any better than that. How else can you do it? It provides for all people. You can't do it any better than that. So I think around this particular issue if anybody has an issue with it they may not agree with me because they have their own feelings around marriage. But they don't disagree with me because they think I'm pushing an agenda, because I would vote for it because I'm gay. They know I'm voting for it because I think it's the right thing to do and it's fair. And I would do this no matter what. And I would do it no matter what on other things, too – for our foster children or for any other equal rights. You cannot, in my estimation or my belief; I just see no justification or argument for denying people the same rights.
Blade: What the opponents have said is it infringes on their religious faith.
Murphy: It doesn't. It doesn't at all. It says that religious organizations and institutions can choose and continue as they are. I don't agree with a lot of things they do. It's not how I would see things. But that's OK. It's not like I'm saying to them you can't do that. And government has no place in directing religious organizations about those things. If you're a same-sex couple and you want to get married and you want to get married in your church but your church doesn't permit it, they you have to find another church. That's the way to do it. You don't say the church needs to change. It will one day. We're at the curve. But right now that's not where it is. And let's go to religion for one minute and talk about that and talk about children again. How can any religion say that it's OK to deny children a loving, caring, secure place to belong? How can any religion say that and do that in their name? I don't understand that. I don't get that. But they can still do it. They can choose to place children or not.
Blade: Is Peter Murphy an Irish Catholic?
Murphy: I am Catholic. I was born Catholic, baptized Catholic, grew up Catholic. I'm not actively practicing the religion now. My daughters went to Catholic schools, elementary school. My older daughter went to its high school. But I will say that was a real conscious decision between my wife at the time and myself about where they would go. But the Catholic school where our daughters went to was so warm. It was the priest and the nuns that were there in that environment was such a safe, wonderful environment for them to be in. And we would never put them in a situation that I thought they would be taught things that I found to be distasteful.
… I think part of it is if you talk about family and if that's a value that you hold, whether it's individually, whether it's an institution or whatever, then you've got to talk about love, you've got to talk about commitment, you've got to talk about those kinds of things. And I think people think about that and say that's really what defines it. So does it matter that it's two men or two women? I think people are getting more away from that and more away from this idea of what it is.
Blade: As you know, after the House of Delegates debated the marriage bill last year – and you participated in the debate – the bill was pulled from the floor. Did you get advance warning on that? Were you part of the discussion over whether the bill should be pulled or a vote taken?
Murphy: No, I was not. I was not around any formal discussions on any of that stuff. But we were getting a sense that people either were falling off or they were going to – I was just getting a sense, but I wasn't involved in any discussion.
Blade: Do you think that was the right thing to do? Some people wanted a vote to take place to see where the members stood on the bill.
Murphy: Well you know I don't think so because when you do that then it gets into blame and it gets to pointing fingers at people. This should not be, frankly, a bill that you have to coerce anybody into voting for. People should do it because it is the right thing to do, not because they are worried about getting re-elected or not getting re-elected or someone at their church is upset with them. You do this because it's the right thing to do. And so if there's a mechanism that's going to point fingers to highlight or spotlight people that could make them uncomfortable, I'm not for that. I'm not for blaming people. I'm not for doing those kinds of things. In the long run it doesn't get us anywhere.
Blade: Can you say what you said during the debate on the bill? It was something about your own situation?
Murphy: No I didn't actually. It was the sponsor of the bill, Del. Barnes, did a wonderful introduction. I was so touched. It was well done. It was sensitive. It was right. But he talked about his six colleagues in the House. He kept talking about six colleagues. And I thought, well, this is disingenuous. How could I possibly sit here knowing that I'm here? So I counted them up and said well there's no Peter Murphy on that. So I just simply got up and I thanked him and I said I just want to correct you. There are seven members in this House. That's all I said.
Blade: I recall that there was applause after you said that.
Murphy: People were very generous, they were kind.
Blade: Doesn't your district have a significant number of African-American residents?
Murphy: Yes.
Blade: Are they mostly Democrats?
Murphy: Yea.
Blade: Do you have a sense of where they may stand on the marriage issue?
Murphy: I don't know. I think that with any group there are subgroups – African-American religious or non-African American religious. I really don't know. To be honest with you…people care about their everyday lives. They care about jobs. They care about do they have a job. They care about do they have a home. They want to make sure their kids are getting schooling. That's really what they care about. I'm not so egocentric to think that they really care a lot about Peter Murphy's sexual orientation. It's like, so what, I just want to make sure my kids are healthy. I want to make sure my kids have a good education. And they should do that. And my job is to use government to make sure that those things are there for them.
Blade: What's your sense now of what the legislature will do with the marriage bill this year? Do you sense there's enough support now in the House of Delegates?
Murphy: I think that we're very close. I think some people want to make sure this bill really does what it says it does. And it says it does two things. I'll give the very short version. It provides equal rights to all citizens and it protects religions to be able to teach their doctrine as they choose. And I think that's probably where we are right now. And I don't know exactly where the numbers are. But I think that's kind of where we are. We've got a fairly large number in the House that does understand this.
Blade: House Speaker Busch said there may be about 10 delegates who are sitting on the fence and having some concerns but possibly voting for it. In that regard, would you support what Gov. Cuomo reportedly did in New York. He agreed to expand the religious related exemptions in the bill that, among other things, would allow religious oriented businesses to refuse to offer services to gay and lesbian couples. Reports surfaced that expanding those exemptions enabled a few more legislators to vote for the bill that put it over the top.
Murphy: Well I've heard that in the last session and that was brought up to me by a group of people who said if we don't agree with same-sex marriages why should we have to rent our hall to same-sex couples for their receptions. And I frankly said to them we don't rent your halls. If we do it we do it in a hotel. So it's not very likely that you're going to find us even wanting your facilities.
So I said I don't think you have to worry about that. I think on the other hand, though, maybe the church may not want to do that. But there are plenty of – if you want – religious business people who understand that their business depends on consumers. And I haven't looked at the latest numbers. But I believe that since New York did that there was a lot of money spent by same-sex couples in New York for cakes and receptions and caterers and stuff like that. You know what, that's going to trump anything that any religious organization says that they don't want to rent their hall.
Blade: There is talk now that if it passes in the legislature the opponents have the resources to bring it to the voters in a referendum. What do you think will happen with a referendum?
Murphy: I think it will pass. I'm so against any bill ever that deals with civil rights to be put to referendum. Can you imagine if the voting rights bill and those kinds of things had been put to a referendum? Where would we even be in this country today, in some states in this country? Can you imagine? Things like that absolutely shouldn't go up for a referendum. So I'm against any kind of civil rights bill going to that. But if it goes, I think it will pass.
Blade: When you say pass, do you mean the law will be overturned?
Murphy: No, I think it will stay.
Blade: How do you think the vote will come down in Charles County?
Murphy: Well, I don't know. That's a good question. I would hope that it would hold. We have a very large Democratic population.
Blade: What about the Gender Identity Non-Discrimination Act, which would protect transgender people from discrimination. As you know, it passed in the House of Delegates but was pulled from the Senate last year. Does that have a chance of passing this year?
Murphy: I don't know. I don't know how much work has been done on that. That's a bill that's a little harder to understand. A lot of people really don't know what it means. They have to be educated. I think once people get a better idea of what that is we'll see a different thing. But it's not easy.
People would say things on the floor like, well, if you're sitting across from them how do you know if it's a man or a woman. It's almost adolescent like in the way people approach this because they kind of giggle about it. It's like when people are exploring something they are not familiar with it's a little out of their comfort zone. And I sensed that when I listened to the debate on the floor.
Blade: Did you get any criticism in your district on the transgender bill, which you voted for?
Murphy: No, I didn't hear anything.
Blade: How were you received among your colleagues after the Blade ran its story on you being gay last year?
Murphy: Oh, people couldn't have been kinder… And not just my colleagues but people who are up here a lot, lobbyists and staff. People that were staff would come up to me and hug me and thank me for saying it. And you know what? It came through more than anything – this is why this [marriage equality] bill is so important. It's why we have to be out there. It's because the number of people who came up to me to say my nephew is gay, my cousin is gay. And it was almost like an affirmation to them. It is like somebody else – I love my nephew, I love my cousin, I love my daughter or whatever. And I need to know that there are people that are working to make their lives better.
And that is why we have to pass this bill. This bill is not about me or people my age. I'm 62 years old and I'm living my life. This bill is for every young person that struggles every day with his or her sexuality, goes to bed every night and cries, goes to school scared to death and wonders – wonders – what their life can be like. And so this bill is about letting them know that they, too, can be whole. And I think that's why we have to do this. It's so much beyond 71 votes. It's to send a message that adults are getting it right and making a world – we talk about this all the time. What are we going to leave our kids? I hear this all the time – children are our future. Well if they're our future, let's leave them a future. Let's leave them something so that these kids who suffer from this every day can look at that and say I can fall in love. I can have a partner. I can belong to somebody. And I think that's why we need to do it.
Blade: Does that mean you will do some speaking out if the bill goes to a referendum. As you know, it's lost in every state where it came before the voters. The head of the same-sex marriage advocacy group said he isn't sure advocates for the bill in Maryland have the resources or a plan to defeat a referendum.
Murphy: Well I don't know the answer to that. But I do know it's not an excuse not to do it. We do it. And if it goes to referendum and it's not upheld, so be it. Then we move ahead again in another way. But I would never not do it considering it could fail — never. I think we have to keep putting it out there and keep talking about it. And again, as I've been saying, if we're doing this for young people and people that are just starting their lives, even if it fails they can still look at it and say there are people out there that think I matter. If that helps them to live a better life and to live their life openly and wholly and honestly and with integrity, we just don't lose. But we've got our eye on not letting that happen.
Blade: Do you know what the timing will be for the bill to come up this year?
Murphy: No, I don't know the timing. My sense is they would rather do this sooner rather than later. It takes a lot of time and I appreciate that it gets a lot of attention. I also know that there is a lot of other business that needs to be done up here. We have a very heavy agenda for this session. And it all deserves attention. So for any one thing, no matter what it is, to take away the attention from the other things, then it doesn't give the attention that the other things deserve. So I'm hoping we'll get it started soon.
Blade: Does the LGBT caucus meet – the seven of you? Do you keep in touch?
Murphy: We keep in touch. Obviously any group that is like-minded, no matter what it is, you talk to each other. You get together and so forth. Before last year I didn't even know that there was a caucus…So I'm relatively new to the caucus.
Blade: Have you decided to run for re-election in 2014?
Murphy: That really is a long way off. You know, anything can happen. So I really haven't made any plans to be honest with you.
Moore signs executive order to protect gender-affirming health care in Md.
Ceremony took place during Pride month reception at Government House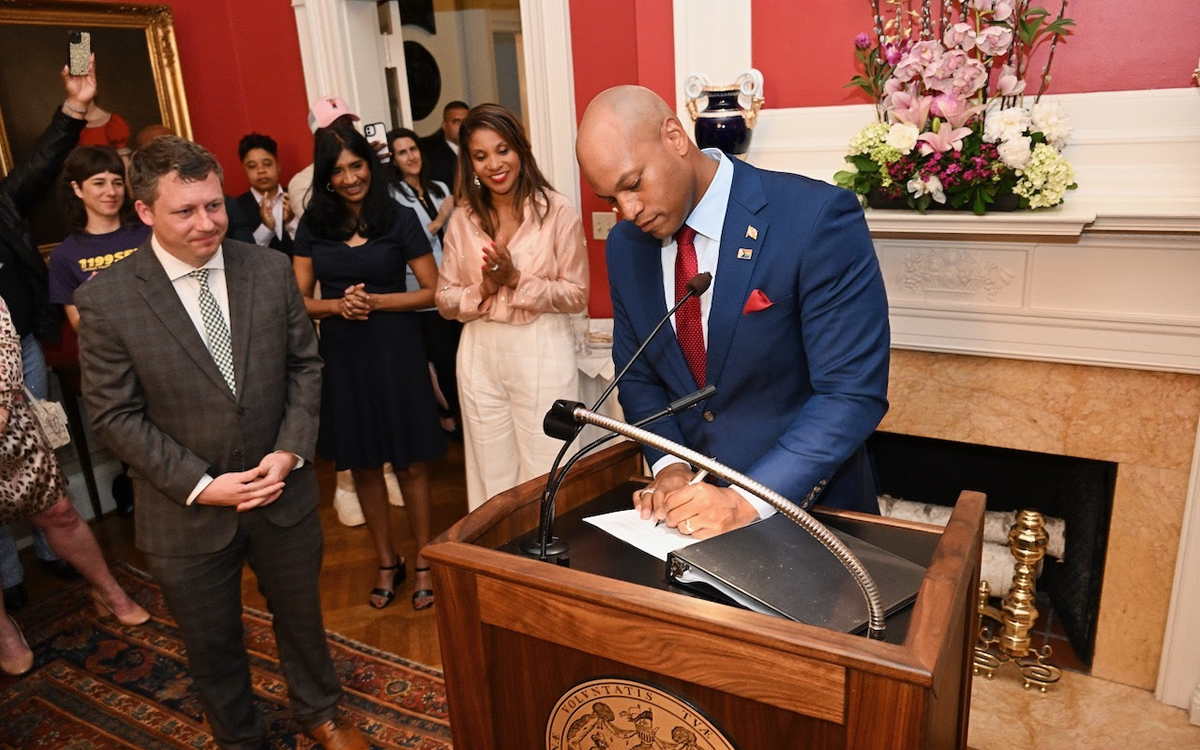 Maryland Gov. Wes Moore on Monday signed an executive order that protects gender-affirming health care in the state.
Moore signed the directive during a Pride month reception at Government House in Annapolis.
"In the state of Maryland, nobody should have to justify their own humanity," said Moore. "This order is focused on ensuring Maryland is a safe place for gender affirming care, especially as other states take misguided and hateful steps to make gender affirming care cause for legal retribution. In Maryland, we are going to lead on this issue."
"In signing this executive order, this administration is saying to all LGBTQIA+ Marylanders: You deserve to be your authentic selves — during Pride month and every month," added Lieutenant Gov. Aruna Miller. "You deserve to live safely, openly and freely; and receive the gender-affirming care you need."
Moore last month signed the Trans Health Equity Act, which requires Maryland's Medicaid program to cover gender-affirming care. Moore on March 31 signed a proclamation that proclaimed the day as the International Transgender Day of Visibility in Maryland.
22 ways to celebrate Pride month in Delaware
From Wilmington to Rehoboth, there's something for everyone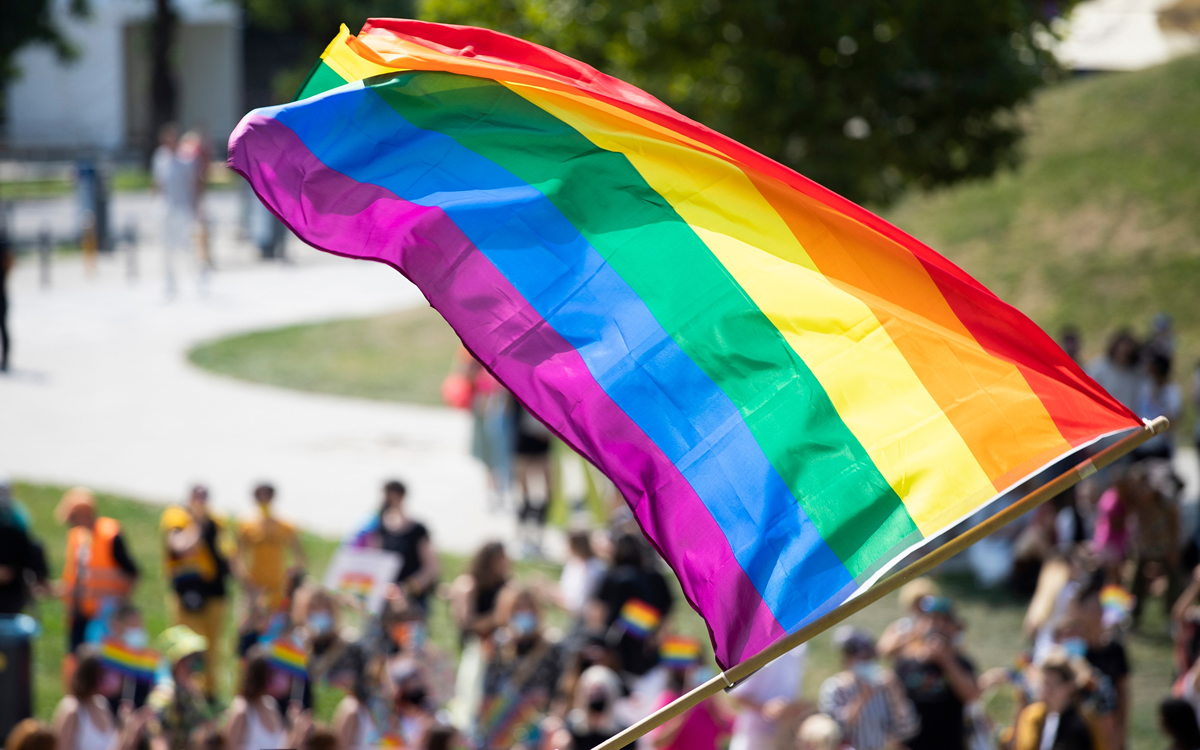 FRIDAY, JUNE 9
QUEER FILM: The Rehoboth Beach Film Society and CAMP Rehoboth kick off the three-day Pride Film Festival featuring 12 movies, ranging from "The Rocky Horror Picture Show" to "Going to Mars: The Nikki Giovanni Project," which explores author Giovanni's life and six decades of work. The schedule has not been announced yet as of publication of this guide. The films will be shown at Cinema Art Theatre at 17701 Dartmouth Rd. #2 in Lewes. $12 per film.
A HISTORY LESSON: Delaware LGBTQ history researcher Carolanne Deal explores the queer history of Sussex County and a new exhibition with parts of Delaware's queer history in the Zwannendael Park by the museum with the same name. 5 p.m. at 102 Kings Highway in Lewes. Free.
SATURDAY, JUNE 10
PRIDE FESTIVAL: Delaware Pride is putting on its annual Pride festival, with more than 100 vendors and many entertainers making up the single largest LGBTA gathering in Delaware, the organization says. Seventeen entertainers are listed on Delaware Pride's Facebook page, including "American Idol" contestant Alisabeth Von Presley – "Lady Gaga meets Pat Benatar with a dash of Michael Jackson," Little Village Magazine writes; Aunt Mary Pat, the drag queen and singer; Jenna Tall, who's won five Miss titles; The Manhattan Prairie Dogs, a dance group that's legal to watch despite prairie dogs being illegal to keep as a pet in New York; and Ryan Cassata, a singer and public speaker on trans issues. That's not even mentioning 83 vendors that are scheduled to attend. 10 a.m.-5 p.m. at 411 Legislative Ave. in Dover. Free.
PRIDE AFTER-PARTY: Double D's Taphouse is hosting an after-party throughout Saturday night for adults 21 and over, hosted by Scarlett Masters (who's also hosting the drag bingo above). 6-10 p.m. at 137 Jerome Drive in Dover. $15.
COUNTRY DANCING: Get yir boots on and saddle up, gays! Atlantic Sands Hotel & Conference Center is hosting a country dance party for gay men and women in Rehoboth. 7 p.m. at 1 Baltimore Ave. on the Boardwalk in Rehoboth. $10.
BRING YOUR GAY ASS OVER HERE: Flash your colors at Wilmington's Crimson Moon bar. Brush up on your gay history to understand why: When it was illegal to be gay, LGBTQ people put a colored handkerchief in their back pocket to signal their queerness to other community members. Community leaders periodically changed that color so they would not reveal their sexuality to undercover cops. Over time, it evolved into what it is today – a way to show who you are and what you're looking for. 9 p.m. at 1909 W. 6th St. in Wilmington. No cover.
SUNDAY, JUNE 11
RUN FOR FUN AT THE FUN RUN: Fun for run, no, run for fun in Rehoboth, organized by a Delaware shoe store, Charm City Run. 8-9 a.m. at 200 Rehoboth Ave. in Rehoboth. Free.
MIDDLETOWN PRIDE: Middletown is hosting its second annual Pride Walk and Festival – with vendors this time. 12-5 p.m. in Middletown. Free.
BINGO FOR A CAUSE: AIDS Delaware is hosting a spring bingo with The Rainbow Chorale in the Mill Creek Fire Company's Chambers, with all proceeds benefitting the two organizations. It's hosted by drag queens Scarlet Masters and Aura Buboyz and organizers encourage guests to dress in Pride attire or your "best ally" attire. Doors open at 5 p.m., games begin at 6 p.m. at 3900 Kirkwood Hwy in Wilmington. $15 for admission and one game board.
SUPPORT AGING LGBTQ+ PEOPLE: Learn about the challenges facing older LGBTQ adults and resources for them in a roundtable discussion hosted by Sussex Pride at the Unitarian Universalists of Southern Delaware's building in Lewes. 6-7:45 p.m. at 30486 Lewes Georgetown Hwy. Free.
THURSDAY, JUNE 15
A NIGHT OUT: Bring your friends and (queer) family to this LGBTQ social event at Constitution Yards Beer Garden. It had a record turnout of about 300 last year, and organizers are hoping to crack 400 this year. 6-9 p.m. at 308 Justison St. in Wilmington. Free.
GAME NIGHT: If going out isn't your thing and you'd prefer a more chill night, fear not: Sussex Pride is hosting a game night in the Epworth United Methodist Church. 6:30-8:15 p.m. at 19285 Holland Glade Rd. in Rehoboth. Free.
FRIDAY, JUNE 16
GET INTO THE HOMO SPIRIT: Listen to CAMP Rehoboth's Chorus singing all-time favorites like Chad & Jeremy's "A Summer Song," Chicago's "Saturday in the Park," and, of course, a Beach Boys medley at Epworth United Methodist Church. Friday and Saturday 7 p.m., and Monday 3 p.m. at 19285 Holland Glade Road in Rehoboth. $25.
GAYEST SONGS EVER: Celebrate the super gay pop hits of yesteryear (and this year) with performer Todd Alsup. 8:30-10:30 p.m. at The Pines, 56 Baltimore Ave. in Rehoboth. $25-150.
SATURDAY, JUNE 17
DRAG BRUNCH: Miss Troy, who is also performing at the Pride Festival, is hosting a drag brunch at The Queen in its Crown Room. The Queen is normally a live music venue but has a history of hosting all kinds of events. 12 p.m. at 500 N. Market St. in Wilmington. $39-61.50
POOL PARTY: If you want to take a splash in the pool while being a little tipsy this is the place to do it. Bring your own booze if desired, and bring food if you wish. 3-9 p.m. at 128 Honey Brook Lane in Felton. Free.
PLAY DUNGEONS & DRAGONS: Take a break from celebrating with a round of Dungeons & Dragons hosted by Sussex Pride at the Groome Church. 6:30-8 p.m. at 601 Savannah Rd. in Lewes. Free.
SUNDAY, JUNE 18
QUEER STORY TIME: Bring your little (or not so little) kids to the Woodlawn Library and read picture books with LGBTQ characters. You must register for the event beforehand here. Masks are strongly encouraged at the event. 11 a.m.-12 p.m. at 2020 W. 9th St. in Wilmington. Free.
BRING YOUR DADDY TO BRUNCH: Goolee's Grill encourages you to bring your dad (or daddy) to this family-friendly drag brunch because it's Father's Day. The event is hosted by the runner up for Rehoboth's Best Drag Queen in the 2019 Blade awards, Regina Cox. 12-2 p.m. at 11 South 1st St. $15.
SATURDAY, JUNE 24
ZOO VISIT: The Brandywine Zoo is holding its annual Pride Day – only the third – with educational programming, a scavenger hunt, and story time. 10 a.m.-3:30 p.m. at 1001 N. Park Dr. in Wilmington. $7 for seniors and youth, $9 for adults.
SUNDAY, JUNE 25
STONEWALL RELIVED: Listen to four actors recreate the 1969 Stonewall Uprising at CAMP Rehoboth with the words of those that were there – reporters, drag queens, trans youth, gay people, and homeless kids that confronted the police, letting out their anger. It wasn't the first LGBTQ uprising of the era, but the most consequential. 4 p.m. & 7 p.m. at 37 Baltimore Ave. in Rehoboth. $25.
FRIDAY, JUNE 30
GAY COMEDY: Standup comedian Jen Kober, an out lesbian from Louisiana, is touring the country and stopping in Rehoboth Beach at The Pines along with Jeff D. She won NPR's Snap Judgment of Comedic Performance of the Year and went viral for her standup about Girl Scout cookies. 7 p.m. at The Pines in Rehoboth.
Did we miss anything? Let the author know at [email protected]
People of Pride: A look at Maryland's LGBTQ community
Prominent activists, leaders spoke with the Baltimore Banner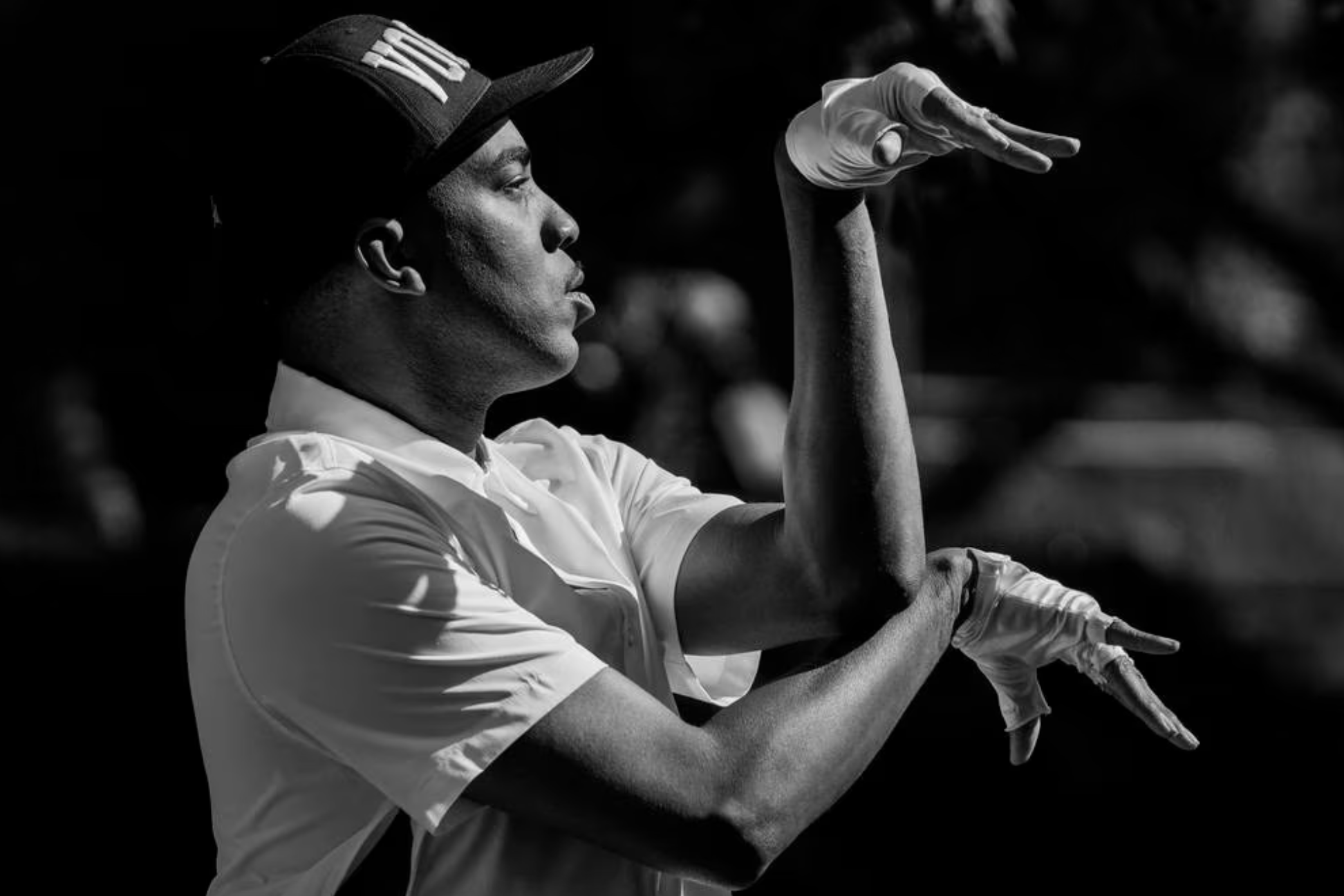 By John-John Williams IV | With the LGBTQ community under assault in many states, LGBTQ Marylanders say Pride month has taken on added meaning this year.
There are an estimated 11 million LGBTQ adults in the United States, with 151,000 in the state of Maryland, according to the Williams Institute on Sexual Orientation and Gender Identity Law and Public Policy at UCLA School of Law. The community covers a diverse spectrum of genders, identities, races and cultures.
The Baltimore Banner spoke and emailed with members of the community about the meaning of pride and the greatest challenges facing the LGBTQ community. Here are their answers, some of which have been edited for length and clarity.
The rest of this article can be found on the Baltimore Banner website.