Maryland prepares for marriage referendum
O'Malley's signature makes state eighth to legalize gay nuptials

Maryland Gov. Martin O'Malley was scheduled to sign a bill to legalize same-sex marriage at a ceremony at the State Capitol building in Annapolis Thursday afternoon, highlighting what LGBT activists consider an historic advancement for marriage equality.
O'Malley's signature on the Civil Marriage Protection Act was also considered the kick-off for what political observers predict will be an acrimonious referendum campaign in which opponents will ask Maryland voters to kill the bill before it becomes law.
Opponents were expected to gather the required number of petition signatures needed to place the referendum on the ballot for the November election.
The governor's bill signing ceremony was set to take place one week after the Maryland Senate voted 25 to 22 to approve the marriage bill. The vote came after senators supporting the bill defeated six hostile amendments introduced by opponents.
The vote to approve the bill triggered a burst of applause and cheers in the Senate chamber by supportive lawmakers and LGBT activists, who packed the visitors gallery.
"We could not be more grateful to the senators who today voted to make all Maryland families stronger," said Joe Solmonese, president of the Human Rights Campaign, which is a member of Marylanders for Marriage Equality, a coalition of LGBT and allied organizations that pushed for the bill.
"Today we took another giant step toward marriage equality becoming law — and we are in this position due to the unwavering leadership and resolve of Gov. O'Malley and our legislative allies," Solmonese said.
U.S. House Minority Leader Nancy Pelosi (D-Calif.) called the Senate vote "an extraordinary victory for the people of Maryland and a critical step forward in the march for marriage equality nationwide."
Pelosi added, "As a native Marylander, this vote is a source of personal pride; as an American this action is a symbol of our progress as a nation and as a people."
The Senate vote came six days after the Maryland House of Delegates passed the bill by a razor-thin two-vote margin. That vote followed an intense lobbying effort by O'Malley, who is credited with helping to persuade the few wavering Democratic delegates needed to put the bill over the top.
Unlike past years, O'Malley this year introduced the marriage bill as part of his legislative package and placed all of the resources of his office behind the bill.
But supportive and opposing lawmakers acknowledged in the Senate floor debate Thursday night that the Civil Marriage Protection Act now faces its most daunting hurdle — a bruising referendum campaign leading up to the November election, when voters will have the final say on whether the bill should be enacted into law.
Public opinion polls show Maryland voters are nearly evenly divided on the issue of same-sex marriage, with supporters showing a slight lead.
Most political observers believe opponents of the bill have the resources to gather the required number of petition signatures needed to place the measure on the ballot in the November election, when President Barack Obama's name will also be on the ballot.
The referendum campaign received a boost last Friday, when the Fox TV station in Baltimore, WBFF, posted a prominent link to the website gathering signatures for the referendum on its homepage.
Scott Livingston, news director at WBFF, denied any corporate involvement in promoting the referendum campaign.
"We are not endorsing any element of this debate," Livingston told the Blade. "We see it as a political process. Our goal is letting viewers understand they have a voice in the debate." He added that the site has now been "modified." The link that previously sent readers directly to the petition site now goes to a new page within the WBFF site that also includes a link to Equality Maryland's website. The change followed what Livingston characterized as a "handful" of complaints from WBFF viewers.
The marriage bill died in the House of Delegates last year after clearing the Senate. Supporters decided to pull it from the House floor without a vote after determining they didn't have the votes to pass it.
The Senate passed the bill last year by a vote of 25-21. Its approval of the bill on Thursday night by a 25-22 vote did not represent a change in the breakdown of supporters and opponents, according to observers at the state capital in Annapolis.
Sen. Joanne Benson (D-Prince George's County) announced her opposition to the bill last year but was unable to reach the Senate floor to vote at that time, resulting in her being listed as not voting. Benson voted 'no' on the bill this time.
She was among 11 Democrats who voted against the bill last week, opposing the 24 Democrats who voted 'yes' in the 47-member Senate.
Eleven Republicans voted against the bill, with just one, Sen. Allan Kittleman (R-Carroll & Howard Counties), voting for it.
In the House debate, several opponents delivered highly emotional speeches condemning the bill as a threat to traditional marriage and an infringement on religious rights. The Senate debate was more measured, with opponents saying their positions were based mostly on religious beliefs while expressing respect for same-sex couples.
Sen. Jamie Raskin (D-Montgomery County), an American University law professor, served as floor leader for the marriage bill. LGBT advocates for the bill have long credited him with using a firm but diplomatic approach in refuting arguments that legalizing same-sex marriage would infringe on religious rights or create problems for traditional marriage.
Sen. Rich Madaleno (D-Montgomery County), the Senate's only openly gay member, called on his colleagues to support the bill to provide equality and dignity to "all" families, including those headed by same-sex couples.
"We all cherish families," he said, adding that the bill is intended for "people who find love and want a family."
Noting that he and his partner are raising two kids, Madaleno said he considers himself a "married man" and part of the "family of Maryland" without the right to legalize his and his partner's relationship with a marriage license.
"It is the marriage license that symbolizes the commitment," he said. "It makes it worthwhile. I want that marriage license in the State of Maryland."
In his closing remarks, Raskin praised his fellow senators on both sides of the political aisle for their "extraordinary civility and decency and even affection that pervaded these very tough discussions."
He told of his personal bout with colon cancer last year, just as the Senate deliberated over the marriage bill, saying his doctors have given him a "clean bill of health" at this time.
"But I learned that there is a difference between misfortune and injustice in life," he said, noting that a cancer diagnosis, which can happen to anyone, is a misfortune.
"But if you find someone to love in this life and to have and to hold and to dedicate your life to and you have kids together and you want to be married… and you can't do it, that's not a misfortune, that's an injustice because we have the power to do something about it," he said. "And today we have."
Senate observers said Senate President Thomas V. Mike Miller (D-Anne Arundel County), who voted against the bill, took the unusual step of explaining why he did so. Miller, who has said all along that he opposes same-sex marriage on religious grounds, has been praised by the bill's supporters for making sure it would reach the floor for a vote.
"Am I on the wrong side of history?" he asked. "As a historian, there is no doubt about it… I believe marriage is between a husband and a wife and that is why I voted the way I did," he said.
Should Maryland's marriage equality bill clear the referendum hurdle, the state joins D.C., Massachusetts, New York, Iowa, New Hampshire, Connecticut, Vermont and Washington State in allowing same-sex couples to marry.
"There remains a lot of work to do between now and November to make marriage equality a reality in Maryland," said HRC's Solmonese. "Along with coalition partners, we look forward to educating and engaging voters about what this bill does. It strengthens all Maryland families and protects religious liberty."
Evan Wolfson, executive director of Freedom to Marry, the national same-sex marriage advocacy organization, startled HRC and other partners of the Marylanders for Marriage Equality coalition earlier this year when he expressed concern that supporters of the bill had not demonstrated the capability to win in a referendum fight.
"Lesbian and gay couples, their families, and non-gay friends and neighbors made a powerful case for the freedom to marry, which all should enjoy," Wolfson told the Blade after the Maryland Senate vote Thursday night.
"The lawmakers responded to these moving stories of love and commitment," he said. "Now, HRC, Marylanders for Marriage Equality, and those who led the passage of this bill must defend it against the attack coming in November. "
Asked if Freedom to Marry would become involved in the Maryland referendum fight, Wolfson said only, "You have my comment."
Inaugural Uptown Pride to take place June 10
Festival to feature drag storytime, makers' market, DJs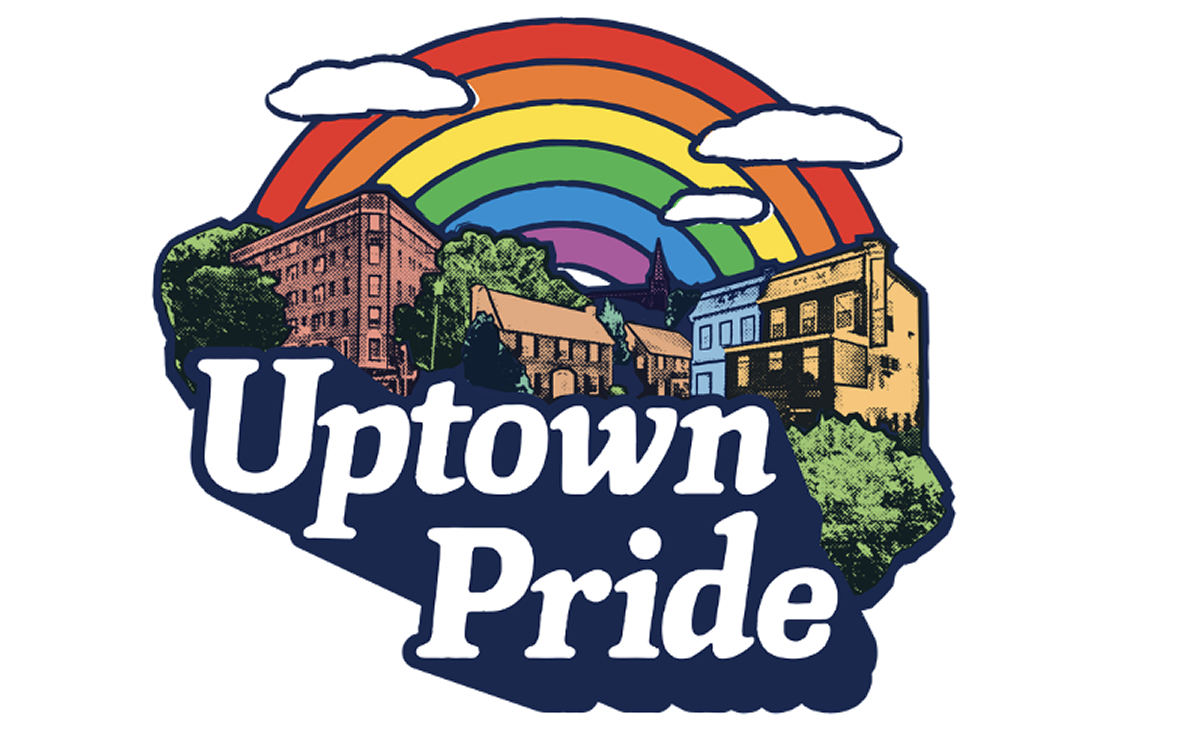 A new Pride festival is coming to D.C.
The inaugural Uptown Pride will be hosted in Sixteenth Street Heights on June 10 with Pride celebrations for Washingtonians of all ages.
The festival, hosted at the intersection of 14th Street, Colorado Avenue and Kennedy Street, NW, will feature a drag storytime, a makers' market, DJs and more. There will also be a raffle for various prizes, with all proceeds going to the Trevor Project, which provides suicide prevention services for LGBTQ teens.
The festival will be from 2-7 p.m. and is partnering with local businesses like Moreland's Tavern, Captain Cookie and Lighthouse Yoga Center for activities and refreshments.
Justin Noble, one of the organizers of the festival, said that the inspiration for the event came out of wanting a Pride experience tailored to the residents of the Sixteenth Street Heights, Petworth and Brightwood neighborhoods.
"It can be a hassle to get to downtown," Noble said. "There needs to be something in our community that supports LGBTQ+ people and the culture and all of that because we're everywhere, right? We are everywhere."
Organizer Max Davis said that the inclusion of children's events like a drag storytime was purposeful, and helps make the event more accessible to LGBTQ families and youth.
"Kids I feel are the most important in as far as just showing them, just visibly showing them that you can live out and you can be queer," Davis said. "There is no more dangerous time than now to be queer, questioning youth … So who better to welcome into the fold than kids who might be questioning their sexuality."
Davis said that a big part of wanting to bring Pride celebrations uptown was to have a physical representation of support for the LGBTQ community.
"I felt like because there wasn't anything going on in Sixteenth Street Heights — the clientele that we were serving up at Moreland's absolutely is supportive, and I never felt that it wasn't a supportive environment — but if you don't have something to actively support that I feel that your support is just words," Davis said. "If our community had someplace to attend even for one day to just be like, 'Hey, I stand with you,' … that is something that every community should have available to them to actively support the LGBTQ community."
Capital Pride announces 2023 honorees, grand marshals
Assistant Secretary of Health Levine among picks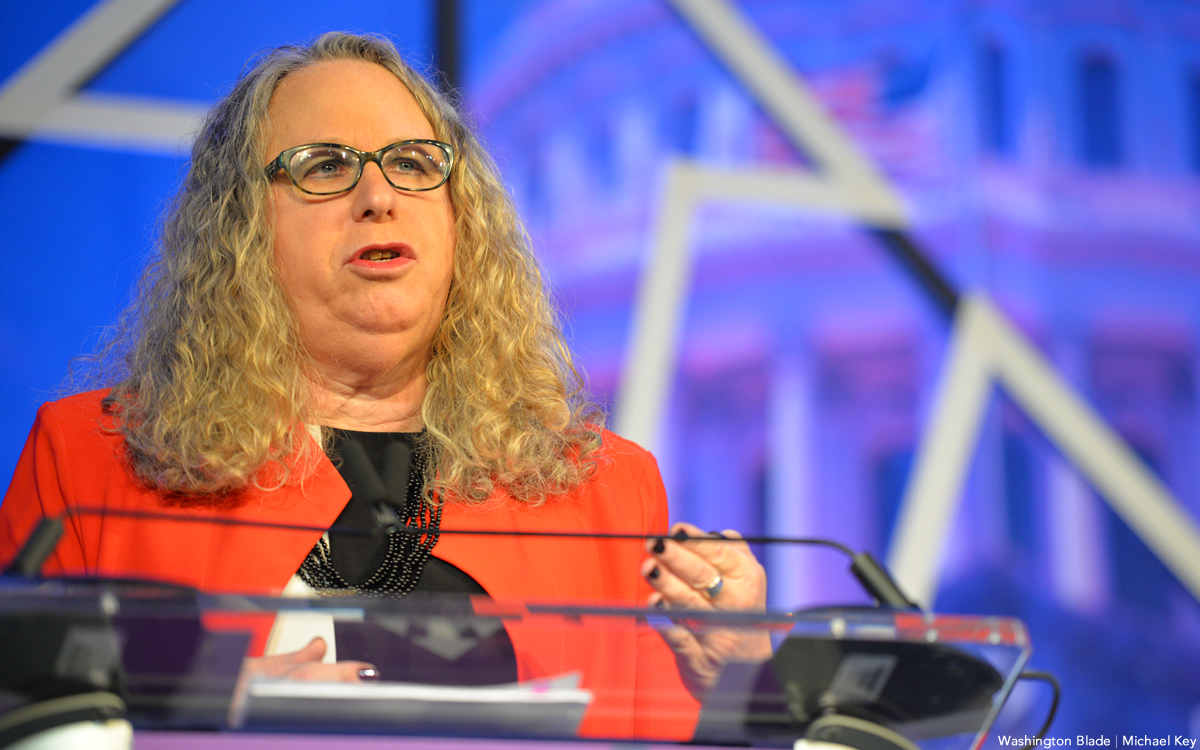 Assistant U.S. Secretary of Health Admiral Dr. Rachel Levine and acclaimed longtime D.C. LGBTQ and transgender rights advocate Earline Budd are among nine prominent LGBTQ community leaders named on Wednesday by the Capital Pride Alliance as its 2023 Capital Pride honorees.
Capital Pride Alliance, which organizes D.C.'s annual Capital Pride parade, festival, and related events, announced in a May 24 statement that it will present the honoree awards to each of the recipients at a ceremony scheduled for 7 p.m. on Friday, June 2, at the Penn Social event and catering hall at 801 E St., N.W.
"The recipients are nominated each year by members of the community," the Capital Pride statement says. "They represent individuals who and organizations that have advanced the causes of LGBTQ+ rights," it says.
The statement says Levine was selected for the Capital Pride Paving the Way Award, which "acknowledges an individual or organization that has provided exemplary contributions, support, and/or advocacy that has positively impacted the LGBTQ+ community, and whose leadership has inspired continued progress."
Levine, who was appointed by President Biden in 2021 as Assistant Secretary of Health, is a longtime pediatrician who also serves as an admiral in the U.S. Public Health Service Commissioned Corps. She became the first openly transgender person to hold the admiralty position.
Capital Pride named Earline Budd as recipient of the Capital Pride Super Hero Award, which "recognizes additional significant and important contributions to the LGBTQ+ community in the national capital region."
The statement announcing the honorees says Levine and Budd will also serve as grand marshals for the June 10 Capital Pride Parade. It says each of the other honorees will serve as parade marshals.
The announcement says the following four people have been named as recipients of the Capital Pride Hero Award:
• Shi-Queeta Lee, the D.C.-based nationally acclaimed drag performer
• Benjamin Rosenbaum, longtime congressional staffer, LGBTQ rights advocate, and LGBTQ Jewish community advocate
• Nancy Canas, president of D.C. Latinx History Project and advocate for the LGBTQ Latinx community
• Abdur-Rahim Briggs, longtime leader of the D.C.-based Project Briggs, which provides philanthropic support for LGBTQ causes.
The following two organizations were named as recipients of the Capital Pride Breaking Barriers Community Impact Award, which recognizes individuals or organizations that have "demonstrated a significant impact to the LGBTQ+ community at either the local or national level and who helped eliminate barriers for social, personal, or professional growth of the LGBTQ+ community:
• Drag Story Hour DMV
• National LGBTQ Task Force
The Bill Miles Award for Outstanding Volunteer Services, which acknowledges "exemplary contributions to the Capital Pride Alliance, its programs, initiatives, or other Pride sponsored activities," is being given to Brandon Bayton, Jr., a longtime Capital Pride volunteer, consultant, and organ transplant advocate, and LGBTQ rights advocate.
"We are fortunate to have such a vibrant honoree selection process, with so many outstanding individuals who were nominated," said Ashley Smith, president of the Capital Pride Alliance Board of Directors. "We are very pleased to celebrate these individuals at the 2023 Capital Pride Honors," Smith said in the CPA statement.
Blade names recipients of two summer fellowships
Kravis, Lev-Tov join LGBTQ news team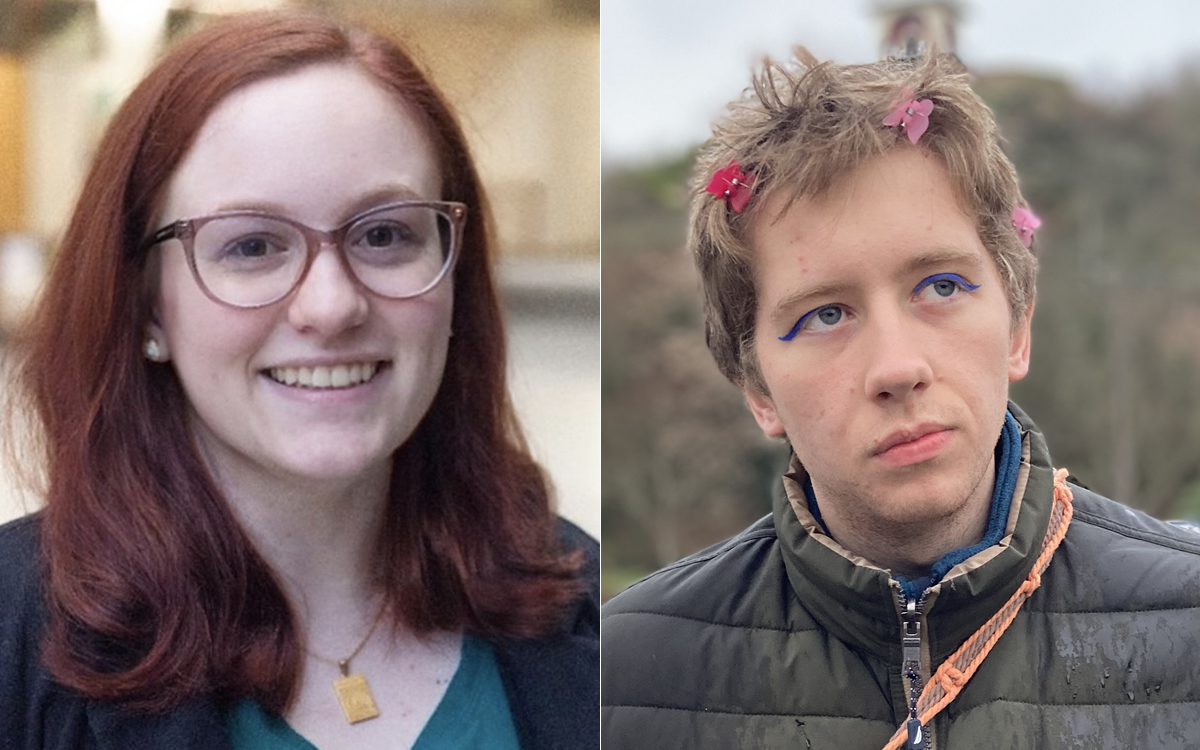 The Blade Foundation this week announced the recipients of its 2023 summer fellowship program.
Isabelle Kravis (she/they) is a senior at American University studying journalism and women's, gender, and sexuality studies. She will focus on covering LGBTQ issues in the local D.C. area for 12 weeks starting this week. The fellowship is made possible by a generous donation from the DC Front Runners Pride Run 5K event.
"I've been reading the Blade since I first moved to D.C. for my freshman year and I'm so excited to be able to contribute to such a historic paper," Kravis said. "I love covering the LGBTQ community because of the diversity of experiences that each queer person has and the joy that queer people bring to everything they do. I'm incredibly lucky to have this opportunity to be able to cover both the city and community that I love."
Joel Lev-Tov (they/them) is a senior at the University of Maryland College Park studying journalism. Lev-Tov also serves as president of the Association of LGBTQ Journalists at College Park. Lev-Tov is the sixth recipient of the Steve Elkins Memorial Journalism Fellowship, which honors the co-founder of CAMP Rehoboth. The fellow covers issues of interest to the LGBTQ community in Delaware, also for 12 weeks. The fellowship is funded by donations from the Rehoboth Beach community.
"I'm extremely excited to start reporting about my community for my community," Lev-Tov said. "The Blade is offering me a special opportunity that I'm very grateful for. I can't wait to start reporting!"
Kevin Naff, editor of the Blade, welcomed Kravis and Lev-Tov to work this week.
"We're all excited to work with Isabelle and Joel this summer," Naff said. "There's never been more news to cover and they will add an important, fresh perspective to our work. Thank you to our donors and to the Front Runners for making this program possible."
For more information on the fellowship program or to donate, visit bladefoundation.org.