Library of Congress staffer fired, claims anti-gay bias
Says he was outed on Facebook, 'stalked' by superior at D.C. gay bar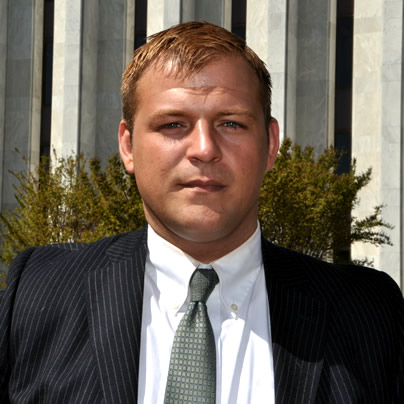 A gay man has charged in a discrimination complaint that he was fired last week from his job at the Library of Congress after being harassed and humiliated for more than a year by a supervisor who repeatedly cited passages from the Bible condemning homosexuality.
Peter TerVeer, 30, a management analyst at the Library of Congress's Office of the Inspector General since 2008, says in his complaint that supervisor John R. Mech created a hostile work environment for him to such a degree that he suffered severe stress, forcing him to take disability leave last fall and earlier this year.
"I contend that I have been subjected to a hostile work environment by Mr. Mech since August 2009 on the basis of my sex (male), sexual orientation (homosexual), and religion (non-denominational Christian/Agnostic)," TerVeer states in an affidavit accompanying his complaint.
"I maintain that Mr. Mech has acted to impose his religious beliefs on me," TerVeer says in the affidavit.
TerVeer's attorney, Thomas Simeone, said he will likely file a discrimination related lawsuit against the library on TerVeer's behalf regardless of how the federal Equal Employment Opportunity Commission (EEOC), which is deliberating over the complaint, rules on the matter.
Gayle Osterberg, director of communications for the Library of Congress, said TerVeer's complaint is considered a personnel matter and the library never comments on personnel-related issues pertaining to an individual employee.
She said that under library rules, neither John Mech, an accountant and lead auditor for the library's Office of The Inspector General, nor any other library employee familiar with TerVeer's case would be permitted to comment on the case.
Simeone said a key factor in the case is that library officials promoted TerVeer three times and praised his work and that negative job performance reviews suddenly began after Mech learned TerVeer was gay.
Asked about a policy adopted by the Library of Congress in the 1990s prohibiting employment discrimination based on sexual orientation, Osterberg declined to confirm whether such a policy is still in effect.
"We adhere to Title 7, period," she said, referring to a provision in existing U.S. civil rights law that bans job discrimination based on race, religion, national origin, sex and other criteria but not on sexual orientation.
An internal "Librarian's Policy Statement Regarding Non-Discrimination" issued to Library of Congress Employees on May 6, 2010, reiterates the 1990s-era statement pertaining to sexual orientation discrimination.
"Discrimination on the basis of race, color, religion, sex (including sexual harassment), national origin, age, disability, sexual orientation, gender identity, and/or political affiliation will not be tolerated," the statement says.
Osterberg declined to disclose whether that and previous sexual orientation non-discrimination statements were still in effect.
TerVeer's complaint, filed with the EEOC, follows a September 2008 federal court decision finding that the Library of Congress violated federal law against sex discrimination by denying a job to a transgender woman.
In that case, the library had determined that the applicant was qualified and hired her shortly before she announced she was transitioning from male to female. When officials learned that David Schroer was transitioning to Diane Schroer they rescinded the job offer and refused to hire Schroer.
A U.S. District Court judge ruled in September 2008 that the library's refusal to hire Schroer violated a federal law prohibiting sex discrimination, a development hailed by the ACLU as an important breakthrough for transgender rights. The library decided against appealing the case and agreed to an out-of-court settlement with Diane Schroer in which it paid her compensatory damages.
Library of Congress: 'AWOL' for 37 days?
In a March 29, 2012 letter to TerVeer, Karl W. Schornagel, the library's Inspector General and head of the division where TerVeer worked, said he approved TerVeer's firing on grounds that TerVeer had been absent from work without approved leave or "AWOL" since Jan. 4, 2012.
Schornagel states in the letter that under library personnel rules, absence without approved leave is considered a form of misconduct that could lead to disciplinary action, including dismissal.
"I considered that you failed to report for duty as scheduled for over 37 consecutive workdays and failed to properly request approved leave despite being reminded of the proper procedures for requesting approved leave and advised of the consequences of your failure to report for duty as scheduled," Schornagel said in his letter.
TerVeer told the Blade that library officials approved disability leave he had requested in October 2011 at the urging of his therapist and doctor based on the therapist's determination that a hostile work environment at the library caused him to suffer severe mental stress.
According to TerVeer, the unpaid disability leave approved by the library expired in January 2012. He said library officials declined his request for a transfer to another office and demanded he return to duty with Mech remaining as his supervisor.
Simeone, TerVeer's attorney, said library rules may have allowed TerVeer to apply for an extended disability leave. But he said TerVeer by that time had exhausted his financial resources following three months of unpaid leave and couldn't afford to pay doctors and his therapist for the necessary examination and documentation needed to apply for extended disability leave.
"He was in a bind," said Simeone. "He loved working there and he wanted to continue. And as you can tell, he needed the money. He tried to get a transfer to a new setting or a new area, but it was just not possible. They wouldn't do that."
Simeone said going back to the office where TerVeer knew he would be subjected to the same harassment and stress wasn't an option he could accept.
Outed by boss's daughter
TerVeer told the Blade he never intended to come out as gay at work when he first started his job at the library in February 2008. He said he had recently moved to D.C. from rural Western Michigan, which he said was devastated by the economic recession.
With a bachelor's degree in business management from Hope College in Michigan and his enrollment at the University of Maryland for a degree in accounting and auditing, TerVeer said the start of his employment at the library's Office of The Inspector General appeared to be a perfect fit for his chosen career path.
"The first year and a half, almost two years I was there I was closeted and essentially I was kind of the golden boy in the office," he said. "He took me under his wing and we had a cordial discourse," he said of Mech. "And he appeared to come off initially as really nice."
TerVeer said the cordial relationship was based, in part, on their shared interest in sports and TerVeer's role as captain of a school football team in Michigan. At one point Mech invited him to join his wife and son at a University of Maryland football game, TerVeer said.
As TerVeer tells it, his problems started just after that, when Mech invited him to "look up his daughter" in the late summer or early fall of 2009. Within days, said TerVeer, Mech's daughter Katie contacted him on Facebook and asked to become Facebook friends.
He said he accepted her request after using the appropriate Facebook privacy controls to hide information on his own Facebook page that identified him as gay. But a short time later, Facebook put in place changes in its settings in such a way that TerVeer's link to a Facebook group in support of gay adoptions became publicly visible, TerVeer said.
"I get home one day and she saw it and commented and she said, 'You're not one of those weirdoes are you?' I said I am actually, in fact, one of those weird ones if you're referring to the fact that I'm gay."
TerVeer said Katie Mech initially said she wasn't troubled by this discovery, saying she had a good friend in San Francisco who's gay.
However, the following day TerVeer said he discovered that she had both "de-friended" and blocked him from her Facebook page. Within days of that, John Mech began raising his religious beliefs with TerVeer in emails and in face-to-face conversations with him, TerVeer said.
"All of a sudden now, every time I'm going into his office he's starting off with a religious conversation. Then it comes out where he pointed out he was a believer with a literal translation of the Bible," said TerVeer. "Then he goes specifically into homosexuality."
TerVeer said he knew then that Katie Mech informed her father that he is gay.
In his affidavit, TerVeer said things came to a head on June 21, 2010.
"He came into my office on that date and said he wanted to educate me on hell and that it was a sin to be a homosexual," TerVeer says in the affidavit. "He said he hoped I repented because the Bible was very clear about what God does to homosexuals."
Among other things, TerVeer says in the affidavit that Mech quoted the Old Testament passage of Leviticus, stating, "If a man lies with a man as one lies with a woman, both of them have done what is detestable. They must be put to death; their blood will be on their heads."
TerVeer says in the affidavit, "He stated that as a homosexual I could never succeed because it was against God's law."
Four days later, on June 25, 2010, Mech spoke with TerVeer about TerVeer's annual performance review and TerVeer expressed concern that his ratings were lower than he believed they should be, he says in the affidavit.
According to the affidavit, he politely told Mech he was concerned that the lower performance review might be biased because of Mech's strongly expressed religious beliefs toward homosexuality.
"Mr. Mech became extremely upset and vehemently denied that my homosexuality and his personal views had an impact on his rating of me," TerVeer says in the affidavit. "He accused me of attempting to injure his career and reputation and to 'bring down the Library.'"
Gay official 'stalks' TerVeer
TerVeer says in his affidavit that beginning in July 2010 through the middle of 2011 Mech appeared to be "piling on" work assignments in an effort to set him up to fail. He said one particular project he was assigned to handle by himself had been previously worked on by six full-time employees and took more than a year to complete, yet he was told to complete it during a shorter period of time.
"I believe that Mr. Mech gave me this assignment to set me up for failure and to give him a better opportunity to identify and manufacture deficiencies in my performance," TerVeer says in the affidavit. "I believe he decided in advance to give me negative ratings in my next performance review and began to create a record of alleged 'job deficiencies' to support this."
In an effort to appeal what he believed to be an unfairly negative job performance rating calling for denying him a normally routine "step" pay increase, TerVeer said he approached Mech's supervisor, Nicholas Christopher, the assistant inspector general for audits. "Mr. Christopher declined to change my performance evaluation and denied me a WIGI [Within Grade Increase]" in pay, he says in the affidavit.
When he indicated he was in the process of filing a possible discrimination complaint, TerVeer said that both Mech and Christopher appeared to warn him against doing so, saying he could face consequences such as additional poor performance ratings.
In a staff meeting on June 28, 2011, TerVeer says in the affidavit that Mech demanded that he explain, "what I was doing" concerning his stated intention to appeal the low job performance rating.
"He berated and humiliated me in front of my co-workers," TerVeer says in the affidavit. "He interrogated me regarding the exact nature of my appeal and who I was filing the action against."
After beginning his disability leave in the fall of 2011, TerVeer said he was startled when Christopher appeared at the D.C. gay bar Number Nine, where TerVeer had been working as a security staffer, and began to take a video of him with his cell phone.
TerVeer and his lawyer at the time, Brennan McCarthy, said TerVeer's therapist believed working a job at a gay bar provided a friendly, supportive work environment and was an important part of his recovery from the stress-related ailment that required he take a leave from his job at the library.
In a Feb. 16, 2012 letter to Vicki Magnus, acting deputy director of the library's Office of Opportunity, Inclusiveness and Compliance, which investigates discrimination complaints, McCarthy expressed concern that Christopher had "commenced a pattern of harassment, including stalking Mr. TerVeer at his second job and videotaping Mr. TerVeer while working."
McCarthy said Christopher appeared to have begun harassing TerVeer after Christopher learned that TerVeer was considering filing a discrimination complaint.
"Following that revelation, Mr. Christopher took all steps possible not only to keep Mr. TerVeer from filing his complaint with your office, but also stated that poor performance reviews are 'what happens' when someone tried to bring down the Library of Congress (i.e., files an EEOC complaint)," McCarthy said in his letter.
Sources familiar with the Library of Congress have told the Blade that it's widely known at the library that Christopher is gay. Christopher states in the publicly accessible part of his Facebook page that his "relationship status" is "single" and he's "interested in" men.
He also describes his religious views on his Facebook page as being "vociferously atheist."
Christopher didn't respond to a Blade message asking whether he was troubled over TerVeer's allegation that Mech had been reciting biblical passages to TerVeer at work condemning his homosexuality.
Va. House subcommittees advance two anti-transgender bills
Senate Democrats have pledged to block any anti-LGBTQ measures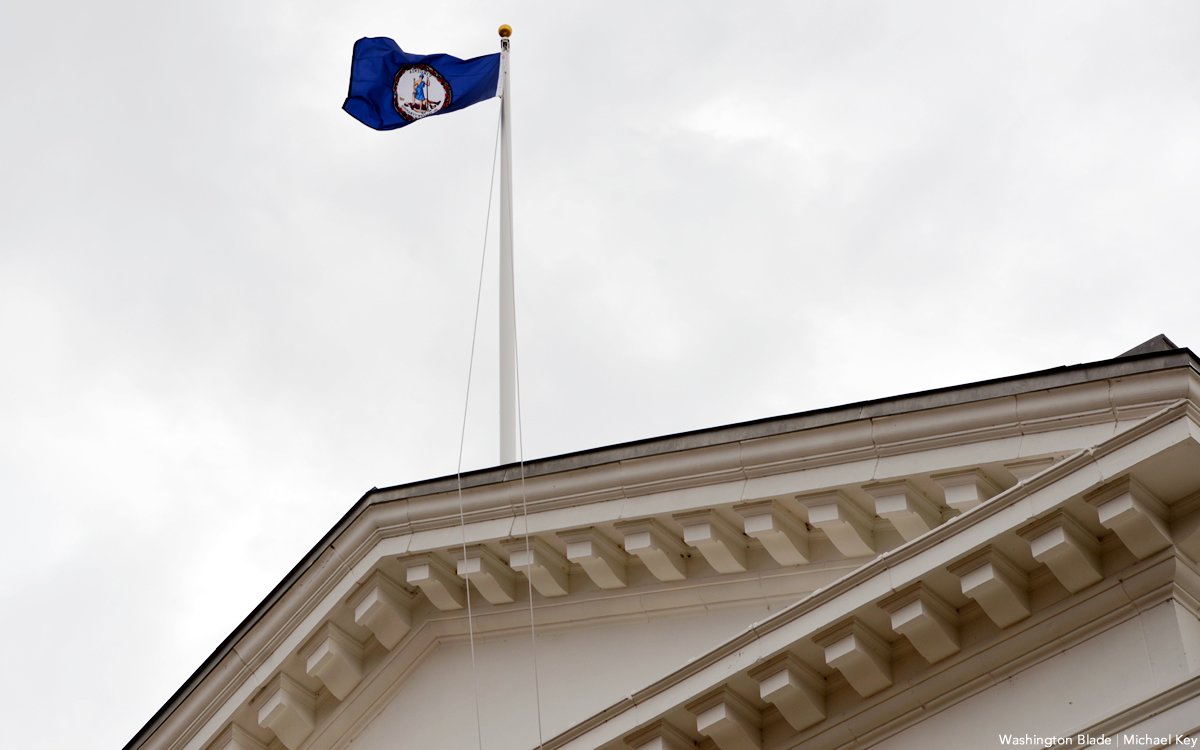 Two anti-transgender bills advanced in the Virginia House of Delegates on Monday.
A House Education Subcommittee by a 5-3 margin voted to advance state Del. Dave LaRock (R-Loudoun County)'s House Bill 2432, which Equality Virginia notes "would require public school personnel to contact a student's parent if they believe that the student's self-identified gender does not align with their 'biological sex.'" The House Higher Education Subcommittee by a 6-4 margin advanced state Del. Karen Greenhalgh (R-Virginia Beach)'s House Bill 1387, which would ban transgender athletes from school sports teams that correspond with their gender identity.
Both bills will now go before the full House Education Committee.
The House Early Childhood/Innovation Subcommittee last week voted unanimously to kill state Del. Jason Ballard (R-Giles County)'s House Bill 1434, which would have required trans students to obtain a court order to update their name in school records. The Senate Public Education Subcommittee on Jan. 26 also tabled three measures that would have banned trans athletes from school teams corresponding with their gender identity.
Republicans currently control the House of Delegates by a 51-47 margin. Democrats, who have a 22-18 majority in the state Senate, have said they will oppose any anti-LGBTQ measure that reaches their chamber.
Va. Senate subcommittee tables three anti-transgender bills
Measures would have banned trans athletes from school teams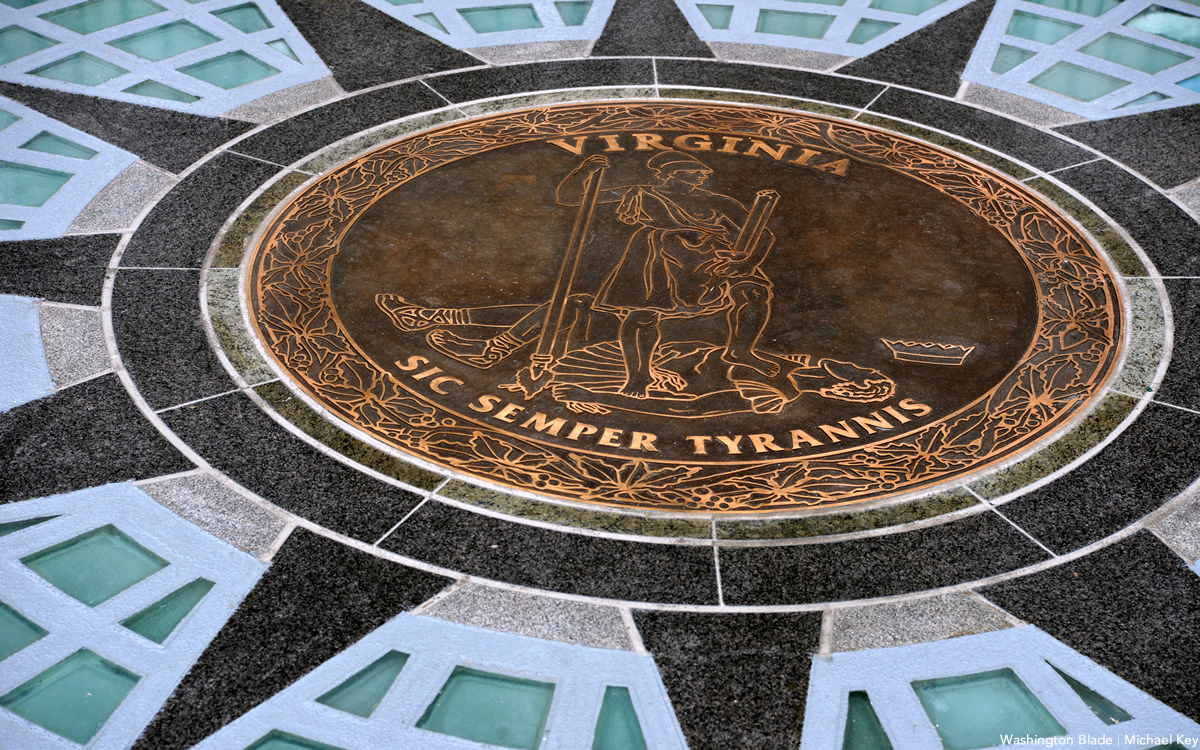 A Virginia Senate subcommittee on Thursday tabled three bills that would ban transgender athletes from school teams corresponding with their gender identity.
The Senate Education and Health Committee's Public Education Committee tabled state Sen. John Cosgrove (R-Chesapeake)'s Senate Bill 911, state Sen. Bryce Reeves (R-Louisa County)'s Senate Bill 1186 and state Sen. Mark Peake (R-Lynchburg)'s Senate Bill 962.
"We're one step closer to these bills being gone for good," said Equality Virginia in a tweet.
GOOD NEWS: A Senate subcommittee voted to pass by indefinitely THREE transgender athlete bans. We're one step closer to these bills being gone for good!

Over 3,000 emails were sent to committee members opposing these harmful bills! #TransYouthBelongVA

— Equality Virginia (@EqualityVA) January 26, 2023
'Talking Trans History' explores lives of D.C. advocates
Rainbow History Project holds first panel for city-funded Trans History Initiative
Longtime D.C. transgender rights advocates Earline Budd and Gabrielle 'Gibby' Thomas gave personal accounts of their transition as transgender women and their work as trans rights advocates Tuesday night, Jan. 24, at a "Talking Trans History" panel discussion organized by D.C.'s Rainbow History Project.
Joining them as a panelist was Rayceen Pendarvis, the acclaimed local event host, public speaker, and LGBTQ community advocate. Pendarvis, among other things, told of being nurtured and taught by dynamic transgender women who proudly affirmed their identity not only as trans people but productive citizens in the community at large.
Vincent Slatt, Rainbow History Project's director of archiving, served as moderator of the panel discussion. He told the audience of about 25 people who gathered at the Southwest Branch of the D.C. Public Library that the event was the first of many such panels planned by the project's recently launched Trans History Initiative.
Slatt noted that Rainbow History Project received a $15,000 grant for fiscal year 2023 from the Mayor's Office of LGBTQ Affairs to conduct the Trans History Initiative. The initiative plans to "better integrate the often-under-represented histories of trans people into our programming," according to a RHP statement.
Budd, 64, who has been a trans-identified activist since the 1970s, became involved in the 1980s with supporting people with HIV/AIDS before founding the D.C. organizations Trans Health Empowerment and Empowering the Transgender Community (ETC), for which she currently serves as executive director. She has received numerous awards for her work in support of the trans community and her self-proclaimed role as "the advocate" for the trans and LGBTQ community.
In her remarks at the panel discussion, Budd told of her childhood upbringing in a religious family where, like many trans people, her parents didn't approve of her early identity as a girl.
"I want to say that around eight or nine my mother found me to be different," Budd said. "The difference was she would lay my clothes out, my sister's clothes and my clothes for us to go to school. And when I would come downstairs, I would always have on my sister's clothes," Budd told the gathering.
"And she would say why do you have on your sister's clothes?" Budd continued. "I said mommy, it fits. No, it does not, you're a boy," Budd quoted her mother as responding. "And let me tell you, that went on and on and on," said Budd, who told how she eventually parted ways with her parents and left the house to embark on her role as one of D.C.'s leading trans advocates.
Among her many endeavors was successful discrimination complaints, including one against a D.C. skating rink and another against the D.C. Jail for discrimination based on gender identity. Budd told how she won in both cases, with strong backing from the D.C. Office of Human Rights.
Pendarvis, among other things, spoke about how an association with trans women as a young adult helped to shape Pendarvis's longstanding and award-winning role as co-founder of Team Rayceen Productions, including 10 years as leading host of "The Ask Rayceen Show," which highlighted topics promoting the LGBTQ and trans community in D.C.
Similar to Budd, Pendarvis has received numerous awards and honors, including recognition from the D.C. City Council, for work as a host and speaker at LGBTQ-related festivals, fundraisers and other events.
"As an activist and host, I have been blessed to do many things," Pendarvis told the panel discussion gathering. "For many who do not quite know how to identify or ask me to identify, first of all, I'm a human being," Pendarvis said. "I am a father of five and a mother of many."
Pendarvis added, "I'm a human being first and foremost, a child of God. And my trans sisters uplifted me first, embraced me first. I came out in a community where our transgender sisters were always on the front line."
Thomas, 65, told the panel session she is a native of North Brentwood, Md., located just outside D.C., but D.C. became her home since shortly after finishing high school. She began her work in the LGBTQ community in 1989 as a caregiver for people with HIV. She has since worked for the local organizations Us Helping Us, Transgender Health Empowerment, and Terrific, Inc. She currently works for Damien Ministries and its "Trans Specific" programming called Shugg's Place that, among other things, focuses on providing services for transgender older adults.
She told of her growing up as one of seven children in a family whose mother and father, she said 'were very loving." But like other trans kids, Thomas said her parents were uncomfortable over her desire to identify as a girl. A more understanding next door neighbor allowed Thomas to spend time in her house as Thomas helped with household errands.
"I would go to the store and things like that for her," Thomas said. "But what's most important, I could dress as I wanted to in her house. She would give me dresses that I could wear. And I could go up there and put on my dresses and watch TV," Thomas continued. "And then I would get to take my dress off and go home because mom and daddy wasn't standing for that."
At around the age of 10, Thomas said, she was aware of current events and observed that her father was a strong supporter and admirer of Martin Luther King Jr. and his civil rights leadership. "I said you can march with Martin Luther King for everybody else's rights but you are going to deny me mine," she recalled telling her father.
Thomas said she initially began patronizing D.C. gay bars after befriending gay men from her high school. A short time later, after realizing that the gay scene was not who she was, she discovered the then D.C. gay drag bars Louis' and The Rogue and had a chance to meet "people like me." But she said someone she met at one of those two bars introduced her to the then D.C. Black gay bar called the Brass Rail, where transgender women hung out.
"And I said, oh my God, I am home. This is heaven," Thomas told the panel gathering. "When I came to the Brass Rail I felt like I was home" as a trans person, Thomas said. "I met so many terrific people."
She went on to tell about the trials and tribulations of fully transitioning as a trans woman and her growth as a transgender activist with a career dedicated to supporting the trans and LGBTQ community.
Japer Bowles, director of the Mayor's Office of LGBTQ Affairs, spoke briefly at the start of the Talking Trans History panel discussion. He said the mayor's office was excited to be supporting the Rainbow History Project's newly launched Trans History Initiative.
"I'm really, really excited to work for a mayor who not only is fighting for things for our community, but truly funding these opportunities," Bowles said. "This is about you and our trans communities. So, I'm here to listen."
Slatt also announced at the panel session that Rainbow History Project has a paid job opening for one or more positions to help run the city funded Trans History Initiative. He said information about the job opening for people interested in applying can be obtained through RHP's website. He said a video recording of the panel session would be posted on the website in a week or two.