April 19, 2012 at 9:46 am EST | by Kevin M. Norris
Suffering with symptoms?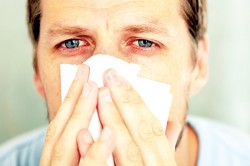 Today I feel the way my computer has been acting — sluggish and congested.
Lots of people are feeling the same way. Yes, it's allergy season. While some suffer more than others, we don't have to suffer in silence. Maybe we don't have to suffer at all.
One of my personal training clients, Scott Button, says he feels, "like I have been smacked upside the head by the pollen fairy."
Are your allergies driving you crazy? Perhaps making you feel miserable, cranky and intolerant? Your allergies may be keeping you away from the gym and diminishing your productivity level. Allergies can affect your overall well being and be a nagging thorn in your side that won't seem to go away.  Allergies affect our quality of life.
Yesterday I was lethargic, congested and had a runny nose and cough — I felt worn down. Today after a night of restless sleep I don't feel a whole lot better and since I just received a physical and clean bill of health, I'm fairly certain it's spring allergies. But let's not diminish the symptoms and side effects of allergy sufferers because just about everyone I know is experiencing any number of symptoms and in no small part these symptoms can be debilitating. In fact, "allergies and asthma are among the leading causes of missed work or school," says allergist Dr. Howard Boltansky. "They could be the most prevalent chronic diseases."
I was raised in Waltham, Mass., and was diagnosed with various "environmental" allergies when I was about 17 after cracking a rib from all the coughing I was doing. In fact I think I coughed up part of that rib. My allergies at least then, were quite standard — cat dander, mold, mildew, pollen and seemingly everything outside particularly during spring. I remember the process to diagnose my allergies was long and arduous and my doctor's had tried several medications before the right one seemed to work best.  I continued taking this medication for many years and then my allergies seemed to dissipate.
Fast forward to my move to what is arguably the allergy capital of the world, Washington D.C., in the spring of 1993. Soon after my arrival to D.C. my allergies came flushing back to me with a vengeance. I was told Washington was built on a swamp and you should try not to breathe swamps. D.C. has some of the highest allergy rates in the country because it's a very green city filled with trees, grass and water which harbors mold, pollen and other allergens. Residents here check the pollen count along with the weather forecast.
Medications have come a long way in their efficacy and like most treatment protocols may require some trial and error. I take an over-the-counter allergy remedy and a prescription and while I often still suffer from my allergies wrath, I cannot imagine how I would feel without them.
There are other forms of help too — the Asthma and Allergy Foundation of America — a non-profit devoted exclusively to allergies, is online at aafa.org. For the 50 million Americans who suffer from allergies, there are no cures but they can be managed with proper prevention and treatment. Also explore the allergy information at webmd.com, which reports that at least two out of every 10 Americans has allergy problems. The Center for Disease Control (cdc.gov) is another great resource.
Allergies may be difficult to diagnose and may entail many tests and perhaps involve several specialists, but it's crucial to be under a doctor's supervision because there are many treatment protocols for the millions of allergy sufferers. And if you choose not to take the conventional Western medicine route, there are alternatives with information available on most web sites containing allergy information — the bottom line is discovering what works best for you and taking action.
As always, I recommend consulting with a medical professional in regard to your health to properly diagnose and treat any symptoms you may be having.