Pride entertainers
Diverse group of acts slated to be on the main stage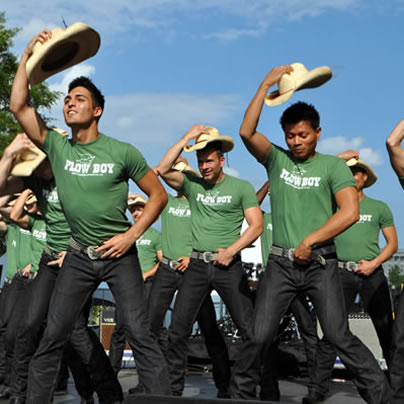 Blade staff spoke with several performers slated to appear on the Capital Pride festival stage Sunday. Here are some of the highlights.
Headliner Deborah Cox remembers performing at Capital Pride once before. The heat is what stands out in her mind. When she's not traveling — she guesses she's on the road about 70 percent of the time — she enjoys spending time with her husband and three children (ages 8, 5 and 3). As one might imagine, she loves classic R&B and says she owns every album Michael Jackson, Stevie Wonder and Aretha Franklin ever released. She's exploring more jazz — Billie Holiday, Ella Fitzgerald — these days.
She plans a 30-minute set at Capital Pride.
"I always research what songs did well in certain markets so it will be a custom show," she says. "And it will be fierce."
Crystal Waters' newest single, "Le Bump," with Yolanda Be Cool, was released in 2011.
STAY ON TOP OF ALL THINGS PRIDE! DOWNLOAD THE DIGITAL PRIDE GUIDE TODAY!
Overall, Waters has 16 No. 1 and top 10 singles in more than 15 countries. She had two other songs make the Billboard Hot 100, "What I Need" and "Say … If You Feel Alright." She had several other songs hit the U.S. Dance charts, including five number ones.
Waters was nominated for three American Music Awards in 1991, an MTV Video Music Award and four Billboard Music Awards in 1994, winning Top-Selling Hot Dance Music Club Play Single for "100% Pure Love."
The D.C. Cowboys are prepared for an emotional final Capital Pride appearance.
Founder Kevin Platte — one of this year's Pride heroes — isn't sure where or when the final performance will be, he says this is "absolutely" their last time at Capital Pride.
"I just want folks to remember us as a group that left smiles on the faces of people who watched us," Platte says. "We've always had such a good time doing it, we just want to make sure we've passed that on to our fans and the people in the audience as well."
Alma Tropicalia is also slated to perform.
"The LGBT Community has seen some great victories this year and D.C. Pride is a great way for us to celebrate that," says gay member Bill Dempsey. "Alma Tropicália is all about recognizing diverse backgrounds, so playing at Pride makes a lot of sense for us artistically."
The band released its first recording in April — a self-titled EP available for digital download. Expect big percussion and a mix of styles at the band's Pride performance.
"Life is a journey," says hunky gay singer Aiden Leslie, another Pride singer. "And I am expressing this journey through my music."
Leslie has never performed in D.C. and is looking forward to rocking it out and kicking off an exciting summer. He will be starting off his time in Washington with a special performance with Pepper MaShay at Secrets. He is also planning on debuting a new single on the Capital Pride stage along with three other songs.
Ani Hesse, 13, has been attending pride events with her two moms, Dana and Dale, for as long as she can remember, but this year's Capital Pride marks the first time that she will be part of the entertainment.
"I'm so excited," says Ani. "I love performing for big audiences. I can't wait."
Crys Matthews performed at Capital Pride last year, but this year's performance will have a special significance: her fiancée will be in the audience. Matthews and her partner recently became engaged and plan to marry in 2013.
She thanks the organizers of Capital Pride for the chance to perform for D.C.'s LGBT community again and for the incredible work they do in "bringing our diverse community together."
Simulover is two out performers: famous DJ and producer Alex Lauterstein and singer and producer SIRPAUL. Lauterstein and SIRPAUL think of themselves as "partners in crime." They met 12 years ago when Lauterstein was the first DJ to play SIRPAUL's song. They always knew they wanted to work together and when they finally got their schedules synced Simulover was born.
"It is time to go beyond labels," SIRPAUL says. "It's not gay marriage, it is marriage, and it isn't 'cute that you are married'; It's what two people who love each other do." SIRPAUL recently married his husband Paul and feels strongly about eliminating the labels that hold our community back.
Both Lauterstein and SIRPAUL have been involved in the gay community and culture for years and the community and culture influences their music. They believe they have something to offer everyone and hope to see a large D.C. crowd at their Pride performance.
Xavier Toscano loves Pride festivals because they give the community a chance to get together and celebrate our lives and our accomplishments. It is not all about the glitz and glamour but instead about living our lives and being happy with ourselves.
Toscano, who was afraid of performing early on has now overcome many of those fears, although right before he gets on stage he is going through his performance in his head, and "hoping he doesn't forget his lyrics," which he shyly admitted to doing early on in his career. He promised to not forget his lyrics for Capital Pride and put on an amazing show.
At last year's Capital Pride, Consuelo Costin performed in front of about 400,000 people.  "I had a great time. With the pulse, the drive, the energy, being around such diversity all celebrating one cause, was a memorial experience." Costin says.
She's straight but staunchly supports the gay community because she feels strongly about equality and people being who they are. Costin will be back for this year's D.C. pride, bringing another awesome show. She'll also perform at Los Angeles Pride.
Put this out gay trailblazer's supportive coach in your bracket
'Coach Willard's awesome,' says Derrick Gordon of Maryland's Kevin Willard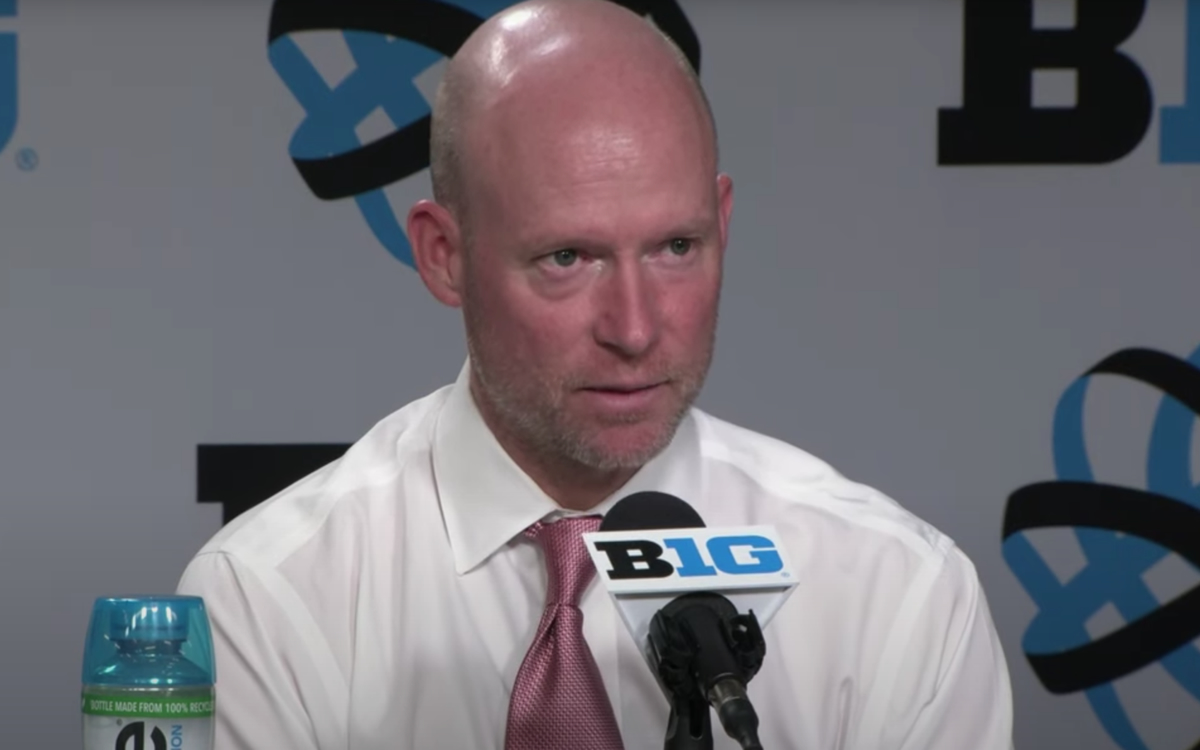 When the 8th seeded Maryland Terrapins faced off against No. 1 Alabama in the second round of the NCAA Men's Basketball Championships last weekend, it wasn't just the players on the hardwood who were working hard for the win. Nate Oats coached the Crimson Tide to a 73-51 victory less than an hour from their home court. And on the other side was Kevin Willard, who is not just a seasoned coach, but a strong LGBTQ ally.
Willard was Derrick Gordon's coach at Seton Hall when he transferred from UMass in 2015, a year after he came out as the first out gay Division I Men's basketball player in the NCAA.
Gordon has credited Willard with creating a comfortable environment, after he "bumped heads" with former UMass coach Derek Kellogg during his two seasons with the Minutemen. In contrast, he said he instantly connected with Willard, and told his teammates and Willard following his final season at Seton Hall that he wished he had another year of eligibility remaining. He's said he considered Willard the best coach he'd ever played for.
"He just made it comfortable for me," Gordon told Glenn Clark Radio in an interview broadcast on March 22, 2022. "He said, 'You know what, we're more focused on who you are as a person and a basketball player and what you bring to the team.' He voiced that over and over again. When I went on my visit, I just felt even more comfortable, met a couple of the guys. They made me feel right at home as well, so it was kind of like an easy decision. Coach Willard's awesome. He's an amazing guy."
If you don't believe Gordon, ask the West Virginia Mountaineers, who lost to the Terrapins in the first round 67-65. Maryland's win "took the paint off the floor at Legacy Arena" in Birmingham, Ala., as Brendan Quinn wrote in The Athletic. He described Willard's style of coaching this way:
"Willard paced the sideline, as he does. The man is intense. Doesn't suffer fools. Serious stuff. No BS. Black eyes screwed deep in a bald head, no pupils. He regards things sideways, incredulous toward anyone who doesn't come correct. It's his whole thing. If Guy Ritchie cast a college basketball coach, it'd be Willard."
Gordon told Glenn Clark Radio that he particularly recalled the kind of support Willard gave him in one practice early in his Seton Hall career, according to Press Box Online.
"I remember a particular situation that happened in practice — came down the court and I was wide open and I didn't shoot it," Gordon said in the 2022 interview. "[Willard] stopped practice and he said, 'You're not at [UMass] anymore. I trust you. I believe in you. Shoot the ball.' Ever since then, my confidence was through the roof, especially dealing with I had to deal with when I was at UMass with that coach to playing under Coach Willard and him telling me that specifically, he just let me play my game."
Last July, Gordon posted on Instagram that after playing a few seasons in Europe for Cyprus and Germany, "I decided to end my career as a professional athlete."
Gordon is now 31, and he told his followers he is working on a book about his life "on and off the court," in hopes he might "help gay young people, student athletes in particular and others who are struggling to pursue careers in professional sports or any career paths they chose without fear or shame."
Since Christmas, he's been sharing posts that include photos with his boyfriend, actor Scott Backman of Los Angeles, including one from last week, captioned: "Every time we're together, it's like falling in love all over again."
10 LGBTQ events this week
Drag, dancing and kite flying among highlights
Below are our picks for some of the most fun and creative things to do this week in the DMV that are of special interest to the LGBTQ community.
---
Drag Queen Trivia Tuesday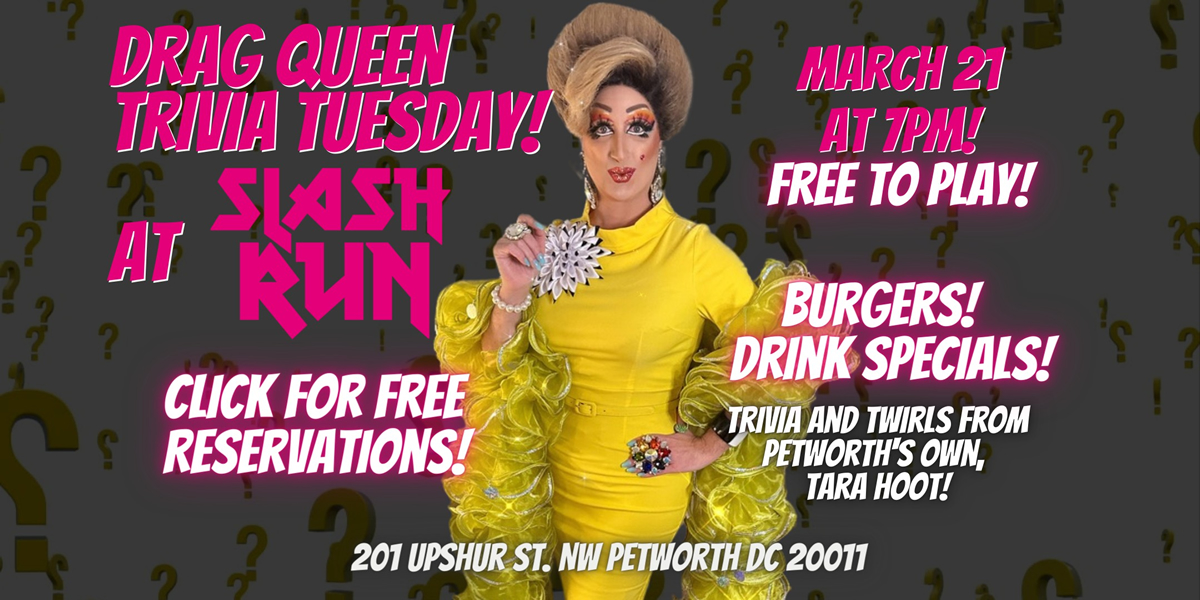 Tuesday, March 21
7 p.m.
Slash Run
201 Upshur Street, N.W.
Facebook | Reservations
Tara Hoot leads a game of trivia at Slash Run on Tuesday.
---
Daddy Issues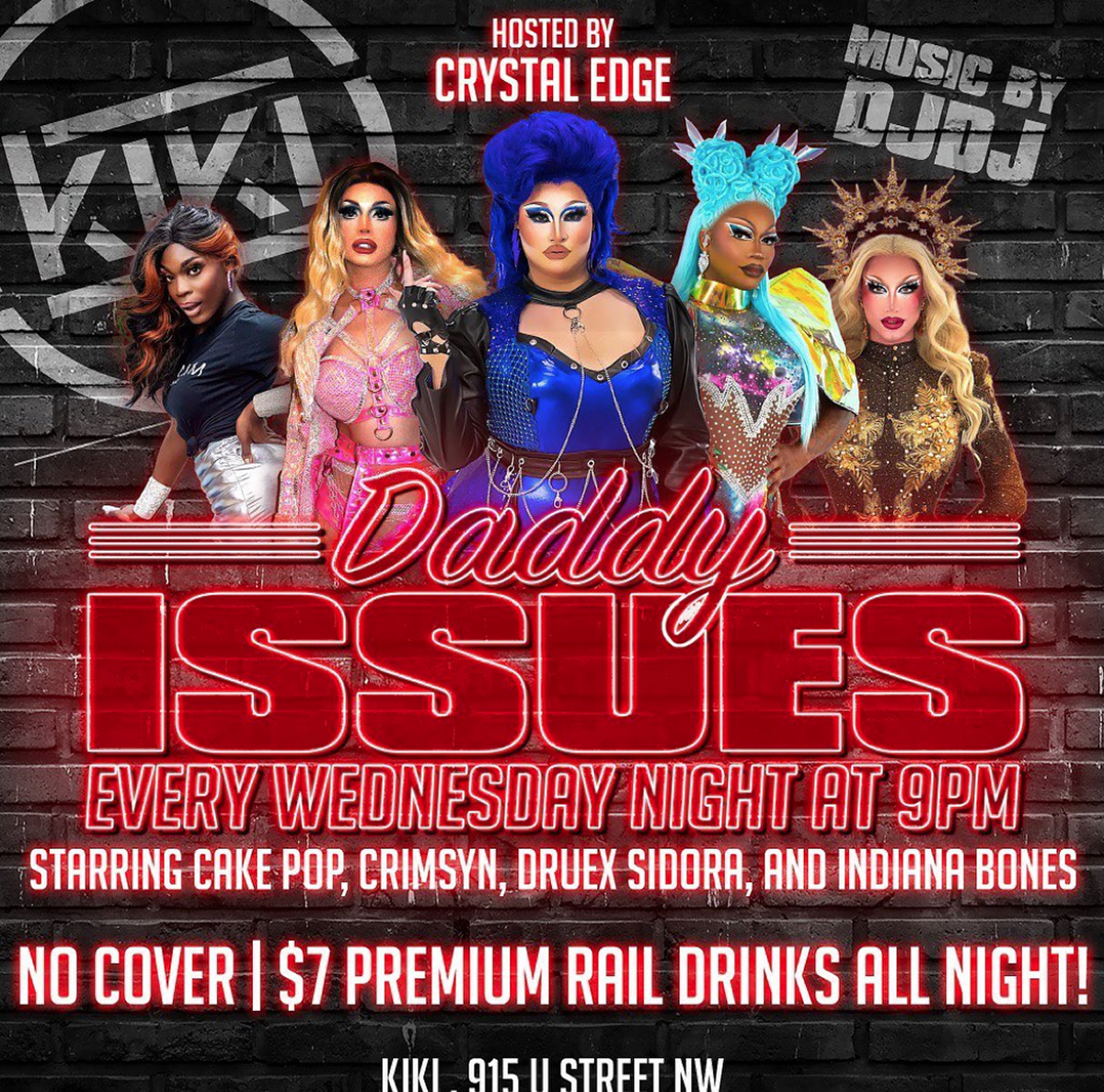 Wednesday, March 22
9 p.m.
Kiki
915 U Street, N.W.
Instagram | Website
Crystal Edge leads the weekly drag show at Kiki on Wednesday.
---
DC Boys of Leather – March Happy Hour

Thursday, March 23
6-9 p.m.
Trade
1410 14th Street, N.W.
Facebook
Grab your gear and make your way to Trade for the March Happy Hour of the DC Boys of Leather.
---
RuPaul's Drag Race Viewing Party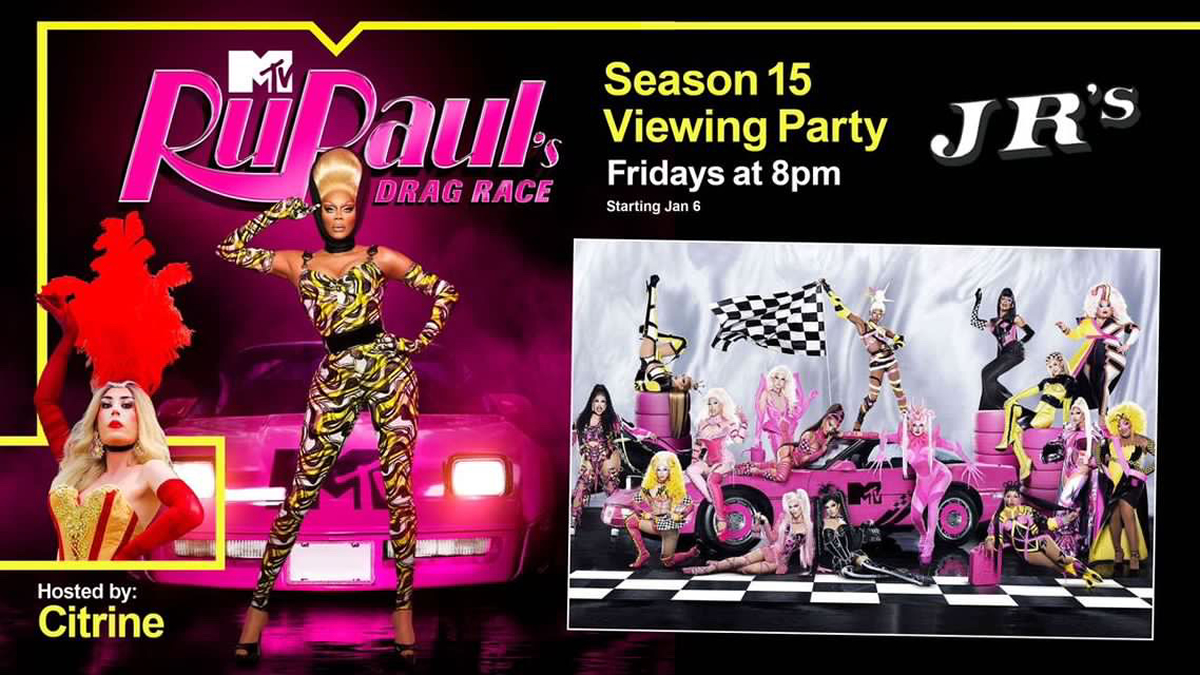 Friday, March 24
8 p.m.
JR.'s Bar
1519 17th Street, N.W.
Facebook
Citrine leads the RuPaul's Drag Race Season 15 Viewing Party at JR.'s Bar on Friday.
---
Kicks & Giggles Glow Crazy! Blacklight-Glow Paint Party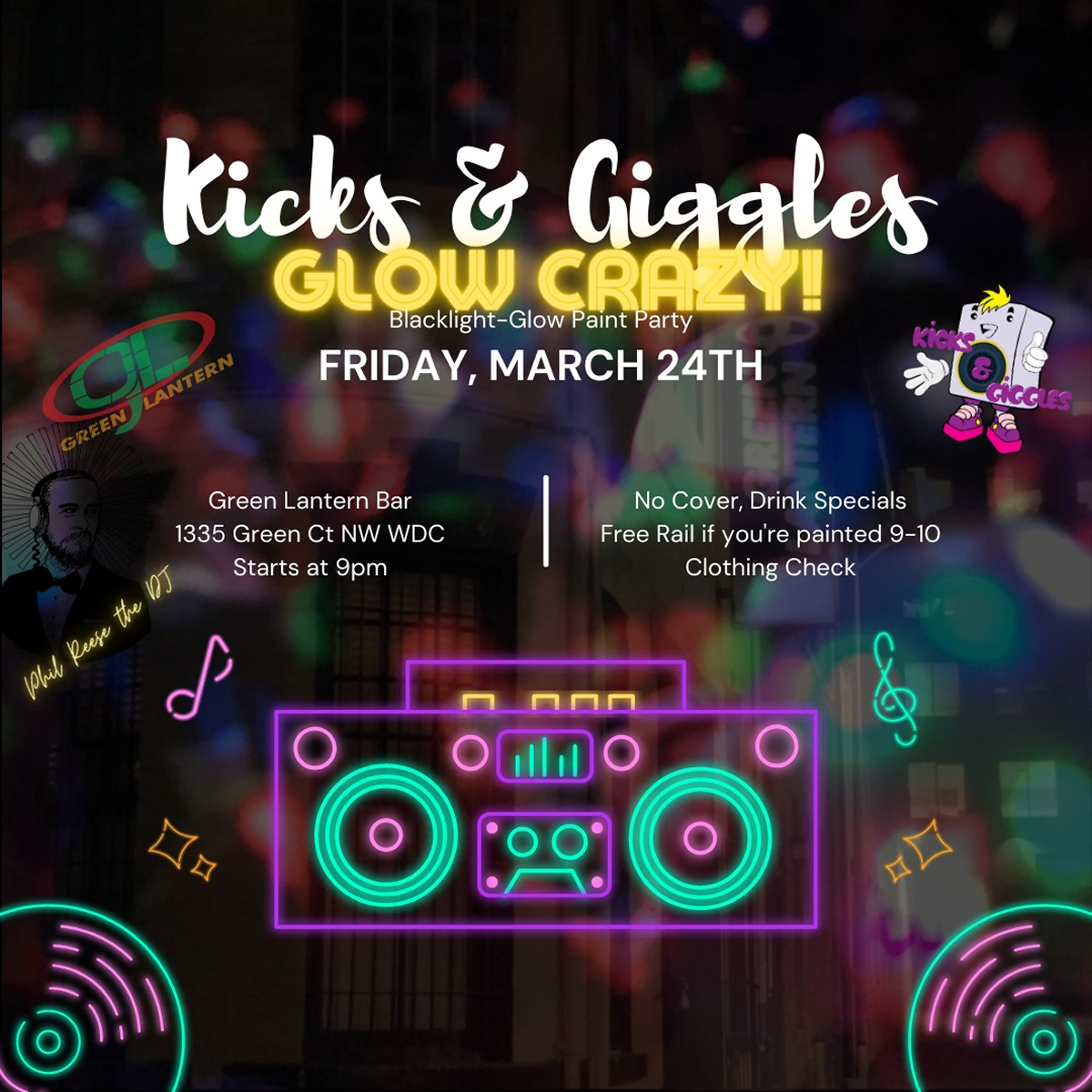 Friday, March 24
9 p.m.
Green Lantern
1335 Green Court, N.W.
No cover
Facebook
Kicks & Giggles bring you a glow-tastic time on Friday with a blacklight-glow paint party at the Green Lantern. There is a clothes check and there are free rail drinks if you are painted with glow paint between 9 and 10 p.m.
---
Good Times (Disco House Party)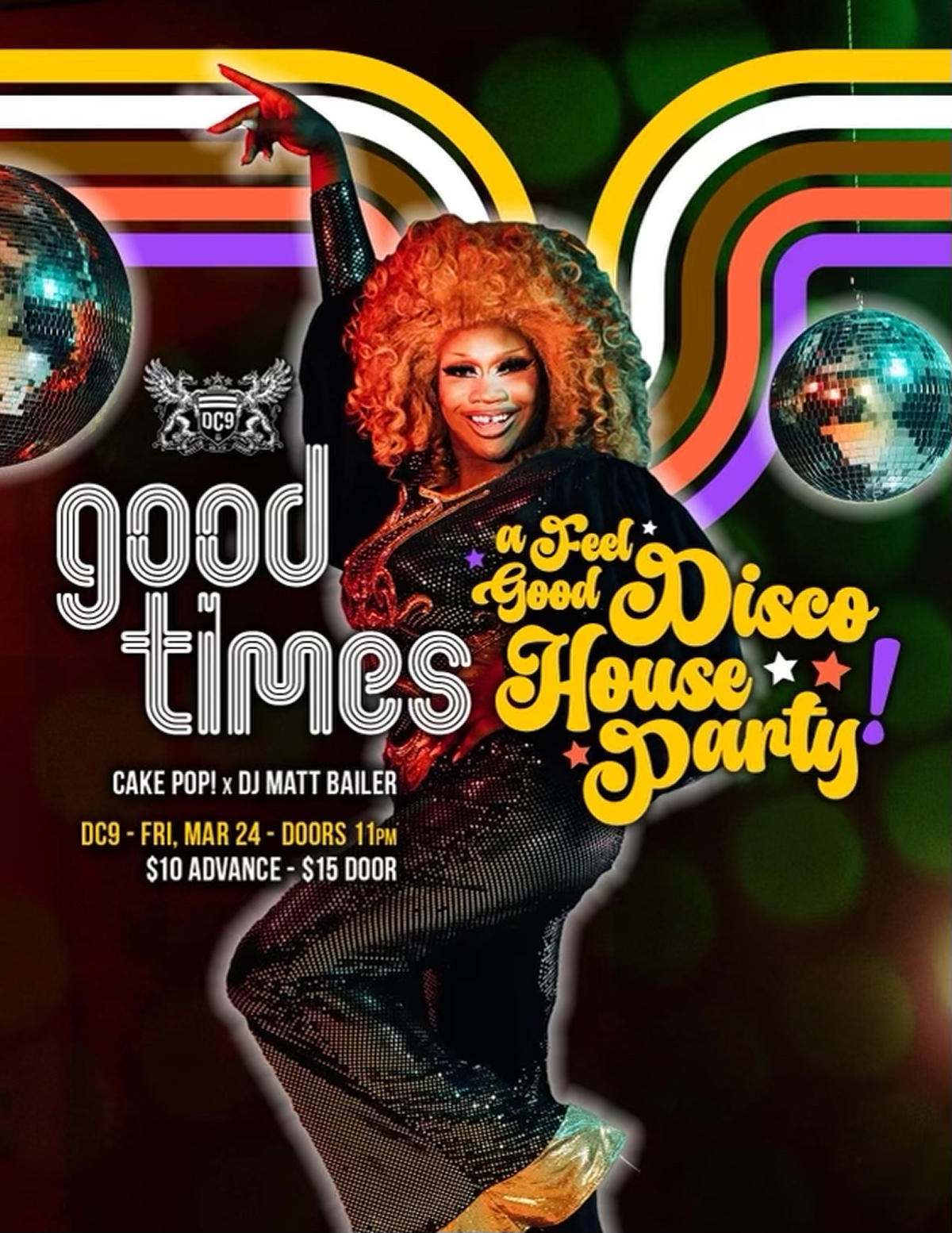 Friday, March 24
11 p.m.
DC9 Nightclub
1940 9th Street, N.W.
$10 advance / $15 door
Facebook | Eventbrite
Cake Pop! and DJ Matt Bailer entertain on Friday with a feel good Disco House Party at DC9 Nightclub.
---
Candela! UPROAR's Latinx Party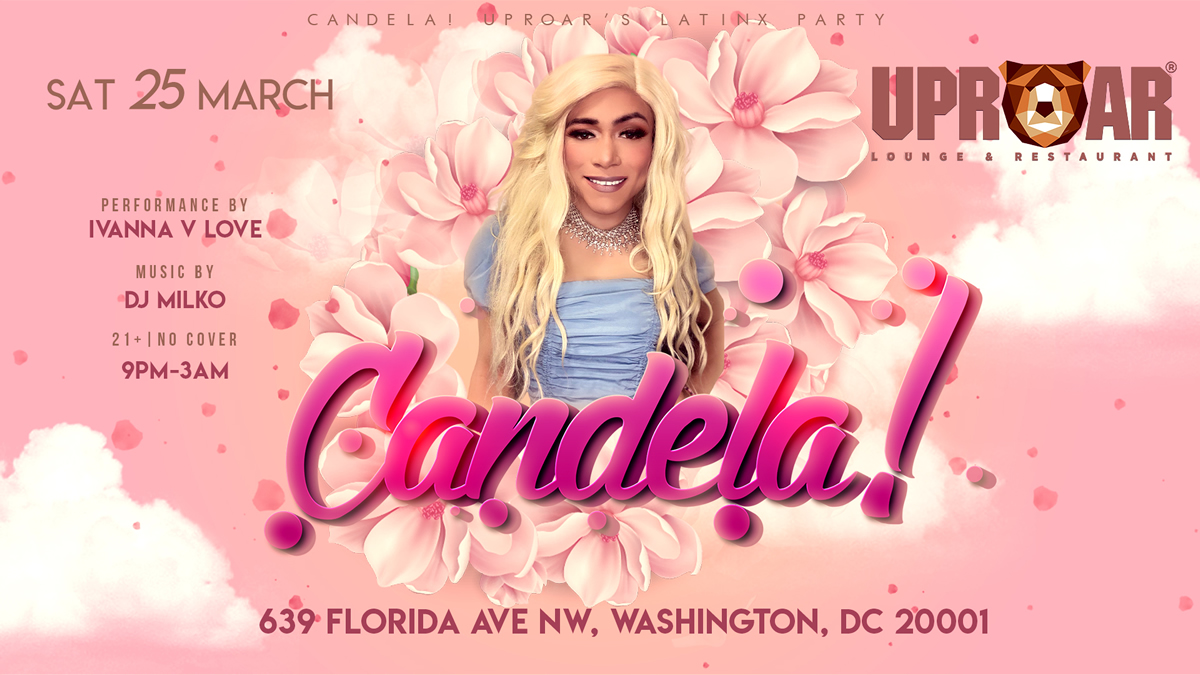 Saturday, March 25
9 p.m.
UPROAR Lounge & Restaurant
639 Florida Avenue, N.W.
Facebook
UPROAR Lounge & Restaurant hold a Latinx party on Saturday with a performance by Ivanna V Love.
---
Cherry Blossom Kite Festival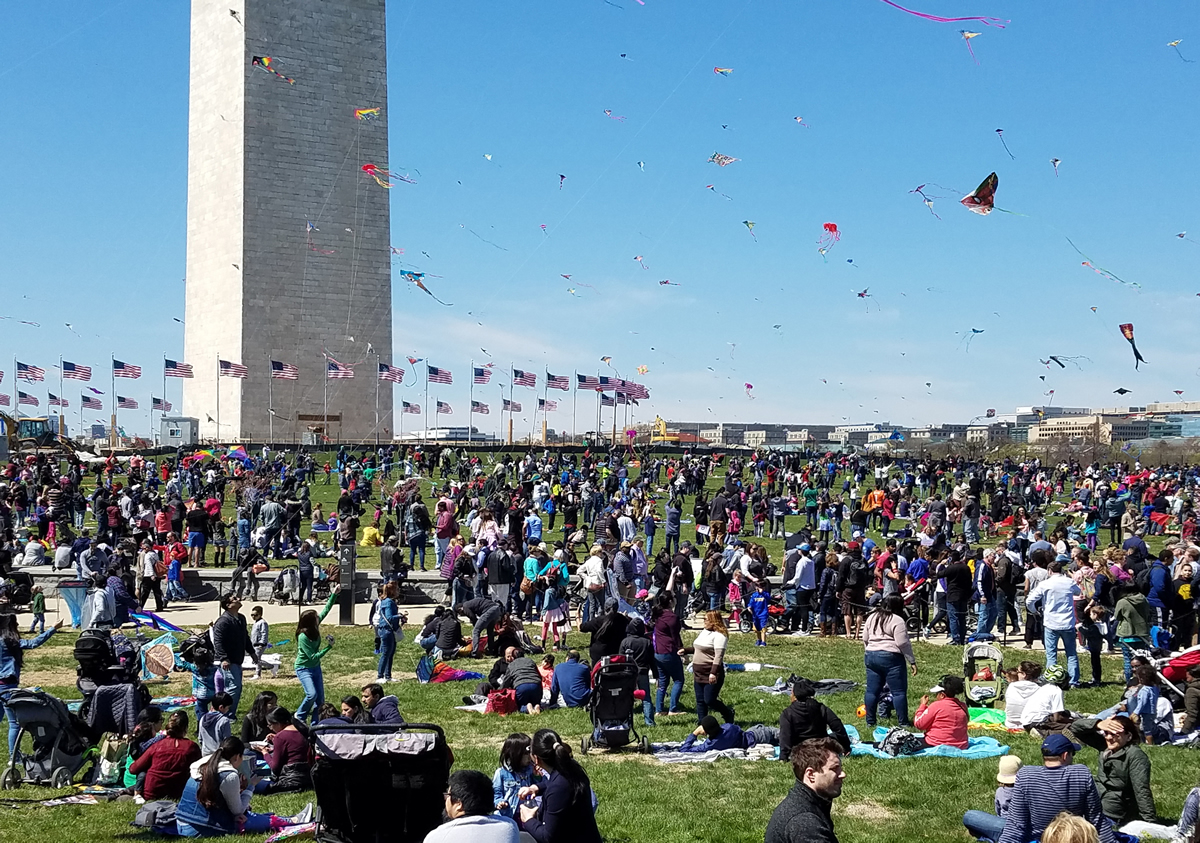 Saturday, March 25
10 a.m.-4:30 p.m.
Washington Monument
Facebook | Website
The annual kite festival is back on Saturday by the Washington Monument.
---
Cambria Drag Brunch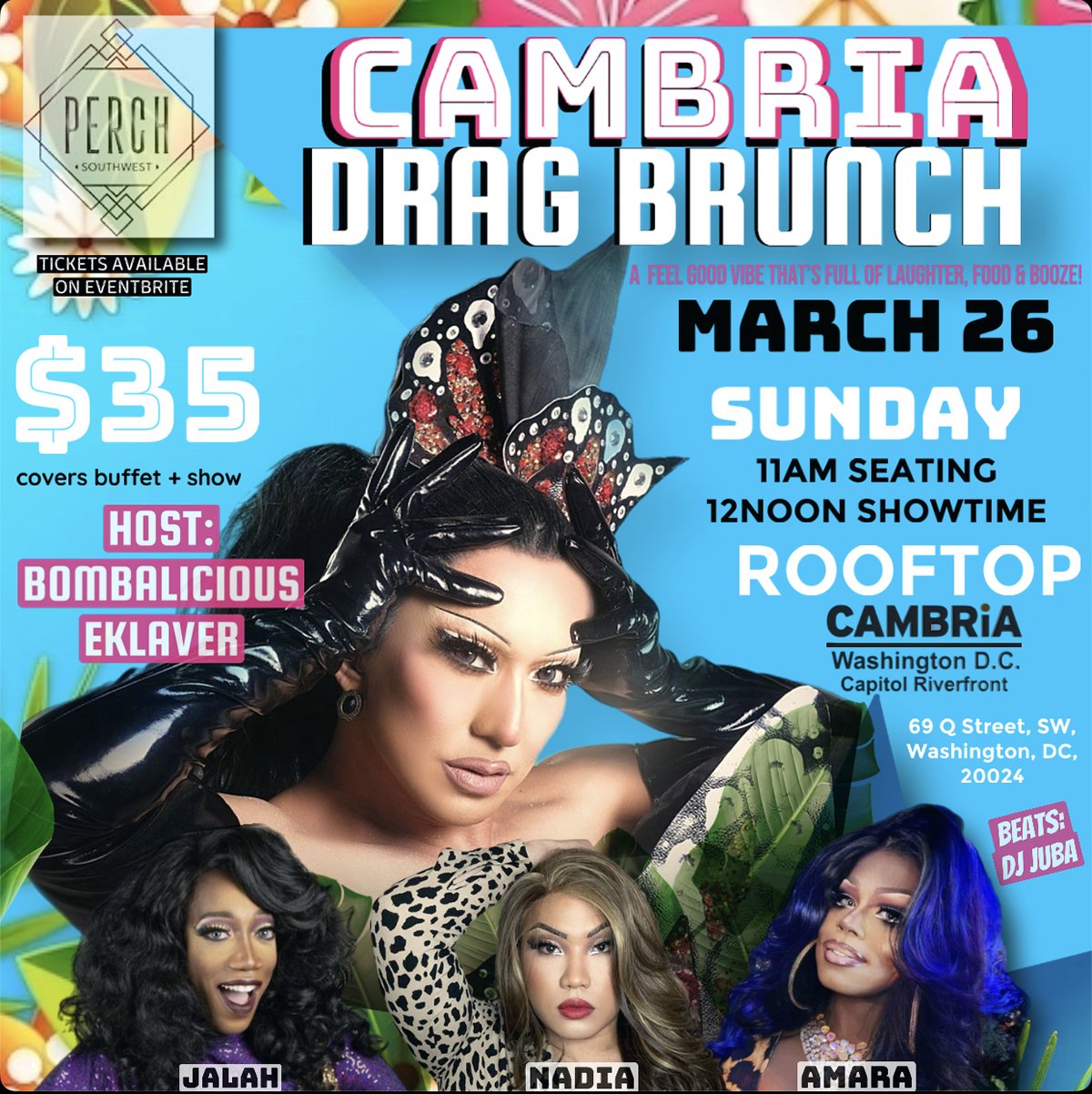 Sunday, March 26
11 a.m.
Rooftop Cambria Capital Riverfront
69 Q Street, S.W.
$35
Eventbrite
Bombalicious Eklaver leads a fun drag brunch on Sunday with performers Jalah, Nadia and Amara. $35 covers the buffet and show, but bring your dollar bills to show your support to the performers.
---
Drag Show for Charity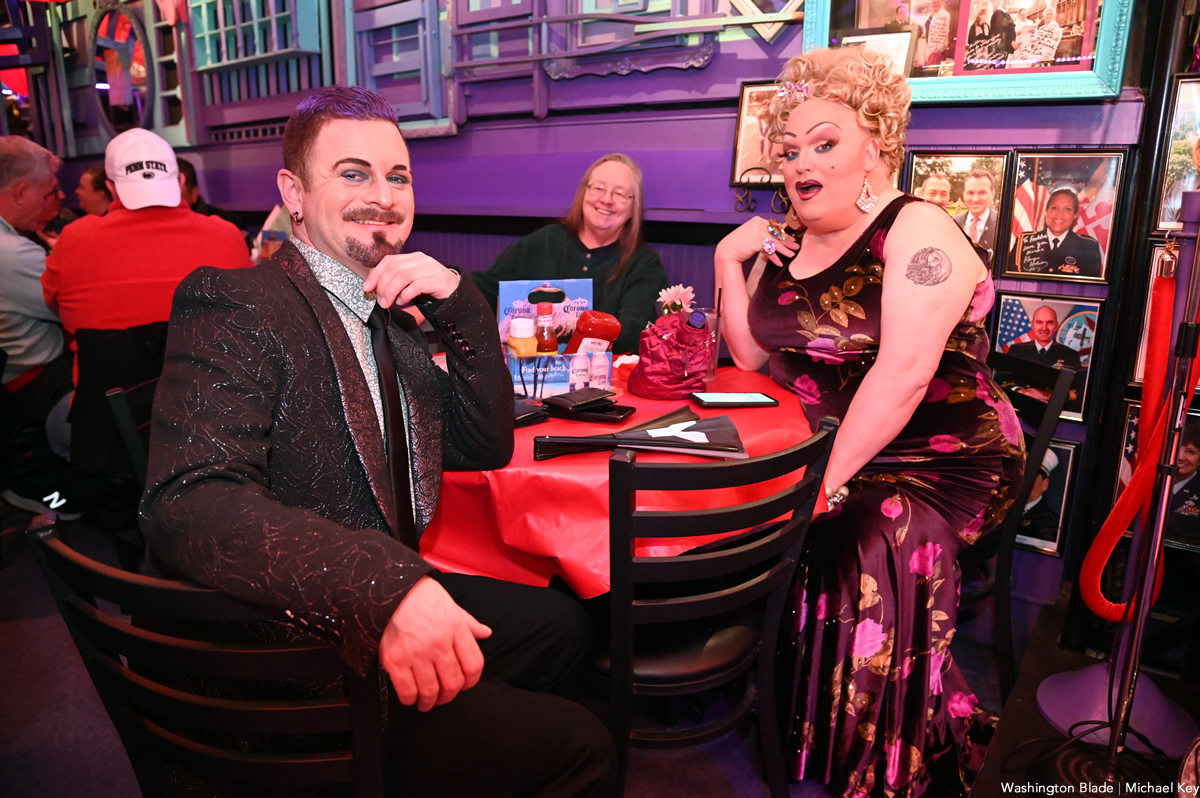 Sunday, March 26
8-10 p.m.
Freddie's Beach Bar
555 23rd Street S
Arlington, Va.
Facebook
AGLA and Go Gay DC present a drag show for charity at Freddie's Beach Bar on Sunday.
PHOTOS: Freddie's Follies 20th
Arlington drag show celebrates milestone
Freddie's Follies had a 20th anniversary show at Freddie's Beach Bar in Arlington, Va. on Saturday, March 18. Performers included Destiny B. Childs, Monet Dupree, Patti Lovelace, Sasha Adams Sanchez and Ophelia Bottoms.
(Washington Blade photo by Michael Key)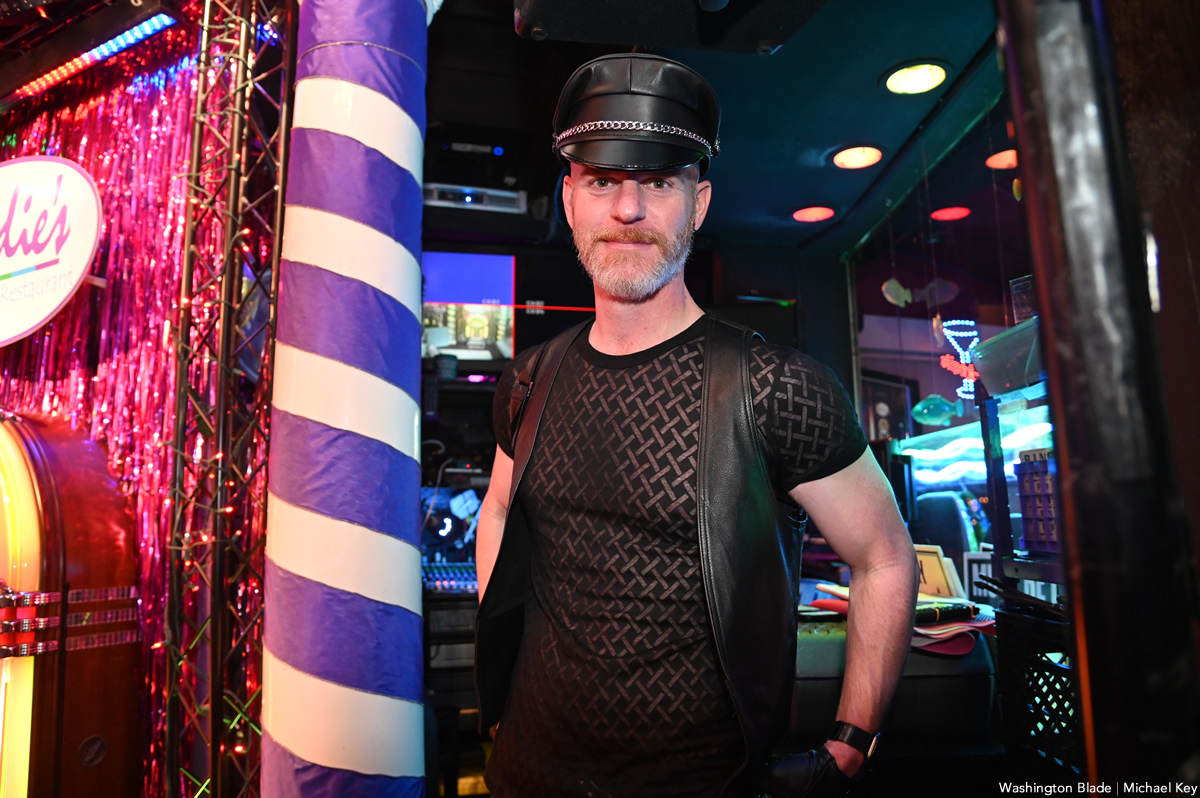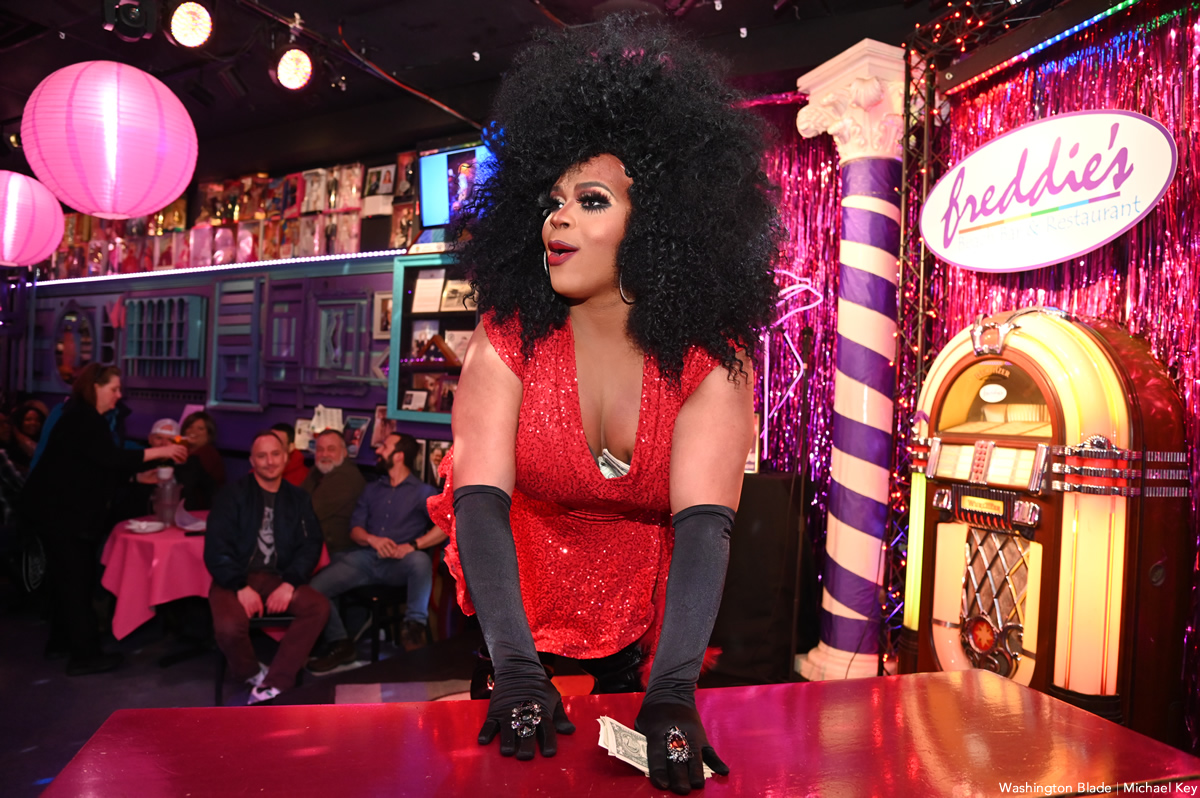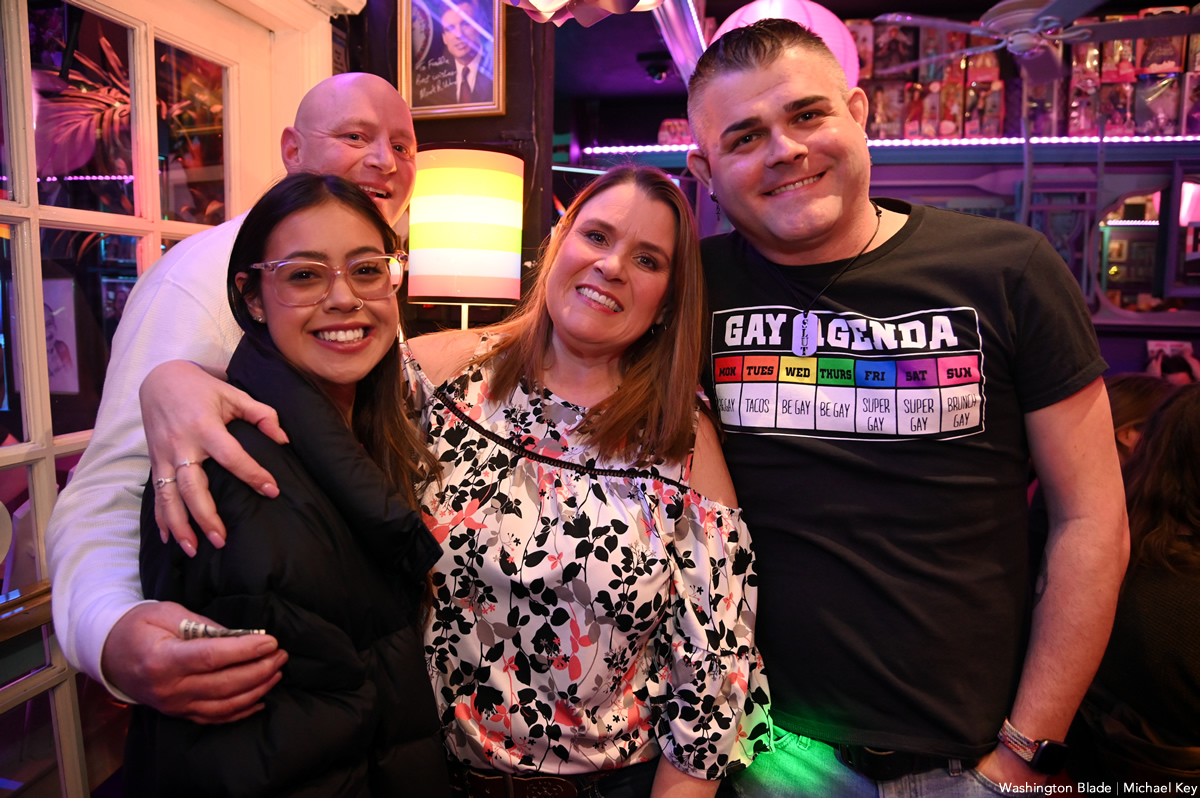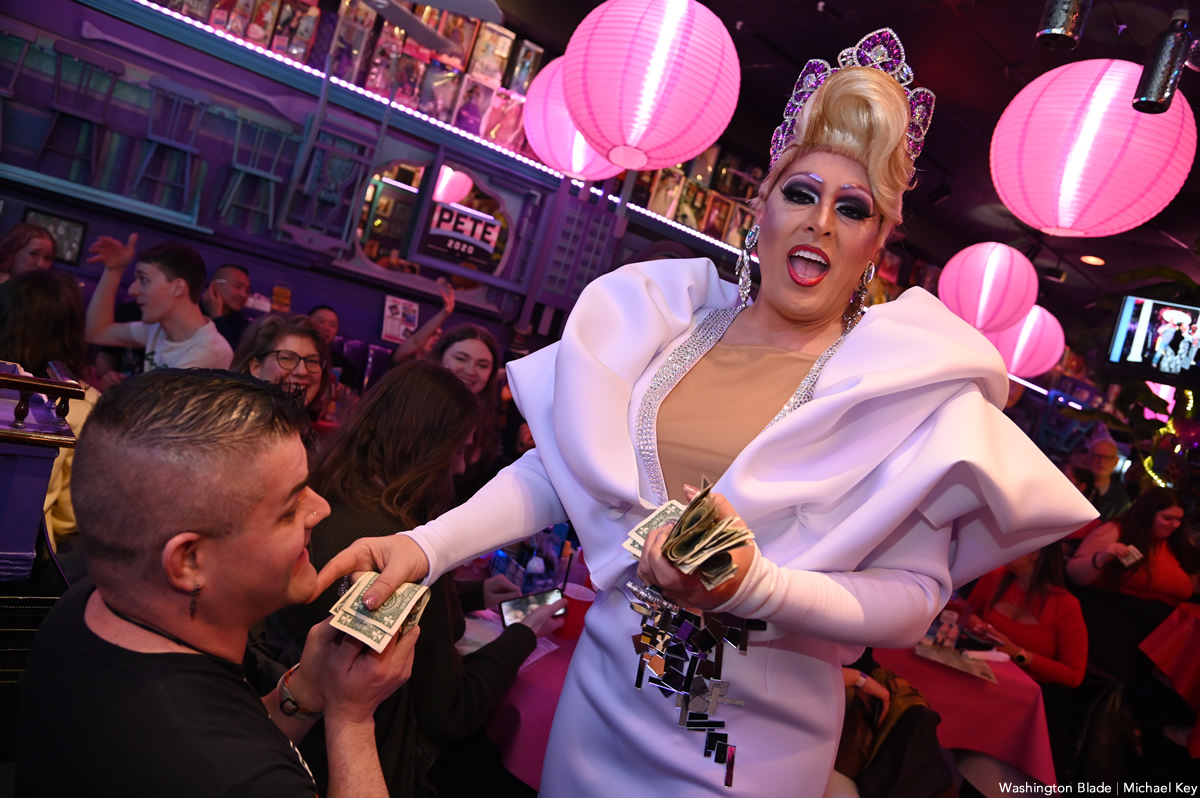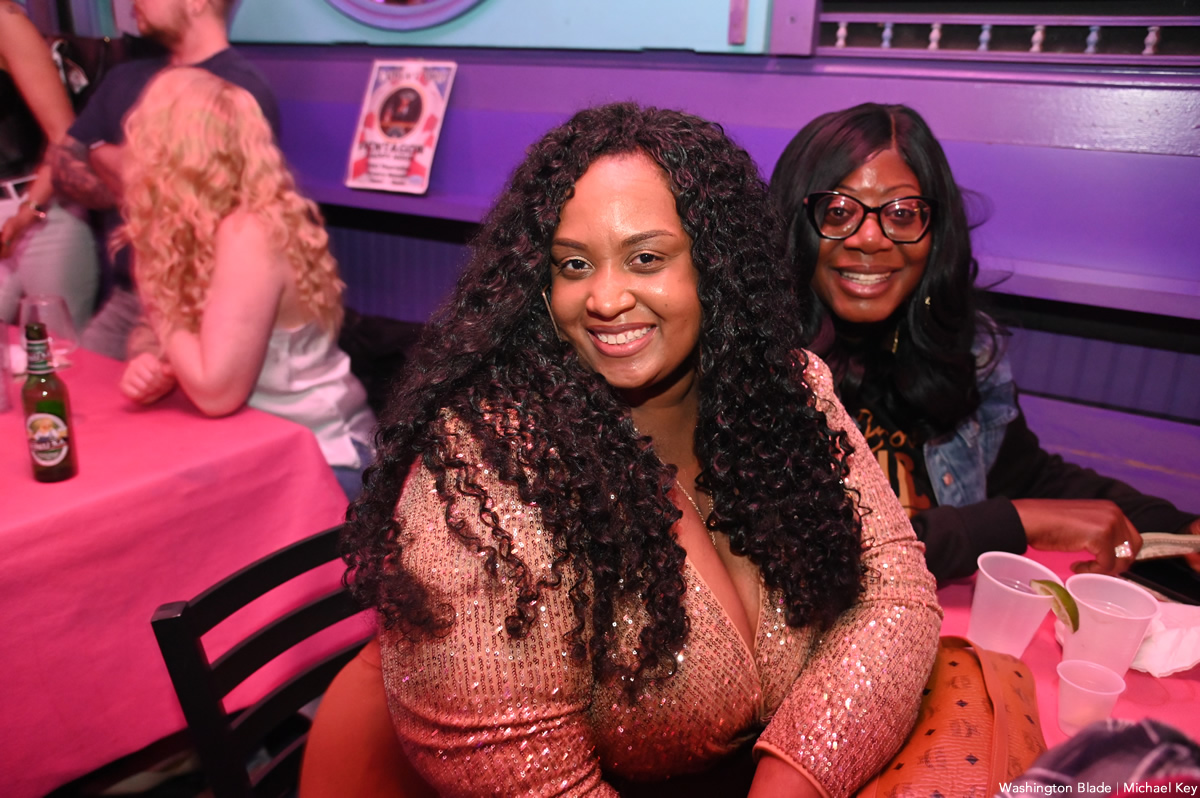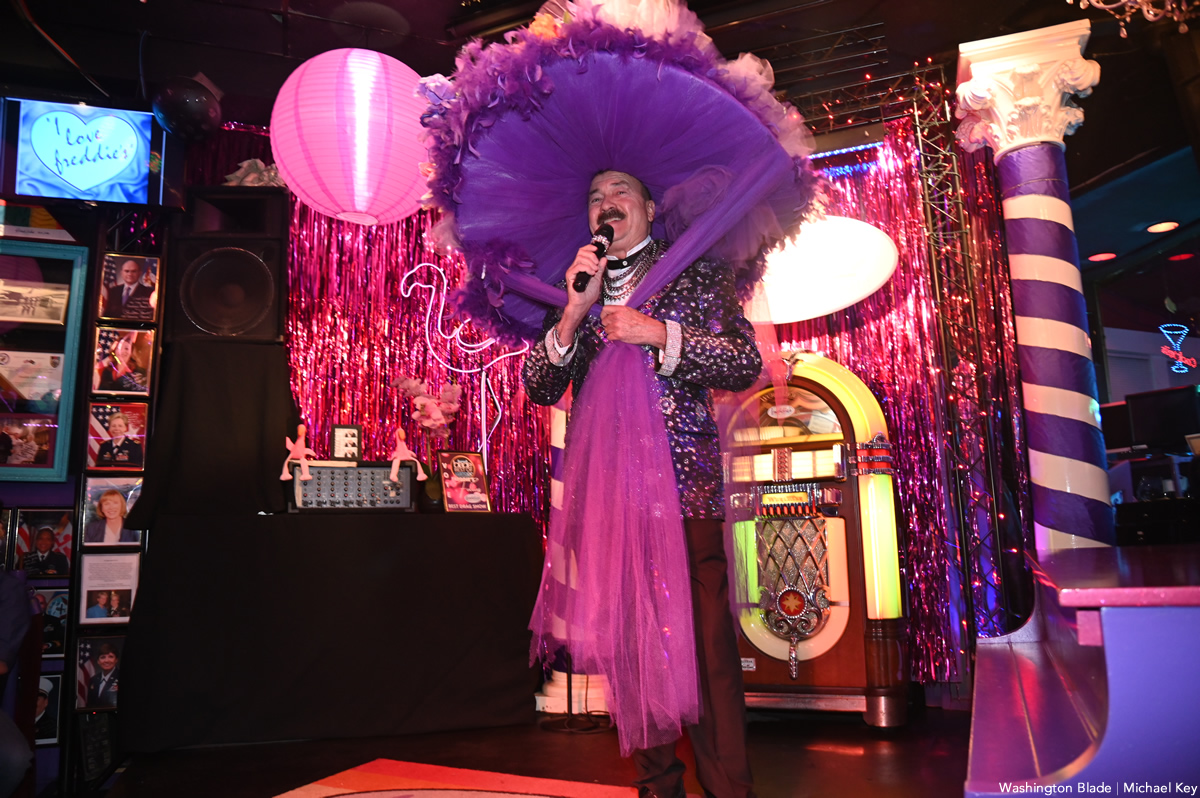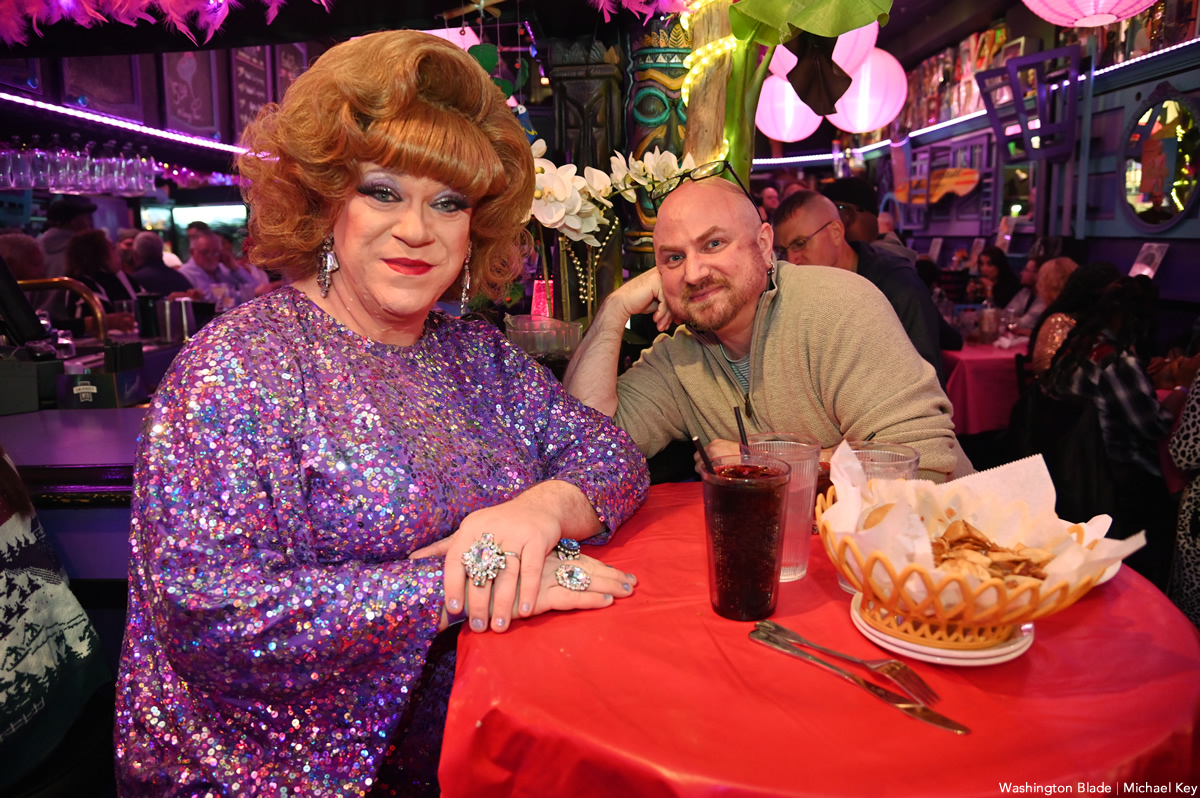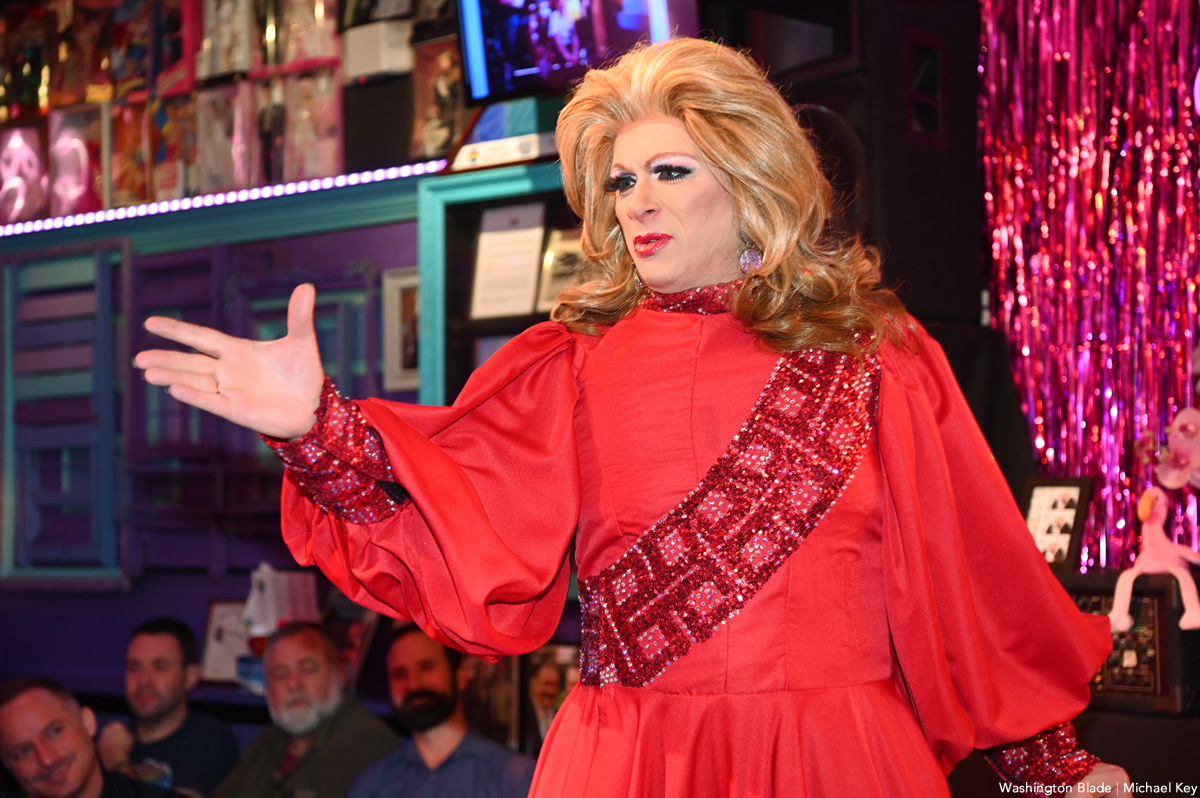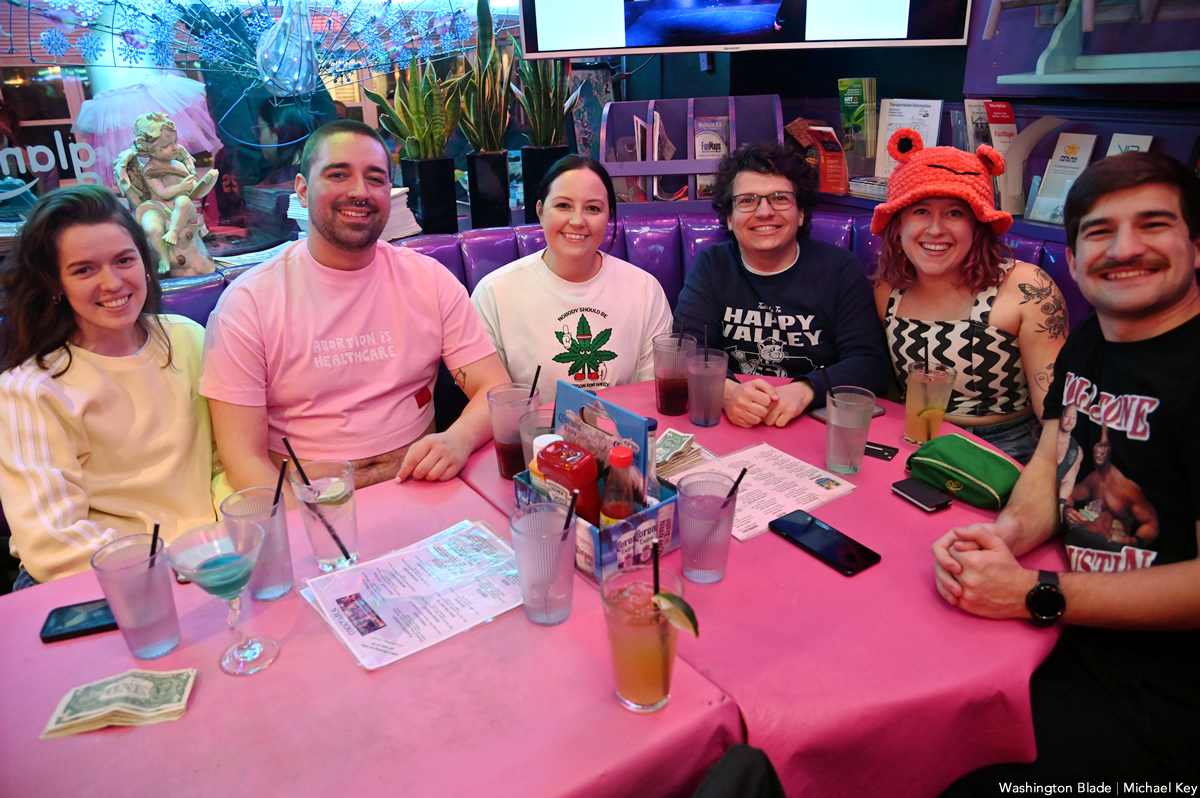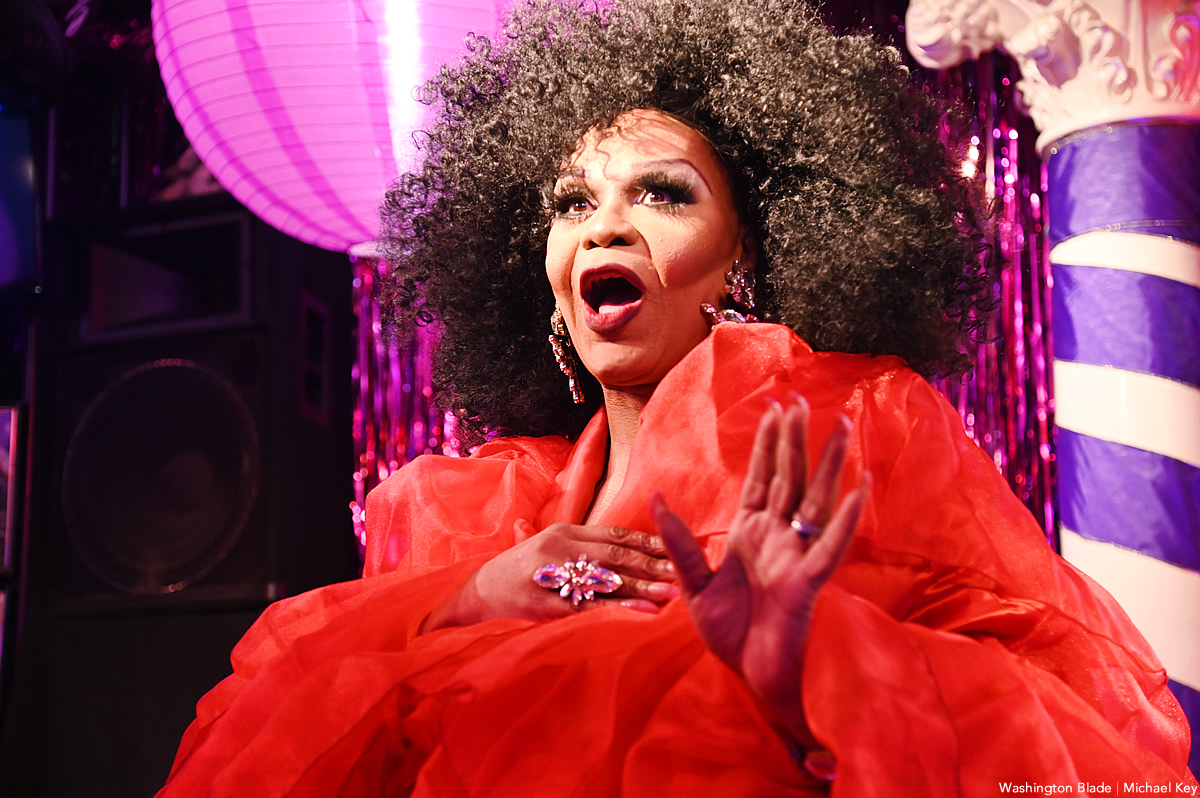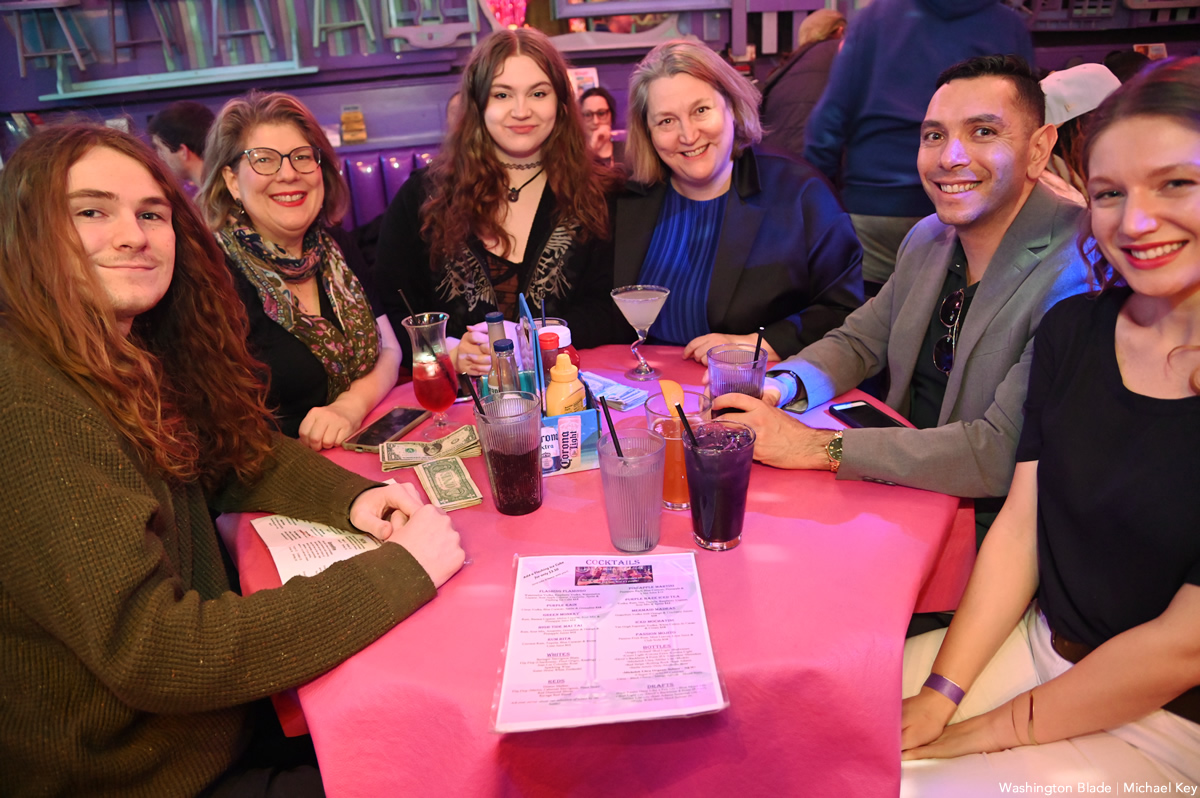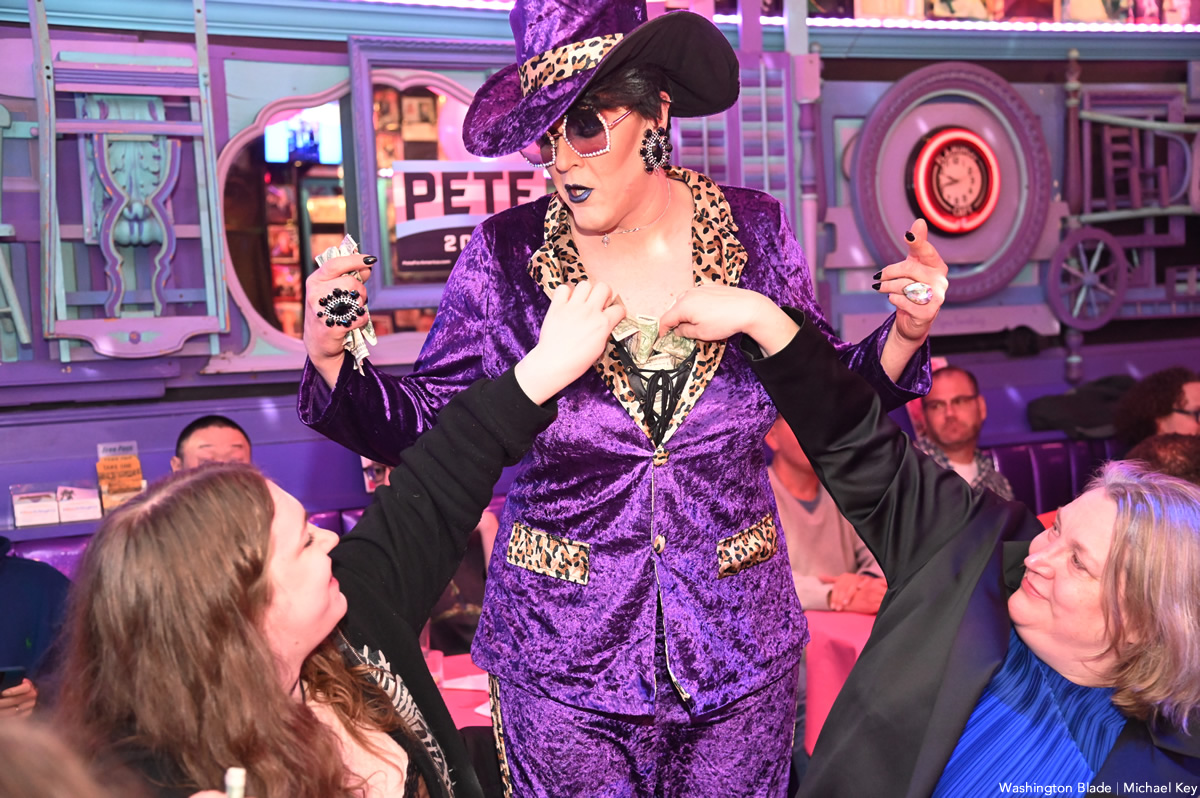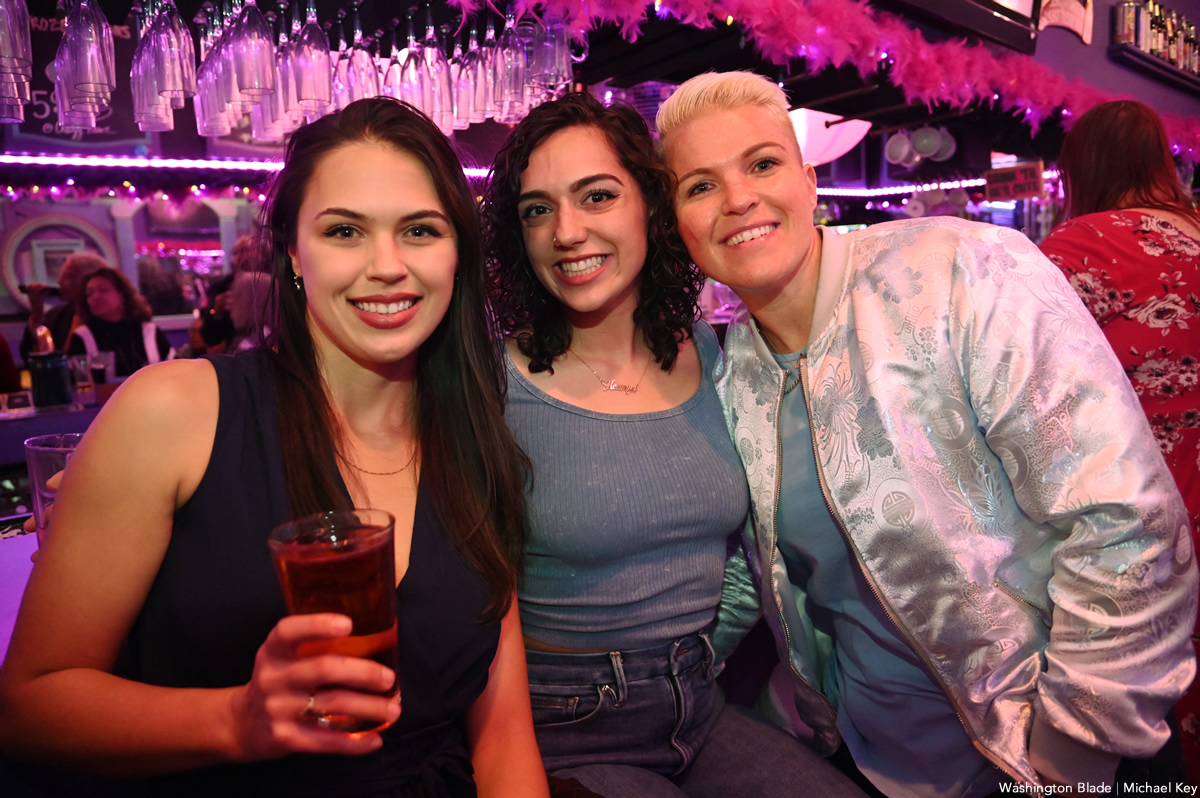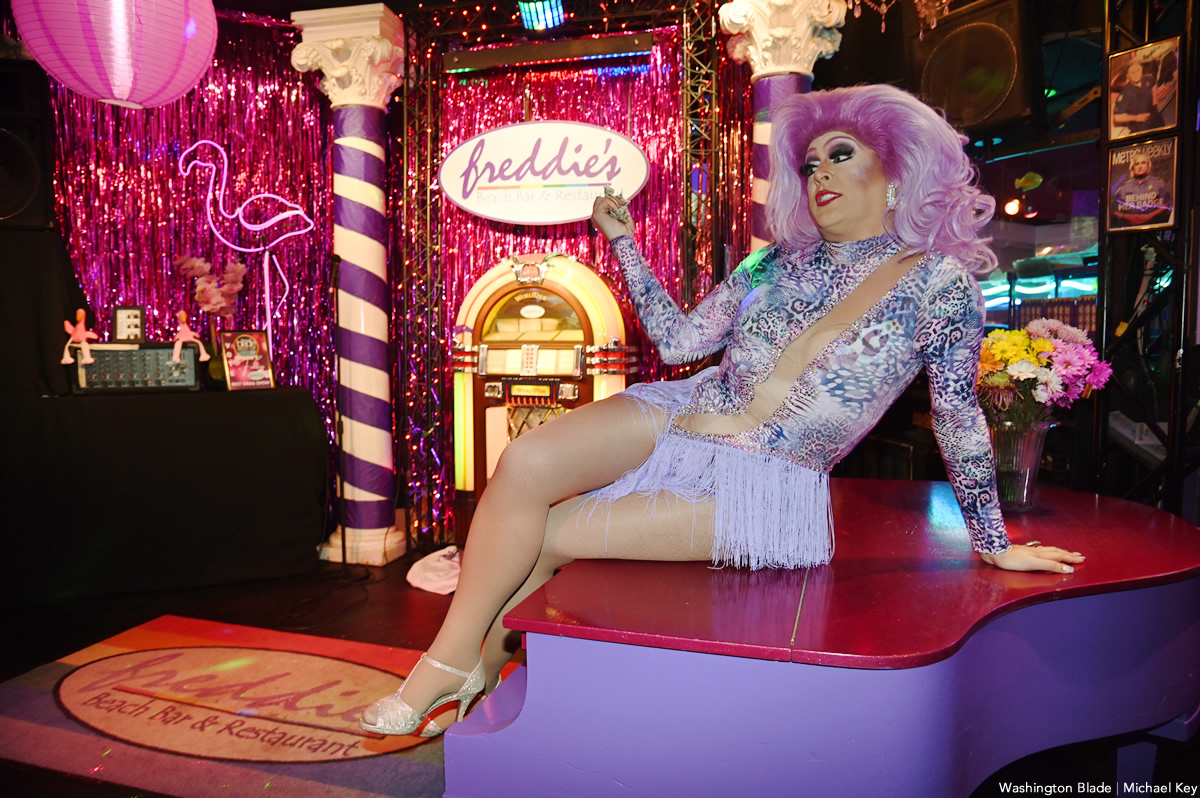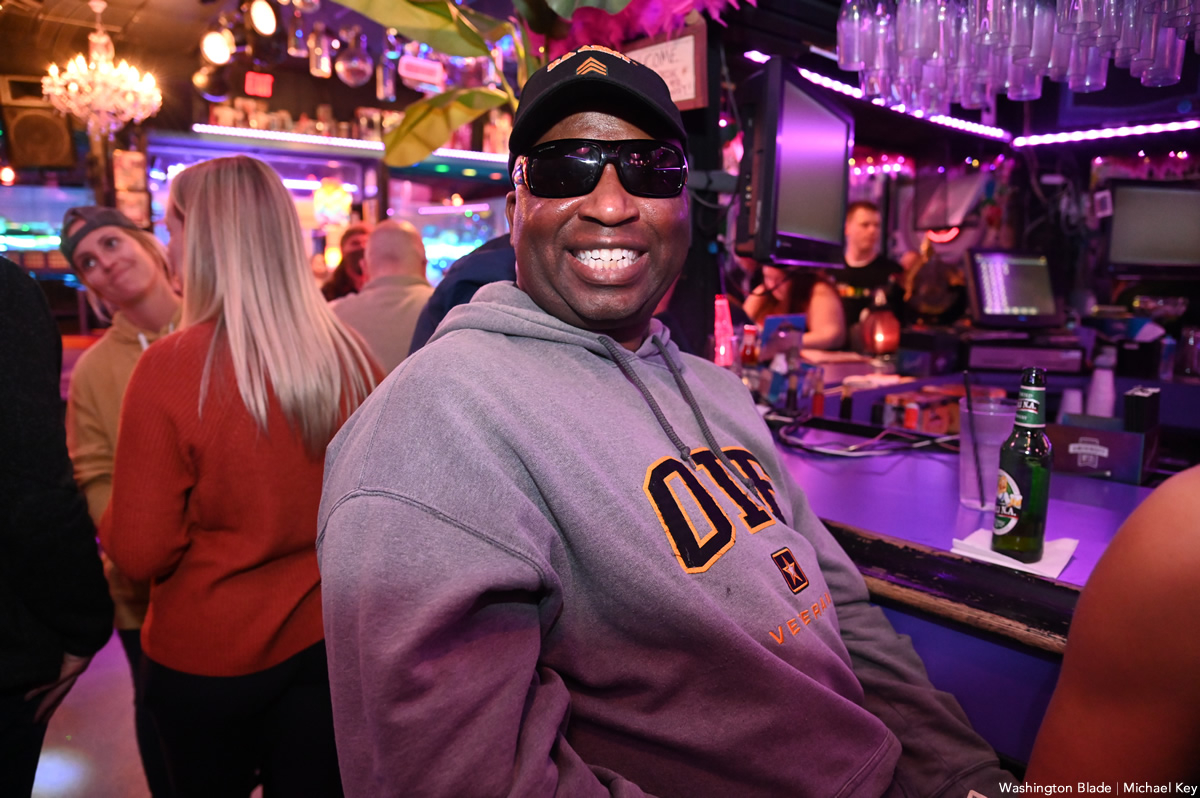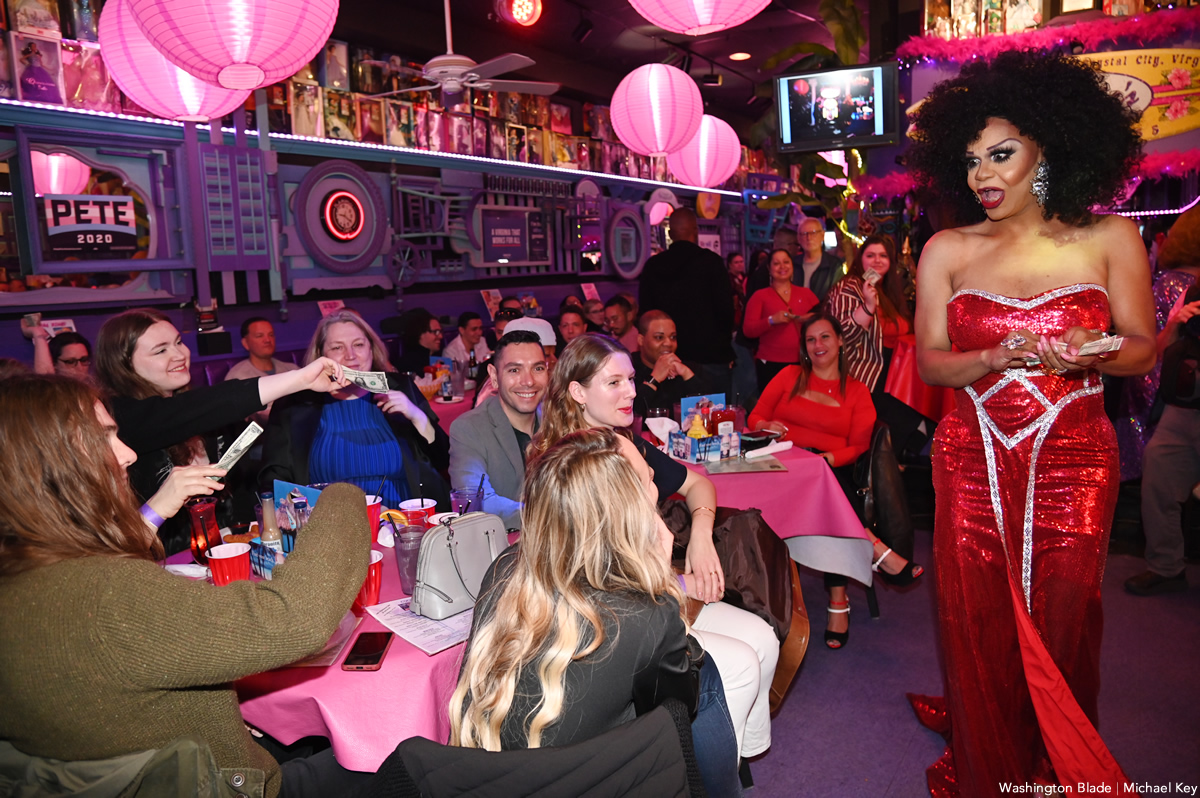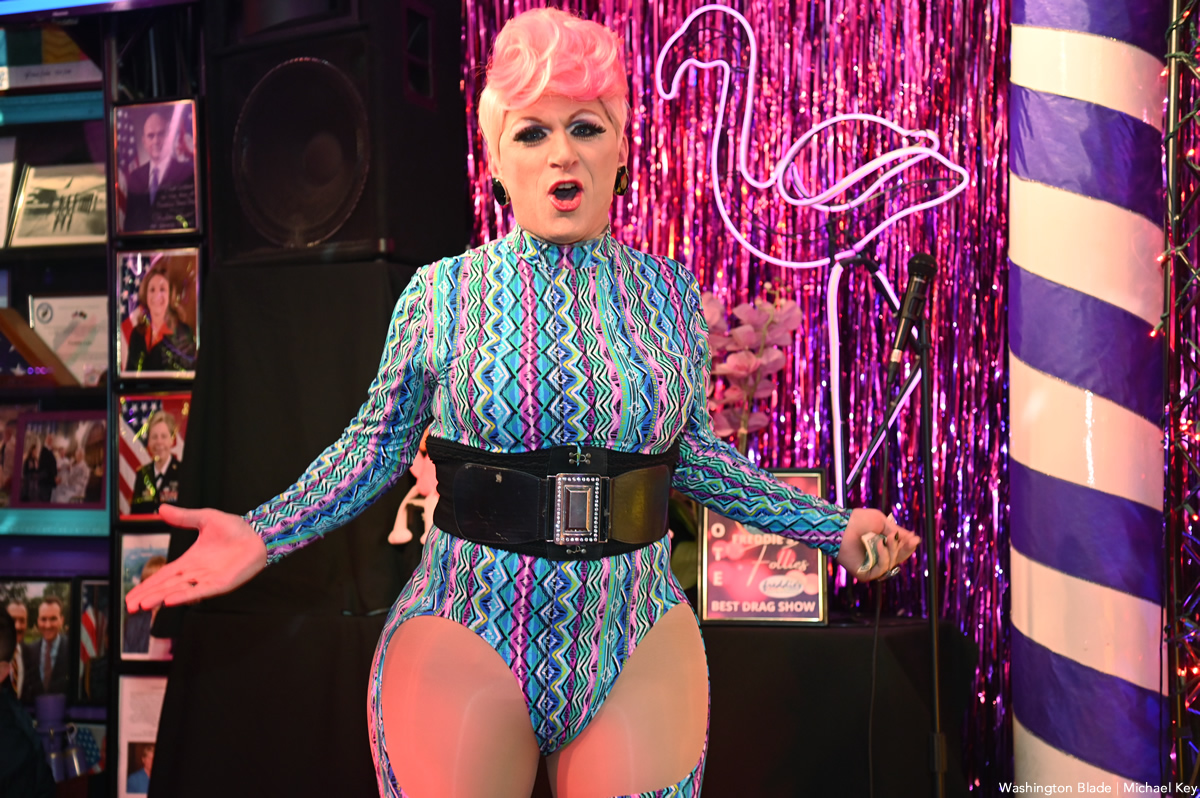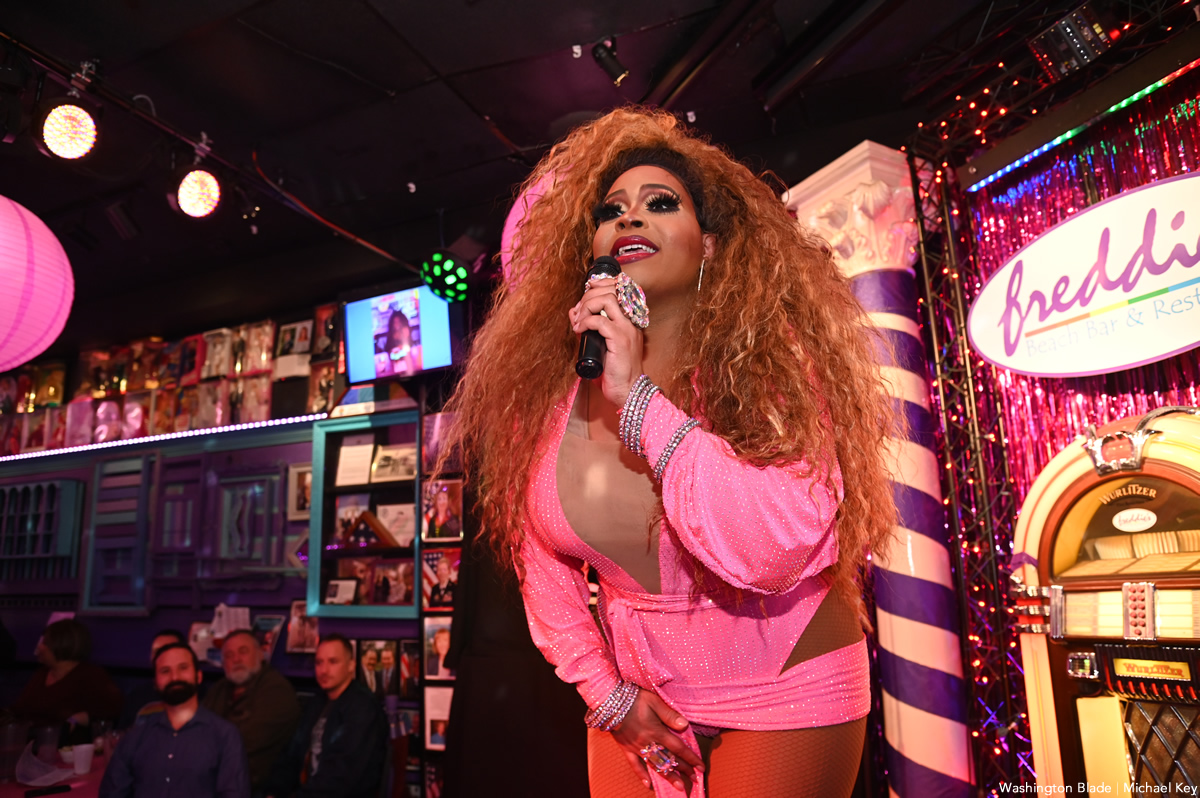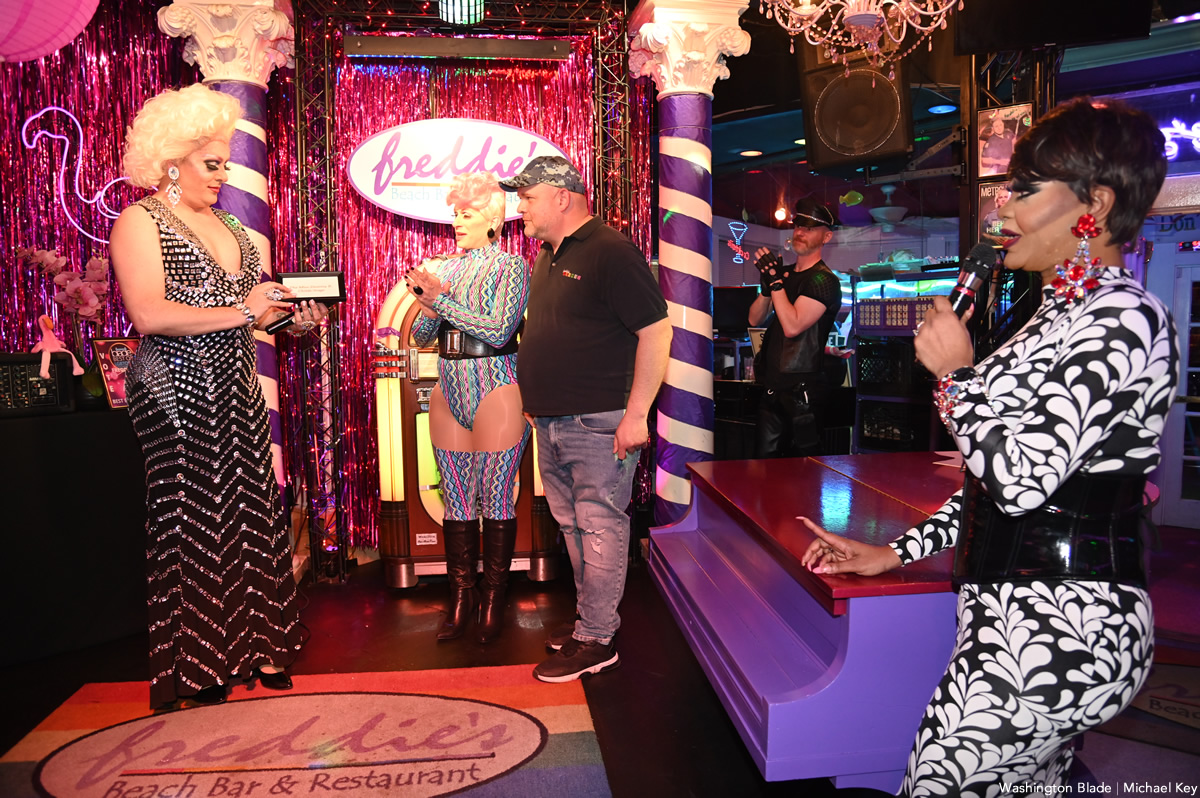 Covering Freddie's Follies 20th Anniversary for @WashBlade . @DestinyBChilds performing: pic.twitter.com/urpHgiMZ05

— Michael Patrick Key (@MichaelKeyWB) March 19, 2023